This post may contain affiliate sales links. Please see my full disclosure policy for details
Whipped ganache frosting is the ultimate frosting for chocolate lovers! It's made by whipping rich and fudgy chocolate ganache until it's light, fluffy, and perfect for piping over cakes and cupcakes.
Easy Whipped Chocolate Ganache Frosting
Rich and decadent whipped ganache frosting is super simple to make by whipping a homemade batch of chocolate ganache until it's light, fluffy, and spreadable.
Yes, of course, you can just drizzle the warm ganache over a cooled cupcake, but the texture of whipped ganache is so much better and gives you the ability to make beautifully frosted cupcakes and cakes.
Imagine the most intense, chocolatey, fudgy whipped cream you've ever tasted – that's this frosting! You'll want to pipe your whipped chocolate ganache over everything from cakes to cupcakes. Or, use it as a filling for profiteroles, whoopie pies, cream puffs, and more.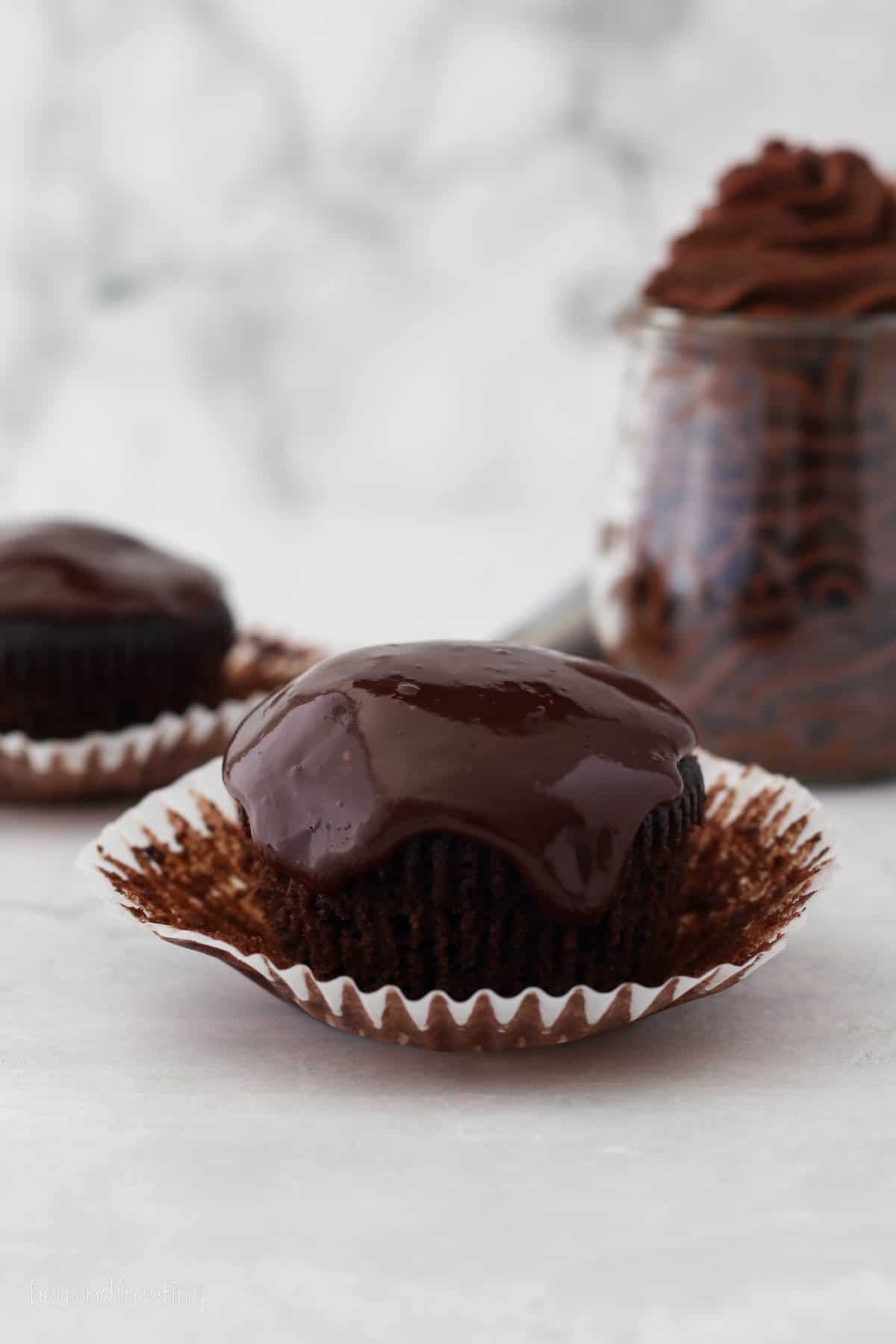 Why It's Amazing
Four ingredients. You really only need two ingredients to make homemade ganache, chocolate and heavy cream. I balance out this frosting with a dash of vanilla and salt and the flavors are incredible.
Extra fudgy. Whipping ganache creates a rich, decadent frosting filled with fudgy chocolate flavor.
Silky Smooth. The texture of this frosting is light and fluffy when piped, and melt-in-your-mouth smooth. It's great for piping and spreading but sets into a denser fudgy frosting.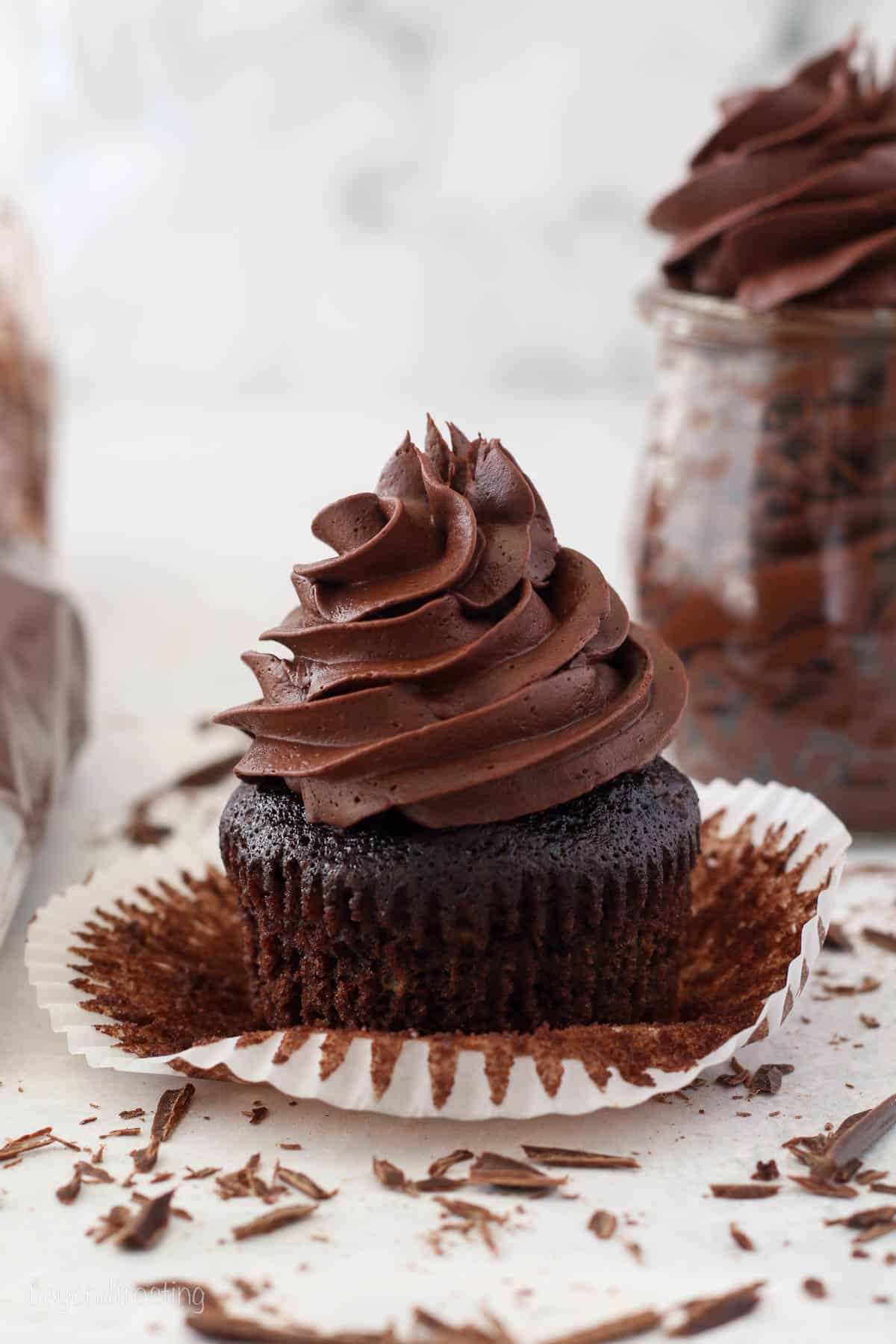 Ingredient Notes
Making chocolate ganache is very easy, and you only need two ingredients. For this whipped frosting, we'll use a 1:1 ratio of chocolate to cream. Be sure to scroll to the recipe card below the post for the full recipe amounts and details.
Chocolate – Good quality dark or semi-sweet chocolate is best. I recommend using chocolate bars, but chocolate chips also work.
Heavy Cream – You can use heavy cream, whipping cream, or double cream. The high-fat content is essential for smooth, creamy ganache and fluffy whipped frosting.
Pure Vanilla Extract- Add this to the frosting, not to the melted chocolate
A pinch of salt- helps offset some of the richness of the chocolate
How to Make Whipped Ganache Frosting
Before we get whipping, first, you'll need to make a quick and easy chocolate ganache.
Chop the chocolate. If you're using bars, chop the chocolate into small pieces so that they're quicker and easier to melt. Place the chocolate in a heat-proof bowl.
Heat the cream. Next, bring the heavy cream to a gentle simmer on the stovetop and pour it over the chocolate. Cover and leave the chocolate to sit for 5 minutes, then stir until smooth.
Cool. Cool the chocolate ganache until it stiffens and reaches a consistency similar to canned frosting.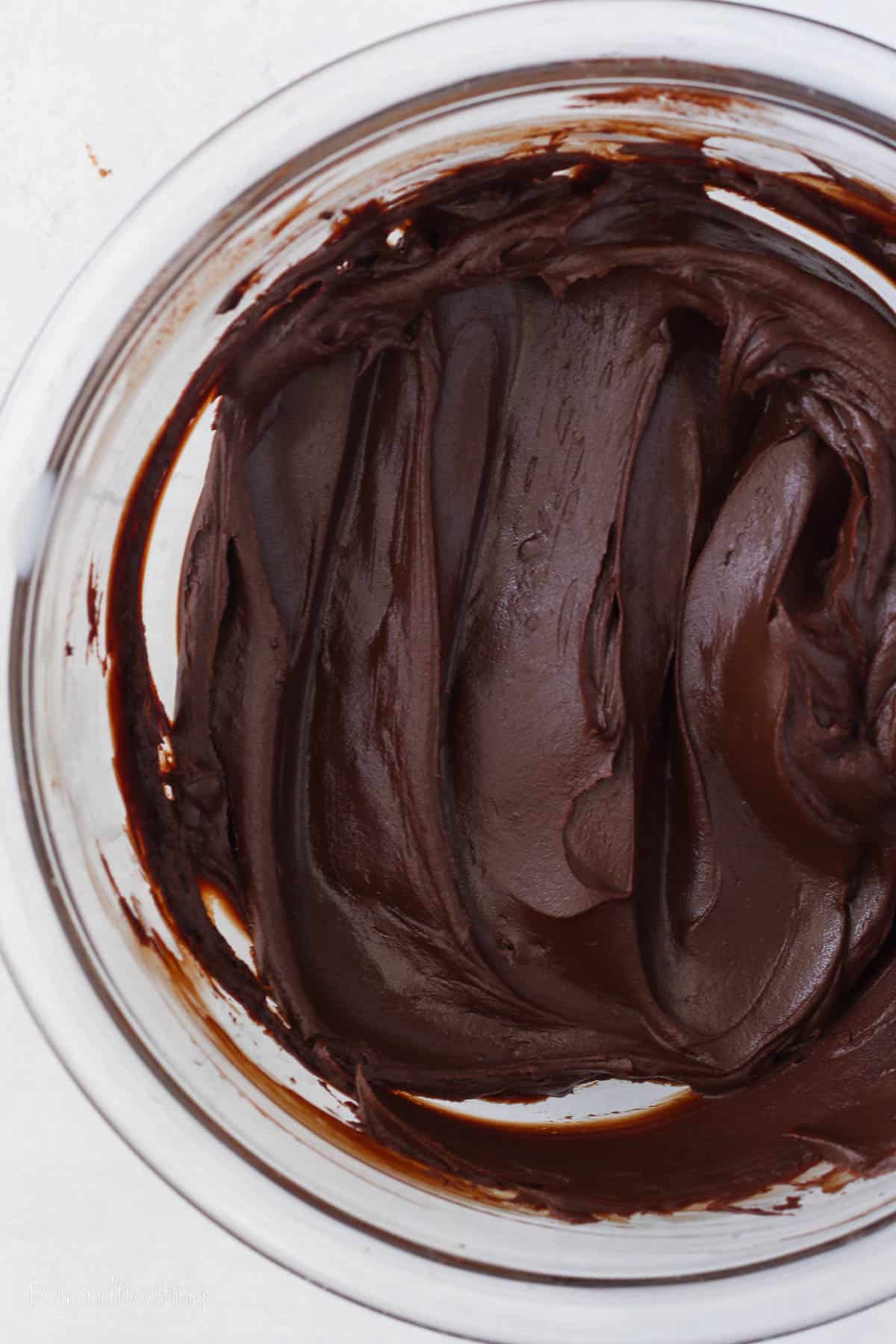 Whip the ganache. Transfer to a mixer, add in the vanilla extract and salt, and whip until the frosting is fluffy and smooth. Afterward, use your whipped ganache frosting to frost cakes, cupcakes, cookies, and more. See below for ideas.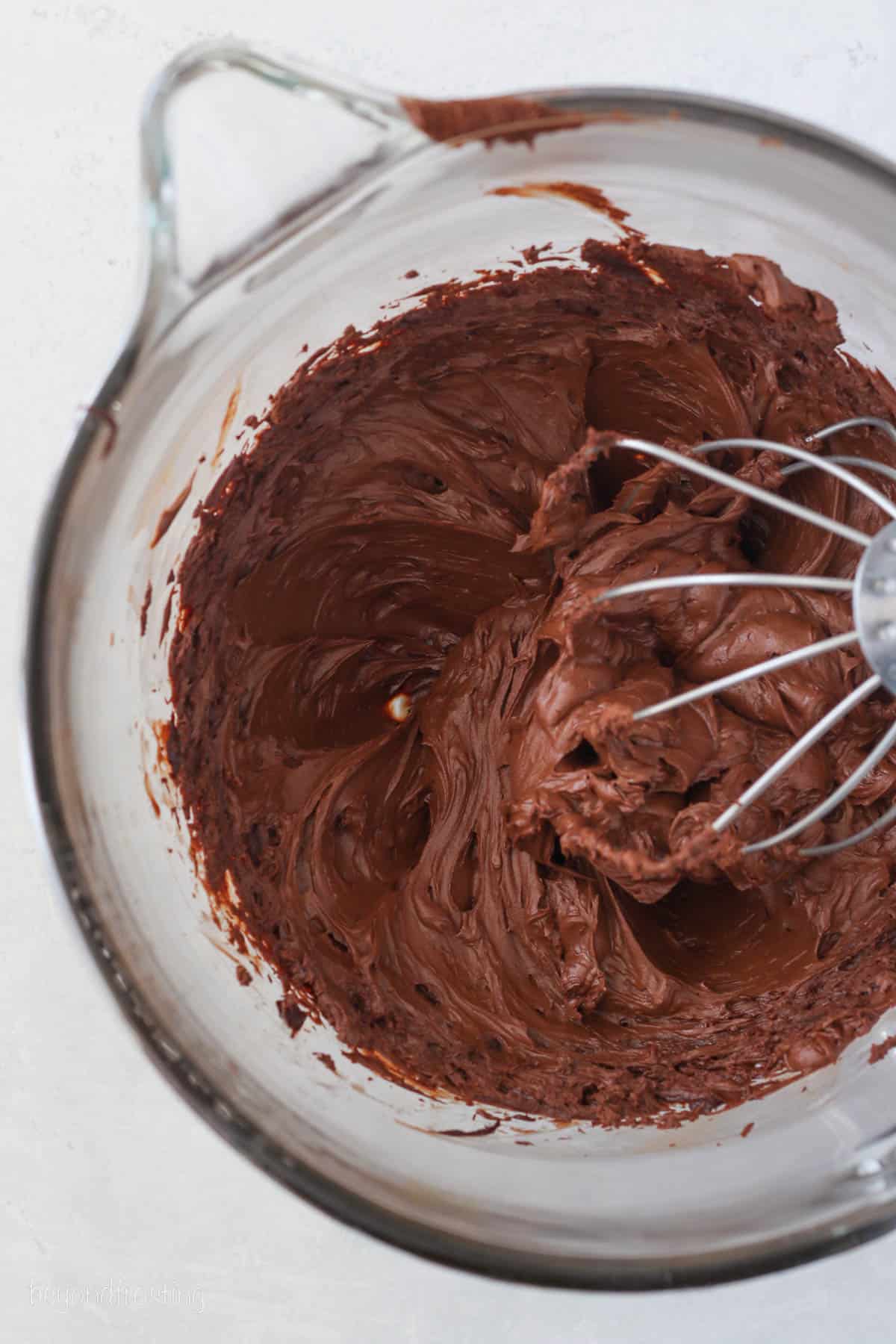 How to Tell When Your Ganache Is Ready to Be Whipped
Simply waiting for the ganache to come to room temperature is not quite enough. I found it's best to wait until the ganache has started to stiffen a bit, similar to the consistency you'd expect from a store-bought can of frosting. If you run a spoon through it, the chocolate should remain firm and not fold in on itself. That's when it's ready to whip. Whip until the ganache has stiff peaks that hold a shape.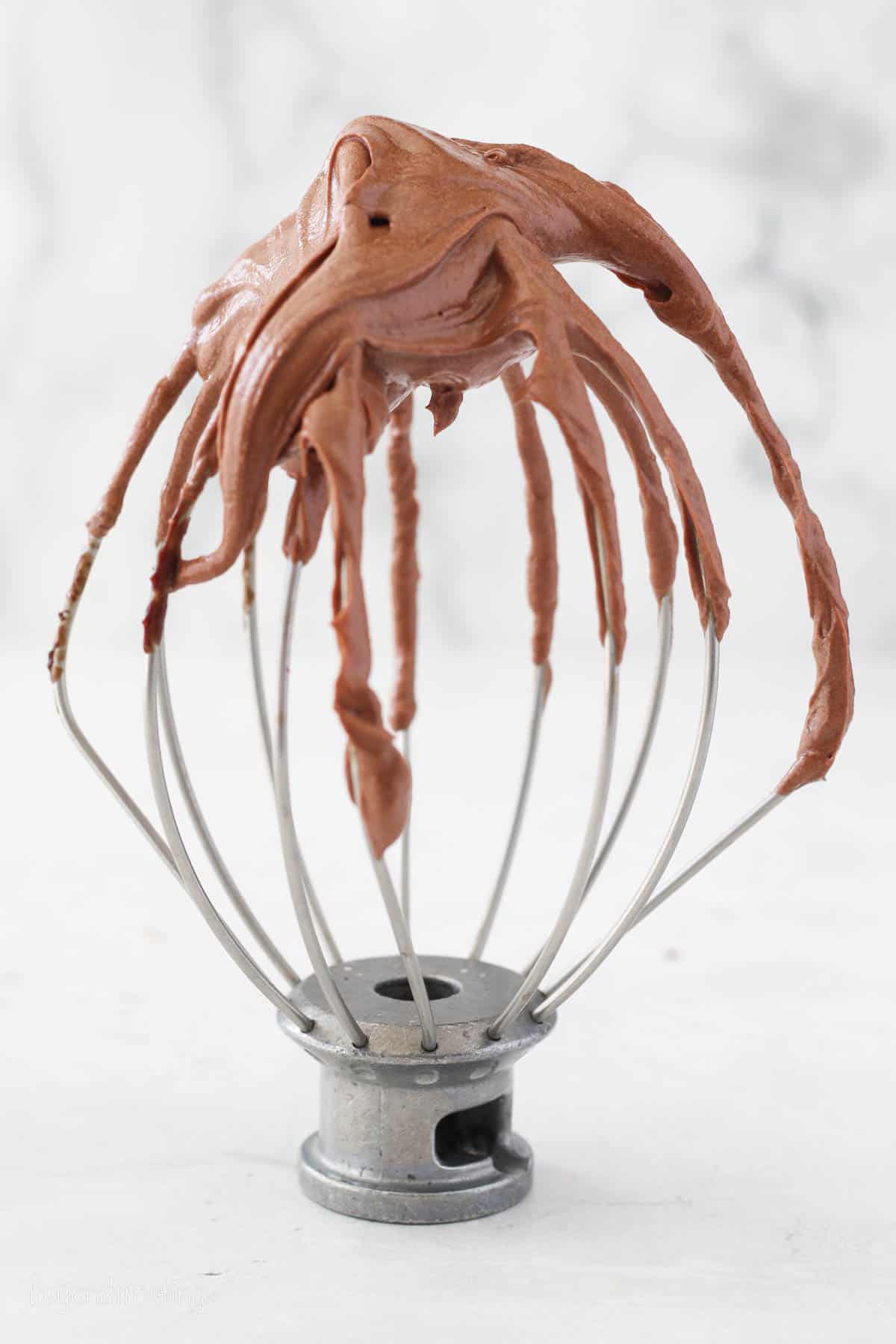 Ganache frosting isn't overly complicated, but there are a few things that make all the difference for a silky smooth, spreadable whipped ganache:
Pipe or frost immediately. As the whipped ganache sets, it starts to harden or thicken. So pipe or frost it right away.
Use high-quality chocolate. The flavor of the ganache depends on the quality and taste of the chocolate you use. Always choose high-quality dark chocolate (60-70% cacao) or semi-sweet for a sweeter flavor.
Use chocolate bars. I recommend using chocolate bars when melting chocolate, as bars melt down smoother than chocolate chips. Chopping the chocolate into smaller pieces helps it melt faster, with fewer lumps.
Don't scorch the cream. Stir frequently while the heavy cream heats and be careful that you don't overheat it. It should be steaming, but not boiling.
Speed up the cooling process. After you've made your ganache, place it into the fridge for 10 minutes at a time, stirring in between to help it cool down quicker.
Play around with flavors. You can adapt the taste in this frosting by adding flavoring extracts and spice into the ganache.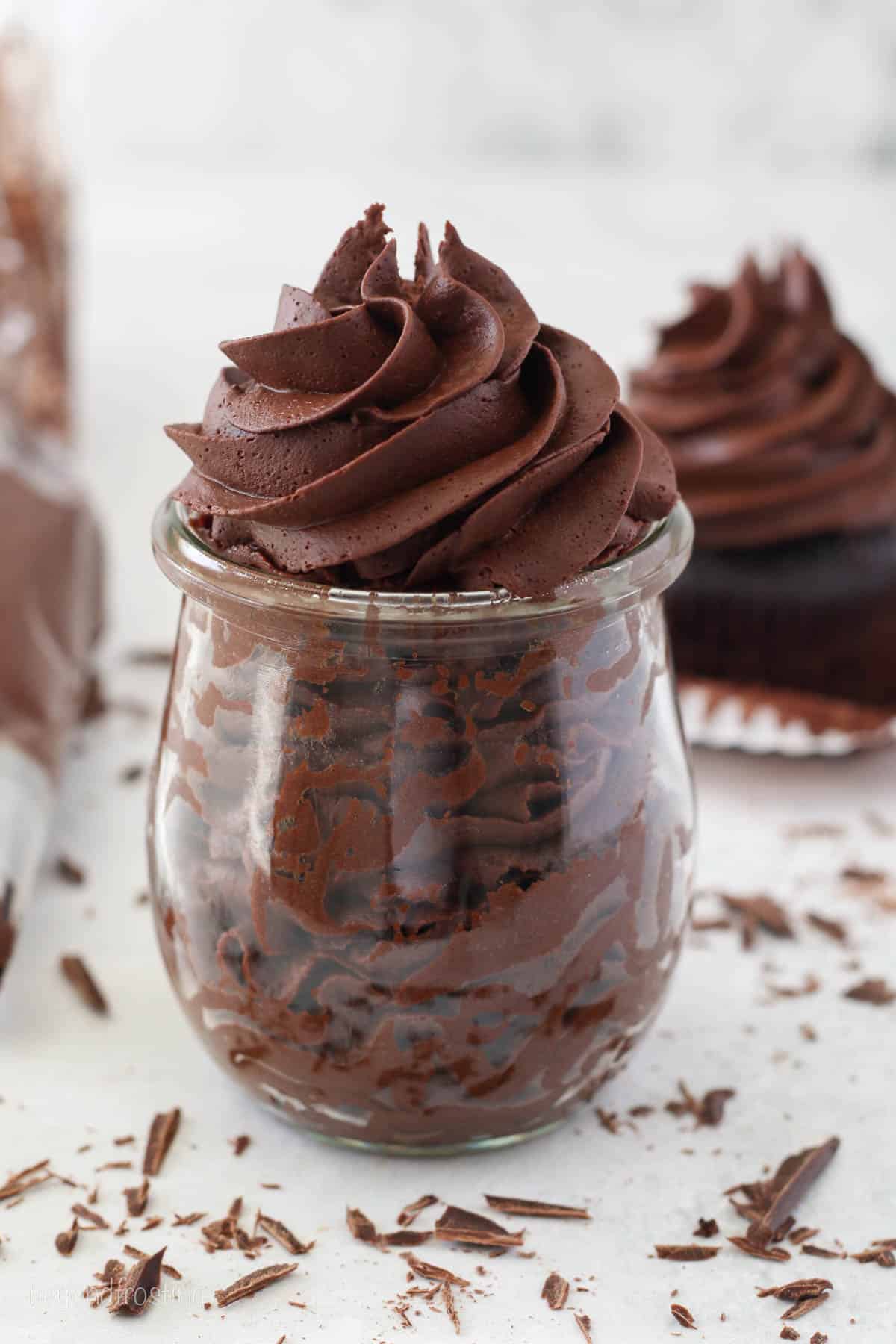 Can I Make the Ganache Ahead of Time?
Yes! Your chocolate ganache can be prepared ahead and chilled in the refrigerator for up to 5 days. Allow the ganache to come to room temperature and then whip it with a stand mixer. I do find that the ganache can take on a slightly grainier texture after a while, but the flavor is still perfect. See below for detailed storage instructions.
How Much Does This Recipe Make?
This recipe makes enough frosting to cover a 9×13-inch cake or approximately 24 cupcakes.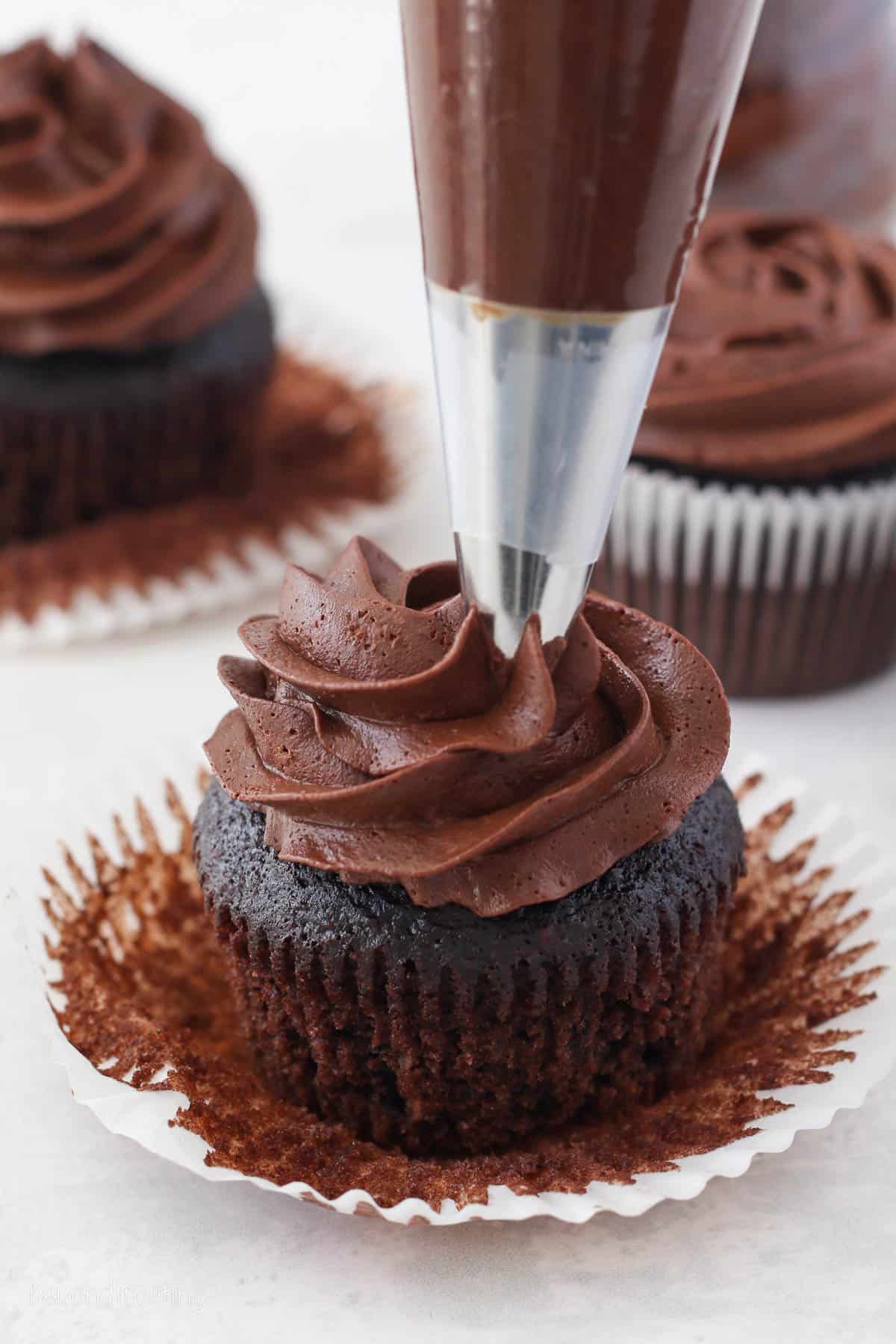 Ways to Use Whipped Ganache Frosting
I don't know about you, but I'm the first to pile my cupcakes high with fudgy frosting any chance that I get. When it comes to this ganache frosting, however, a little goes a long way. It's ultra-rich (you're eating straight chocolate, after all!) and so full of flavor.
Cakes and cupcakes. Pipe this frosting over cupcakes, or use it as a filling and frosting for layer cakes. I'm partial to my chocolate or yellow cupcakes.
Cookies. Top your next batch of chocolate sugar cookies or easy no-roll sugar cookies with decadent ganache frosting.
Pastries. In place of pastry cream, use this whipped frosting to fill French pastry recipes like cream puffs, eclairs, and profiteroles.
Dessert Dip. Serve whipped chocolate ganache with your favorite fruits, cookies, and more easy dippables.
How to Store Ganache Frosting
To Store. Store frosted cupcakes and cakes airtight at room temperature for up to 2 days, or in the fridge for 5 days. This frosting is best served at room temperature, as it will harden in the fridge.
Freezer. You can freeze this ganache frosting in an airtight container for up to 1 month. Thaw the whipped ganache in the fridge, and let it come to room temperature afterward. I recommend giving defrosted ganache frosting another whip to freshen up the consistency before you use it.
More Frosting Recipes to Try
Print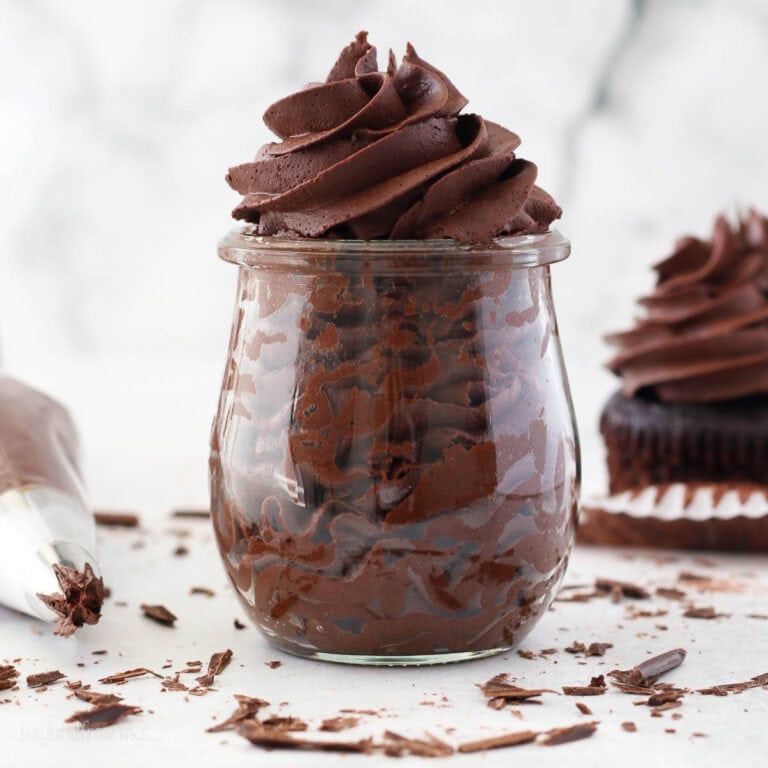 Whipped Ganache Frosting
Author:

Prep Time:

20 minutes

Chilling Time:

2 hours

Total Time:

2 hours 20 minutes

Yield:

2 Cups
Description
Whipped ganache frosting is made by whipping fudgy homemade chocolate ganache until it's light and fluffy. Perfect for piping over cakes, cupcakes, and more!
Ingredients
8 ounces

dark or semi-sweet chocolate (see notes)

1 cup

(236ml/

8oz

) heavy cream (or heavy whipping cream)

1 teaspoon

(5ml) pure vanilla extract

1/8 teaspoon

salt
Instructions
Chop a chocolate bar into small pieces, and place it in a medium-sized heat-proof bowl.
Heat the heavy cream in a small saucepan over low heat until gently simmering, stirring occasionally to prevent burning. Pour over the chopped chocolate, covering it completely. Place a piece of plastic wrap over top and allow it to sit, untouched, for about 5 minutes.
Stir the mixture until the chocolate is completely melted and smooth. Cool the chocolate until it's thickened (see notes).
Using an electric mixer with a whisk attachment, combine and beat the chocolate, vanilla extract, and salt for about a minute until it's fluffy and smooth. Use immediately.
Notes
Storing: Frosted cupcakes and cakes can be stored at room temperature for up to 2 days, or refrigerated for 5 days. It is best served at room temperature.
Chocolate options: The flavor of the ganache is a direct result of the quality and taste of the chocolate you use. Always choose high-quality chocolate. Semi-sweet chocolate will be sweeter than dark chocolate. For dark chocolate, I'd recommend between 60-70% cacao.
How to tell when the ganache is ready to be whipped. Simply waiting for the ganache to come to room temperature is not quite enough. I found it's best to wait until the ganache has started to stiffen a bit, similar to the consistency you'd expect from a store-bought can of frosting. If you run a spoon through it, the chocolate does not fall in on itself.
Pipe or frost immediately. As the whipped ganache sets, it starts to harden or thicken. So pipe or frost it right away.
Make ahead. The ganache can be prepared and chilled in the refrigerator for 5 days. Allow the ganache to come to room temperature and then whip in a stand mixer. I do find that the ganache can take on a slightly grainer texture
Category:

Frosting

Method:

Mixer

Cuisine:

American
Keywords: whipped ganache frosting, chocolate ganache frosting, ganache frosting