This easy Maple Apple Pie Pull Apart Bread is quick to throw together and loaded with your favorite fall flavors: apple pie, cinnamon and maple syrup.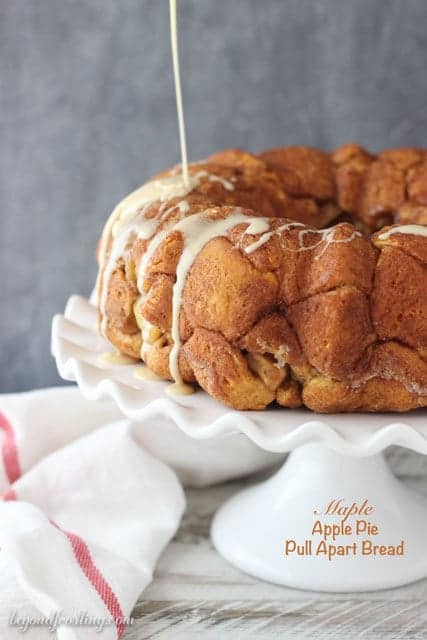 Generally speaking, my weekends consist of lots and lots of baking and photographing. Occasionally I will ask my boyfriend for his input on what I am doing. This weekend led to a debate whether or not birthday cake is an actual flavor. He wasn't having it and I could not understand his logic. Of course birthday cake is a flavor! Funfetti, cake batter, birthday cake- all the same to me. Overtime I mentioned the birthday cake dessert I was making, he was all, "what?" that's not a thing. This debate will have to be continued.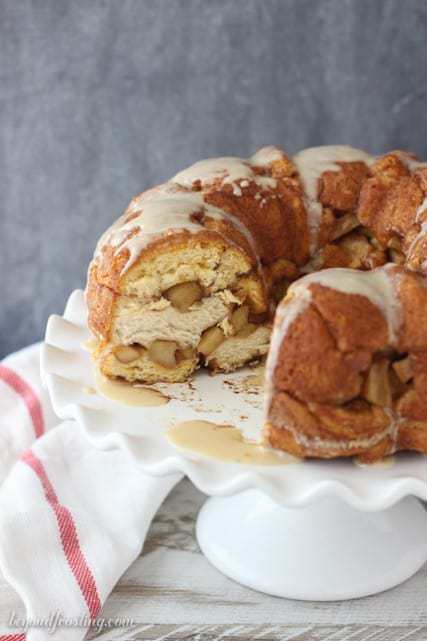 Last week I told you all about my apple extravaganza where I peeled about half a million apples and made nearly 6 or 7 pounds of filling. Now I will start giving you guys a peek at what I have been making with all that apple pie filling.
This Apple Pie Pull Apart Bread was first on the list. It's a simple pull apart bread layered with apple pie filling and drenched in a maple glaze.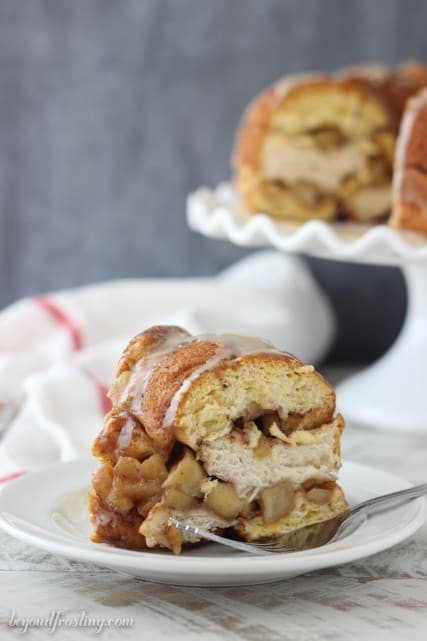 I love a good pull apart bread. I use a pre-made biscuit dough, which allows this to come together without a lot of fuss. The biscuits for this bread are rolled in cinnamon and sugar, making each bite just as mouthwatering as the next.
Instead of wrapping the pie filling with biscuits, I decided to layer it this bread like a cake. First I laid down a layer of dough, and then a layer of filling, another layer of dough, a second layer of apple filling and the final layer of biscuits. One thing to note about the biscuits, is that it is best to use a homestyle biscuit (without extra flaky layers, or butter or any of that other fancy stuff).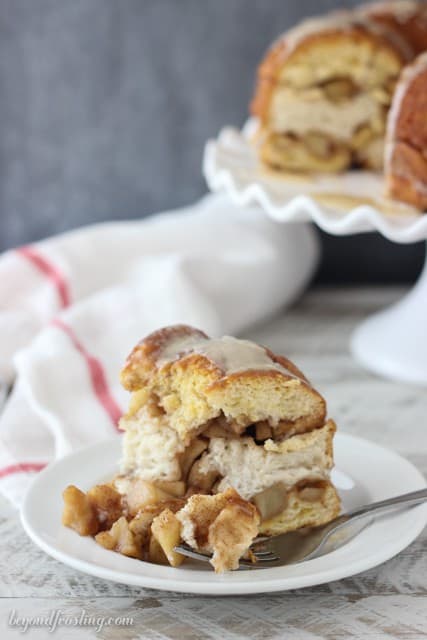 The key to baking this in a bundt pan is to ensure the pan is very well greased and floured, in which case, the bread will nicely release from the pan. It is also a good idea for you to let the juices settle for a good 15-20 minutes after removing the pan from the oven. The juices will help hold everything together.
One of my favorite parts is the maple glaze. It is so easy and made with maple syrup, milk and powdered sugar. You can make it as thin or as thick as you would like by adding more milk or more powdered sugar. I like to glaze right before serving so it's nice and fresh.
This makes a great breakfast for any occasion. You can make up the night before and reheat in the morning, or you can throw this together or a Sunday brunch.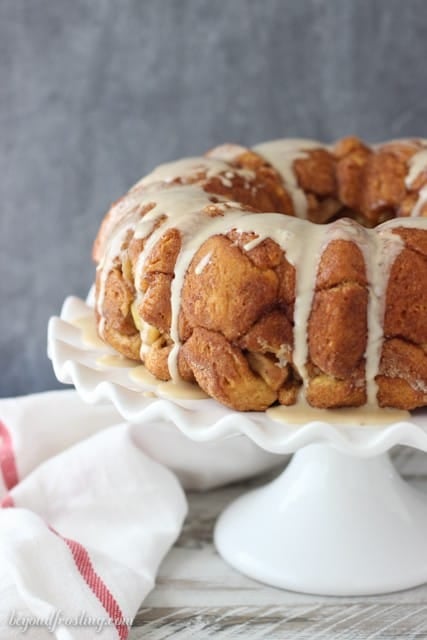 Keep up with all the happenings. Follow Beyond Frosting:
Facebook | Twitter | Pinterest | Instagram | Bloglovin | Google+
Don't miss a thing, subscribe at the end of this post!
Print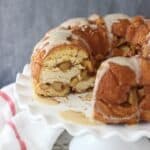 Maple Apple Pie Pull Apart Bread
---
Author:

Prep Time:

20 mins

Cook Time:

30 mins

Total Time:

50 minutes
Description
This easy Maple Apple Pie Pull Apart Bread is quick to throw together and loaded with your favorite fall flavors: apple pie, cinnamon and maple syrup.
---
Ingredients
For the pie filling:
4 Medium apples, sliced
1 Lemon, juiced
2 tbsp Light brown sugar
2 tbsp All-purpose flour
2 tbsp Maple syrup
2 tsp Cinnamon
1 tsp Apple pie spice (optional)
For the bread
2 cans Pillsbury Grands Biscuits (16.3oz)
½ C Sugar
2 tbsp Cinnamon
For the glaze
½ C Powdered Sugar
2 tbsp Maple syrup
2 tsp Milk
---
Instructions
For the pie filling
Slice apples into small pieces and squeeze a lemon over top and stir to combine.
Add brown sugar, flour, maple syrup, cinnamon, apple pie spice over top of apples. Stir to mix ingredients.
Heat apples on the stove over medium heat for 15-20 minutes until soft. Stir occasionally. You want the apples to be mushy like apple sauce, instead of the larger chunks. Set aside and allow to cool.
For the bread
Pre-heat oven to 350° F. Grease a bundt pan with Crisco or cooking spray and coat with flour. Make sure to get the top of the pan as well.
Remove biscuits from can, and divide into three piles. One pile being slightly larger than the other two. You will be building 3 layers of biscuits. The bottom layer should have the most biscuits.
Take each individual biscuit can cut into 2-3 stripes, each stripe should then be cut in half again. Roll each piece into a small ball.
In a separate bowl, combine cinnamon and sugar and mix well. Take each piece of dough and roll in the cinnamon sugar mix. Layer the bottom of the pan and up the sides of the pan with dough. If you have any larger pieces of biscuits, go ahead and flatten them out a little bit.
Layer in half of the apple pie filling.
Repeat the previous step by rolling the dough in the cinnamon and sugar mix and build another layer.
Pour in remaining apple pie filling and then top with all remaining cinnamon coated biscuits.
Bake at 350° F on the middle rack for 28-35 minutes. Remove from oven and allow to cool 15-20 minutes. Take a plate and put it on top of the bundt pan so that when invert, the bread will be sitting on the plate.
For the glaze
In a small bowl, combine powdered sugar and maple syrup and stir until thickened. Add milk 1 teaspoon at a time until glaze reaches desired consistency. Pour glaze over warm bread before serving.
Notes
For the glaze, you can make it as thin or as thick as you would like by adding more milk or more powdered sugar. optional- add your favorite nuts!
 Visit Beyond Frosting's profile on Pinterest.
Other recipes you might like: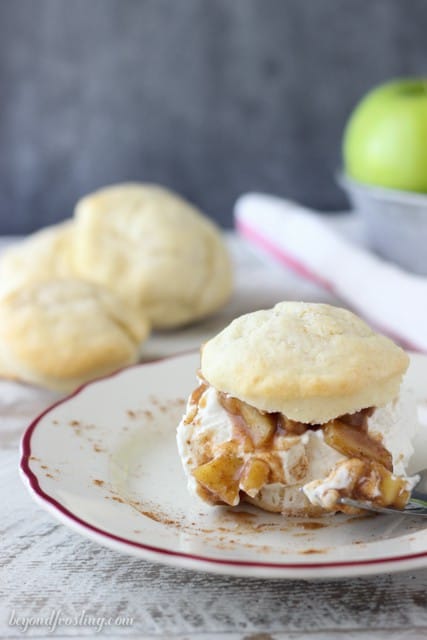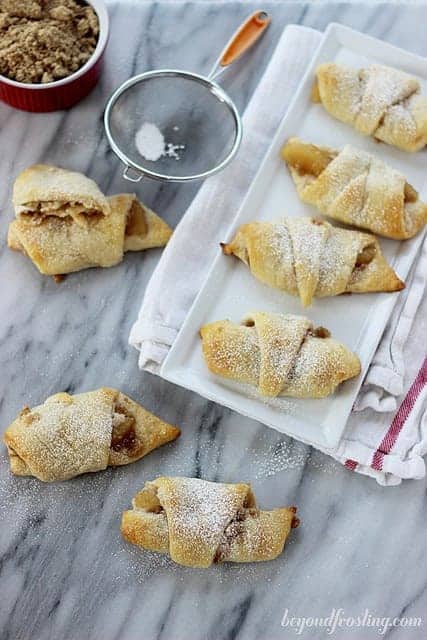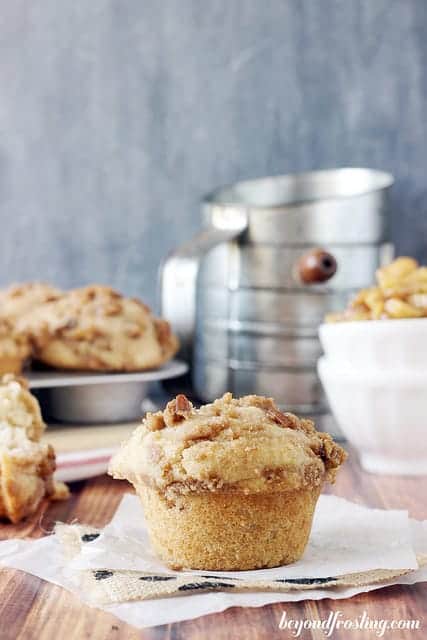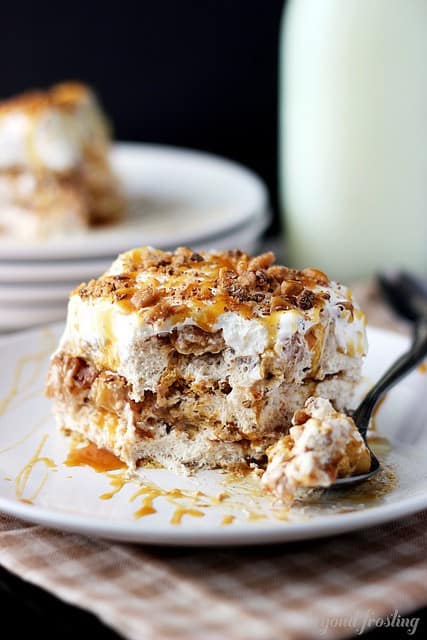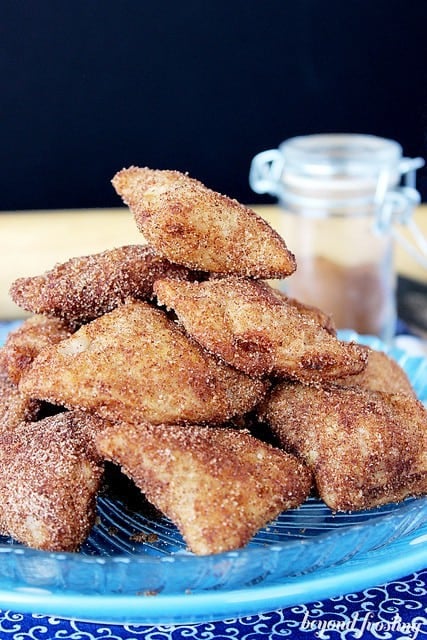 Recipes from my friends you might like:
Overnight Caramel Apple French Toast Casserole from Julie's Eats and Treats
Apple Pie Pinwheels  from Heather's French Press
Apple Pie Cupcakes with Vanilla Buttercream from Spoonful of Flavor