There's no sharing this Oreo Dirt Cake! The chocolate cake is soaked in hot fudge and covered with a Chocolate Oreo Mousse also known as "dirt". This was my favorite childhood snack! 
What a kick weekend in Vermont. I flew home for about 48 hours to help take care of my dad while he is recovering from his double knee replacement. He's a trooper, trying to show me his dance moves with his walker as he made his way down the hallway.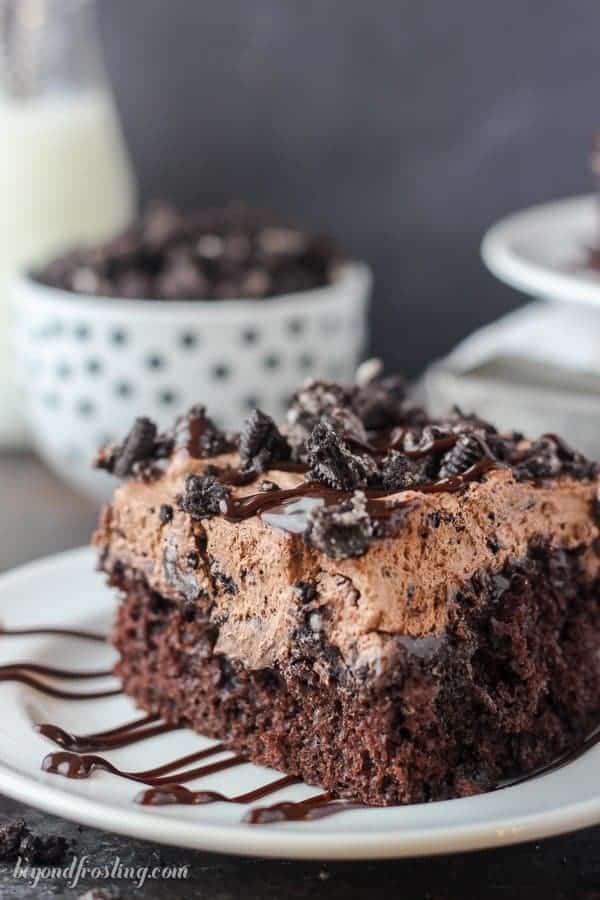 I did my part, making him batches of my favorite snickerdoodle cookies and some bourbon salted caramel cookies. Plus I stocked the freezer with some dinners, did the laundry and helped clean up the house. It was a quick weekend but I got to have my favorite pumpkin ice cream and my favorite local beer, so all in all a win win! Plus we even got about 6 inches of snow the night before I left. It looks so different when the ground is covered with snow.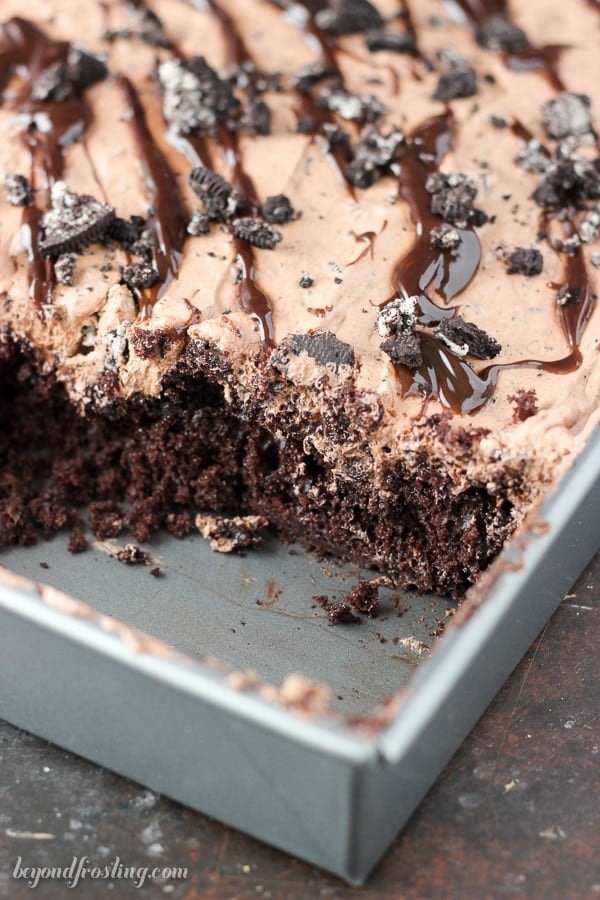 Since I first made this recipe, it has been my most requested poke cake. I'm not going to apologize for the excess chocolate in this recipe because it's a necessary thing in my life.
Usually on Halloween I make those Oreo dirt cups with the cookie grave and the gummy worms on top. People go absolutely crazy for them. Every year at least 3 people from the party ask me for the recipe. Guys, it's only pudding, Cool Whip and Oreos. It just doesn't get any easier than that. My Grandma used to call this "dirt" and she made it all the time. I did a from-scratch version for my cookbook, using some chocolate stout to make it boozy.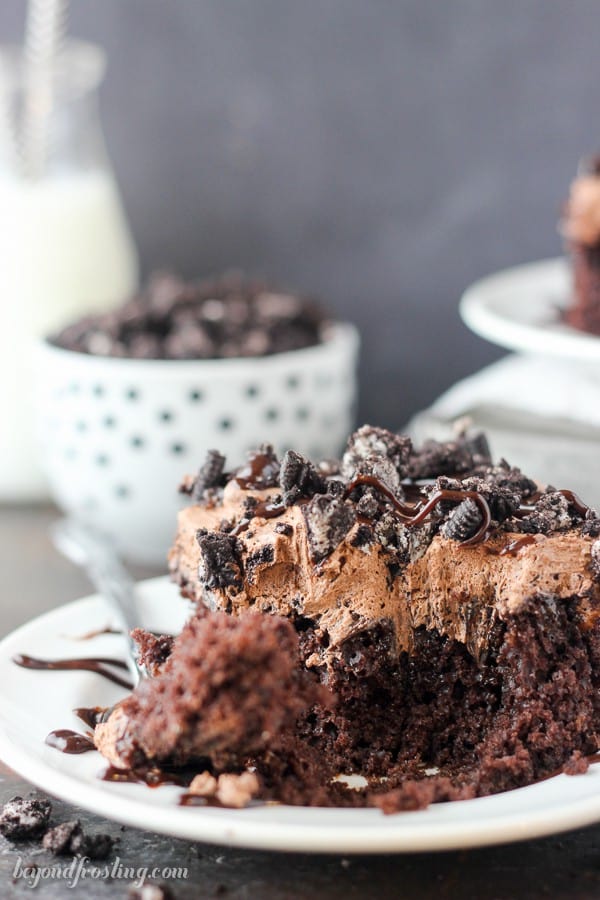 Well when I was trying to think of new ways to make my ever popular Triple Chocolate Poke Cake, a light bulb went off and there entered this dirt cake. You could also make this as a layer cake.
First it starts with a chocolate cake, buy the darkest fudgiest mix you can find. Once it's baked you poke holes all over and pour hot fudge over top. Then it's covered in the Oreo dirt.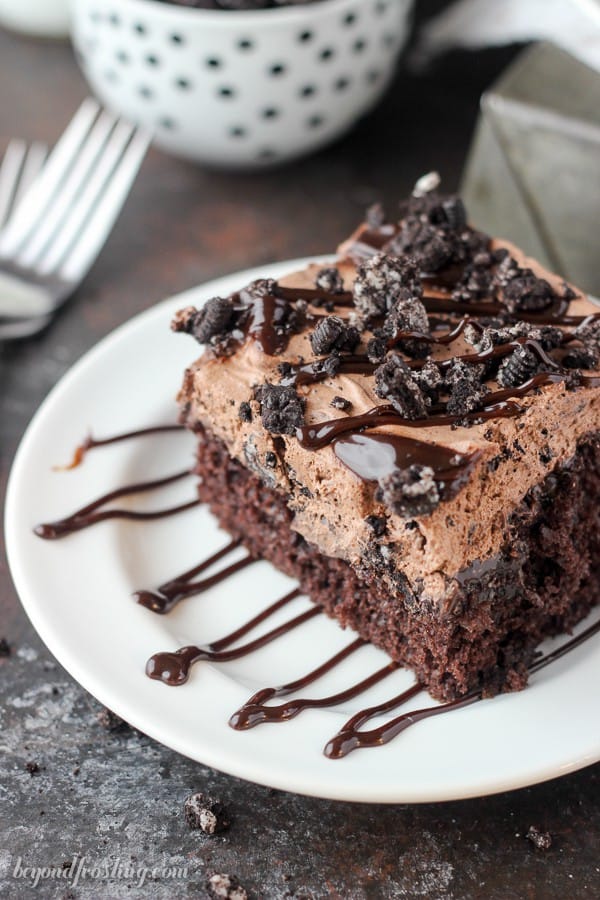 I'll also suggest to take this one step further and add chocolate pudding over the cake; you can't go wrong either way. Just mix the pudding and milk and pour it over the cake before it sets THEN pop it in the refrigerator until the pudding sets.
To make the dirt, I just did it the same way my grandma would. I made a batch of instant chocolate pudding, wait until it sets, then mix in a container of Cool Whip and crushed Oreos. Then I spread this over the top of the cake, drizzle with some hot fudge sauce and more Oreos on top.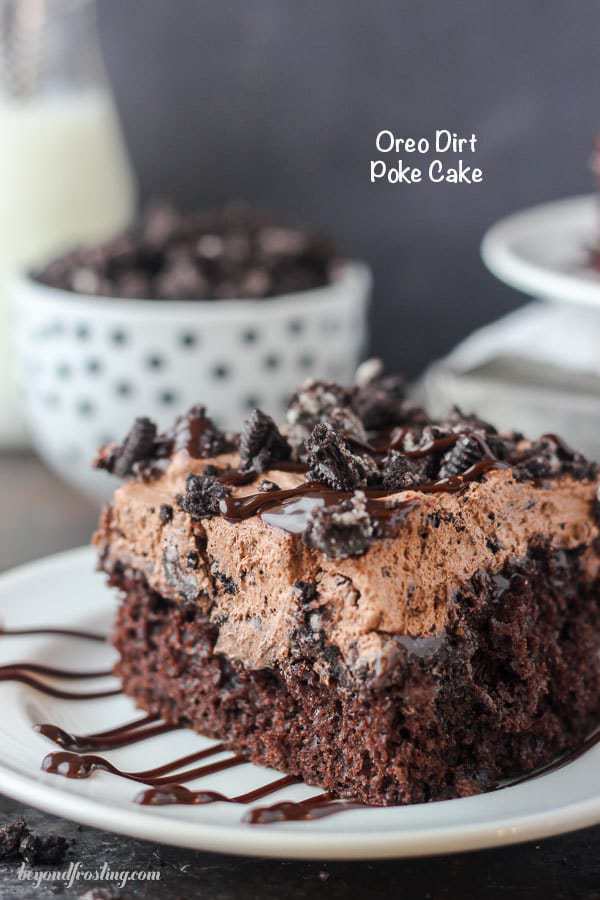 The end result is a chocolate lovers dream.  This cake is another "boyfriend approved recipe". I mean Oreos? He's sold.
The best part about this recipe is that it isn't overly complicated, but it will definitely impress your friends. You don't even have to tell them how easy it is.
Follow Beyond Frosting:
Facebook | Twitter | Pinterest | Instagram | Bloglovin | Google+
If you love no-bake recipes, be sure to check out my cookbook, No-Bake Treats!
Don't miss a thing, subscribe to get recipes delivered to your inbox!
Print
Oreo Dirt Poke Cake
---
Author:

Prep Time:

15 mins

Cook Time:

20 mins

Total Time:

35 minutes

Yield:

12-15 slices
Ingredients
1 Box Chocolate fudge cake mix
Ingredients on the box: eggs, water, vegetable oil
For the topping:
1 pkg Oreo cookies (14.3 oz)
1 Jar Hot fudge sauce (12.8oz)
1 box Hersey's Dark Chocolate instant pudding mix (3.4 oz) *optional see below
1¾ C Milk *optional, see below
For the dirt
1 box Hersey's Dark Chocolate instant pudding mix (3.4 oz)
1¾ C Milk
1 container Cool Whip
Additional hot fudge sauce for drizzling
Additional crushed Oreos for garnish
---
Instructions
Preheat the oven to 350°F.
Combine cake mix according the instructions on the box, adding eggs, oil and water. Beat on medium speed until well combined.
Bake the cake in 9×13" pan for 22-28 minutes. Check for doneness by inserting a toothpick into the middle of the cake. If the toothpick comes out clean, you cake is done. Allow to cool for 10 minutes.
For the topping: While the cake is still warm, take the end of a wooden spoon or another round object and poke holes all over the top of your cake.
Heat the jar of hot fudge sauce in the microwave for about 30 seconds until you can stir it and thin it out. You may need an additional 30 seconds. Pour the entire jar of hot fudge sauce (minus 3 tablespoons) on the top of cake and allow it to absorb in the cake until cake is cooled.
Optional: When the cake has cooled, prepare the pudding layer by mixing a package of instant dark chocolate pudding with 1 3/4 cups of cold milk. Before the pudding sets, pour it over the top of the cake and put the cake in the fridge to let the pudding set, about 15 minutes.
For the dirt: Prepare the pudding layer by mixing a package of instant dark chocolate pudding with cold milk. Refrigerate until the pudding has set.
Take a large Ziploc bag and crush the 3/4 of the bag of Oreos into smaller pieces using a rolling pin or other large, heavy object.
Once the pudding has set, mix in a container of Cool Whip until well blended.
Mix in crushed Oreos into the mousse and spread the dirt over the top of cake. You can top you cake with the remaining hot fudge and some leftover Oreos. Serve cold.
Notes
Optional: Add a layer of chocolate pudding over the hot fudge to soak into the cake
You might also like:
Ultimate Oreo Poke Cake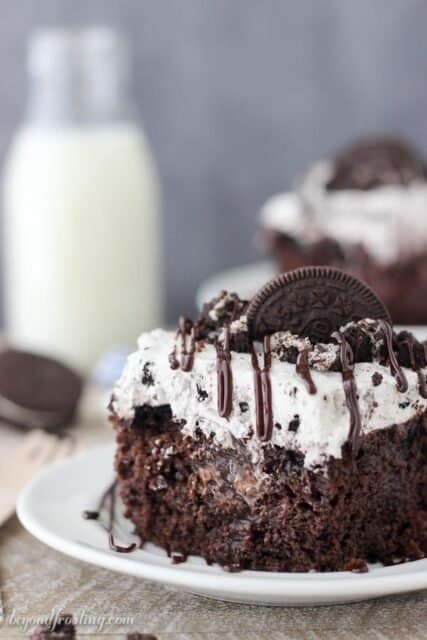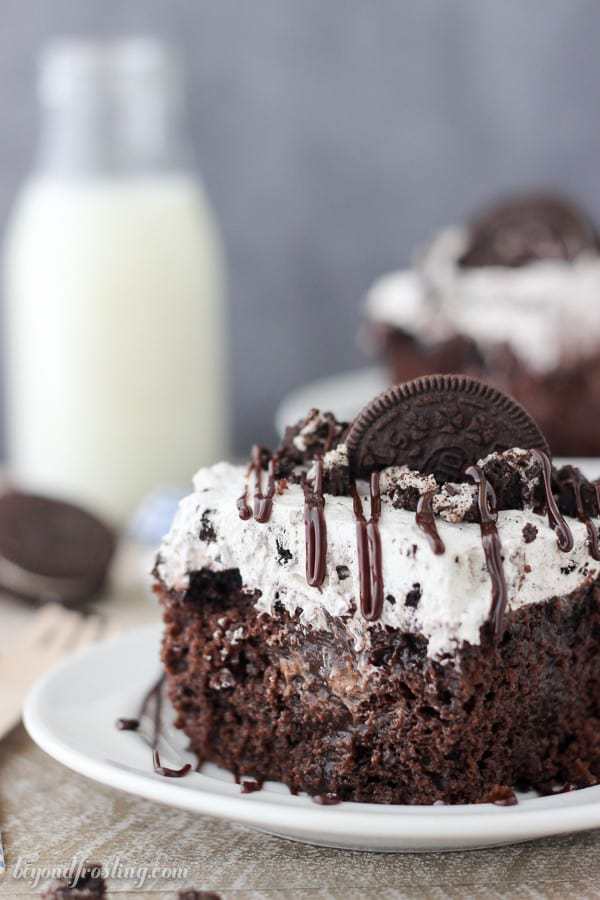 Double Mint Chocolate Poke Cake