This post may contain affiliate sales links. Please see my full disclosure policy for details
Enjoy fall with an Apple Pie Dessert Pizza! This easy dessert recipe is a giant snickerdoodle cookie topped with vanilla marshmallow buttercream and homemade apple pie filling. It's so delicious and the perfect dessert to share this fall!
Do you love dessert pizzas? Then you have to try this Funfetti Dessert Pizza and this Peach Streusel Pizza recipe too!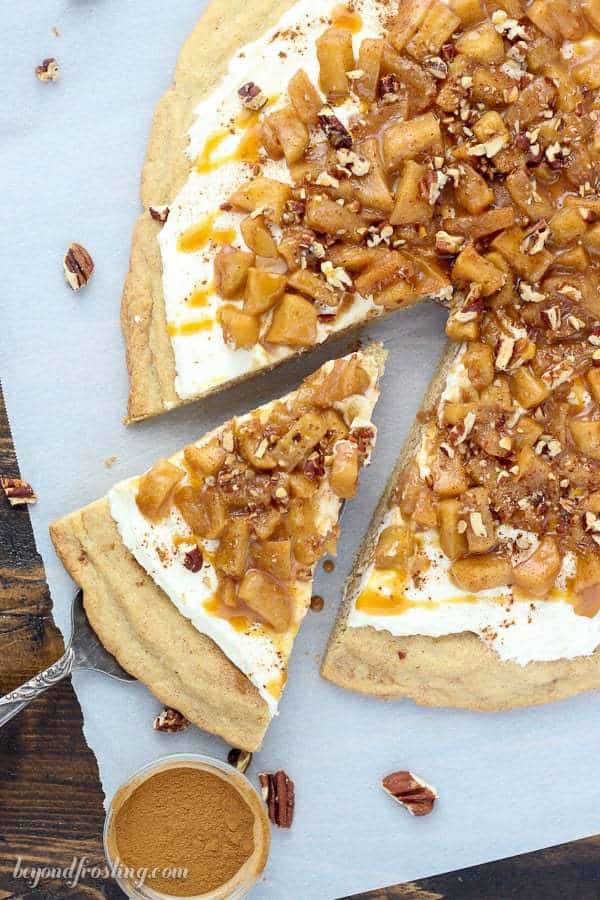 Apple Pie Dessert Pizza
Yesterday I got up in the middle of the night to fly to Cleveland Ohio for a quick visit with the American Dairy Association MidEast. For the next couple days I'll be touring dairy farms and learning how milk is processed before it ends up at our grocery stores. You can follow along on
Instagram
using the hashtag #OHDairyAdventure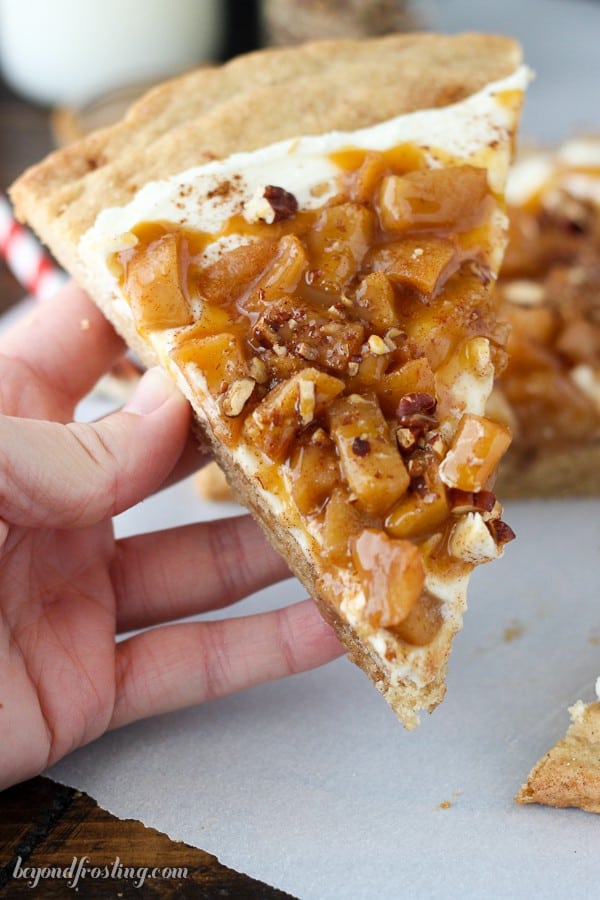 I Love Making Fall Desserts With Fresh Picked Apples
It's hard to think September is nearly half over because I feel like it hasn't even started yet! Apple picking is one of my favorite fall activities but I rarely get to do it. The last time I went was 4 years ago when I took my boyfriend back to Vermont. It was such a fun trip to show him my hometown.
So if you happen to have the chance to go apple picking, you'll want to check my
Stove Top Apple Pie Filling
, which is quite versatile and it happens to be the reason we're talking about this Apple Pie Dessert Pizza today.
I know just shared my
Funfetti Dessert Pizza
with you but let's be honest, dessert pizza is the best type of pizza, so it's necessary to have options.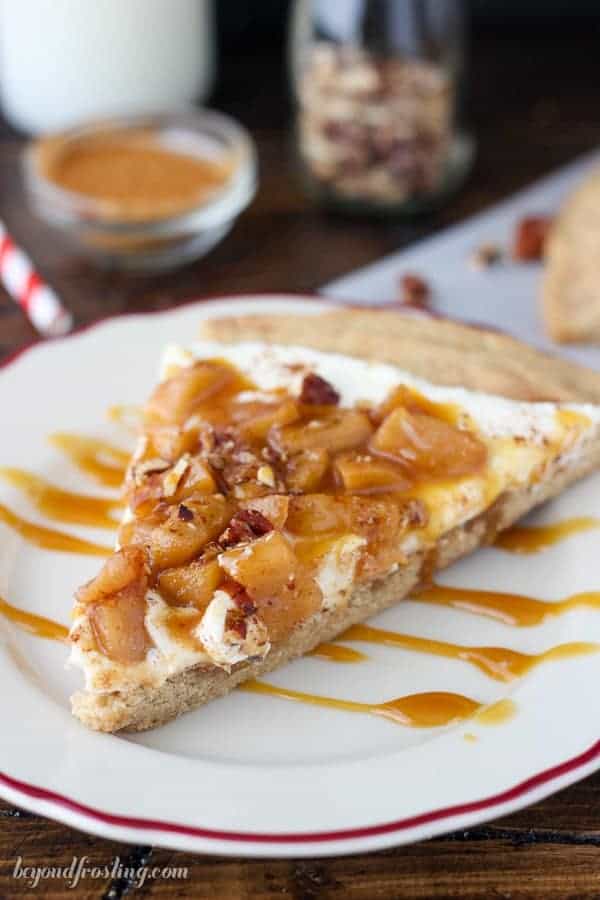 How To Make Apple Pie Dessert Pizza
This Apple pie dessert pizza starts with a giant Snickerdoodle cookie! One giant cookies makes for a happy Julianne. It's topped with a simple marshmallow vanilla buttercream, plenty of Apple pie filling and caramel sauce.
When you think of a dessert pizza, you might think of an actual pizza crust but I think the cookie crust add a whole new level of awesome. Plus my
Perfect Snickerdoodle Cookie
recipe was just dying to get some apple pie filling on top.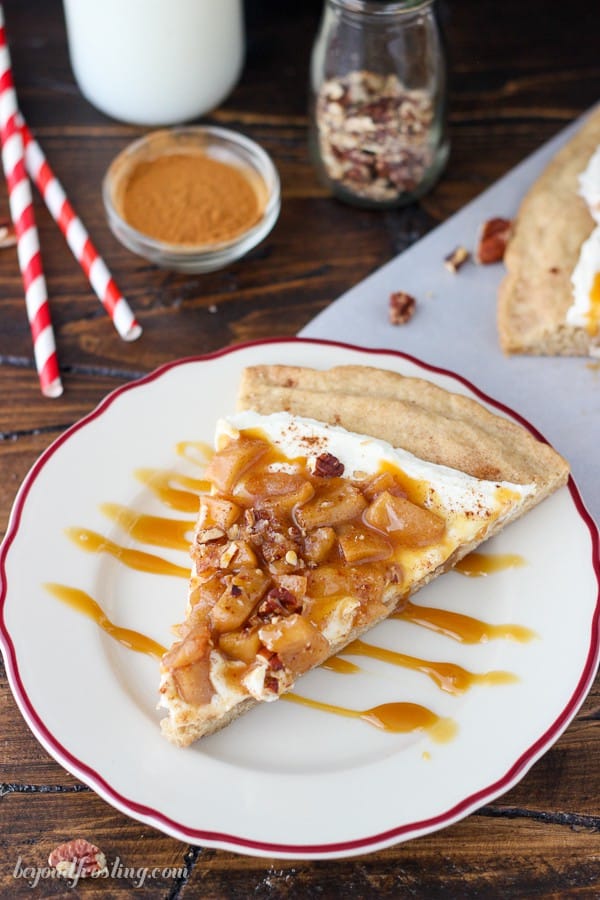 The cookie dough calls for some time in the refrigerator. I've tried making the dough without refrigeration but I didn't like the way it baked. The edges were too crisp. The chilled dough rises a bit more and the dough is slightly under baked, allowing it to stay soft in the middle.
I served this cookie once everything had cooled, but it would definitely be good while it was still warm. The frosting will slightly melt and the apple filling will be the freshest.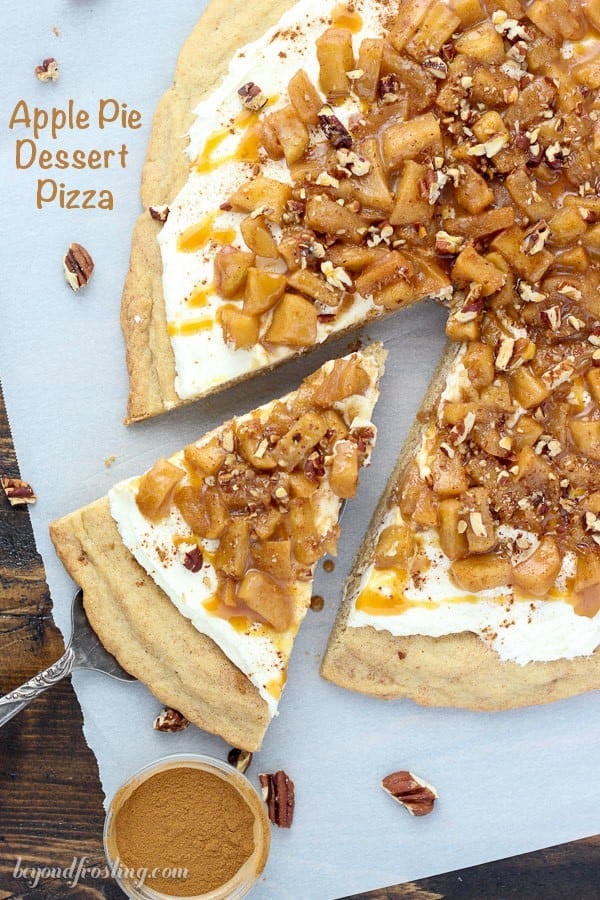 Facebook | Twitter | Pinterest | Instagram
If you love no-bake recipes, be sure to check out my cookbook, No-Bake Treats!
Print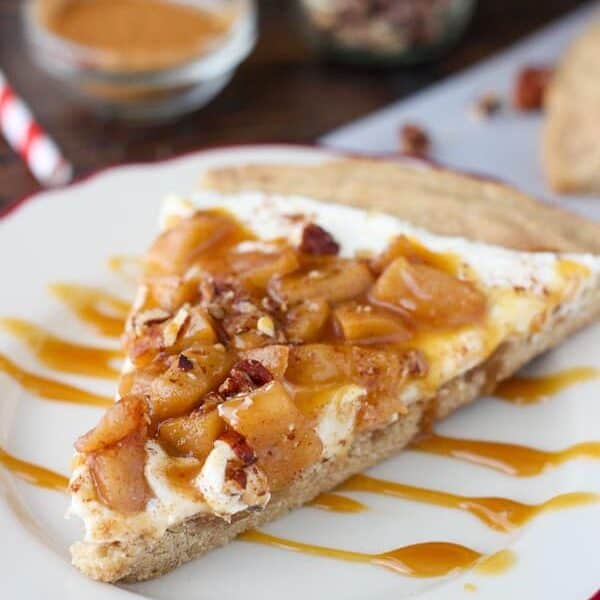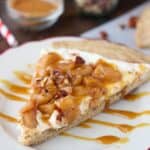 Apple Pie Dessert Pizza
Author:

Prep Time:

1 hour

Cook Time:

15 mins

Total Time:

1 hour 15 minutes

Yield:

12-16 slices
Description
Enjoy fall with an Apple Pie Dessert Pizza! This easy dessert recipe is a giant snickerdoodle cookie topped with vanilla marshmallow buttercream and homemade apple pie filling.
Ingredients
For the cookie base:
½ cup

(

1

stick) unsalted butter

1 cup

granulated Sugar

1

large eggs

½ teaspoons

vanilla extract

1 ½ cups

all-purpose flour

¼ teaspoon

baking soda

¼ teaspoon

cream of tarter

1 tablespoons

cinnamon

1/4 cup

sugar
For the apple pie filing:
3

Medium apples, sliced

1 tbsp

Lemon juice

1 tbsp

Maple syrup

2 tbsp

Light brown sugar

1 tbsp

All-purpose flour

1 tsp

Cinnamon
For the frosting:
½

c (1 stick) unsalted butter

4 oz

marshmallow cream

3 cups

powdered sugar

2 tablespoons

heavy whipping cream
Caramel sauce for garnish (optional)
Pecans for garnish (optional)
Instructions
For the cookie base:
Combine butter with sugar and beat on medium speed until well creamed together.
Add the egg, and vanilla extract. Mix into butter and sugar until egg is well beaten.
In a separate bowl, combine flour, baking soda and cream of tartar. Slowly add the dry ingredients into the batter and beat on medium low speed until well combined and dough forms.
Remove the dough from the mixing bowl and form into a large ball. Wrap in plastic wrap and refrigerate the dough for a minimum of 30 minutes and up to 1 hour.
Preheat the oven to 350°F.
On a large plate, combine the cinnamon and sugar. Remove the dough from the plastic and roll it in the cinnamon and sugar until it is well coated.
Roll out the cookie dough onto a lightly floured surface. It's helpful to use parchment paper on the top and bottom so the dough does not stick. Roll the dough into a circle until it's about a ¼" thick. Spread additional cinnamon sugar over top of the dough.
Bake at 350°F for 15 to 18 minutes until the edges just start to turn golden brown. The center will still be a little bit soft but that's okay.
Allow the cookie to cool completely.
For the apple pie filling:
Slice apples into small pieces and squeeze a lemon over top and stir to combine.
Add brown sugar, flour, maple syrup and cinnamon over top of apples. Stir to mix ingredients.
Heat apples on the stove over medium-low heat for 15-20 minutes until soft. Stir occasionally. You want the apples to be soft. Set aside and allow to cool, refrigerating if necessary.
For the frosting:
Allow the butter to come to room temperature so it is soft but not melted. Beat butter in mixer on medium speed until smooth and creamy.
Add the marshmallow creme and containing mixing for another 2 minutes.
Slowly add powdered sugar 1 cup at a time while continuing to beat on medium speed and then add the heavy whipping cream and clear vanilla extract. Beat until all ingredients are well combined.
Spread the frosting over the cookie, leave about 1-inch around the outside edge. You may have a little leftover frosting.
Sprinkle the top with the prepared apple pie filling, drizzle with caramel and sprinkle with pecans. Serve immediately.
Category:

Dessert

Method:

Oven

Cuisine:

American
Keywords: apple dessert pizza, apple dessert recipe, dessert pizza recipe, dessert pizza with fruit, recipe for dessert pizza, recipe for apple dessert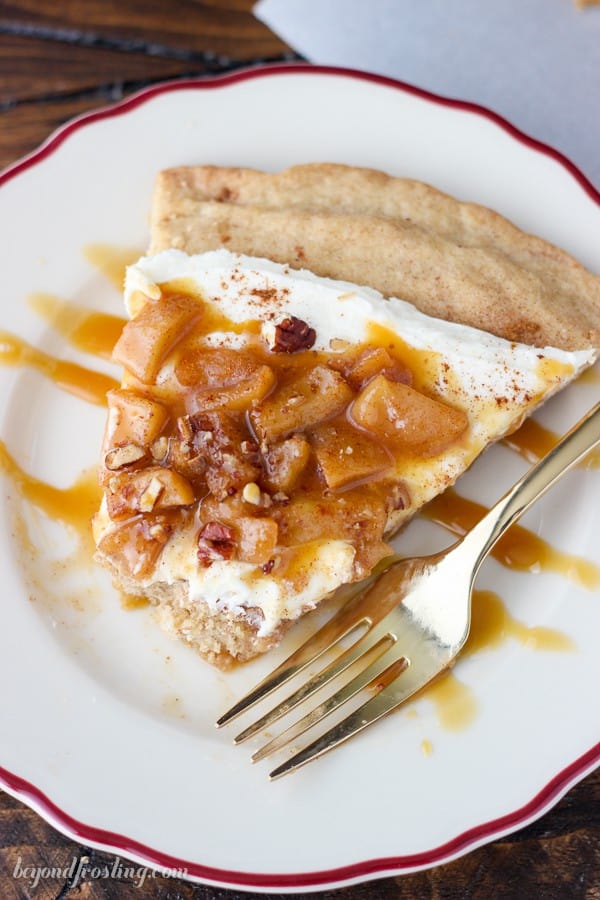 More Dessert Recipes You Might Like: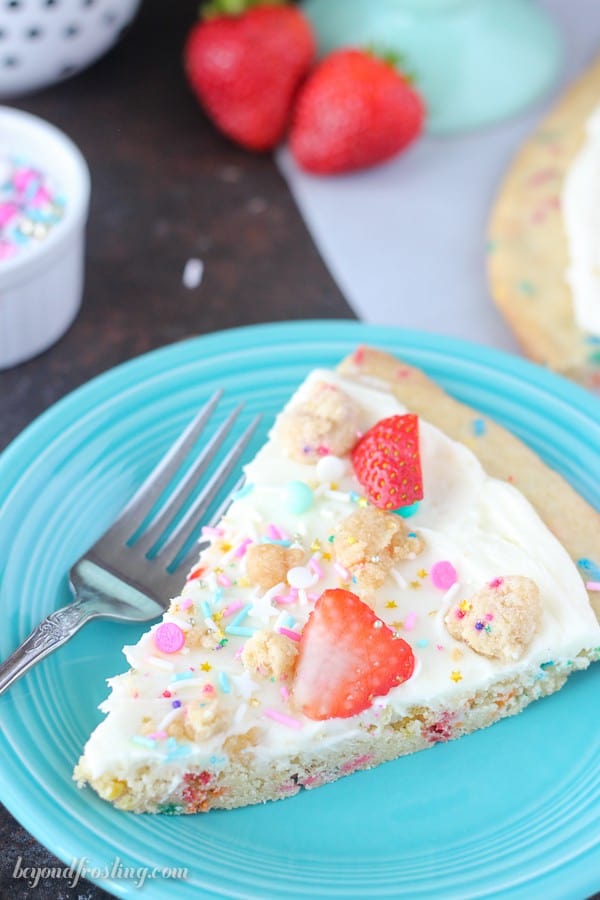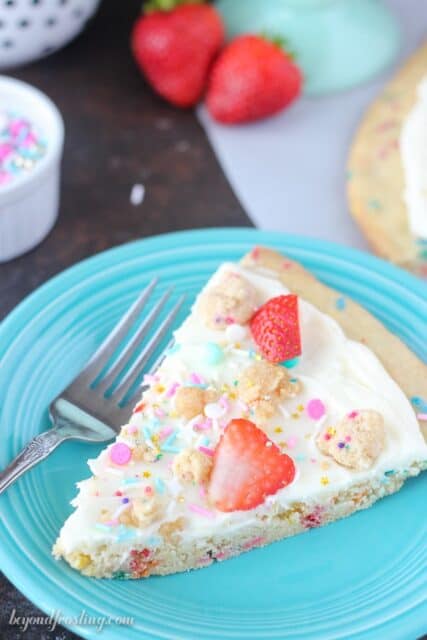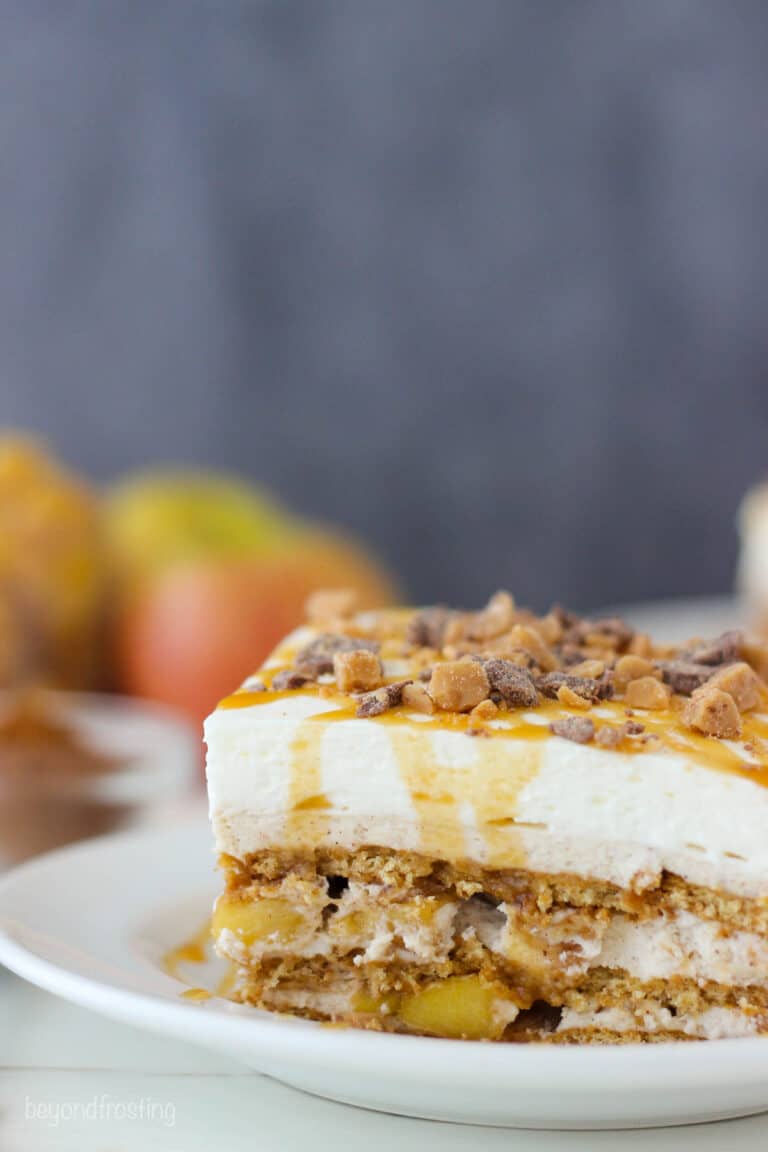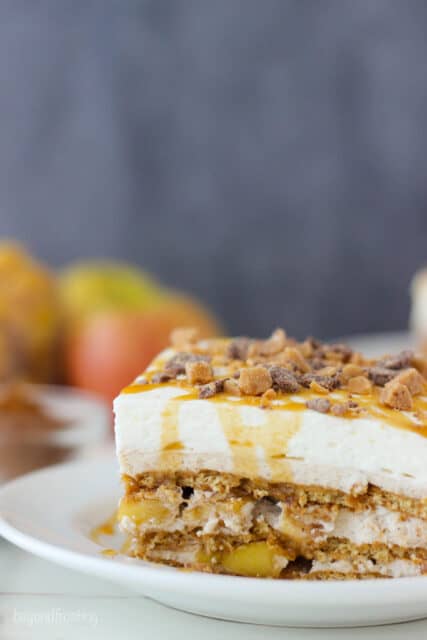 Apple Pie Dip and Pie Crust Chips