This post may contain affiliate sales links. Please see my full disclosure policy for details
These Brown Sugar Pecan Cupcakes are buttermilk cupcakes with a hint of brown sugar and are filled with toasted pecans. The brown sugar maple frosting is the perfect topping for these cupcakes. Don't wait for Fall, these pecan cupcakes are good all year round!
This post is sponsored by ADA Mideast. All opinions are my own.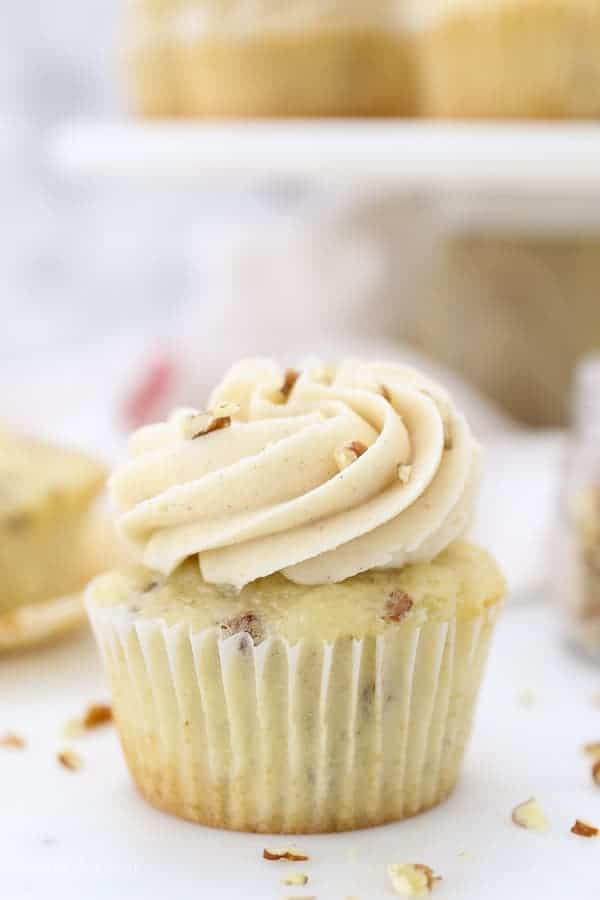 Whether you're celebrating the holidays, a birthday or another special occasion, Brown Sugar Pecan Cupcakes are one of the best decadent cupcakes you can share with your family and friends.
I'm no stranger to cupcakes, I have over 100 recipes on my blog. Obsessed? Maybe.
Whether you're a new baker or an experienced baker, cupcakes always bring joy and can be much less intimidating than cake.
I like to try and keep my recipes simple so that anyone can make them. I've even included a video of this recipe so you can see how to do it step-by-step.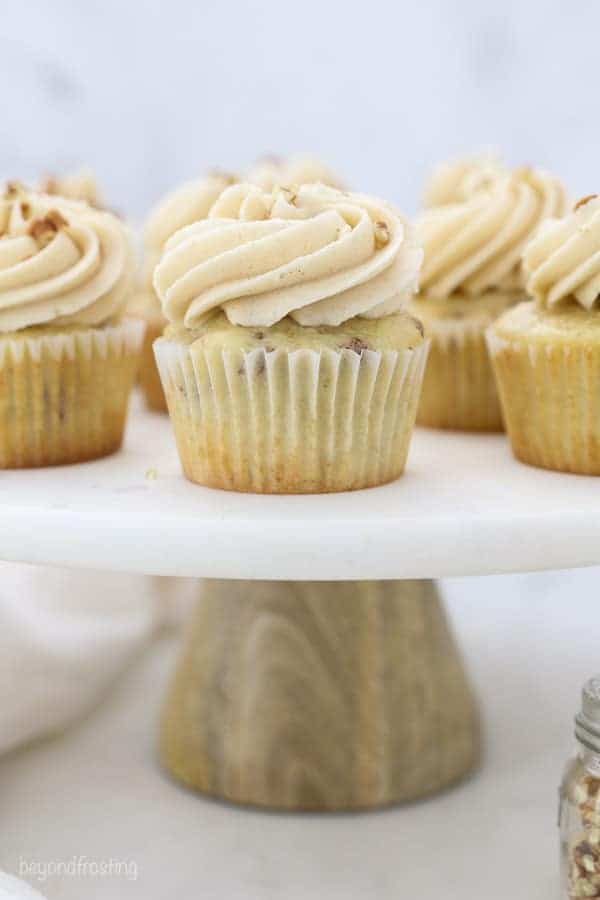 You'll love the toasted pecans in these light and fluffy buttermilk cupcakes. Also, the creamy brown sugar maple frosting pairs so perfectly with the buttery pecans in the cupcake.
Seriously your house is going to smell aaaamazing when you make these cupcakes.
I am partnering with the American Dairy Association Mideast again this year. They have been a long-time partner of mine. I enjoy plenty of dairy in my life, especially when it comes to baking.
Every day, including holidays, dairy farmers are committed to providing excellent care for their cows, producing safe, healthy milk and protecting the environment for future generations. I got to experience this when I visited with several Ohio dairy farmers in 2016.
Let's take a minute and talk about the ingredients in these cupcakes, including the dairy that makes these cupcakes so dang good.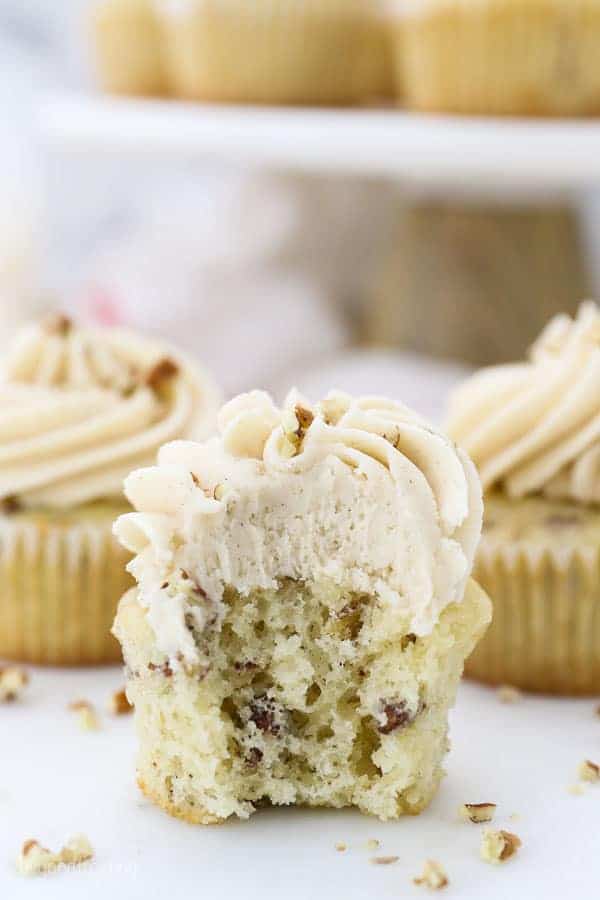 Buttermilk
You can add buttermilk to pretty much everything! This classic ingredient enhances just about any baked good from breakfast to dessert. A slightly acidic batter helps keep baked goods moist and tender.
If you ever find yourself without buttermilk, you can make a substitute in a pinch! Mix 1 cup of milk and 1 tablespoon of lemon juice or vinegar and let sit for 5-10 minutes.
Sour Cream
Sour cream keeps these cupcakes super moist; it really makes the crumb so nice and tender. I don't recommend omitting the sour cream in this recipe.
I get asked a lot about substitutes for sour cream. Greek yogurt can be a healthier alternative. Greek yogurt is high in protein, which helps to keep you fuller longer, and it packs in dairy's 9 essential nutrients. It adds creaminess and tang, too.

Pecans:
Each cupcake is packed with buttery toasted pecans. Toasting the pecans enhances the flavor. It's best to toast them whole, and then chop them after they have cooled.
I usually toast them once the oven is close to being fully preheated. You only need 5-7 minutes in the oven to toast them, but be sure to keep an eye on them so they don't burn!
Be sure to chop them up finely so you get plenty of them in each cupcake.
Tips to Make the Brown Sugar Maple Frosting
You seriously can't go wrong with this frosting. There's brown sugar, maple syrup and a touch of cinnamon.
Most of my frosting recipes start with COLD butter. There's a theory behind it. It's better for piping and allows you to control the consistency of the frosting. You can read more about how I make buttercream frosting if you want details.
Once you've beaten the butter for several minutes and it's fluffy and whipped, start adding the powdered sugar. I add 2-3 cups at a time and alternate it with the liquid ingredients to prevent it from getting too thick.
The liquid ingredients are vanilla extract, maple syrup and heavy cream. Heavy cream can also be substituted for milk. The heavy cream makes this frosting super fluffy.
The key to making a whipped frosting is to ensure you're beating the frosting at the various stages, before adding any of the powdered sugar and then again after each addition of powdered sugar.
I understand that sometimes we all get really busy, especially around the holidays. So you'll be happy to know you can make these 1-2 days in advance, and store them in an airtight container and they will still be moist and perfectly delicious.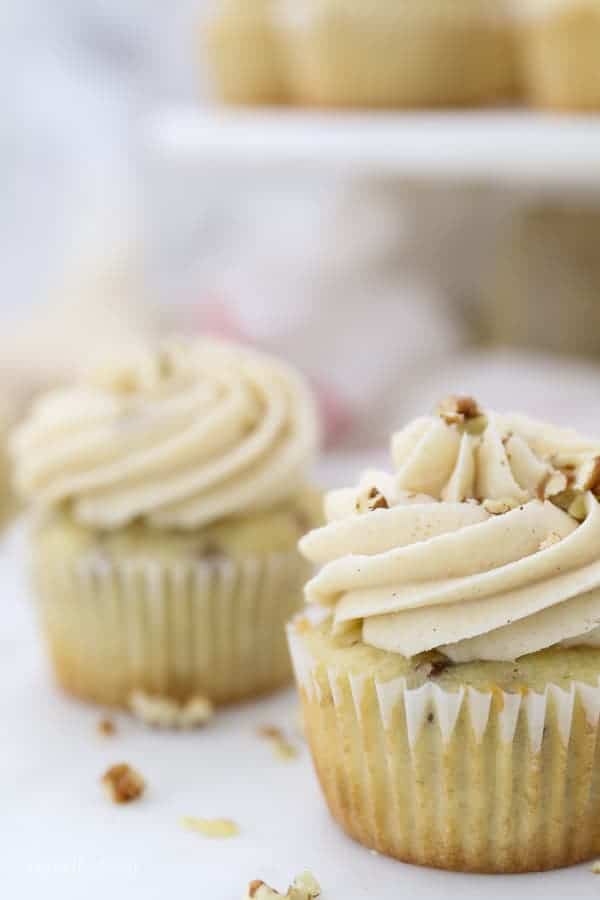 You'll love how fluffy and full of flavor these Brown Sugar Pecan Cupcakes are. Plus, I bet you won't be able to get enough of that frosting! I know I can't.
To meet Ohio and West Virginia dairy farmers, learn more about how farmers care for their cows and follow milk's journey from farm to fridge, visit Drink-Milk.com, and follow the American Dairy Association Mideast on Facebook, Twitter, Instagram and Pinterest.
Follow Beyond Frosting:
Facebook | Twitter | Pinterest | Instagram
Print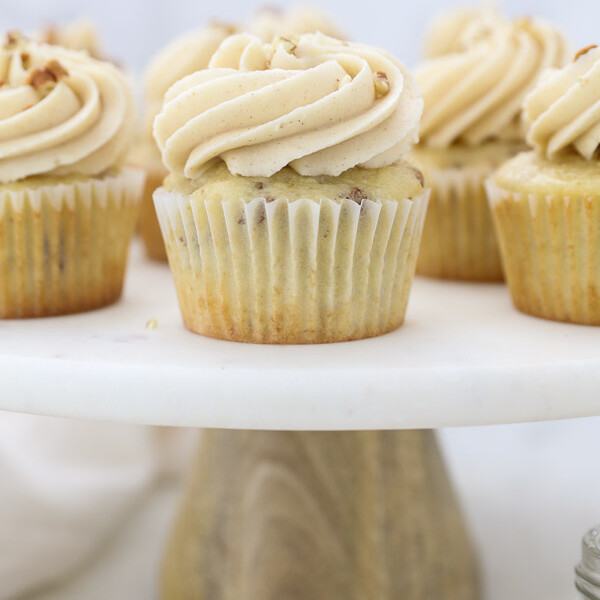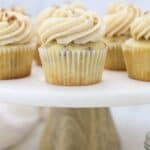 Brown Sugar Pecan Cupcakes
Author:

Prep Time:

15 min

Cook Time:

15 min

Total Time:

30 minutes

Yield:

28-30 cupcakes
Description
These Brown Sugar Pecan Cupcakes are buttermilk cupcakes with a hint of brown sugar and are filled with toasted pecans. The brown sugar maple frosting is the perfect topping for these cupcakes.
Ingredients
For the cupcake
1 cup

(

120g

) pecans, toasted

1 ¾ cups

(

238g

) granulated sugar

¼ cup

(

59g

) light brown sugar, packed

½ cup

(118ml) vegetable oil

2

large eggs

2

large egg yolks

2 teaspoons

(10ml) vanilla extract

½ cup

(

60g

) light sour cream

2 cups

(

280g

) all purpose-flour

2 teaspoons

(

7.5g

) baking powder

½ teaspoon

baking soda

1 teaspoon

(

5g

) salt

1 ¼ cup

(296ml) buttermilk
For the frosting
4

sticks (453g) unsalted butter, cold

8 cups

(

1041g

) powdered sugar

2 tablespoons

(

28g

) light brown sugar, packed

1 tablespoon

(30ml) maple syrup

2

–

3

tablespoons (30-44ml) heavy whipping cream

2 teaspoons

(10ml) vanilla extract
Pinch of cinnamon (optional)
Additional pecans for garnish (optional)
Instructions
For the cupcakes:
Preheat the oven to 350°F. Line a cupcake pan with cupcake liners.
Toast the pecans on a baking sheet for about 5 minutes, longer if the oven is not fully preheated. Cool the pecans and then chop into fine pieces.
In a large mixing bowl, combine the sugar, brown sugar, vegetable oil, eggs and egg yolks, and vanilla extract. Beat on medium speed until the eggs and oil are well incorporated and the batter is lighter in color, about 2 minutes. Scrape down the bowl as needed.
Next mix in the sour cream and beat until well combined.
In a medium sized bowl, combine all remaining dry ingredients. Then, add half the dry ingredients to the batter followed half the buttermilk and beat until it starts to combine.
Finally add the remaining dry ingredients, mixing on low speed while pouring in the buttermilk and beating until all of the ingredients are well combined.
Use a spatula to scrape down the sides of the bowl and stir the batter from the bottom to the top to ensure it's well mixed. Add the chopped pecans and fold into the cupcake batter.
Using a large cookie scoop, divide the batter evenly, filling each liner 2/3 full.
Bake at 350°F for 14-16 minutes. Test the cupcakes for doneness by inserting a toothpick into the center of the cupcake. If the toothpick comes out clean, the cupcakes are done. Cool Completely.
For the frosting:
Cut the butter into pieces. Using the paddle attachment, whip butter for 5-7 minutes, scraping down the bowl occasionally. Beat until butter look light in color.
Add 3 cups of powdered sugar and mix on low speed until incorporated into butter then add the vanilla extract and mix to combine. Beat for about 60 seconds.
Next, add an additional 2 cups of powdered sugar and the brown sugar and maple syrup and beat on low speed until sugar is incorporated. Increase speed to medium-high and beat for 2-3 minutes.
Add the remaining powdered sugar and heavy cream. Beat on low until ingredients start to mix together. Increase speed to medium-high and beat for another 2-3 minutes to whip additional air into the frosting. If the frosting is too thick, add an additional tablespoon of heavy cream and continuing beating until fluffy.
Frost the cooled cupcakes using a large open star tip and garnish with leftover crushed pecans. Store in an airtight container.
Keywords: Cupcake, Pecan Cupcake, Brown Sugar Pecan Cupcakes