This post may contain affiliate sales links. Please see my full disclosure policy for details
Homemade Buttercream Frosting is an essential recipe every baker needs to have. I've been making this frosting recipe for years and it's perfect for piping on cupcakes and decorating cakes. It's fluffy and creamy with the perfect amount of sweetness!
This buttercream frosting recipe includes variations that will allow you to make enough frosting for 12 cupcakes, 24 cupcakes or a 3-layer 8-inch cake.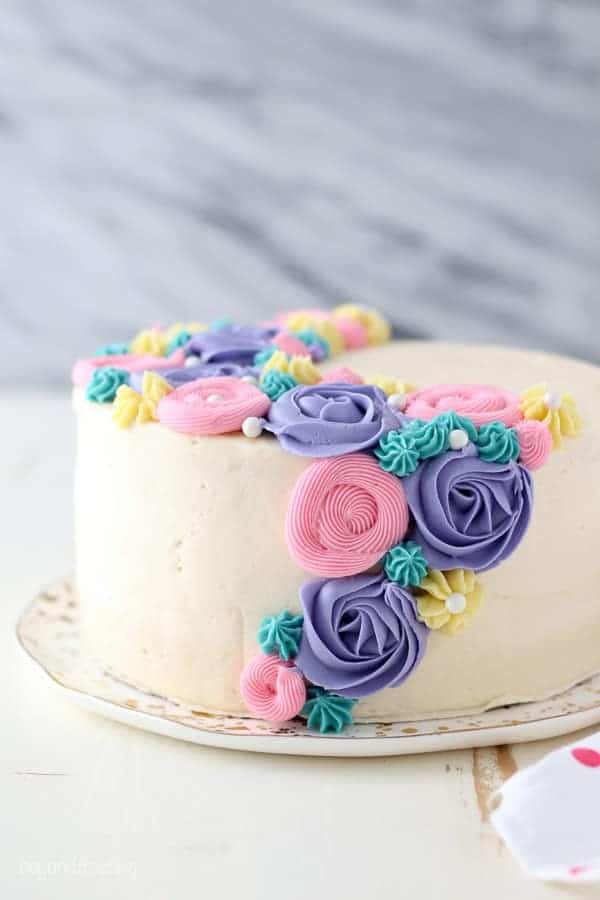 Homemade Buttercream Frosting
One of the questions I get asked the most is how to make a buttercream frosting that doesn't wilt or get too soft. Today I'm answering all your questions about making homemade buttercream that you can use for everything from decorating cupcakes to frosting cakes!
There is a lot of information in this post because I wanted to give you all the knowledge you would need to make the best buttercream frosting. You can use the table of contents menu below to jump to the section you are most interested in, or you can join me on this adventure and my obsessions with frosting.

What is Buttercream Frosting?
Butter cream frosting is made using a combination of butter and powdered sugar, this is often referred to as American buttercream and it used for frosting cakes and cupcakes. It's usually flavored with vanilla or other flavors of extracts.
Different Types of Buttercream Frosting
There are three main types of buttercream frosting:
American Buttercream Frosting – This is a simple and fast buttercream that's essentially fat (butter, margarine, shortening), confectioners sugar and vanilla extract whipped together.

This is the kind of frosting we will be making in this post.

Swiss meringue buttercream: is much less sweet than traditional buttercream. . This method heats egg white and sugar together.
Italian Buttercream – This type of frosting is made by adding simple syrup to egg whites and whipping them until they form stiff peaks. The heat from the simple syrup cooks the white.

Frosting Ingredients
Unsalted butter: This allows you to control how much salt you want to add to the frosting. This is especially important when making large batches. You CAN use salted butter but the taste is not the same and I don't recommend adding any additional salt.
Powdered (confectionary) sugar: My general rule of thumb is for every ½ cup of butter, I use 2 cups powdered sugar.
Pure vanilla (or another flavor) extract: The better the vanilla, the better the taste. I use a generous amount of vanilla extract.
Heavy whipping cream: Is used to make the frosting light and fluffy, and cut down the sweetness. If you don't have heavy cream, you can use any type of milk.
A pinch of salt is optional and used to help control sweetness
How Much Powdered Sugar Do I Need?
The rule of thumb for most of my frosting recipe is that you should use 2 cups of powdered sugar for every stick of butter (1/2 cup). If you need to make your frosting stiffer or thinner, you can find the answers to those questions below.
How to Make Buttercream Frosting
What makes my recipe different is the fact that I start with COLD butter. Starting with cold butter allows you control the stiffness of the buttercream. Here's how you make this frosting:
Whip the butter: Cut the cold butter into 1 tablespoon size pieces and then whip it using the paddle attachment for 3-5 minutes, scraping down the bowl occasionally until it's super light and fluffy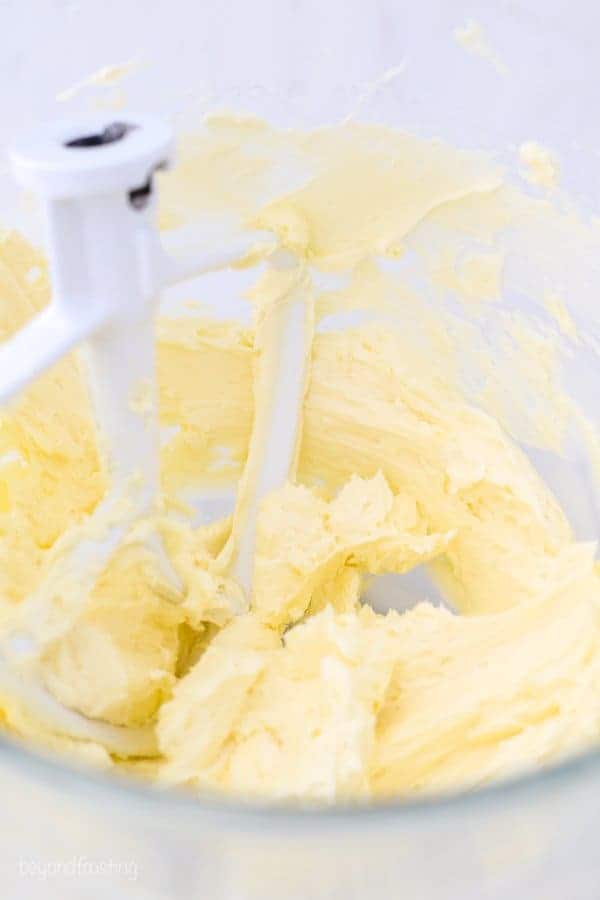 Add Powdered (confectioners) sugar: Add the powdered sugar 2 cups at a time until it's all be added. Each time I add powdered sugar, I be sure to whip the buttercream until it's nice and fluffy again before adding more.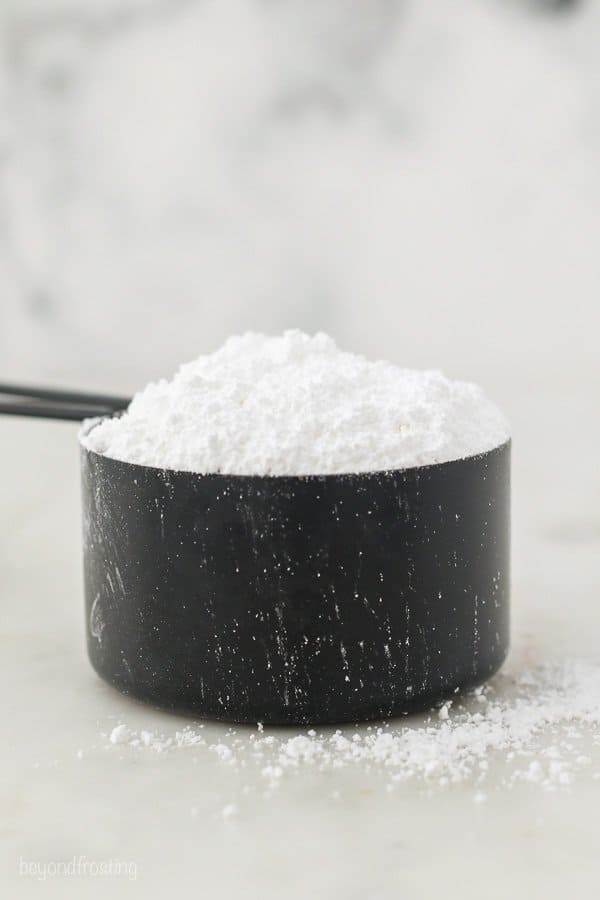 Add liquid ingredients (vanilla and heavy cream): As you start to add more powdered sugar, your frosting will become much thicker. This is when you need to start alternating in your wet ingredients such as extracts and milk or heavy cream, add as needed.
Add a pinch of salt (optional): You can add a pinch of salt to help cut the sweetness. Add slowly, as too much salt cannot be fixed. If you happen be using salted butter, then you may not want to add more salt.
Whip the frosting: Once all the ingredients are added, whip the frosting with the paddle attachment for another few minutes to get it nice and fluffy.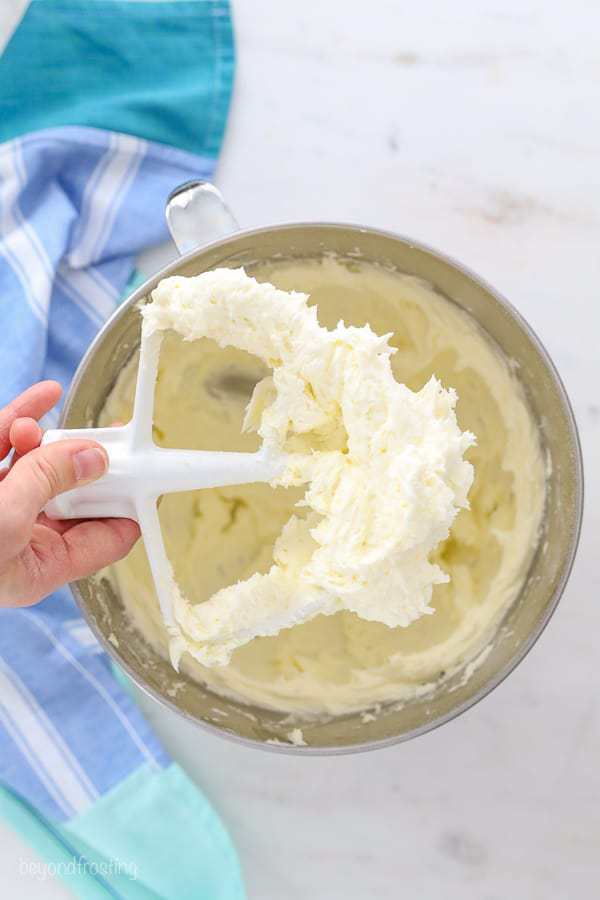 Determining How Much Frosting You Need
For 12 Cupcakes
This entirely depends on how much frosting you like on your cupcakes. If you're using a large piping tip, you'll need at least 3 cups of frosting.
For a frosting recipe for 12 cupcakes, generally you'll need ¾ cups of butter and 2-3 cups of powdered sugar.
I HATE running out of frosting, especially when I am making chocolate or any colored frosting recipes because it's so hard to match color. So, I always make more than I need in case I make mistakes when I am piping.

For 24 Cupcakes
Again, depending on how much frosting you like on your cupcakes will depend on how much frosting you'll need, but about 5 cupcakes of frosting is enough for 24 cupcakes.
As previously mentioned, I hate running out of frosting, so I always make more than I need. For 24 cupcakes, my recipes use 3-4 sticks (1 1/2 -2 cups) of butter (I use unsalted) and 7-8 cups of powdered sugar.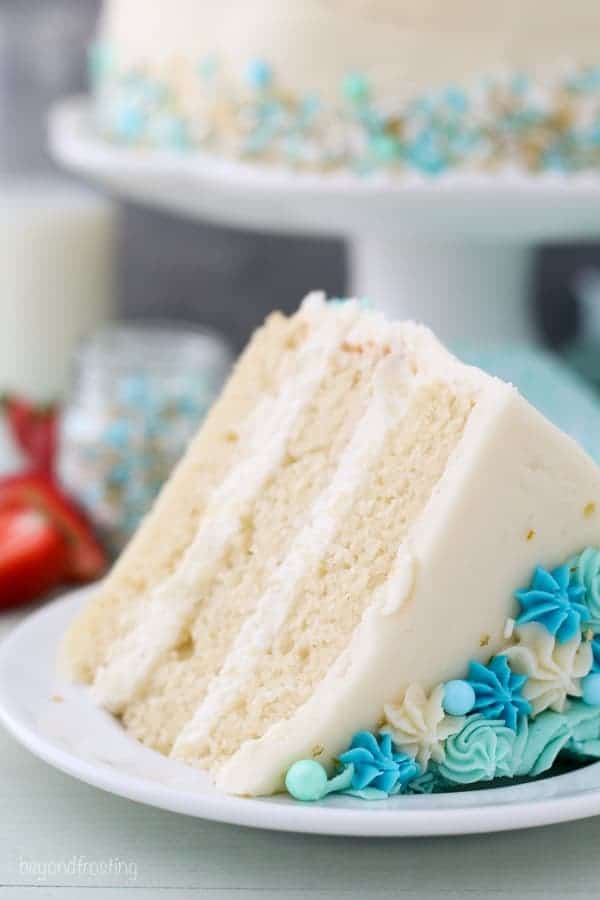 For a 3 Layer Cake
This can be very difficult to judge because it really depends The size of the cake you are making and how much frosting you are putting between each layer, on the sides and on the top to decorate.
For a 3 layer, 8-inch cake, I usually use 2 ½ cups of butter (5 sticks) and 10+ cups of powdered sugar. This is about 1.5 times more than you need for 24 cupcakes.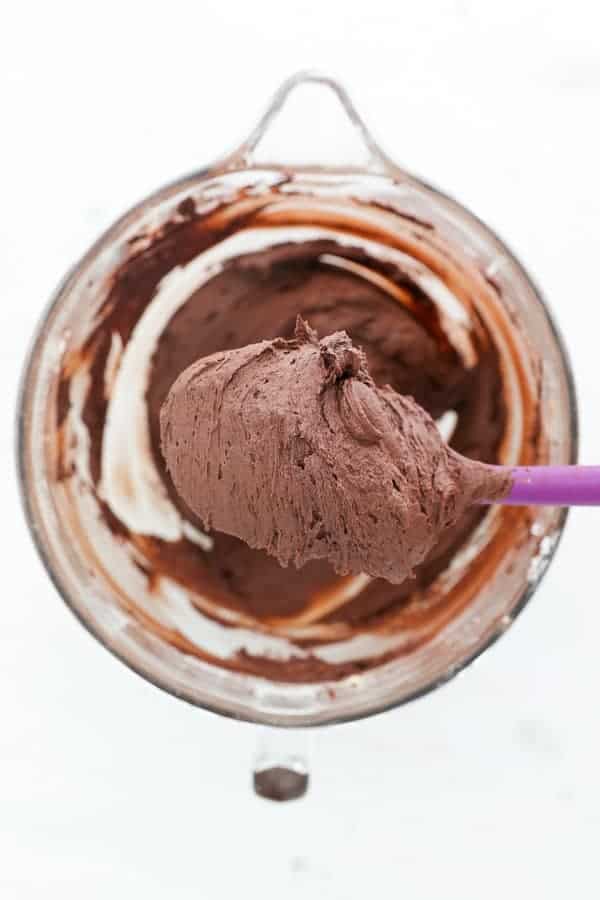 Can I Make this Recipe into Chocolate Buttercream?
Now that we've covered the basics of how to make homemade buttercream frosting, let's explore some ways to add chocolate!
I have several chocolate frosting recipes on my site including my 3 basic recipes, each recipe goes into further detail about how it's made.
The Best Chocolate Frosting– a traditional American buttercream with powdered sugar and cocoa powder with a more whipped consistency.
Chocolate Fudge Frosting– an American buttercream with melted chocolate, cocoa powder and powdered sugar. A more intense chocolate flavor with a stiff consistency.
What Kind of Cocoa Powder to Use
There are a few different types of cocoa powder you can use for chocolate buttercream. I use all of these in my kitchen, but nothing beats a high-quality cocoa powder.
My 3 favorites are: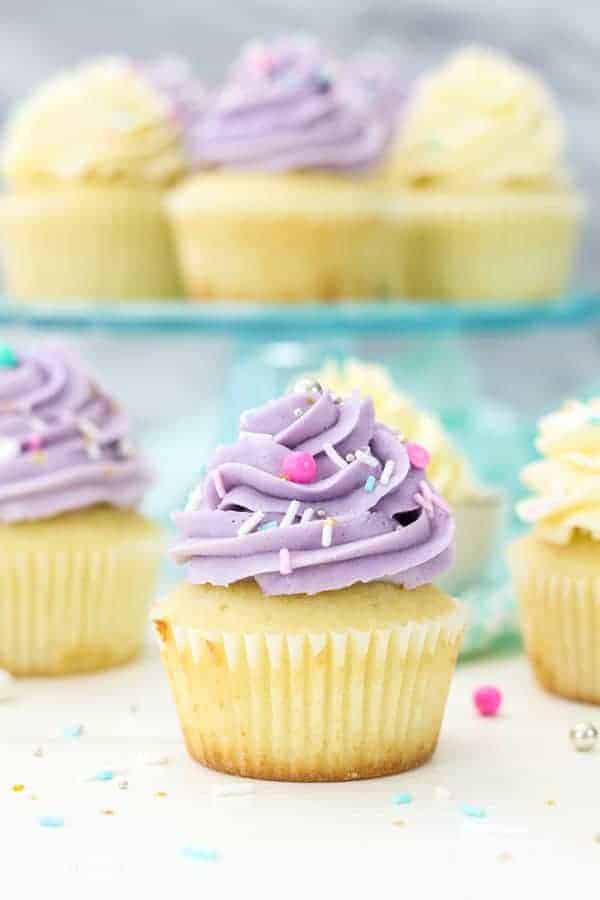 How to Use Homemade Buttercream Frosting
There are so many things you can do with a good buttercream frosting. Putting it on cupcakes and cakes is, of course, a classic. But you can also put buttercream inside your cupcakes, or use it as a filling for sandwich cookies. I have even seen people hollow out fruits like strawberries and fill them with buttercream frosting for a simple and elegant dessert.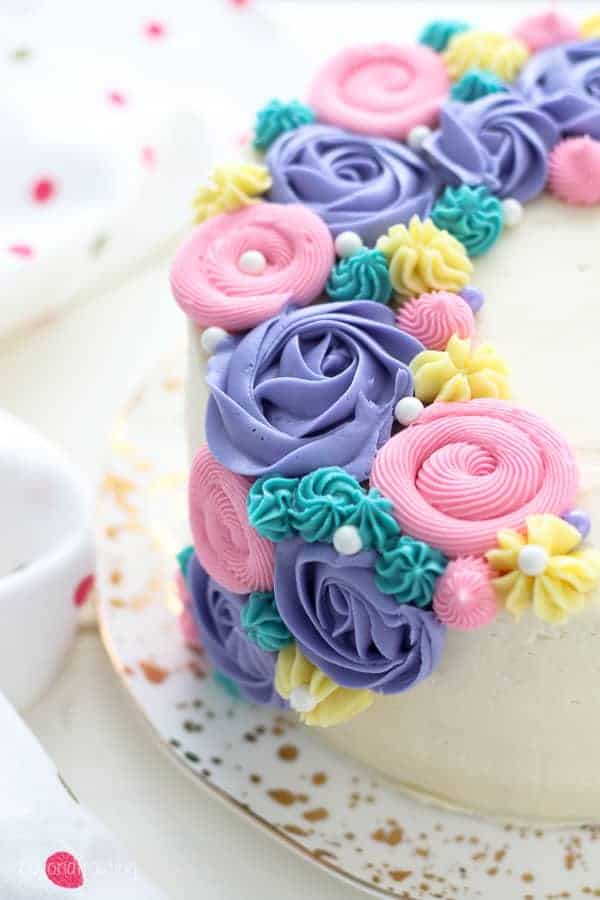 Frequently Asked Questions
Can Buttercream Frosting Be Made in Advance?
This recipe can be made in advance and kept in an airtight container or in the fridge for two days before serving. Any longer than that and I would recommend freezing it.
Prior to using, you'll need to allow it to soften to room temperature for a couple of hours and you may even want to rewhip it. If you're planning to freeze it, you'll need to do the same thing.
Your frosting is best for piping when it's fresh. The longer it sits, the frosting will lose some of the air that you whipped into it. Therefore, it will be stiffer and harder to work with, which is is why I recommend you always rewhip it for a few minutes prior to use.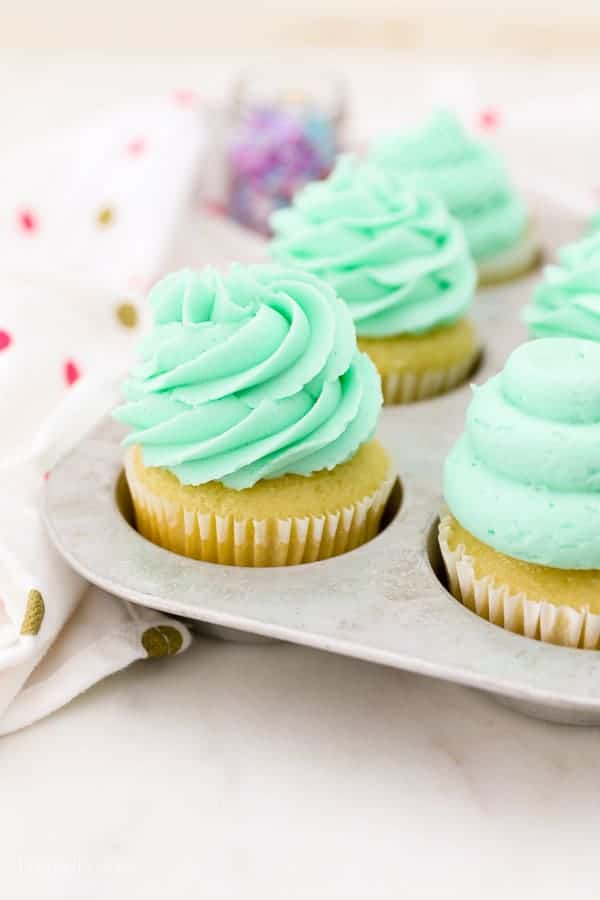 How do you make stiff buttercream icing for cupcakes?
You can control how stiff or how thin you make your buttercream. If you want to make a stiff buttercream, start with COLD butter! See my instructions above for How to Make Buttercream which explain why I start with cold butter.
Use powdered sugar to make your buttercream thicker, but you need to consider what you're doing with the buttercream.
Stiff frosting can be difficult for piping cupcakes. As you continue to add powdered sugar, the frosting will be sweeter.
You can use liquid like milk or heavy whipping cream to thin out your buttercream, adding one tablespoons at a time as needed.
The longer you whip the buttercream, the lighter and airier it will be. However, you can still have a stiff whipped buttercream that is perfect for piping.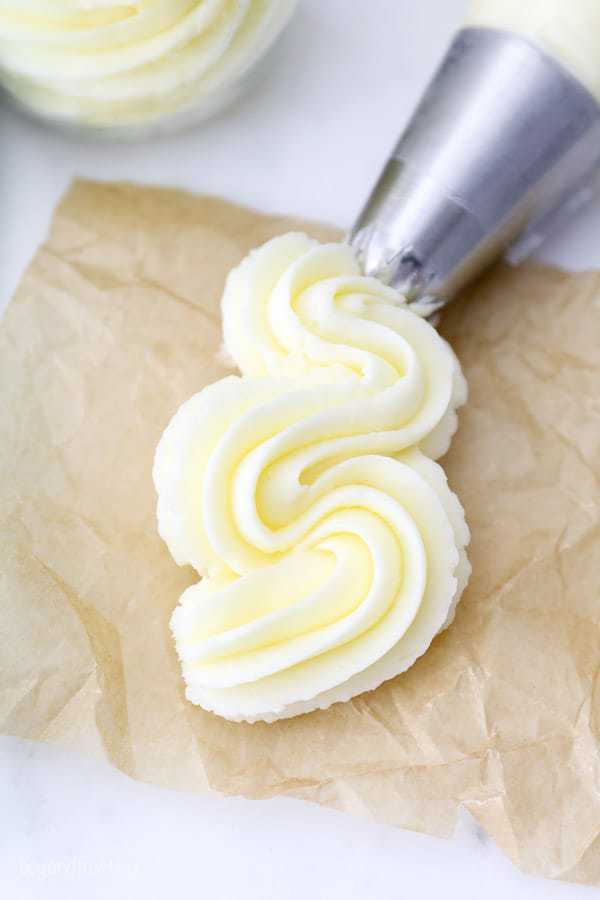 How do you make light, fluffy buttercream frosting?
The key to making fluffy buttercream is by whipping your frosting, a lot. If you follow my method for starting with cold butter and whipping it through the various stages, you should get a nice, fluffy frosting.
Whip the butter for a good 3-5 minutes before adding any liquid or powdered sugar. The butter will grow in volume and look very light in color.
Whip the buttercream for 1-2 minutes at a time after adding each cup of powdered sugar and again at the end for a couple of minutes.
I also recommend using heavy whipping cream. The heavy cream not only cuts the sweetness, but it adds to the whipped texture of the frosting.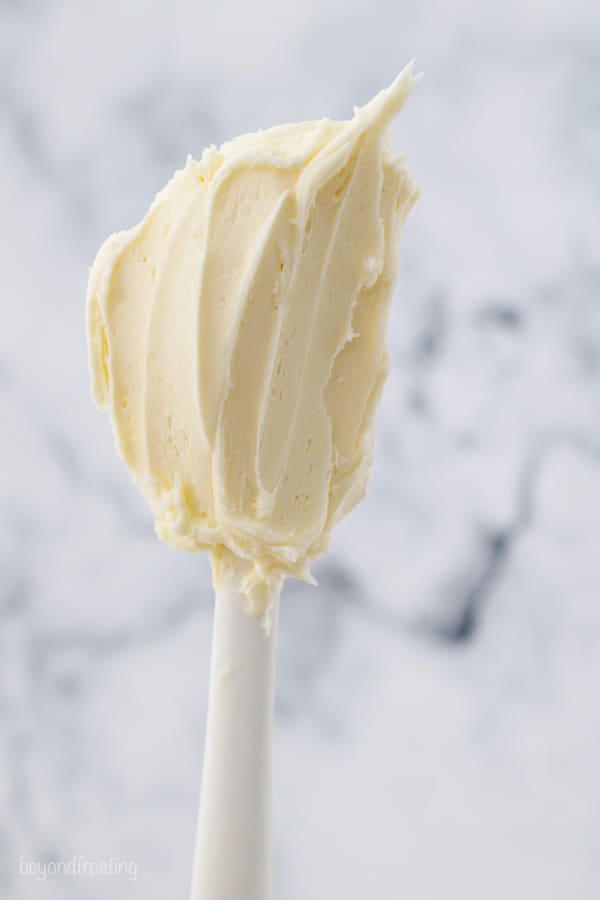 Can I make buttercream frosting with a handheld mixer?
The short answer is yes, anything is possible. However, it will be difficult for you to make large batches of frosting, simply because the powder of a handheld mixer is not the same as a stand mixer.
I usually recommend slightly softening the butter if you plan to use a handheld mixer. You will likely need to spend even more time whipping the butter both in the beginning and throughout when adding the powdered sugar in order to achieve the same consistency.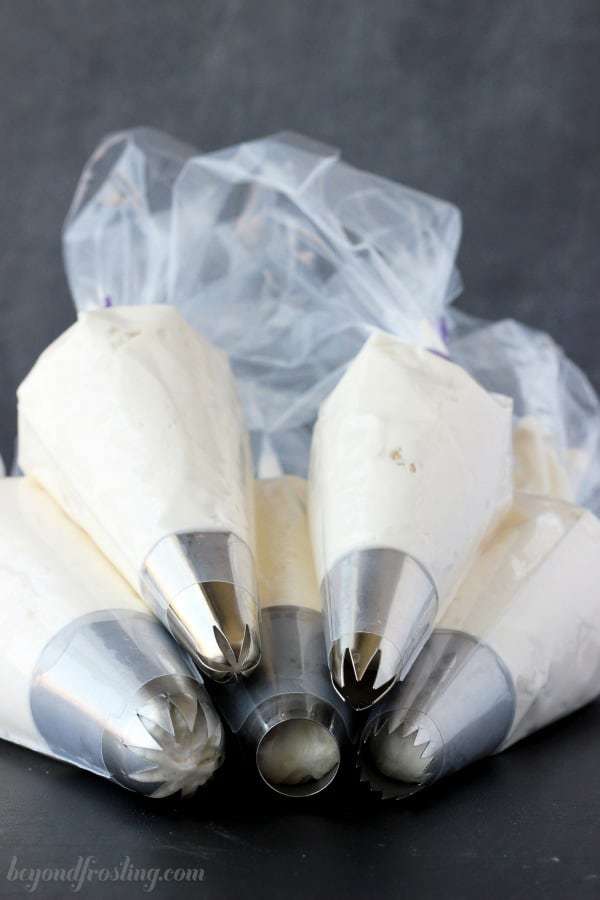 More helpful buttercream tutorials
How to Decorate Cupcakes with Frosting: Learn all about my favorite piping tips and how to decorate cupcakes with each different tip
How to Color Buttercream Frosting: Follow these step-by-step instructions to dye your buttercream different colors. I always recommend using gel colors as opposed to traditional food coloring. The gels are much more concentrated and therefore they do not thin out your frosting the way traditional food coloring does. You have several options for gel colors including the Wilton Recipe Right color system and Americolor which are my two favorite.
How to Use a Piping Bag: Once you have your frosting ready, it's time to start decorating. Learn my tips for using and filling piping bags.
How to Use Piping Tips: Along with the piping bag, you'll want to learn all about the different types of piping tips, how and where to use them. I also discuss how to work with couplers to make your life easier.
I hope I have answered all your questions about buttercream frosting. If you have any questions, please leave a comment below!
Follow Beyond Frosting:
Facebook | Twitter | Pinterest | Instagram
If you love no-bake recipes, be sure to check out my cookbook, No-Bake Treats!
Print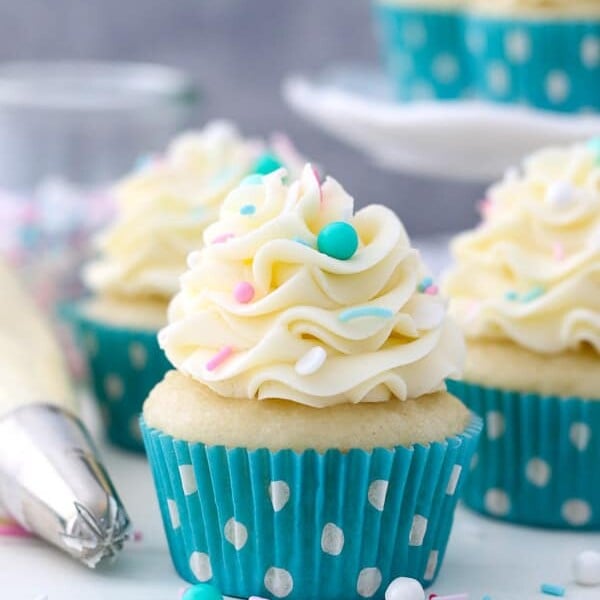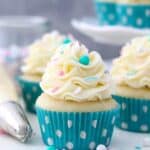 How to make buttercream frosting
Author:

Prep Time:

15 minutes

Cook Time:

0 minutes

Total Time:

15 minutes

Yield:

3-8 cups
Description
Learn how to make buttercream frosting with this easy tutorial. I've been making this homemade American buttercream frosting recipe for years! It's perfect for piping on cupcakes, decorating cakes and is a simple starting point for other buttercream frosting flavors.
Ingredients
Frosting for 12 cupcakes
3/4 cup

(

170g

) unsalted butter, cold.

2

–

3

cups (

260g

-3

90g

) powdered sugar

1 teaspoon

(5ml) vanilla extract

1 tablespoon

(15ml) heavy whipping cream (or milk)
Pinch of salt (optional)
Frosting for 24 cupcakes
1 1/2 cups

(

339g

) unsalted butter, cold.

5 cups

(

650g

) powdered sugar

2 1/2 teaspoons

(12ml) vanilla extract

2 tablespoons

(30ml) heavy whipping cream (or milk)
Pinch of salt (optional)
Frosting for 3 layer, 8-inch cake
2 1/2 cups

(

567g

) unsalted butter, cold

8

–

10

cups (1041-1

301g

) powdered sugar

1 tablespoon

(15ml) vanilla extract

3

–

4

tablespoons (45-60ml) heavy whipping cream (or milk)
Pinch of salt (optional)
Instructions
Cut the butter into pieces. Using the paddle attachment, whip the butter for 3-5 minutes, scraping down the bowl occasionally. Beat until the butter looks light in color and has increased in volume.
Add 2 cups of powdered sugar at a time and mix on low speed until incorporated into butter then continuing adding additional powdered sugar, alternating with the vanilla extract and heavy cream. After each additional of 2 cups of powdered sugar, beat for about 60 seconds on medium-high or until the powdered sugar is well combined.
Increase speed to medium-high and beat for another 3-5 minutes to whip additional air into the frosting.
Notes
Make ahead and storage options: This recipe can be made in advance and kept in an airtight container or in the fridge for two days before serving. Any longer than that and I would recommend freezing it. Bring to room temperature prior to using, rewhip in the mixer as needed
Category:

Frosting

Method:

Mixer

Cuisine:

American
Keywords: how to make buttercream frosting, vanilla buttercream frosting, chocolate buttercream frosting, buttercream frosting recipe, best buttercream frosting
Recipe Card powered by