This post may contain affiliate sales links. Please see my full disclosure policy for details
Chocolate lovers, this one is for you! This Brownie Brittle Icebox Cake is made with a no-churn brownie batter ice cream and Chocolate Chip Brownie Brittle. It is covered with a Cool Whip frosting.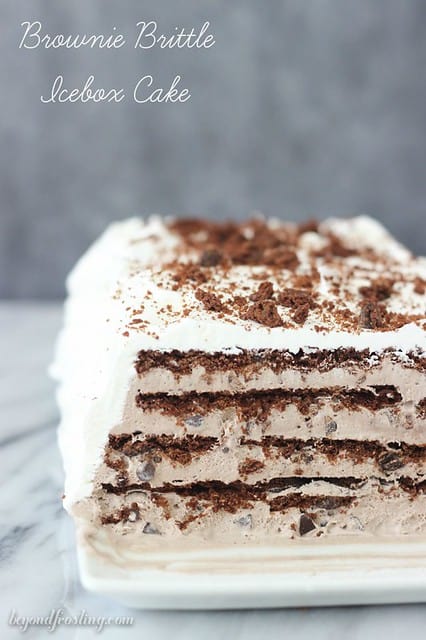 Summer is quickly approaching and I've got a lot on my plate. Every month seems like I have something big going on. First up is our annual trip to Bass Lake. It is a tradition for my boyfriend's family, and this will be my third summer vacation with them. It's really fun for me because we have a house full of people that I can help cook for, lazy days laying by the lake and a little bit of wakeboarding.
Normally I am just cooking and baking for two, so this is a great opportunity to make some of my favorite recipes for a crowd: including dessert. Last summer I made flat-apple pies and they were a huge hit. Now how am I going to top that this summer? I think an icebox cake would be the perfect treat to enjoy at the lake.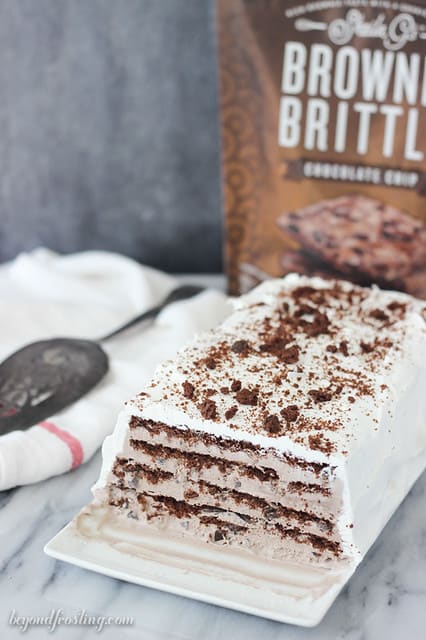 Something genius happened to me last weekend. I've been wanting to make a frozen chocolate ice box cake for quite some time, but I wasn't exactly sure how I wanted to execute it. Then I had this "aha" moment, and decided I would use Brownie Brittle layered into my ice cream. To further the brownie flavor, I used a no-churn brownie batter ice cream. It is a win-win in my book.
This Brownie Brittle Icebox Cake is super easy to throw together and the best part is, it does not require an ice cream maker! That's right! You can make an ice cream by combining a can of sweetened condensed milk with a container of Cool Whip to help make a mousse-like ice cream. For this recipe, I mixed in some dry, powdered brownie mix and it made the perfect filling for this cake!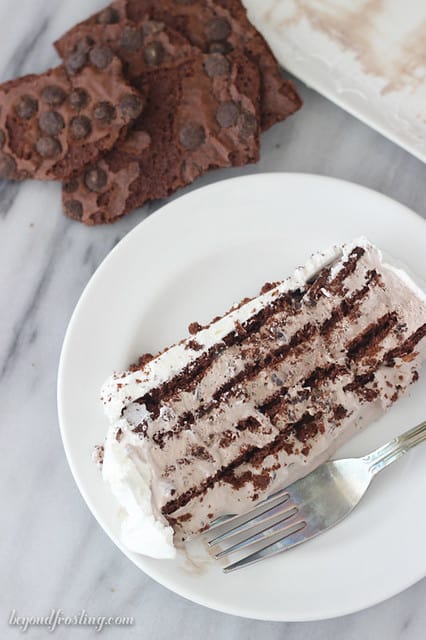 I've been a big fan of Brownie Brittle ever since I was introduced to it. It is quite addicting actually. The great thing about it is that it is a snack I can enjoy and not feel totally guilty about (unless I eat a whole bag in one sitting #dontjudge).
I have actually done several recipes for Brownie Brittle including: Toffee Crunch Cookie Cups, Hot chocolate Dip, S'mores Cupcakes, Grasshopper Pie, and Strawberry Lasagna.
The one thing about the no-churn ice cream base is that is does not freeze up completely. It gets firm, but stays soft enough that you can enjoy it straight out the freezer because it is already easy to cut. It creates a frozen mousse-like texture, which is pretty awesome.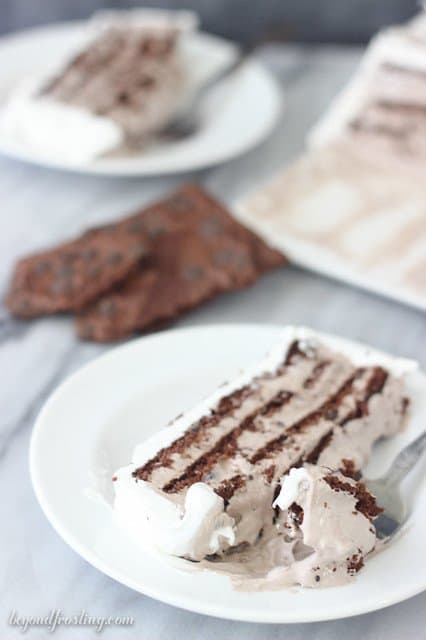 To build this icebox cake, you need a freezer-safe container; the best one I have found is a bread pan. It is deep, and usually wide enough to build some solid layers. This cake is covered with Cool Whip, which means that you need to invert it out of the pan before adding the frosting. Therefore, it is best to line the pan with a piece of parchment paper or tin foil so you can easily lift is out of the pan.
To build the icebox cake, start with a layer of Brownie Brittle on the bottom of the pan. For this recipe, I suggest getting a couple bags of Brownie Brittle, so you can find larger pieces of Brownie Brittle to use, but it is not totally necessary. My loaf pan allowed me to place 3 pieces of Brownie Brittle on the bottom of the pan, and then I filled in the sides with smaller pieces. Here's a great tip: use a serrated kitchen knife to cut the Brownie Brittle into smaller pieces for the edges. Don't stress if you can't find the perfect piece since it will be frozen!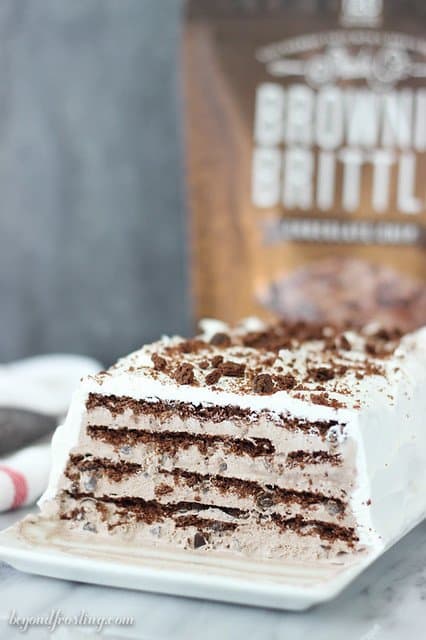 The no-churn ice cream makes quite a bit of filling. I was able to make four layers for this cake. It is best practice to smooth out the layers with a knife before building the next.
Once you have filled up your loaf pan with all the layers, top your ice cream with one last layer of Brownie Brittle. I actually did not do this when I photographed this cake, but it would have been very helpful. Since you are inverting the cake after removing it from the pan, the additional layer of Brownie Brittle give your cake a stable base.
To cover the outside in the Cool Whip, you need to lift your icebox cake out of the freezer and invert it onto a plate. Quickly cover with the Cool Whip and return to the freezer for another couple of hours. If you don't want the outside layer of Cool Whip, that is fine too! You can spoon it on top or skip it all together. I crumbled some more Brownie Brittle on top just for fun.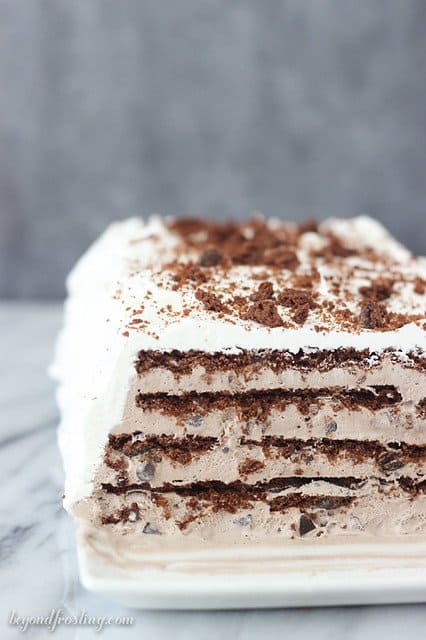 This icebox cake is also customizable in that you can use any flavor of Brownie Brittle you want. I used the Chocolate Chip flavor, but it would be great with the Salted Caramel flavor, and then you could even drizzle it with some caramel sauce. Man, my mouth is watering all over again!
Keep up with all the happenings. Follow Beyond Frosting:
Facebook | Twitter | Pinterest | Instagram
This post is sponsored by Brownie Brittle. All opinions are my own. I choose to work with brands that I love.
Print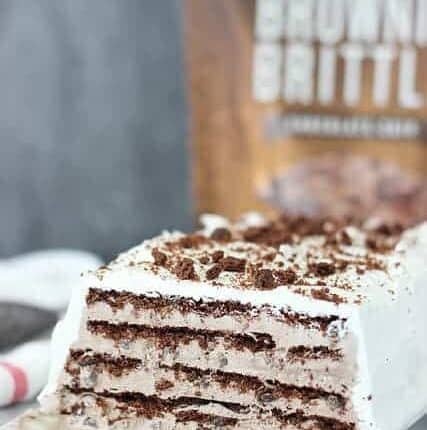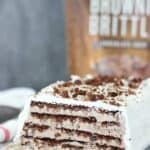 Brownie Brittle Icebox Cake
Author:

Prep Time:

15 mins

Total Time:

15 minutes

Yield:

8 slices
Description
Chocolate lovers, this one is for you! This Brownie Brittle Icebox Cake is made with a no-churn brownie batter ice cream and Chocolate Chip Brownie Brittle. It is covered with a Cool Whip frosting.
Ingredients
1

can Sweetened condensed milk (

14 oz

)

1

C Brownie mix, dry

2

containers Cool Whip (

8 oz

each), thawed

3

bags Brownie Brittle (flavor of choice)

1

C Mini chocolate chips
Instructions
In a large mixing bowl, combine sweetened condensed milk and dry brownie mix. Beat until well incorporated. Add thawed container of Cool Whip. Filling must be well mixed; use a spatula to overturn the mixture from the bottom to the top if necessary.
To build the icebox cake, line your loaf pan with parchment paper or tin foil.
Start building your layers by putting a layer of Brownie Brittle on the bottom of the pan. Try to fill in empty spaces with smaller pieces of Brownie Brittle.
Alternate layers of Brownie Brittle with the ice cream base. You should be able to get four layers. Each layer is about one and a half cups of ice cream base.
To finish the icebox cake, top it with Brownie Brittle. Freeze for a minimum of 4 hours.
To cover with Cool Whip, remove the frozen icebox cake by lifting it out of the pan and inverting it onto a plate. Cover with Cool Whip and return to the freezer for another 2 hours until the Cool Whip freezes. You also have the option to spoon the Cool Whip onto the icebox cake instead.
This icebox cake will thaw quickly! Slice immediately when removing from the freezer and return it to the freezer when you are not serving it.
Brownie Brittle Recipes from my friends:
Brownie Brittle Birthday Cake Icebox Cupcakes from Life Love and Sugar
No-Bake Brownie Brittle Toffee Cheesecake Bars from Shugary Sweets
Brownie Brittle Toffee from Chocolate Chocolate and More
Other recipes you might like from Beyond Frosting
Strawberry Brownie Brittle Icebox Cake
Brownie Brittle Grasshopper Pie