This post may contain affiliate sales links. Please see my full disclosure policy for details
This No-Bake Chocolate Chip Cookie Mousse Cake will knock your socks off. The chocolate chip cookie crust is filled with a chocolate mousse and a chocolate chip cookie mousse. Finish off this mousse cake with some homemade whipped cream and crushed chocolate chip cookies.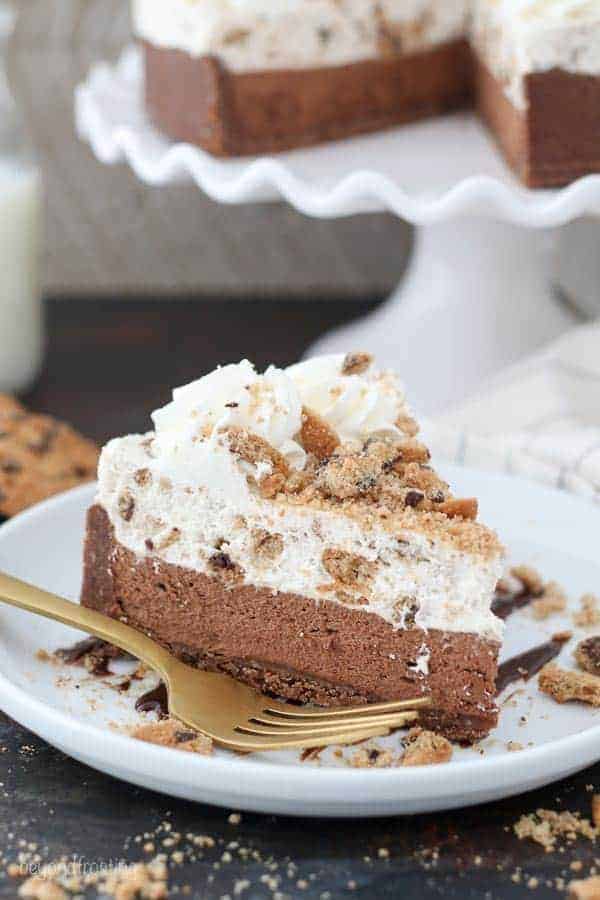 I'm pretty obsessed with these mousse cakes (or pies) at this point. There are lots of different ways these can be prepared but my favorite method doesn't require any baking.
As we all know, no-bake desserts are perfect for summer time when you want a sweet treat but don't want to turn on the oven. However, I'm very much enjoy no-bake desserts all year round, so for me, it's not just about summer.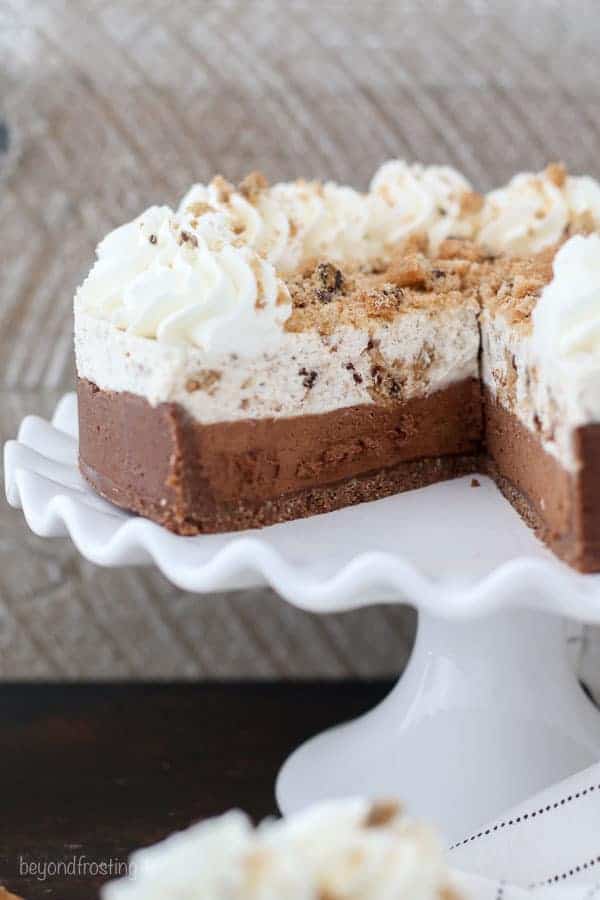 For this Chocolate Chip Cookie Mousse Cake, we're starting with a chocolate chip cookie crust. For the crust you want to use hard cookies such as Chips Ahoy. This way when you grind it into a fine crumb, it can be easily bind together with butter. You could also use Oreos or another type of cookie as well.
The next layer is an easy chocolate mousse made with melted chocolate, cream cheese and whipped cream. This layer is nice and light but adds some structure to the dessert because it's a bit of a thicker consistency then the top layer of mousse.
For this bottom layer, using high quality chocolate is important. You can use either milk or dark chocolate, your preference, I love dark chocolate myself. I suggest using a chocolate bar or chocolate wafers that are meant for melting as opposed to chocolate chips. Chocolate chips tend to have a more oily coating, but I have used them before if I don't have a chocolate bar on hand.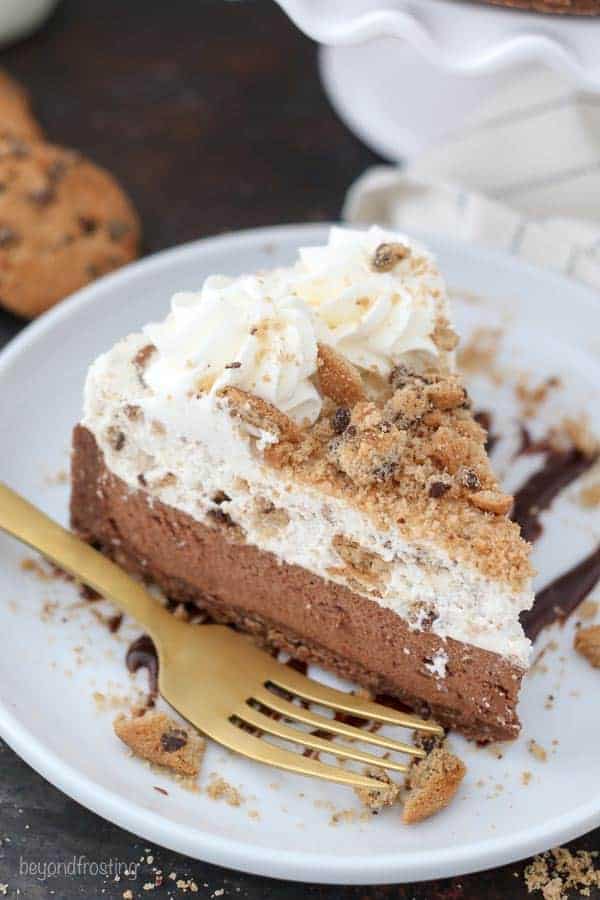 The top layer of mousse is made with a homemade whipped cream and crushed chocolate chip cookies. The cookies get nice and soft, almost cake like so your fork just sinks right through it. It's the same topping I made for my Chocolate Chip Cookie Poke Cake and it's AMAZING.
The chocolate chip cookie mousse together with the layer of chocolate mousse underneath are a match made in heaven.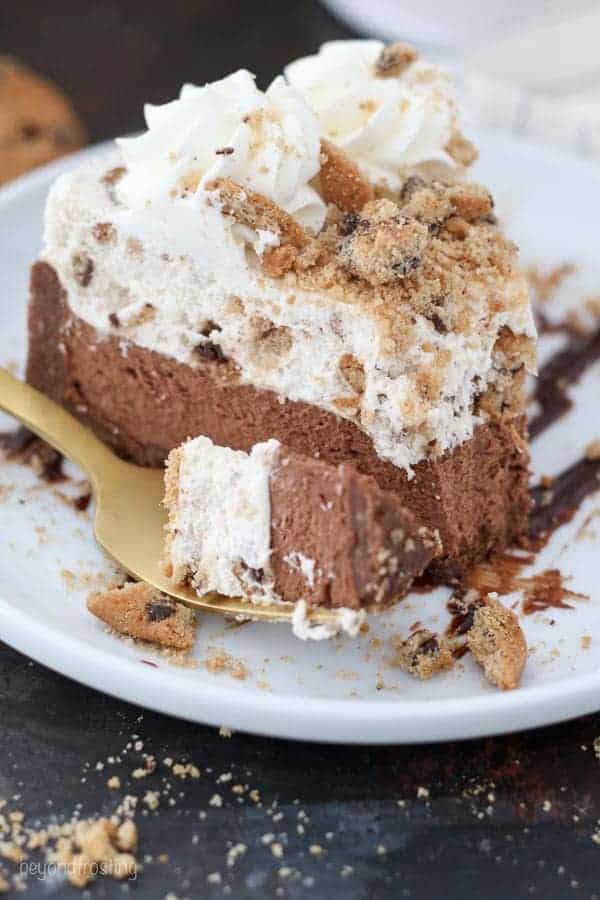 For the layers of mousse, you'll need to make some gelatin. I don't know about you, but I was completely intimidated by this before I actually tried it. It's actually WAY easy. The powdered gelatin is sprinkled over some cold water and it solidified into a thick gel. Then I pop it in the microwave for about 10 seconds until it's melted. Once it cools a bit it's added to either the melted chocolate or the whipped cream. The gelatin really helps stabilize the layers of mousse.
After a couple hours in the fridge, this recipe is good to go! Now that we've gone through some of the basic steps to make this Chocolate Chip Mousse Cake, you're ready to go make this at home! Enjoy!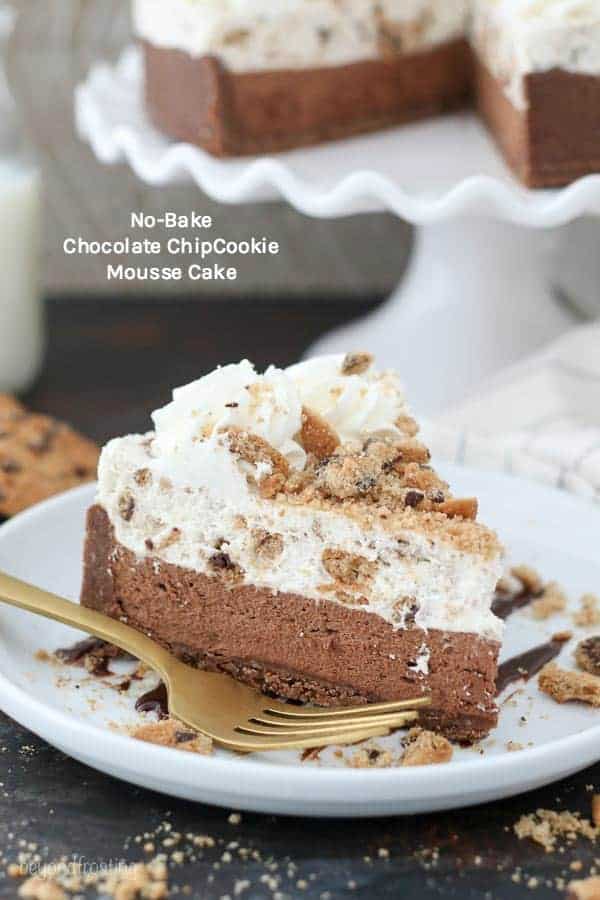 Follow Beyond Frosting:
Facebook | Twitter | Pinterest | Instagram | Bloglovin
If you love no-bake recipes, be sure to check out my cookbook, No-Bake Treats!
You might also like: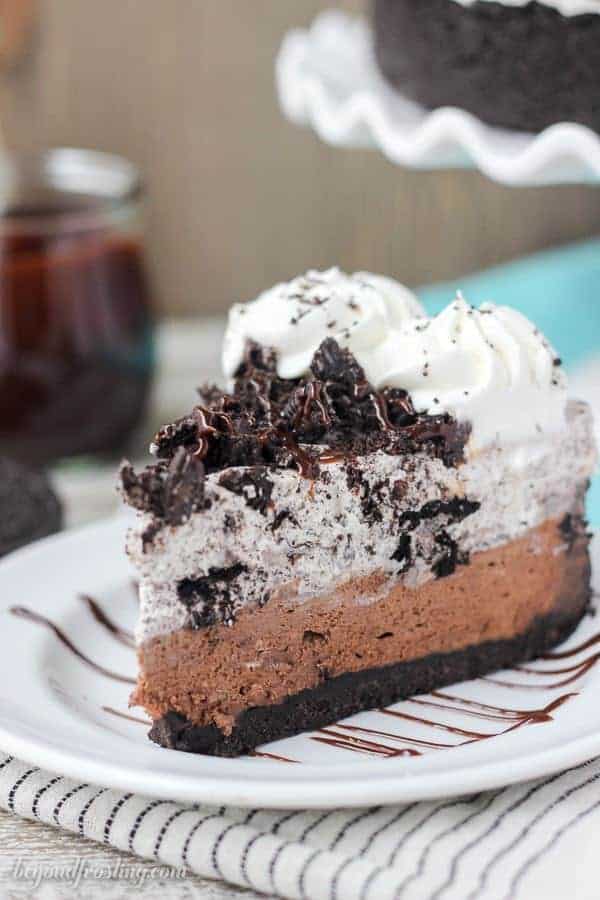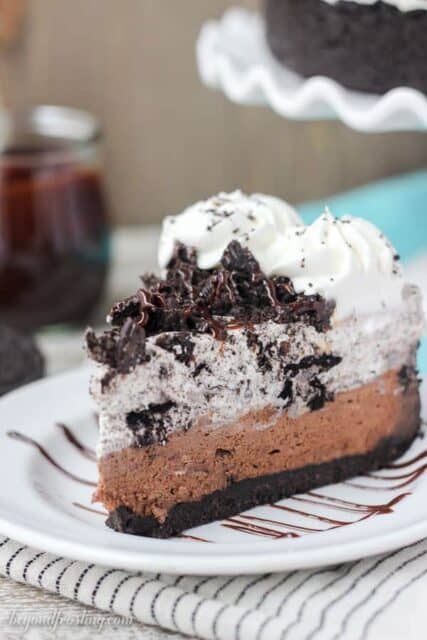 Chocolate Nutter Butter Mousse Pie