This Oreo Brookie Mousse Cake starts with a layer of fudgy brownie on the bottom, then a layer of Oreo cheesecake, a chocolate chip cookie mousse and topped with whipped cream.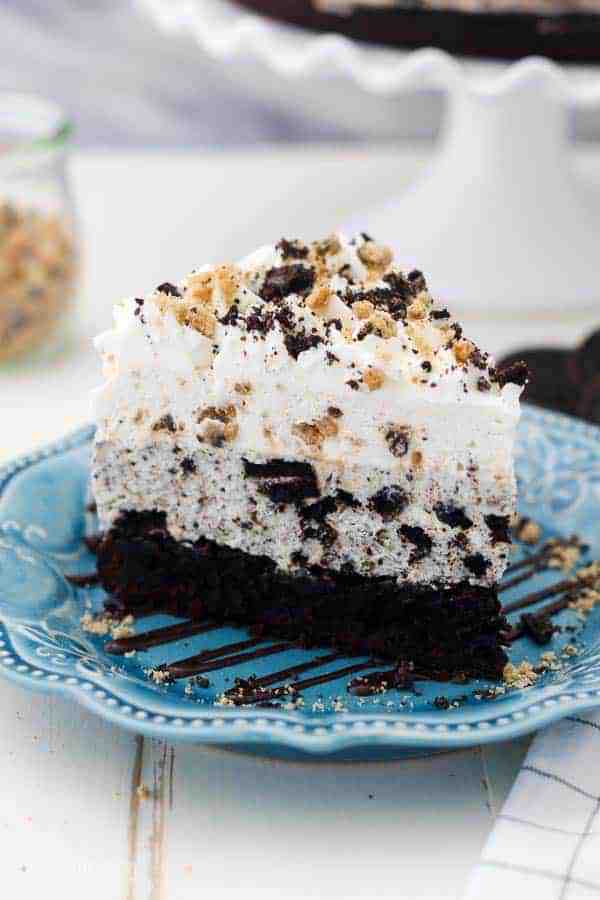 You know those desserts that you try and can't stop eating after the first bite? I mean truly, can't stop eating? This is exactly the case with this Oreo Brookie Mousse Cake.
In case you didn't already know, a brookie is a combination of a brownie and a cookie. Once you throw in an Oreo it becomes what is known as a "slutty brookie". So technically this could be a Slutty Brookie Cheesecake but adding Oreo sounds much more, dare I say, appropriate?
This Oreo Brookie Mousse Cake starts with a layer of fudgy brownie on the bottom, then a layer of Oreo cheesecake and is topped with a chocolate chip cookie mousse and whipped cream. With so many amazing layers, it's hard to pick a favorite.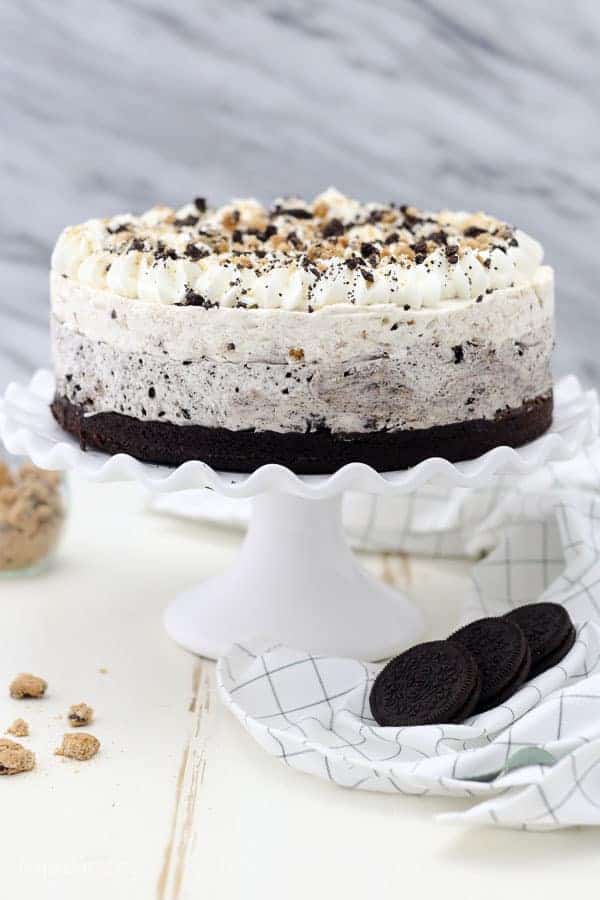 I've made quite a few of these desserts by now, there's so many different flavor combinations but I am very much favoring anything with Oreo or chocolate chip cookies. You might recognize that layer of chocolate chip cookie mousse, because it's the same one I used in my Chocolate Chip Cookie Mousse Cake.
I know there are quite a number of steps involved. First you need to make the brownie, then the Oreo cheesecake and the cookie mousse. However, it is relatively easy to assemble, and you just need a little patience.
First you need a very sturdy springform pan, one that doesn't leak. I use a 9-inch pan but you could also use an 8 or 10-inch pan and adjust the baking times accordingly.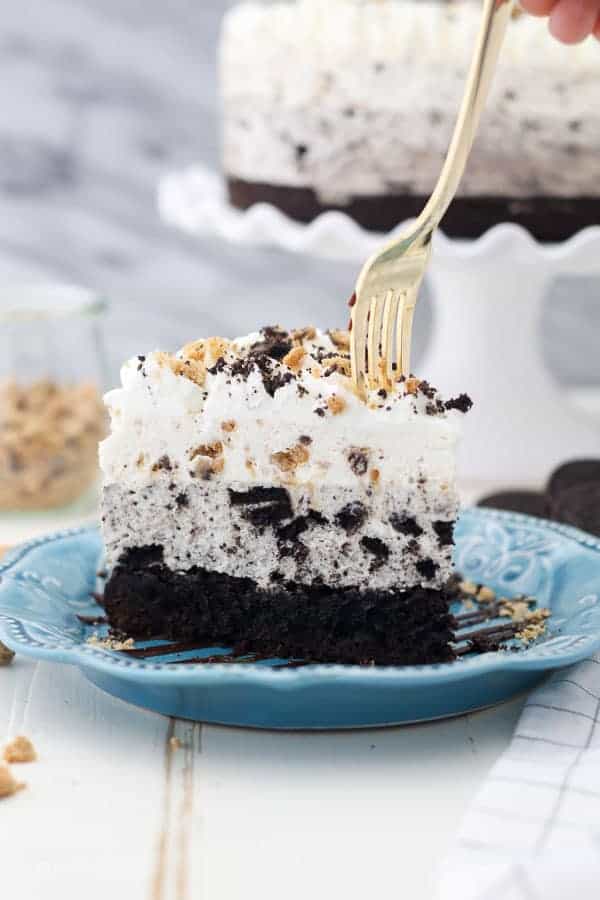 You can test your springform pan by pouring water in it and if it comes gushing out, then the pan won't work. You can also use a 9-inch round instead and then transfer it to your springform pan when it's time to assemble. You need a pan that is at least 3-inches high and I prefer the springform ones so you can easily remove the sides.
I also find it helpful to use parchment paper or cake collars along the inside edge of the springform pan so when you release the hinge, your edges are nice and clean.
You can choose to make the brownie from scratch, but to make it a little easier on myself, I just used a boxed mix.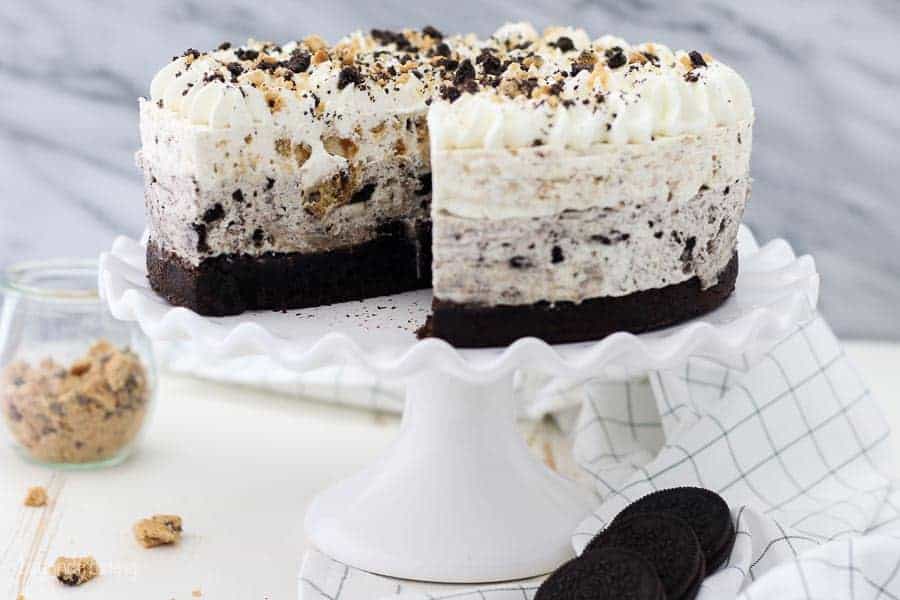 The next layer is the No-Bake Oreo Cheesecake. This Oreo cheesecake just melts in your mouth. What makes my Oreo cheesecake different is that is uses white chocolate in combination with the cream cheese which makes it taste just like the cream you find in the middle of an Oreo.
I've already briefly mentioned the chocolate chip cookie mousse. It's a simple whipped cream with an addition of gelatin to help keep it stabilized. The crushed cookies get super soft and cake-like to complete the mousse.
Once your dessert is assembled, it needs a few hours in the refrigerator in order to set before slicing into it. I also prefer to garnish it just before serving.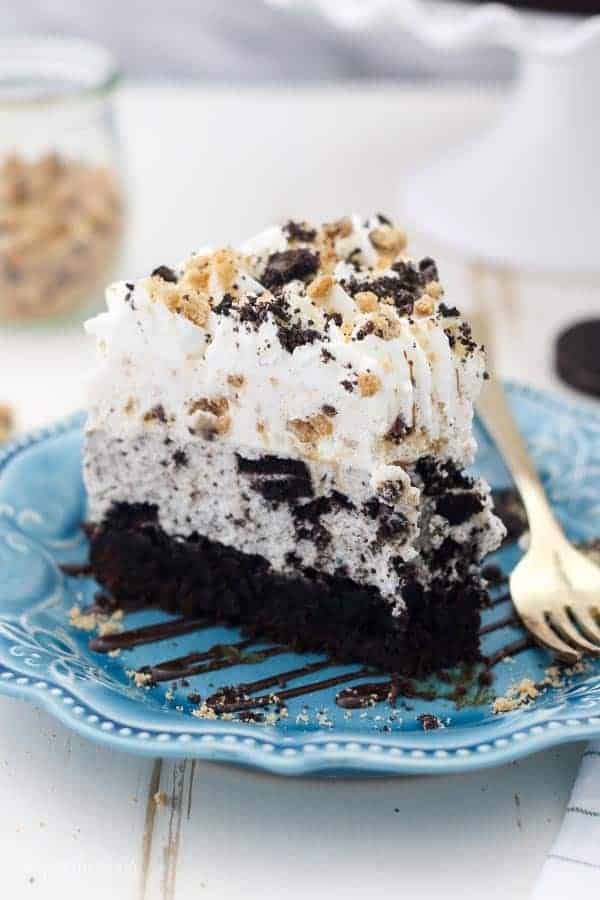 For the garnish, prepare a final batch of whipped cream and use a large open star tip to pipe florets all over the top of the cake and then sprinkle it with cookie crumbs.
It's quite a beautiful dessert, don't you agree? Grab an extra-large fork and dig right in!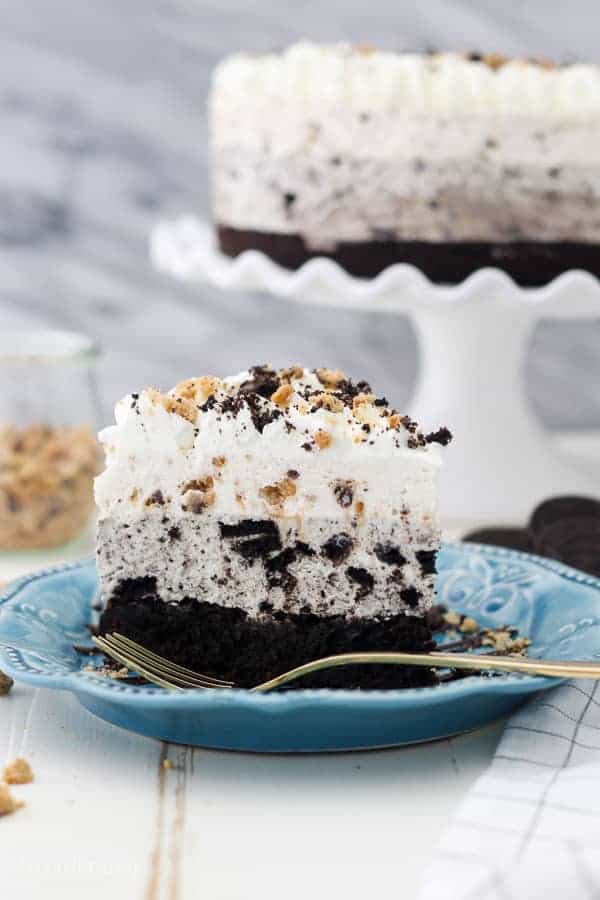 Follow Beyond Frosting:
Facebook | Twitter | Pinterest | Instagram
If you love no-bake recipes, be sure to check out my cookbook, No-Bake Treats!
You might also like: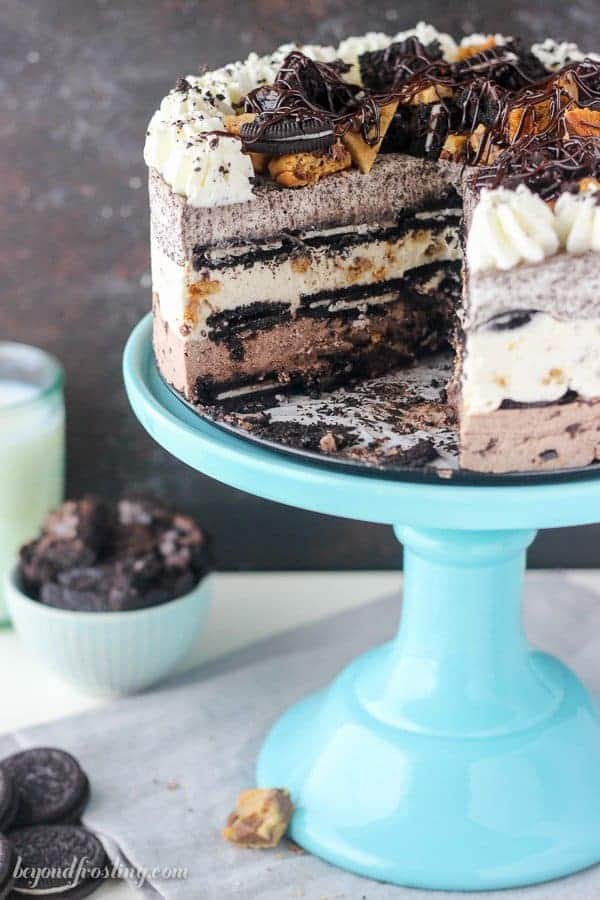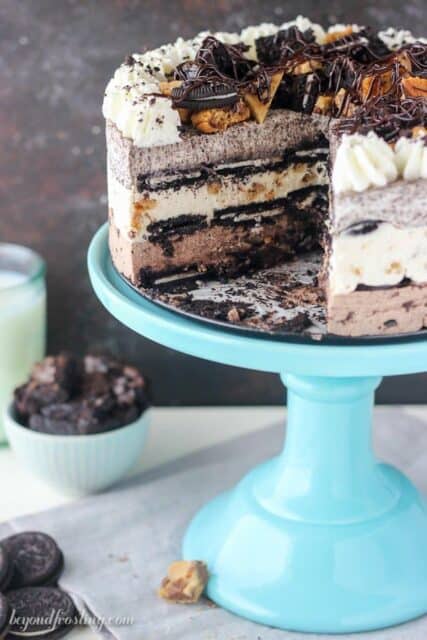 Brownie Bottom Oreo Mousse Pie