This post may contain affiliate sales links. Please see my full disclosure policy for details
This homemade Chocolate Mudslide Cake is made from scratch with chocolate, Kahlua and Bailey's Irish Cream. It's a decadent chocolate cake that's covered with a spiked buttercream and covered with ganache. You'll be surprised how easy this chocolate cake recipe is!
If you love chocolate cake as much as I do, you should also try my Mudslide Poke Cake and my Guinness Chocolate Cake.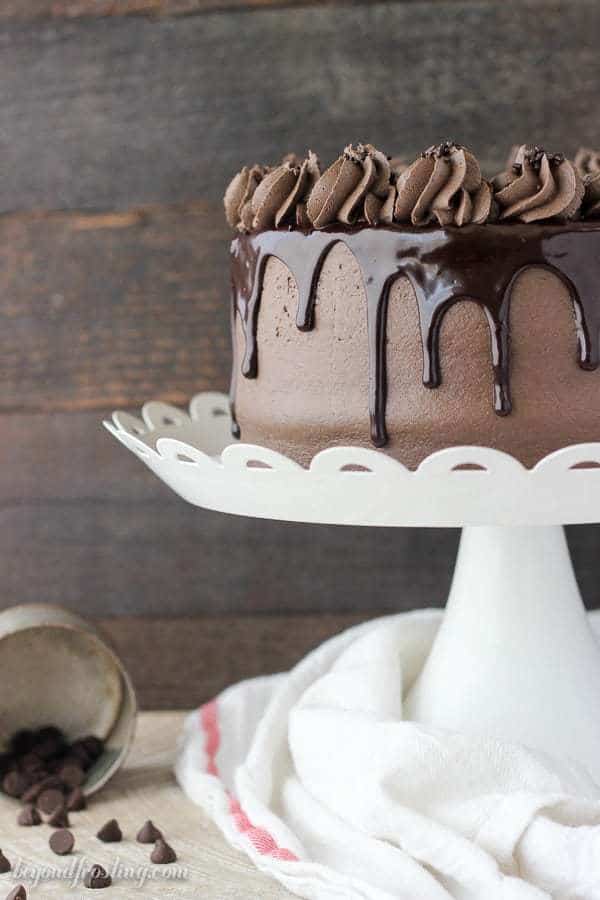 Chocolate Mudslide Cake
This past weekend I kicked my butt into gear and eased myself back into my workout routine. I've been putting it off for weeks and I'm just realizing that summer is quickly approaching, as is our yearly summer lake trip. This sneaks up on me every year! It's embarrassing how close the gym is to our house, I don't even have to drive there. I've actually been doing really well with my eating lately, but I haven't been tracking my points, so I started that again as well.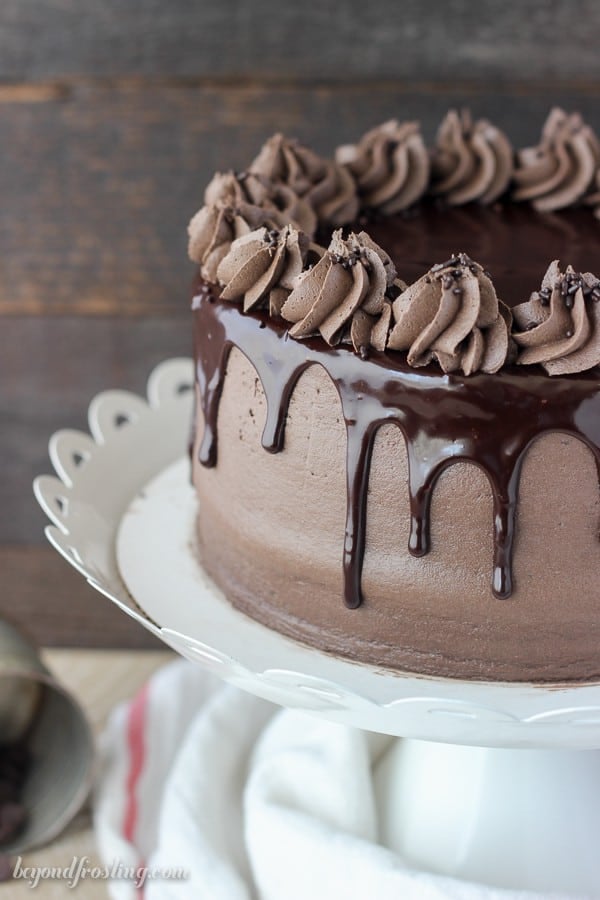 Part of what I'm trying to do is really limit my sweets. I'm trying to bake every other weekend instead of every weekend so that there are less temptations around. But then at night I'm scrolling through Instagram and my boyfriend starts talking about cookies and I find myself digging into his stash of peanut MnMs. I have to keep telling myself to fight the urge, but MnMs though!
Then there's this Chocolate Mudslide Cake. All healthy eating habits go straight out the window when this cake is around.
After I made my Chocolate Stout Cake, I knew there were more chocolate cakes in my future, and with booze of course.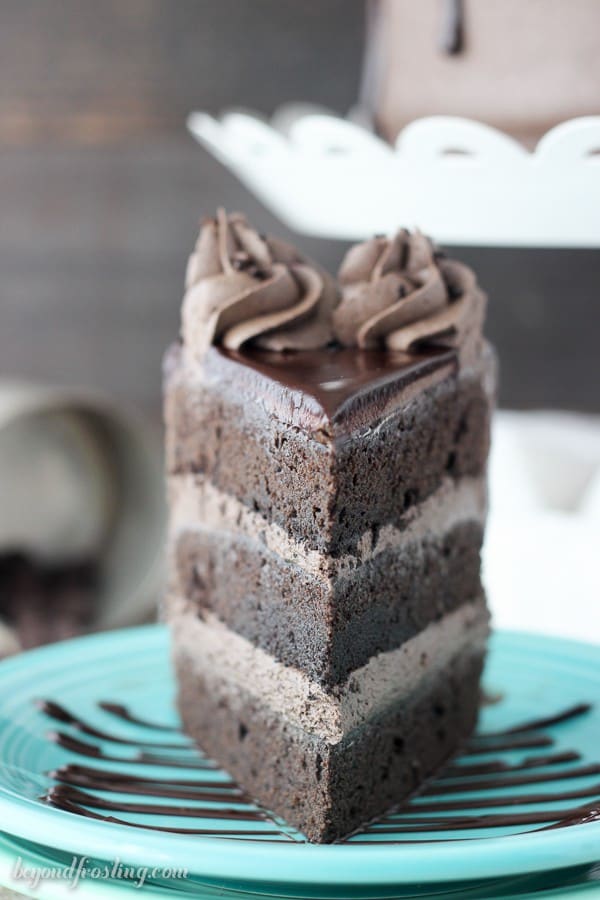 Is Bailey's Or Kahlua Best For This Chocolate Cake Recipe?
For this mudslide cake, I swapped out the chocolate stout for Kahlua in the cake, I changed up the frosting to include a hint of coffee and a drop of Bailey's Irish Cream and I've topped this cake off with some Bailey's chocolate ganache. Technically you don't need both liquors I suppose. You could use all Baileys or all Kahlua and call it a day.
What Does Chocolate Mudslide Cake Taste Like?
The cake is definitely dense with a compact crumb. I find that most of my boozy desserts are that way. The chocolate flavor is a bit stronger because I use Hershey's Special Dark sweetened cocoa powder. It is the BEST and my go-to cocoa powder when I want that intense chocolate flavor.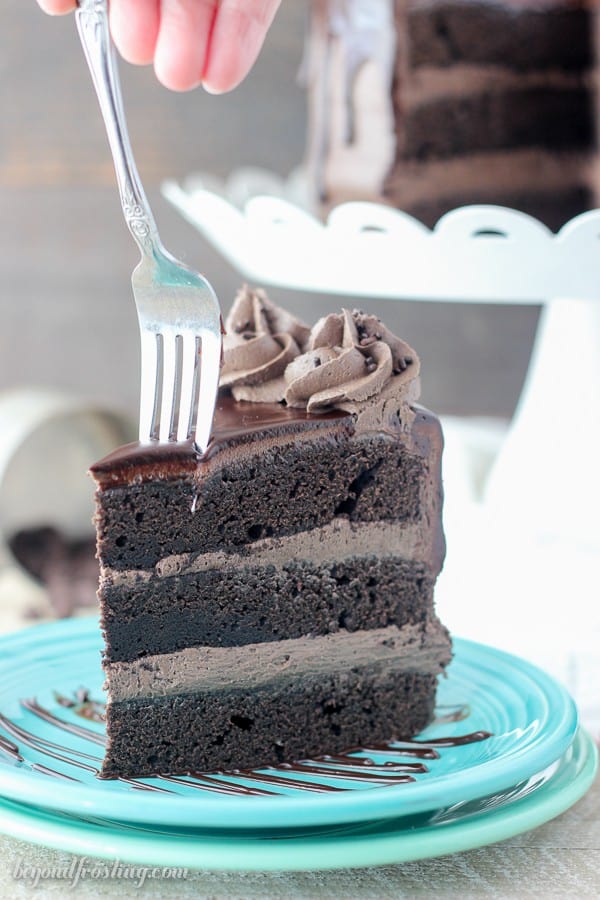 How To Make The Best Whipped Chocolate Frosting
With the dense cake, you need a nice whipped chocolate frosting to go along with it. The key to getting the frosting to the right consistency is for it to be just slightly softened, maybe 30 minutes on the counter top, and then whip it for several minutes before adding the powdered sugar. Then, you'll whip it again for a few minutes after you've added all the liquid and dry ingredients. There's plenty of frosting to go around here and that's just the way I like it. In my Valentine's Day Cake tutorial, I talked a bit of the useful tools for frosting cakes, although I can't take original credit for that either. That's all thanks to my bestie as well.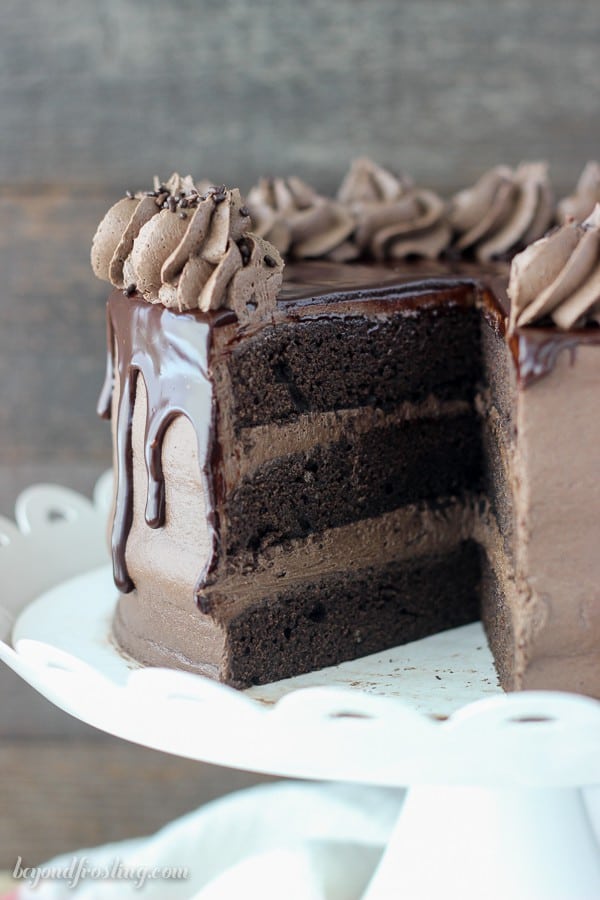 How To Add The Drippy Chocolate Ganache
I've been wanting to master the drippy chocolate ganache on my cakes for SO long. I'll tell you that the back side of this cake isn't as pretty, but after a little practice, it totally works. My friend Lindsay has this great tutorial for how she does the drippy ganache and it totally works! You just need to make sure the ganache is thin enough to drip easily. At first I thought my ganache was thin enough but after the first drip, I could tell it needed just a bit more liquid to thin it out. You can fix this by adding your liquid about one drop at a time.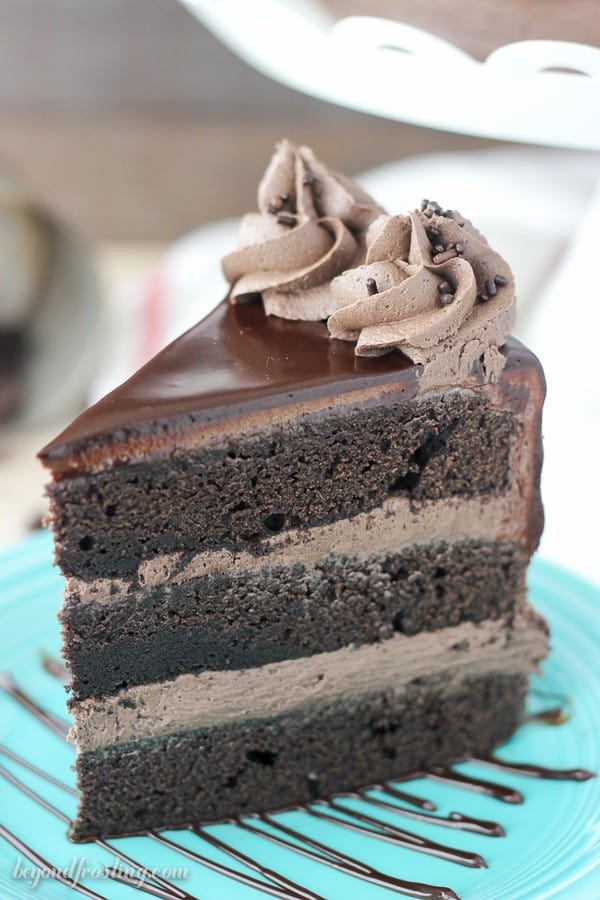 How To Decorate This Chocolate Cake
Once the ganache is slightly firmed up, you can pipe the edges of your cake with a large star tip. I prefer to use Ateco 846. It's quite large, so you'll need to make sure to leave yourself enough frosting for this, probably about a cup and a half.
I definitely cut myself a big ole' fat slice of this cake, and I'm not even sorry about it.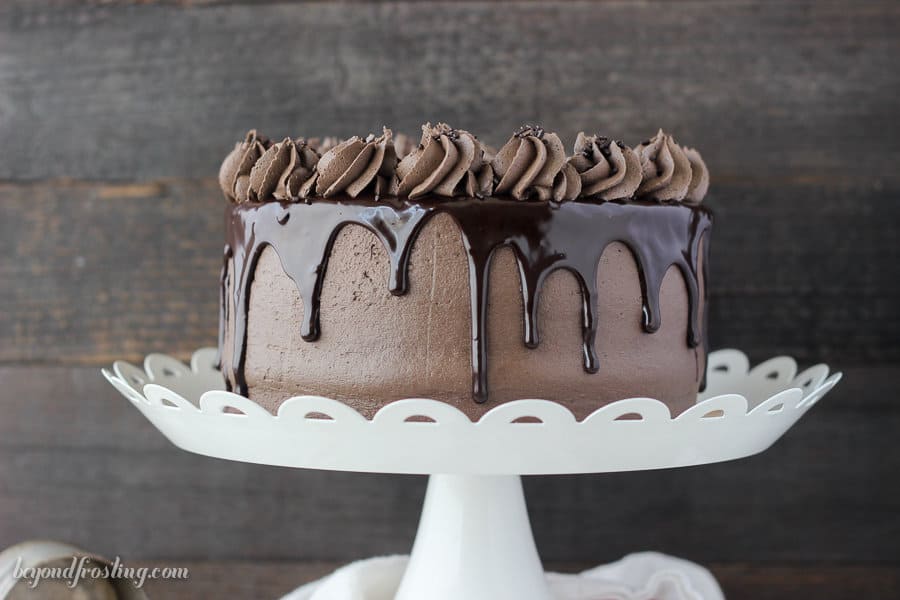 Keep up with all the happenings. Follow Beyond Frosting:
Facebook | Twitter | Pinterest | Instagram
If you love no-bake recipes, be sure to check out my cookbook, No-Bake Treats!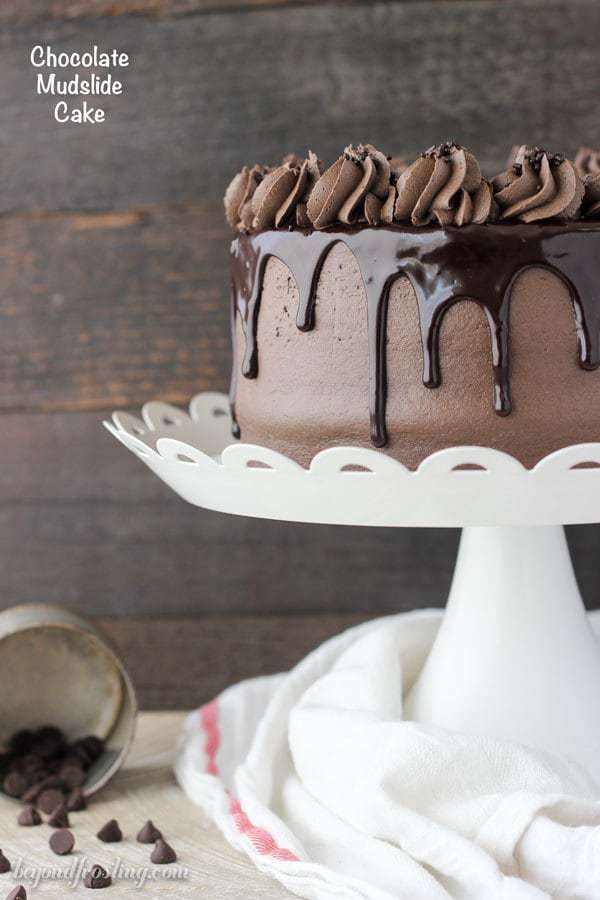 Print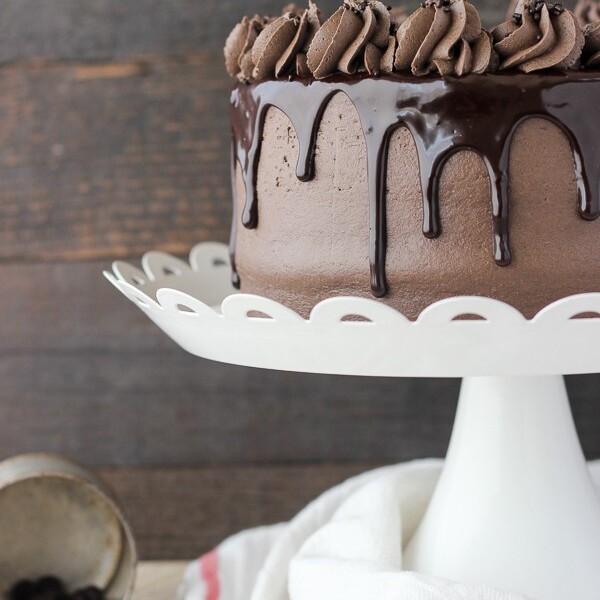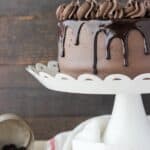 Chocolate Mudslide Cake
Author:

Prep Time:

60 mins

Cook Time:

25 mins

Total Time:

1 hour 25 minutes

Yield:

10-12 slices
Description
This homemade Chocolate Mudslide Cake is made from scratch with chocolate, Kahlua and Bailey's Irish Cream. You'll be surprised how easy this recipe is!
Ingredients
For the cake
1 cup

Kahlua liquor

4 tablespoons

light sour cream

2½ cups

all-purpose flour, sifted

¾ cup

Hershey's Special dark chocolate cocoa powder, sifted

1½ teaspoon

baking powder

¼ teaspoon

salt

¾ cup

unsalted butter, melted

¼ cup

vegetable oil

2 cups

granulated sugar

5

large eggs

1 tablespoon

pure vanilla extract
For the frosting
2 tablespoons

hot water

1 teaspoon

instant espresso powder

2 cups

(

4

sticks) unsalted butter, softened

1 cup

Hershey's Special dark chocolate cocoa powder, sifted

8 cups

powdered sugar

3 tablespoons

Kahlua or Baileys

1 teaspoons

vanilla extract
Pinch of salt
For the ganache
6 ounces

dark chocolate chips

2

to

3

tablespoons Kahlua or Baileys
Instructions
For the cake:
Preheat oven to 350° F. Grease three 8-inch cake pans with Crisco and dust with cocoa powder to help easily release the cake after it is baked.
Combine the Kahlua and sour cream in a cup, stir until the sour cream is mixed into the liquor and set aside.
In a medium-sized bowl, sift the flour and cocoa powder. I usually sift my cocoa powder with a sieve instead of my actual sifter. Add the baking powder and salt and set aside.
In a microwave-safe bowl, melt the butter. Combine the melted butter in a large mixing bowl with oil and sugar. Beat on medium speed for 3 minutes until light and fluffy.
Add the eggs, one at a time, ensure that each egg is well beaten before adding the next one. Add the vanilla extract together with the last egg.
Alternate adding the flour mixture and the Kahlua mixture. First, pour in half of the dry ingredients and beat for 30 seconds before adding half of the Kahlua mixture. Repeat with remaining flour mixture and remaining liquid mixture. Use a spatula to ensure the batter at the bottom of the bowl is well mixed.
Pour the batter in the greased & coated pans, dividing as evenly as possible. Bake at 350°F for 25-30 minutes. Check for doneness by inserting a toothpick into the center of the cake. If the toothpick comes out clean, your cake is done.
Transfer to a wire rack to cool completely. Once cooled, gently run a knife around the edge of the pan to help release the cake from the pans.
Tort the top of the cake but using a serrated knife to cut the dome off the cake. You want a nice flat surface on top.
For the frosting: Please note this is a large batch and requires a large bowl. You might consider making this in two batches
In a small glass, combine the hot water and espresso powder and whisk until the espresso powder is dissolved. Set this aside.
Cut the butter into pieces. Using the paddle attachment, whip butter for 3-4 minutes, scraping down the bowl occasionally. Beat until the butter looks light in color.
Sift the cocoa powder into a mixing bowl. Turn the mixer on slow speed and beat it until the cocoa power is mixed into butter, scraping down the bowl as needed.
Add 2 cups of powdered sugar and mix on low speed until incorporated into butter. Continuing adding powdered sugar, one to two cups at a time, followed by 1 tablespoons of Kahlua and 1 tablespoons of the brewed espresso and beat on low speed until the sugar is incorporated. Increase speed to medium-high and beat for 3 minutes.
Add the last cup of powdered sugar along with a pinch of salt and remaining Kahlua and beat on low until the ingredients start to mix together. Increase the speed to medium-high and beat for another 3-5 minutes to whip additional air into the frosting.
You will need to judge the consistency of your frosting. You want it light and fluffy and not too stiff. If the frosting seems to thin, you can still add an additional cup of powered sugar.
For the ganache: In a microwave-safe bowl, combine the dark chocolate chips with 1 tablespoon of the brewed espresso. Microwave in 30 second increments, stirring each time until the chocolate is melted.
Remove from the microwave and add 1 tablespoon of Kahlua at a time, stirring until well mixed. Use your judgment to test how thin the ganache needs to be in order to nicely drizzle down the sides of your cake. You can slowly add additional Kahlua, just drops at a time as needed.
To assemble the cake: Place a dollop of frosting on the bottom of the cake plate and place the bottom layer of cake on top. The frosting will help prevent the cake from sliding.
In order to create even layers, I use a piping bag fitted with an open round tip, or simply cut off the end of the piping bag. I also highly suggest to use a lazy Suzan to rotate the cake as you work.
Fill the first layer of frosting by using your piping bag and pipe from the outside edge into the center. Gently spread the frosting with an offset spatula to fill in the gaps.
Place the next layer of cake on top and repeat the above instructions to fill the layer of frosting. For the top layer of cake, place it inverted, so the bottom of the cake is actually the top, creating a nice and smooth top edge.
Proceed to add your crumb coat by adding a cup of frosting to the top of the cake and gently spread out to the edges and down the sides. Use the leftover frosting in your piping bags to fill in the cracks between the layers.
Using an offset spatula or icing smoother, the wipe away excess frosting, leaving you just enough to coat the outside of the cake. Do not mix your crumb coating frosting back into your icing if it has cake debris in it. Refrigerate the cake for 15-20 minutes to allow the crumb coat to harden.
First, add about ½ cup of frosting to the top of the cake and create a nice, smooth top. Use your Viva paper towel and fondant smoother to create a flat even surface.
Put remaining frosting in a 18-inch piping bag fitted with a Wilton #789 icing tip. Pipe the outside edge of the cake working from the bottom to the top. Use your icing smoother or large offset spatula to smooth edges and remove excess frosting. Again, use your Viva paper towels and the icing smoother to help smooth out the edges of the cake.
To drizzle the ganache, use a piping bag and squeeze the ganache near the edges of the cake and if needed, use the flat edge of your offset spatula and push it gently over the sides. Repeat these steps until you are satisfied with the dripped edges. Pour the remaining ganache in the middle of your cake and gently flood out to the edges with the offset spatula. All the ganache to set until slightly firmed.
Once the cake is completely smooth, put remaining frosting into a large piping bag fitted with an Ateco Tip 846 (closed star tip). Pipe the boarders on the edges of the cake and garnish with sprinkles.
Category:

Cake

Method:

Oven

Cuisine:

American
Keywords: mud slide cake, chocolate cake recipe, cake from scratch, homemade chocolate cake, kahlua chocolate cake, kahlua cake recipe, cake with ganache, cake with chocolate ganache
More Dessert Recipes You Might Like: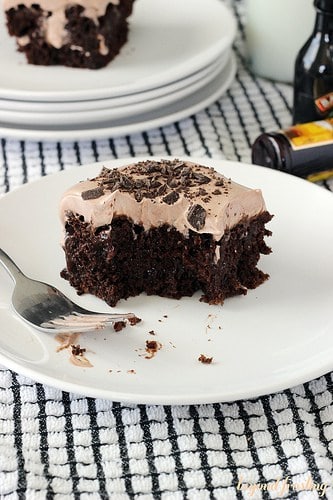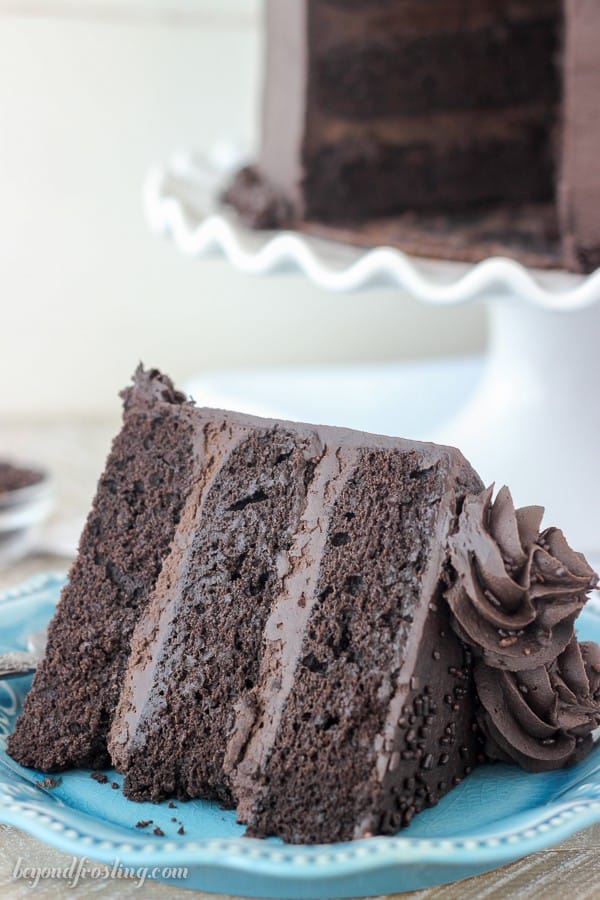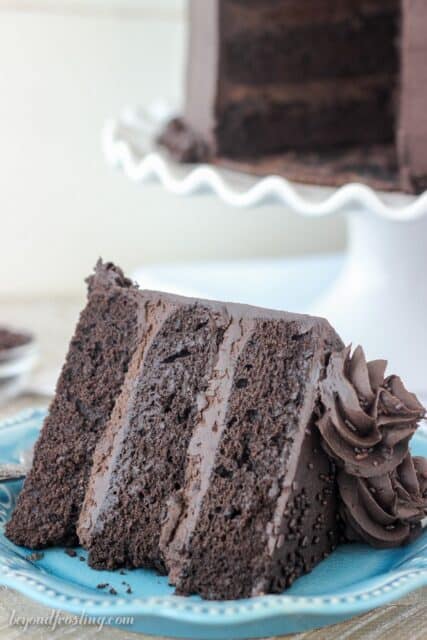 Virgin Mudslide Cupcakes