This post may contain affiliate sales links. Please see my full disclosure policy for details
Made with ground walnuts and pure maple syrup, these melt-in-your-mouth Maple Sugar Cookies are so delightful! They're topped with a creamy maple frosting and finished off with a sprinkle of cinnamon.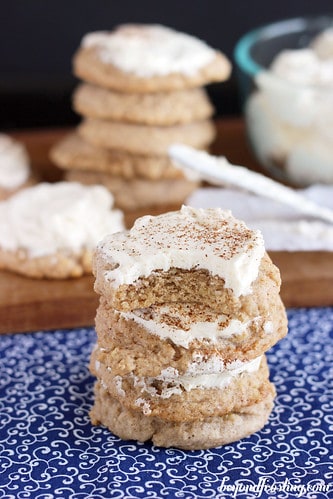 Frosted Maple Sugar Cookies
Disclaimer: This post is sponsored by the Ohio Poultry Association. Although I received compensation for this post, all opinions expressed in this post are my own.
This week is cookie exchange week! I have two virtual cookie swaps today and tomorrow- all to prepare you for your holiday cookie exchanges! Today's recipe is for the Take a Bite of My State Cookie EGGS-change. The Ohio Poultry Association asked a group of bloggers to create cookies that featured something special about each of their home states. I might live in California but I will always be from Vermont; I love that stinking place.
Since Vermont is one of the leading manufacturers of maple syrup, I decided to make a Maple Sugar Cookie. They are insanely good; soft baked with cinnamon, maple and walnuts and topped with a fluffy maple buttercream. I seriously can't get enough of these.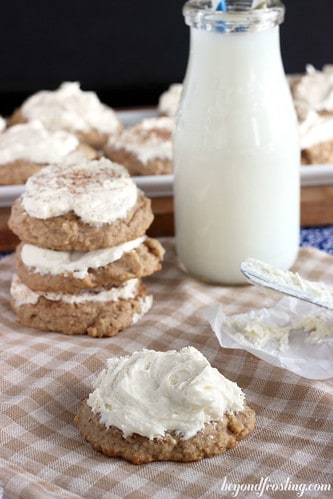 I hope I didn't confuse you when I mentioned the Ohio Poultry Association- this post isn't about chicken, it's about EGGS! Since the holiday season is so centralized around baking, you probably aren't surprised that more eggs are consumed during the winter holiday season than any other time of year- including Easter! Did you know that Ohio is the second-largest egg producing state in the nation? Ohio egg farmers produce about 7.6 billion eggs per year. That can help make a lot of cookies!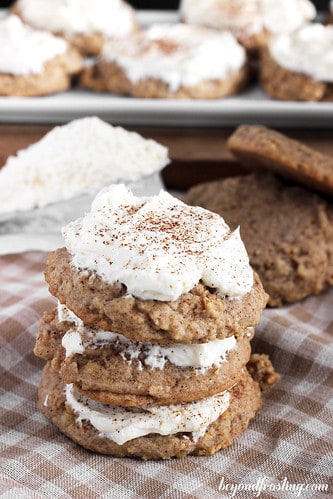 Eggs are essential in baking- they add moisture, color, flavor and nutrition value to cookies. I don't know about you, but if I am going to get some nutritional value from my cookies, I'll keep eating them! Here are some more egg-cellent facts for you. Some recipes call for just egg yolks.
Egg yolks can increase richness, tenderness, flavor, and color in homemade cookies, and they can also extend shelf life by delaying the staling process. Whereas some recipes call for just egg whites or additional egg whites. The egg white provides strength and stability, and it adds moisture. I don't know about you, but some weeks when I do a lot of baking, I got through at least 2 dozen eggs, it's crazy.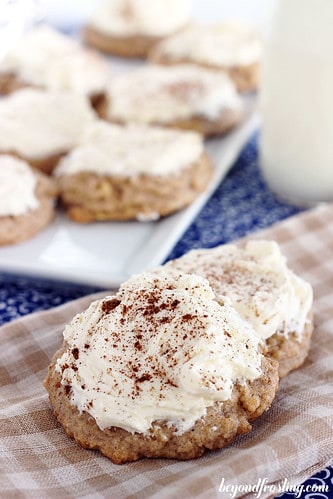 Let me tell you a little bit more about these Maple Sugar Cookies. They are light and airy and the cookie bascially melts in your mouth. The actual cookies are flavored with Vermont Maple syrup (which my family ships to me. It's gotta be real people!), lots of cinnamon and a hint of nutmeg.
Don't have a lot of time? No worries, this dough doesn't require any chilling. However, there is some extra baking powder in this recipe, so it is essential that after you scoop your cookie dough, you give it a little pat with the back of your spatula to help flatten it. Otherwise you will end up with a domed cookie, which isn't a bad thing either, but not great for frosting.
Lastly, I ground up my walnuts in a food processor instead of leaving them as chunks. I wanted the flavor of the walnuts but without the pieces, more like a true sugar cookie. I baked this recipe 3 times until it was perfect, so I hope you like it!
Print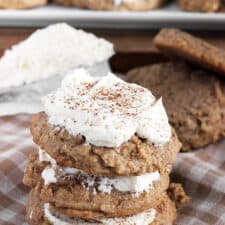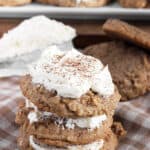 Maple Sugar Cookies
Author:

Prep Time:

25 minutes

Cook Time:

10 minutes

Total Time:

35 minutes

Yield:

26
Description
Made with ground walnuts and pure maple syrup, these melt-in-your-mouth Maple Sugar Cookies are so delightful! They're topped with a creamy maple frosting and finished off with a sprinkle of cinnamon.
Ingredients
For the Cookies
3/4

C Unsalted butter – softened (

1.5

sticks)

1

C Granulated sugar

1/4

C Light brown sugar

2

Large eggs

1/2 tsp

Pure vanilla extract

3 tbsp

Pure maple syrup

2 1/2

C All-purpose flour

2 tsp

Baking powder

1 tsp

Salt

3 tsp

Cinnamon

1/4 tsp

Nutmeg

2/3

C Walnuts – ground crumbs
For the Frosting
1

C Unsalted butter – softened (

2

sticks)

2

C Powdered sugar
Pinch of salt

3 tbsp

Pure maple syrup

1/2 tsp

Pure vanilla extract

2 tbsp

Heavy whipping cream
Cinnamon for sprinkling
Instructions
Make the Cookies
Preheat oven to 375°F.
Allow butter to soften, for about 30 minutes- you don't want it to be too soft.
Combine butter with granulated and brown sugars. Beat on medium speed until the butter and sugar are well combined and mixture becomes somewhat fluffy.
Add eggs, vanilla extract and maple syrup and beat until all ingredients are combined.
In a separate bowl, combine dry ingredients: flour, baking powder, salt, cinnamon and nutmeg. Stir to combine.
Use a food processor to grind up walnuts into a fine crumb. Add to dry ingredients.
Slowly add dry ingredients to wet batter and beat on medium speed until dough forms.
Scoop 2 tablespoons of dough onto a cookie sheet and gently pat down with a spatula to flatten slightly.
Bake at 375° F for 10-12 minutes. Allow to cool for a couple minutes before transferring to wire rack. Cool completely before frosting.
Make the Frosting
Allow butter to soften to room temperature. Beat with the wire whisk attachment on medium-high speed until light and fluffy.
Slowly add powdered sugar and beat on medium speed. Add pinch of salt followed by maple syrup, vanilla extract and heavy whipping cream.
Beat all ingredients on medium speed, increasing to medium-high. The more you whip it, the lighter it becomes. Spread on cooled cookies. Sprinkle with cinnamon.
Notes
Makes 24-30 cookies.
Category:

Dessert

Method:

Oven

Cuisine:

American
Keywords: maple cookies, frosted cookies, soft sugar cookies
See the other egg-celent cookies and what state they represent!
Carrian of Sweet Basil– White Chocolate Molasses Cookies
Aimee of Shugary Sweets– White Chocolate Peanut Butter Cookies
Tanya of Lemons for Lulu– Buckeye Brownie Cookies
Megan of Country Cleaver– Cranberry White Chocolate Pistachio Cookies
Laurie of Simply Scratch– Rum Cherry and Double Chocolate Chunk Cookies
I have plenty more cookie recipes to get you through this holiday season. Check out my cookie page- click here!