This post may contain affiliate sales links. Please see my full disclosure policy for details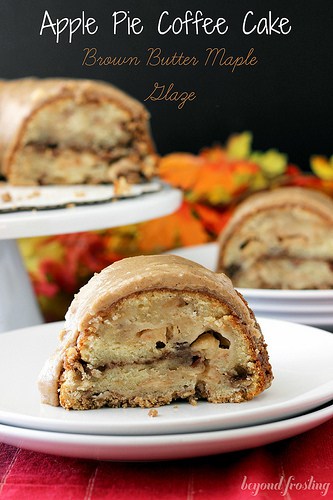 I have been looking forward to this weekend for quite sometime. It was pumpkin patch night last night! Each year, my boyfriend's dad invites his employees for a BBQ at the pumpkin patch. His family friends have farms in Santa Barbara, and in the fall they have a large pumpkin patch with tractor rides, a corn maze, a small petting zoo and other fun activities for the kids. They also have an awesome lounge area secluded off to the side with a big BBQ, a fire pit and plenty of picnic tables. For the BBQ, my boyfriend father always grills tons of tri-tip and chicken, I make plenty of desserts and the kids come dressed for a costume contest.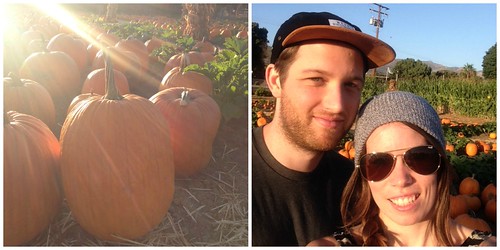 For last night's patch party, I made some pumpkin cupcakes (sharing soon), a few varieties of Rice Krispie treats and this Apple Pie Coffee Cake with a Brown Butter Maple Glaze. This cake is so amazing that I actually made it two weekends in a row. I pretty much love anything with apple pie filling, but when I mixed it into this sour cream coffee cake, I knew I was in for treat. Well, actually, I was crossing my fingers that it would be successful, and IT WAS. This cake is very dense and extremely moist thanks to the cup of sour cream in the recipe. The chunks of apples in the middle add a bite of sweetness and once you take a bite of the streusel, oh-my-gosh, it's over from there.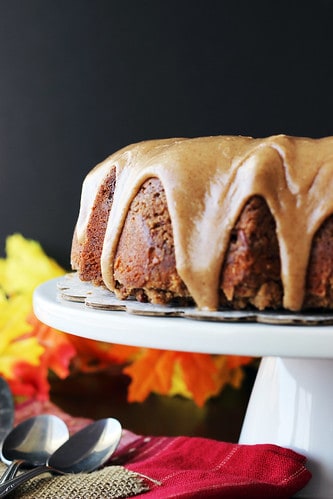 I created a pecan and brown sugar based streusel, which is in the middle of the cake and also lines the bottom of the cake. That was actually a mistake. I intended to put the left over streusel in first, so it was on top of the cake, but I forgot (even though I keep reminding myself). I am pretty happy with my mistake though because the streusel on the bottom gets browned and crisp, and gives you an excuse to eat to the bottom of your cake. In the middle layer, the streusel is soft.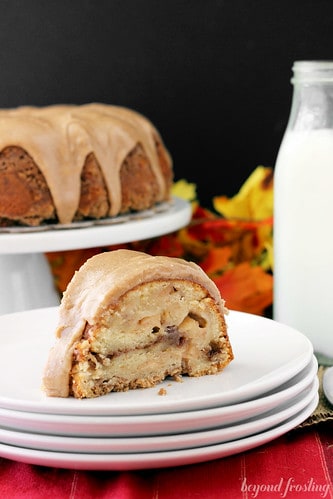 The glaze, holy cow, the glaze. I knew I wanted a maple glaze, but I elevated this glaze by using browned butter. I don't know why but recently I decided to try browned butter in something I was making and it did wonders for my dessert. So now I am browning butter left and right; hello, I am a little late to the party. Well the brown butter helps cuts the sweetness of this glaze and adds a caramel color. You can't skimp on the glaze here people. I promise, you will want to lick the bowl clean.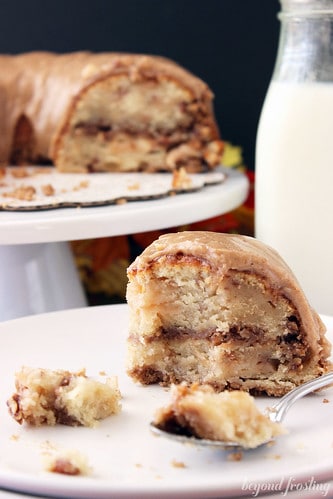 I'm not going to lie; this cake takes some patience and elbow grease. This is not a cake that you can just whip together, but you don't need to tell your friends that. You need several bowls; a few utensils and a bit of cook time. I suggest allowing 3 hours from start to finish. I know, I know, who has time for that? However, an hour of that is cook time, and a good part of that is waiting for the cake to cool a little bit. I promise you, this is worth it, I wouldn't let you down.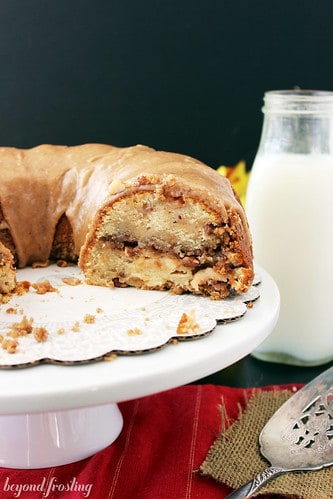 Print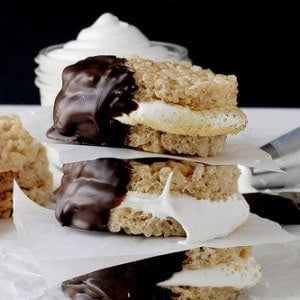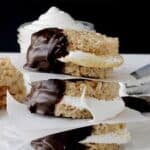 Apple Pie Coffee Cake with Brown Butter Maple Glaze
Prep Time:

30 minutes

Cook Time:

55 minutes

Total Time:

1 hour 25 minutes

Yield:

12-14 Slices
Ingredients
For the Apple filling
4

Large apples, sliced

1

lemon, juiced

1 tsp

Cinnamon

1/2 tsp

Apple Pie Spice

2 tbsp

Light brown sugar

2 tbsp

All-purpose flour
For the Cake
1

C butter (

2

sticks), softened

1 3/4

C +

2 tbsp

Granulated sugar

1/4

C Light brown sugar

2

Large eggs

1 tsp

Pure vanilla extract

1

C Sour Cream

2

C All-purpose flour, sifted

1/2 tsp

Salt

1 tsp

Baking powder
For the streusel
1/2

C Unsalted butter (

1

stick), melted

1

C All-purpose flour

3/4

C Light brown sugar

1/4

C Granulated sugar

1 tsp

Apple pie spice

1 tsp

Cinnamon

3/4

C Pecans, chopped
For the Glaze
1 1/2

C Powdered sugar, sifted

1 tsp

Cinnamon

1/2

C Unsalted butter (

1

stick), browned

2 tbsp

Pure maple syrup

2 tbsp

Milk
Instructions
To prepare the apple pie filling:
Slice apples into small pieces and squeeze a lemon over top to coat it in juice.
Add cinnamon, apple pie spice, brown sugar and flour over top of apples. Stir to mix ingredients.
Heat apples on the stove over medium heat for 10-15 minutes until soft. Stir occasionally. Set aside and allow to cool.
For the cake:
Preheat oven to 350° F
Butter should be at room temperature or slightly firmer, not melted. Combine sugars with softened butter. Beat on medium speed until butter and sugar are well combined, light and fluffy.
Add eggs, one at a time, beating each egg into the butter and sugar one at a time. After both eggs have been mixed, add vanilla and sour cream. Beat on medium speed until well combined.
In a separate bowl, Sift flour and then measure out 2 cups. Add salt and baking powder. Stir to combine. Slowly add flour mixture to batter and mix on low speed just until combine. Batter will be thick.
Once apples have cooled, food them into batter with a spatula.
For the streusel:
Melt butter in microwave, about 30 seconds.
Combine all dry ingredients in a medium sized bowl. Pour melted butter over dry ingredients and stir until well mixed. This mixture will be clumpy.
Reserve 1/3 of the streusel topping.
To Assemble:
Grease a bunt pan with Cisco and then coat in flour.
Pour 1/2 the batter in the bottom of the pan.
Pour 2/3 of the streusel over the batter and spread evenly. Save remaining streusel.
Pour remaining batter on top and spread evenly with a spatula. Top with remaining streusel.
Bake at 350° F for 50-55 minutes. Bottom of cake will be slightly brown. Use a long toothpick or knife to stick in the middle of the cake. If it comes out clean, the cake is done.
Set on a cooling rack for twenty minutes.
Place a plate, cutting board or other flat surface; over top of cake and hold it together. Turn cake over and gently pat sides of the pan until the cake comes loose. Allow to cool for another 15-20 minutes.
For the glaze:
Sift powered sugar. The step is necessary to create a smooth glaze. Add cinnamon.
Melt butter in a saucepan. Once melted, continue to stir until butter turns a golden brown.
Pour melted butter over powdered sugar. Add maple syrup and milk.
Whisk until smooth.
For a thicker glaze, add only 1 tablespoon of milk instead of two. Or add additional powered sugar.
To make glaze thinner, add additional milk.
This next step is optional and a little tricky. I like my glaze to drip off the sides of the cake and not pool up in the middle. However, it becomes difficult to move the cake once glazed. I happen to own a cake lift, but I suggest using two large knife to move the cake after glaze.
Gently remove/side cake from plate and onto wire rack. Place a sheet of wax paper below wire rack (for easy clean up).
Gently pour glaze over top of cake evenly until gone. Allow glaze to become firm before moving back to plate. * See above note.
Notes
I always use Crisco and flour to grease my pans. I have had the best successful removing cakes from the pan with Crisco
Now, I'm pretty proud of myself because I haven't made a coffee cake in years! I can't even remember the last time. Like I said, I made this two weekends in a row, and it was a hit at the pumpkin path.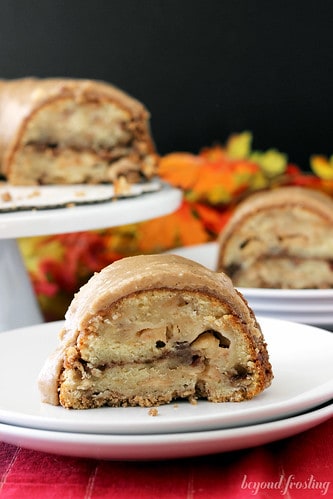 You might also like: