This post may contain affiliate sales links. Please see my full disclosure policy for details
This No-Bake Samoa Cheesecake is a fluffy caramel cheesecake filling packed with toasted coconut, shortbread cookies and a caramel and chocolate swirl. Don't forgot to top it off with your favorite Samoa girl scout cookie!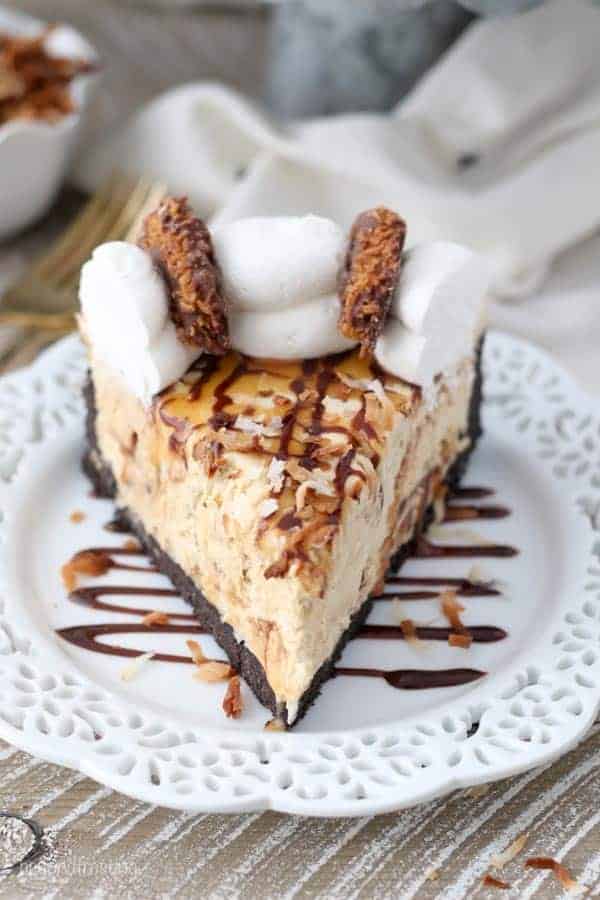 Do you have a favorite Girl Scout Cookie? I'm a lifelong Thin Mint gal but I'll never turn down a Peanut Butter Pattie or a Samoa Cookie. I think of all the cookies, Samosa make the best desserts. And once those Girl Scouts are done selling you can always grab a box of fake Samoa's (famoas we call them) and still make these desserts.
A few weeks ago, I remade my Samoa cheesecake dip for a video shoot and it was just so fluffy and amazing I thought, why don't I have an actual cheesecake recipe for this??? So here you go, No-Bake Samoa Cheesecake, it's to die for.
It's a fluffy caramel cheesecake filling packed with toasted coconut, shortbread cookies and a chocolate swirl.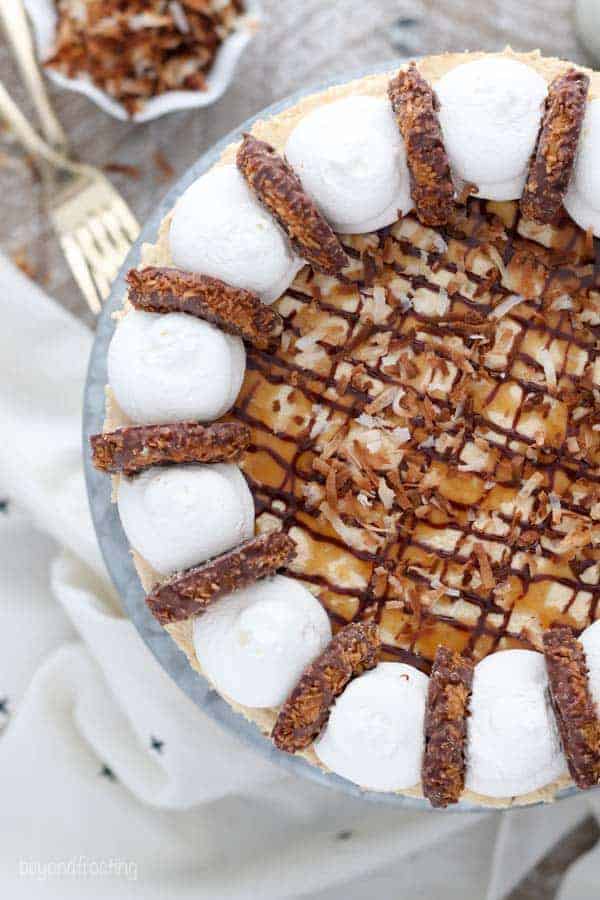 I initially thought about making a shortbread cookie crust which would have been amazing but ultimately I went with Oreo because I thought the chocolate crust was a nice balance for the caramel cheesecake.
For the cheesecake, it works best if your cream cheese is at room temperature. However, if you forget like I often do, just throw it in the microwave for 15 seconds and you might have to beat it a little long to get it really smooth and creamy.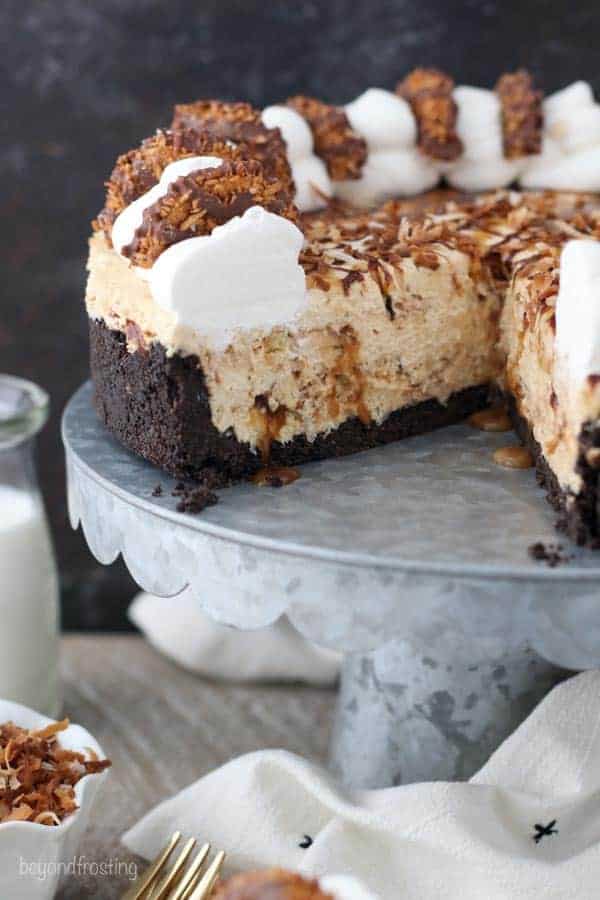 The recipe calls for homemade whipped cream, but you could also use Cool Whip if you prefer. Most no-bake desserts, especially cheesecakes require some sort of whipped cream to help make them nice and fluffy.
My favorite part of that Samoa Dip I mentioned earlier is all the chunks of cookie and coconut mixed with chocolate, so I did the same thing for this cheesecake.
You should pre-toast your coconut and allow it to cool, or you can purchase toasted coconut online. For the shortbread cookies, I just chopped up some store-bought cookies. The pieces should be smaller than a dime if possible. Just mix that right into the filling.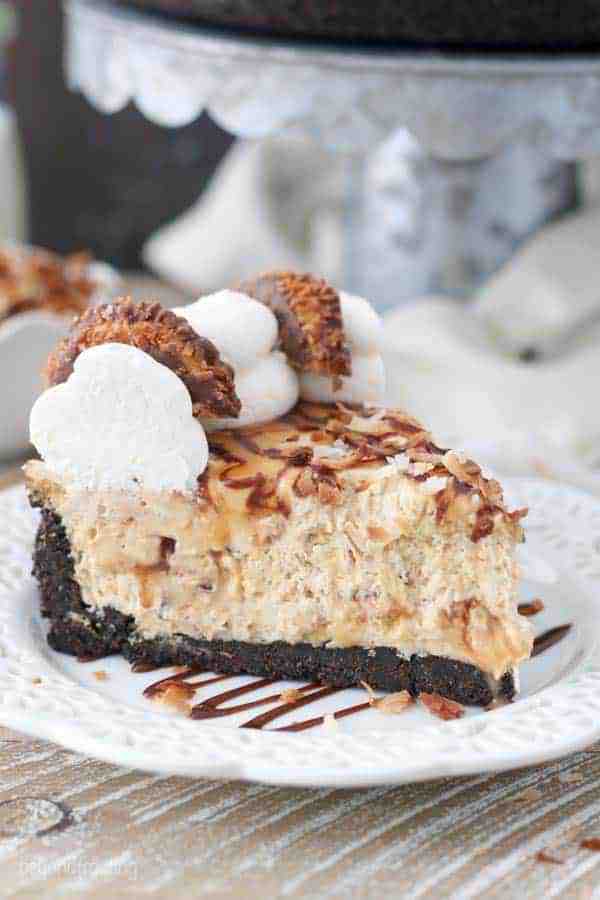 Lastly, you'll see that I've swirled in some caramel and hot fudge sauce into the layers of the cheesecake. This just give it a little extra boom. It doesn't really absorb into the filling, but that's okay because when you slice into this cheesecake and the caramel comes oozing out, you know you're winning.
My taste testers RAVED about this recipe. I think it has something to do with the cookies and caramel cheesecake, but you can decide for yourself.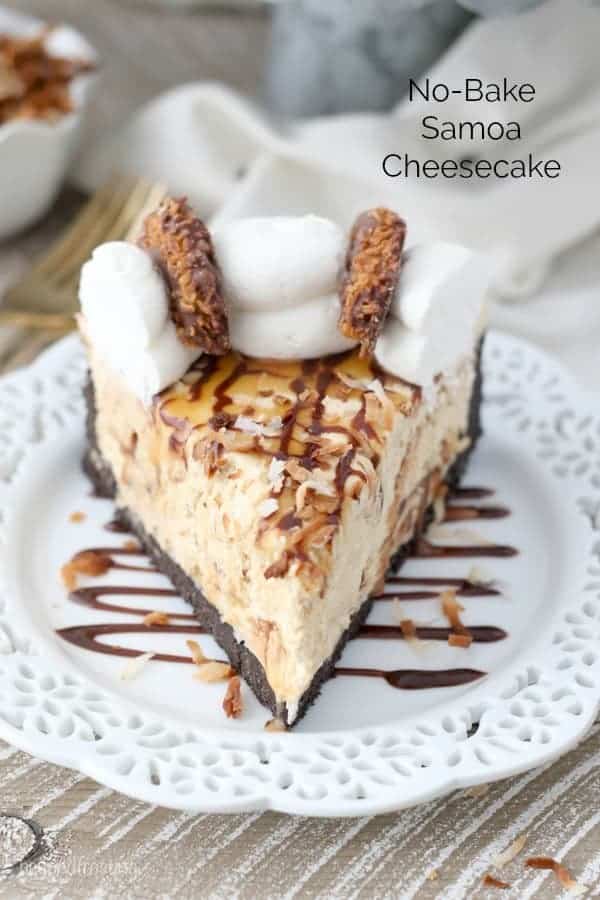 Follow Beyond Frosting:
Facebook | Twitter | Pinterest | Instagram
If you love no-bake recipes, be sure to check out my cookbook, No-Bake Treats!
You might also like: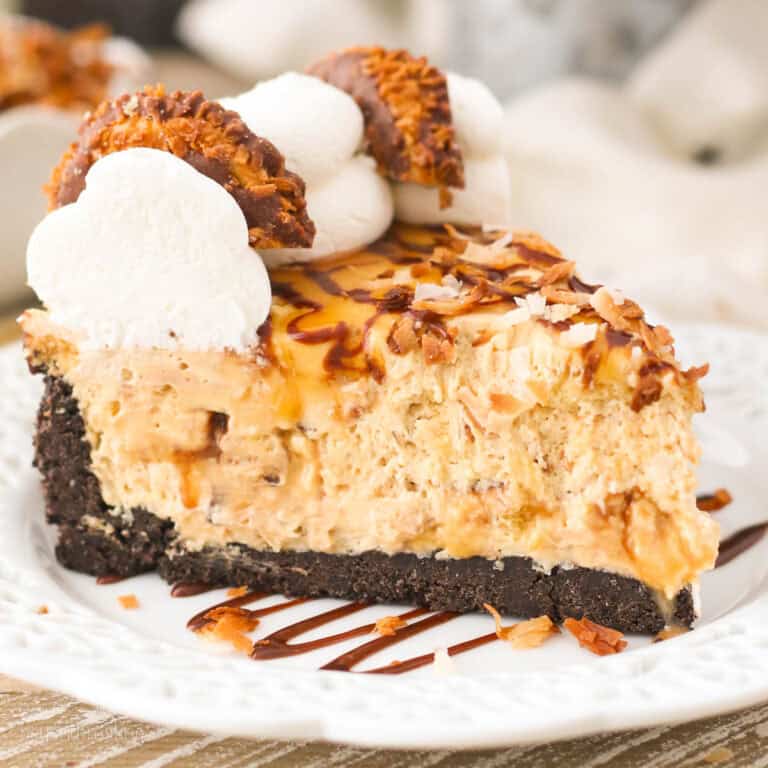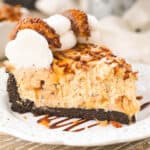 No-Bake Samoa Cheesecake
Description
This No-Bake Samoa Cheesecake is a light and fluffy caramel cheesecake in an Oreo crust packed with toasted coconut, shortbread cookies, and a caramel and chocolate swirl. And, of course, your favorite Samoa girl scout cookie to top it off!
Ingredients
For the crust:
1

package (14.3 oz) Oreos

½ cup

(

8 tablespoons

) unsalted butter, melted
For the filling:
1 cup

coconut, toasted

16 ounces

cream cheese, at room temperature

2/3 cup

caramel sauce, divided

½ cup

granulated sugar

1 teaspoon

vanilla extract

1 ¼ cups

heavy whipping cream

½ cup

powdered sugar

12

shortbread cookies, crushed

¼ cup

hot fudge sauce plus additional for garnish
For the topping:
1 cup

heavy whipping cream

½ cup

powdered sugar

12

Samoa cookies for garnish
Instructions
For the crust: Prepare a 9-inch springform pan by lightly greasing the edges of the pan with cooking spray, and then wiping gently with a paper towel. Line the bottom of the pan with parchment paper.
Grind the cookies into a fine crumb using a food processor or blender.
In a small bowl, melt the butter in the microwave for 30 to 45 seconds. Pour the melted butter over the cookie crumbs and stir until the crumbs are well coated.
Pour the crumbs into your springform pan and press firmly into the bottom and up on the sides to create a thick crust. Refrigerate the crust while you are preparing the filling.
For the filling: Preheat the oven to 400°F. Toast coconut until lightly brown 8-10 minutes. It is best to toast on a baking sheet line with parchment paper. Allow to cool.
Allow the cream cheese to soften to room temperature or microwave for 15 seconds. Combine the softened cream cheese with 1/3 cup of caramel sauce, granulated sugar and vanilla extract. Beat on medium-high speed for 2-3 minutes until smooth.
Prepare the whipped cream. Pour 1 ¼ cups heavy whipping cream into the chilled bowl. Use an electric mixer to beat the heavy cream on medium-high speed until the cream starts to thicken. Slowly add the powdered sugar and continue beating on high speed until stiff peaks form.
Fold the prepared whipped cream into the caramel cream cheese filling and stir until completely smooth. Next fold in the toasted coconut (reserve a small handful for garnish) and crushed shortbread cookies.
To build your cheesecake, pour 1/3 of the cheesecake filling in your prepared crust, swirl approximately 1-2 tablespoons of caramel sauce and chocolate sauce over top and swirl with a knife. Repeat these steps two more times and spread the top evenly. Refrigerate your cheesecake for 4-6 hours.
For the topping: Prepare another batch of whipped cream as instructed above.
Use a large open round tip and pipe a border around the cheesecake. Garnish with hot fudge, caramel and toasted coconut. Slice the Samoa cookies in half and place between each dollop of whipped cream.