This post may contain affiliate sales links. Please see my full disclosure policy for details
This easy pumpkin cake recipe is a moist and fluffy pumpkin layer cake filled with warm spices and frosted with cinnamon honey mascarpone whipped cream. It's all the flavors of fall wrapped up in one dreamy dessert!
Easy Pumpkin Layer Cake
I don't think that I'll ever get tired of pumpkin recipes. Pumpkin is one of my favorite flavors, and it's led me down so many delicious paths. From pumpkin bundt cake to this incredible pumpkin seven layer bundt cake, and now this AMAZING pumpkin layer cake, I'm going to make as many pumpkin desserts as I can. And you can, too! Let's start with this pumpkin cake, smothered with whipped mascarpone frosting. It's flavored inside and out with warm autumn spices, along with plenty of real pumpkin. This pumpkin cake is rich, sweet, well-balanced, and perfect for fall!
Why You'll Love This Pumpkin Cake Recipe
Soft and moist cake layers. My pumpkin cake recipe is made with oil, so you don't have to wait for butter to soften. Every layer is melt-in-your-mouth soft and infused with ample amounts of pumpkin and spice.
Easy batter. Just a few key ingredients along with your usual baking staples is all it takes to make this fluffy frosted pumpkin cake.
Creamy whipped frosting. The frosting is my classic mascarpone frosting, given a fall boost with cinnamon and honey. The subtle sweetness in the frosting lets the flavor of the cake really shine through.
Perfect for any occasion. I mean, I rarely wait for a special occasion to indulge in a decadent layer cake. This recipe is fancy enough for any fall occasion, and simple enough to make just because.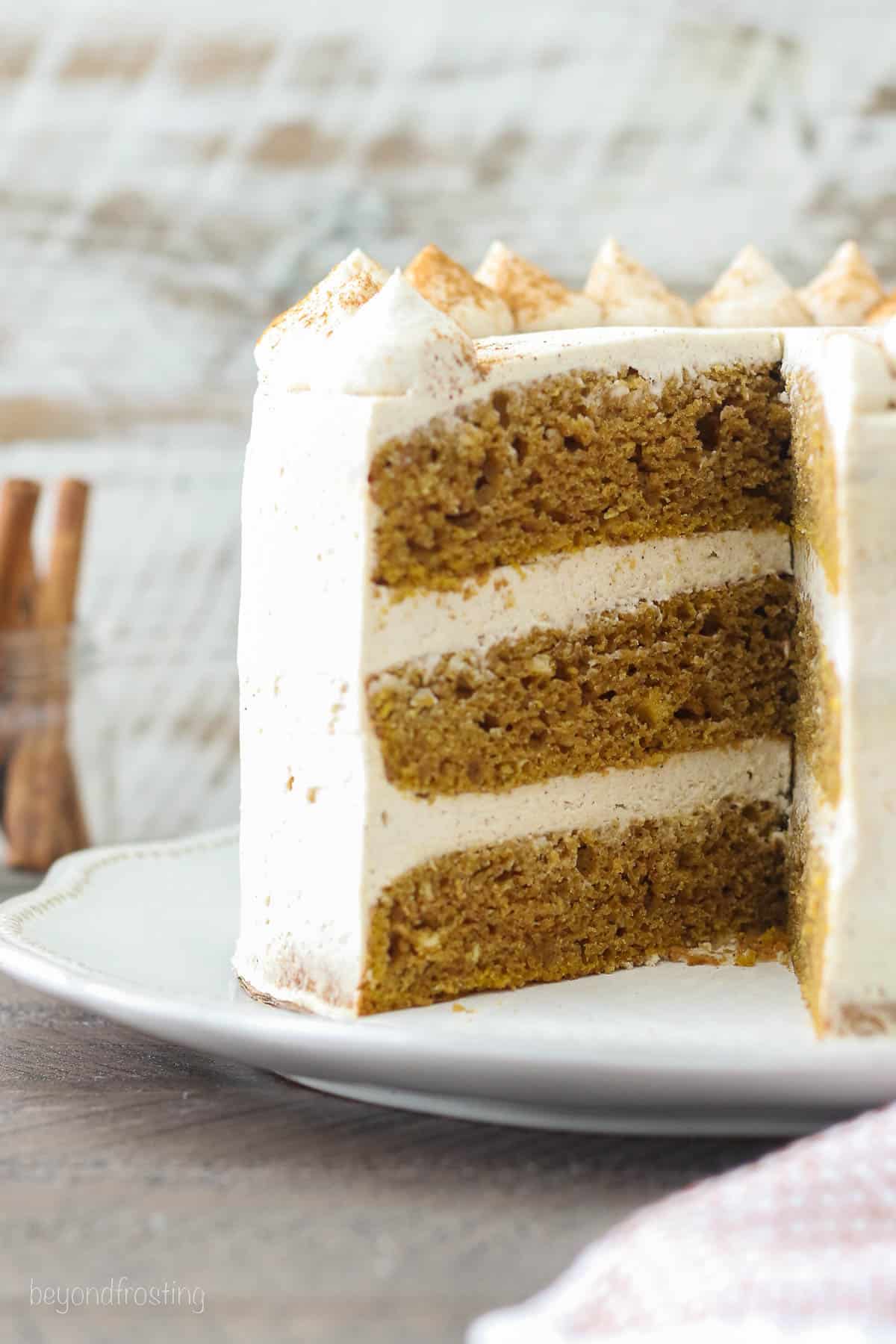 Key Ingredients
So, what goes into this decadent pumpkin layer cake? I've included some notes on the key ingredients below. Remember to scroll to the recipe card for the full amounts and recipe details.
Brown Sugar
Oil and Eggs – Nearly all of my cake recipes use oil in place of butter. The reason? Ultra-moist, tender cake layers that stay moist for daaayyys. A neutral-flavored oil, like vegetable oil, is best.
Maple Syrup and Vanilla – For some natural sweetness and depth of flavor. You'll want to use real, pure maple syrup and not artificial syrup. If you don't have any handy, use honey instead. Also, try to use pure vanilla extract over imitation.
Pumpkin Puree – Make sure you're using 100% canned pumpkin puree and NOT pumpkin pie filling. They are not the same! Pumpkin puree is pumpkin with no additives, while pumpkin pie filling is specifically for pies and contains add-ins like spices, thickeners, etc.
Flour
Pumpkin Spice and Cinnamon – For a burst of warm, spiced fall flavor all through the cake. Pumpkin spice is also called pumpkin pie spice, and it's a blend of cinnamon, nutmeg, ginger, cloves, and allspice. You can make your own homemade pumpkin spice or use your favorite store-bought blend from the spice aisle.
Baking Powder, Baking Soda, and Salt
Milk
For the Mascarpone Frosting
Mascarpone Cheese – This is a type of soft Italian cheese with a lightly tangy, sweet flavor. If you don't have mascarpone, plain cream cheese will work in a pinch (also see my recipe for cream cheese whipped cream).
Honey and Brown Sugar – For sweetness. I love how these flavors play off of the tanginess of the mascarpone and the spiciness of the cinnamon.
Vanilla
Cinnamon
Heavy Cream and Powdered Sugar – To form the base of the whipped cream frosting. Your frosting will turn out the creamiest when made with full-fat heavy whipping cream.
How to Make a Pumpkin Cake
This pumpkin cake recipe is so quick to throw together. Just bake, cool, frost, and it's ready to go! Of course, there are a handful of steps in between, so let's go over them here:
Combine the wet ingredients. In a bowl, combine the sugar, oil, eggs, maple syrup, and vanilla until well incorporated, then mix in the pumpkin and beat until combined.
Add the dry ingredients. In a separate bowl, combine the dry ingredients. Slowly mix the dry ingredients into the batter, alternating with milk until combined.
Bake and cool. Next, divide the batter between three lined and greased cake pans. Bake the cakes at 350ºF for 20-24 minutes, until a toothpick comes out clean. Afterward, let the cakes cool completely before frosting.
Make the frosting. When you're ready to frost your cakes, beat the mascarpone cheese until smooth, then add brown sugar, honey, vanilla, and cinnamon. Gradually add heavy cream. Finally, add powdered sugar and whip until stiff peaks form.
Assembling the Cake
With your cake cooled to room temperature and your frosting whipped and ready, it's time to assemble this pumpkin cake. If you're new to making layer cakes, I have a detailed tutorial on how to make a layer cake that you can refer to for pointers.
Start with the first layer. If your cakes have risen in the center, trim off the domes using a cake leveler or a serrated knife. Beginning with the bottom layer, pipe a layer of frosting over the cake, and then spread evenly.
Add the remaining layers. Place the second cake layer over the first, frost, and repeat with the final layer.
Frost the outside of the cake. Use additional frosting to fill any gaps between the layers, and use an offset spatula to smooth everything out. Decorate as desired, then slice and serve.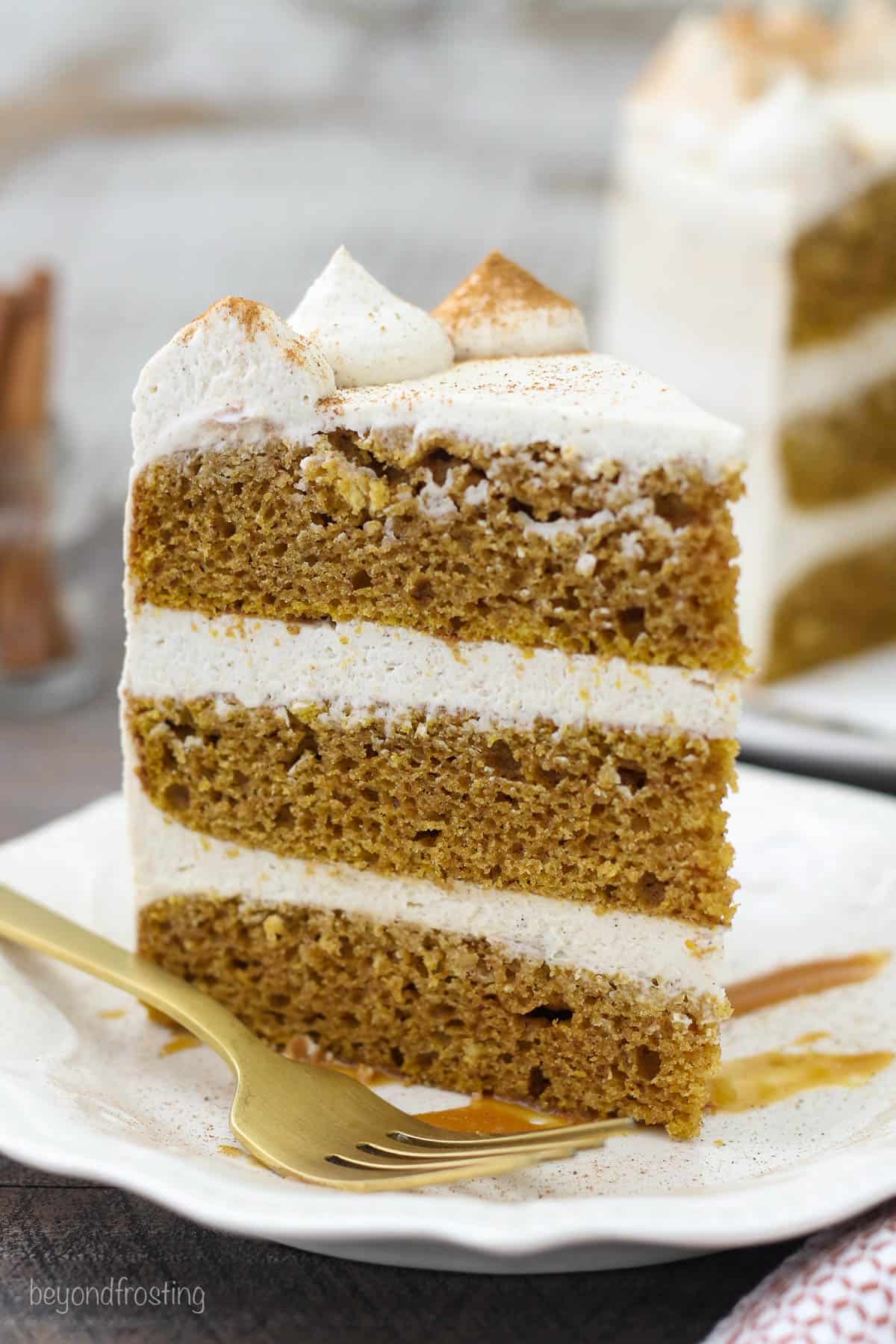 Tips for the Best Pumpkin Cake
This pumpkin cake recipe is wonderfully simple! But if you're just getting into the swing of baking, I have some final tips for success:
Use the right kind of pumpkin. Pumpkin puree and pumpkin pie filling both come in cans, so it's easy to confuse the two! Look for cans labeled 100% pumpkin. Pumpkin pie filling has added sweeteners and other ingredients, and won't work in this recipe.
Use bake-even strips. While this isn't necessary, it does prevent the cakes from doming as they bake. This can save the need for trimming off the domes after the fact. The less cake we waste, the better!
Properly beat the frosting. The most common question I get about making a mascarpone frosting is how to get it to stiff peaks. Since this frosting is whipped cream, take the time to beat the ingredients well so that it stiffens up enough to spread.
Use a piping bag to frost the cake. Whipped cream frosting does not like to be overhandled. If you can use a piping bag (or multiple ones) to help frost the cake, that is the easiest way to frost it. See the section below for more decorating tips.
Why is My Pumpkin Cake Dense?
This pumpkin cake is naturally a little denser than, say, a vanilla layer cake. However, there are a couple of things you can do to make sure that it's not too heavy:
Use fresh leavening agents. Expired baking soda or baking powder won't serve their intended purpose. If you're digging yours out of the back of your pantry, I recommend just grabbing some at the store.
Don't over-mix the batter. Overworked gluten (aka flour) can become dry and dense. Mix the batter only until just combined.
Properly measure the flour. Whenever possible, I recommend using a scale, otherwise, you can use the spoon and level method.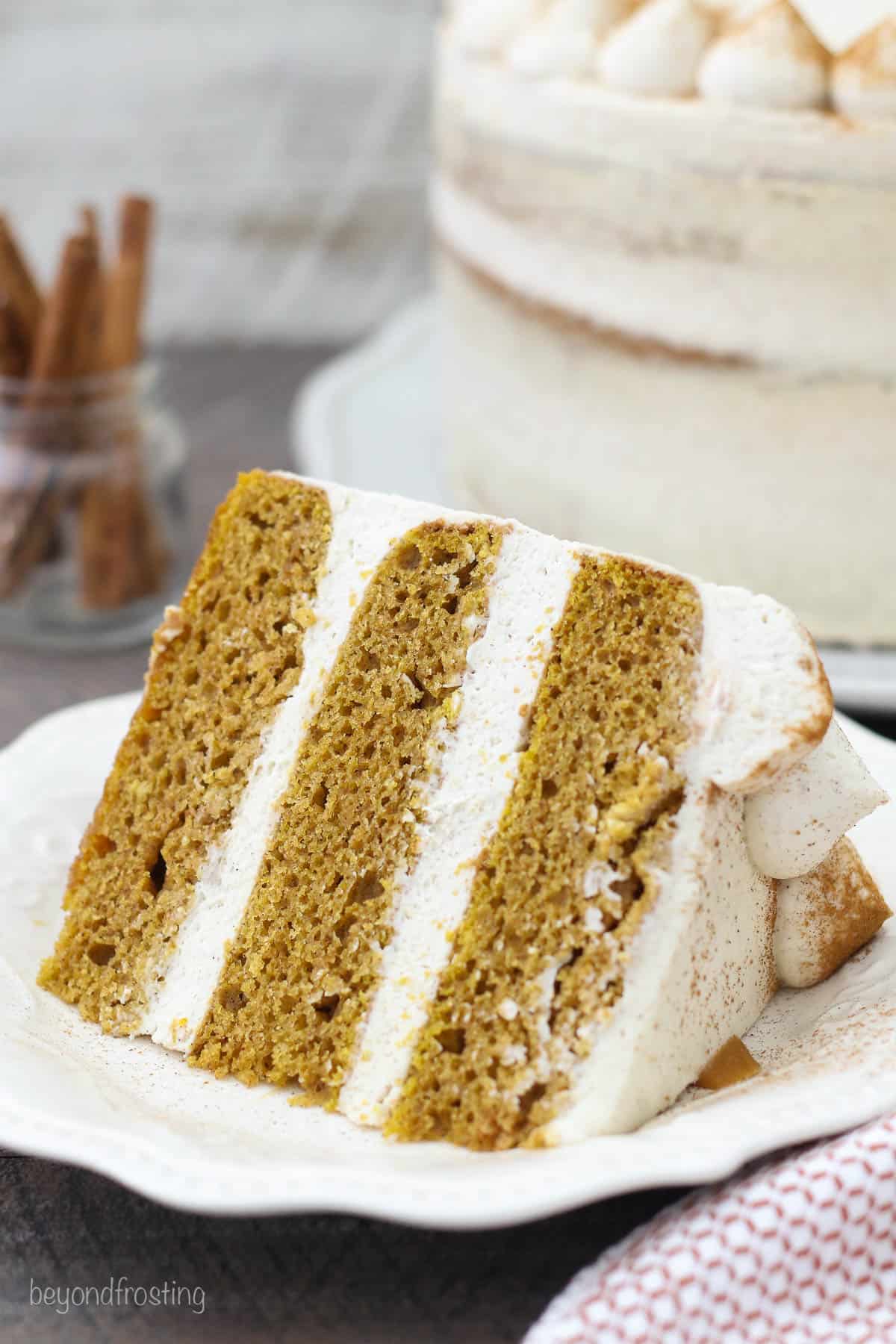 How to Decorate a Pumpkin Layer Cake
How you decorate your frosted pumpkin cake is totally up to you! I use any leftover frosting and a large open-round tip to pipe big fluffy florets over the top of the cake as you see in the photos. Afterward, I like to coat the whole thing with a dusting of cinnamon. Check out my tutorials on how to use a piping bag and how to use piping tips with loads of cake decorating tips and tricks.
If mascarpone frosting isn't your thing, brown butter frosting or even classic vanilla buttercream would also taste amazing. You can drizzle your pumpkin cake with caramel sauce or fudge sauce, and garnish with chocolate shavings if you'd like.
How to Store
Fridge. A fully assembled pumpkin cake will last covered in the fridge for 3-4 days. If you have an airtight container, that's the best way to keep it fresh. Cake layers can be prepared up to 2 days in advance and stored at room temperature in an airtight container.
Freezer. I recommend freezing the cake layers before they're frosted. Once cooled, wrap the layers twice with plastic wrap, with pieces of parchment paper on the top and bottom layers of the cake. The cake layers can be frozen for up to 3 months. When you're ready to serve, thaw the cake layers to room temperature, add the frosting, then slice and serve.
More Pumpkin Desserts
Print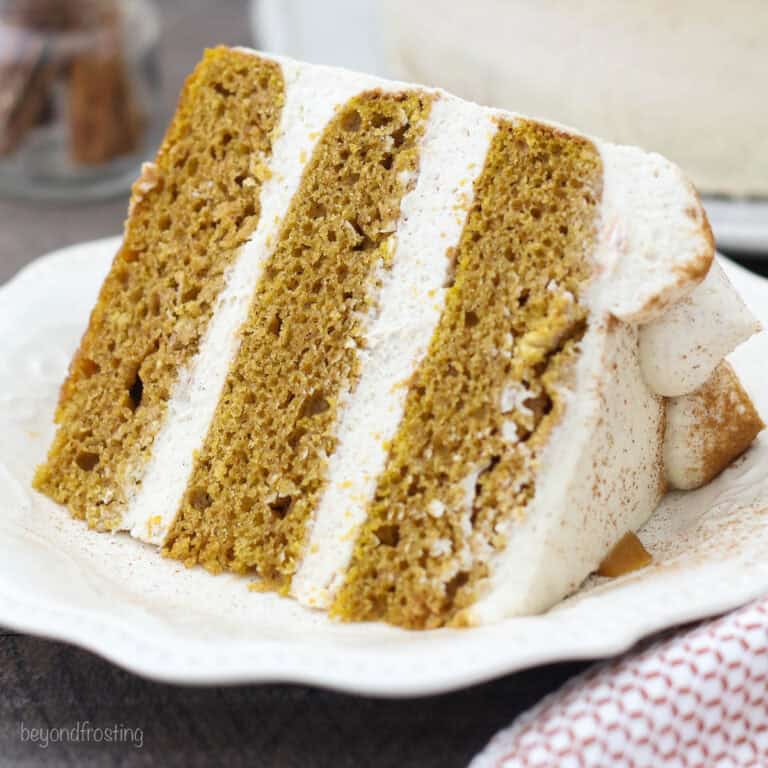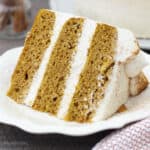 Pumpkin Cake with Mascarpone Frosting
Author:

Prep Time:

45 minutes

Cook Time:

20 minutes

Total Time:

1 hour 5 minutes

Yield:

12 slices
Description
This festive pumpkin cake recipe is a spiced pumpkin layer cake frosted inside and out with creamy cinnamon honey mascarpone frosting. The perfect fall dessert!
Ingredients
For the Cake
1 ½ cups

light brown sugar

½ cup

vegetable oil

3

large eggs

2 tablespoons

maple syrup

2 teaspoons

vanilla extract

1 cup

pumpkin puree (not pumpkin pie filling)

2 cups

all-purpose flour

2 teaspoons

pumpkin pie spice

2 teaspoons

cinnamon

1 ½ teaspoons

baking powder

¾ teaspoon

baking soda

¾ teaspoon

salt

¾ cup

milk (I use nonfat)
For the Frosting
16 ounces

mascarpone cheese, cold

3 tablespoons

honey

1 tablespoon

brown sugar

2 teaspoon

vanilla extract

1 ½ teaspoons

cinnamon

2 ¼ cups

heavy whipping cream

½ cup

powdered sugar
Instructions
For the Cake:
Preheat the oven to 350°F. Prepare three 8-inch round baking pans, line the bottom with parchment paper, and grease the sides. Prepare your bake even stripes if desired.
In a large mixing bowl, combine the sugar, vegetable oil, eggs, maple syrup and vanilla extract. Beat on medium speed until the eggs and oil are well incorporated and the batter is lighter in color, about 2 minutes. Scrape down the bowl as needed. Next mix in the pumpkin and beat until well combined.
Combine the remaining dry ingredients. Add half the dry ingredients followed by half of the milk to the batter, then mix just until the flour starts to incorporate. Add the remaining dry ingredients and milk. Beat until well combined. Use a spatula to scrape down the sides of the bowl to ensure it's well-mixed.
Divide the batter evenly between the three pans, about 1 2/3 cups of batter per pan. Bake at 350°F for 20-24 minutes. Test the cake for doneness by inserting a toothpick into the center of the cake. If the toothpick comes out clean, your cake is done. Remove from the oven and allow to cool completely.
For the Frosting:
Beat the mascarpone cheese until it's free of lumps, scraping down the bowl occasionally. Add the brown sugar, honey, vanilla extract and cinnamon. Beat until all ingredients are well combined.
While beating at medium speed, slowly add the heavy whipping cream until the mascarpone cheese resembles a liquid consistency. Scraping the bowl as needed. Continue adding the remaining heavy whipping cream and beat until soft peaks form. Next, add the powdered sugar and continue whipping until stiff peaks form.
To Assemble the Cake:
Use a cake leveler to cut the domes off the top of the cake as needed. Place a dollop of frosting on your cake board and place the bottom layer of cake on top of that.
Place half of the whipped cream in a large piping bag fitted with a large open round tip, or simply cut off the end of the piping bag. Pipe a layer of frosting and spread evenly. Add the next two layers of cake and repeat the above steps.
Use your piping bag to fill in any gaps between your layers and to create a rustic crumb coat. Using an offset spatula or icing smoother, to add the remaining frosting then wipe away any excess.
Use remaining frosting to pipe the florets on the top of the cake using an Ateco 809 tip (large open round) and dust with cinnamon.
Notes
Storing: This cake must be refrigerated once the frosting has been added. If you have an airtight container, that's best.
Freezing: The cake layers can be frozen for for up to 3 months. A frosted cake can be frozen for up to 1 month.
Cake layers can be prepared up to 2 days in advance and stored at room temperature in an airtight container.
Category:

Cake

Method:

Baked

Cuisine:

American
Keywords: pumpkin cake, pumpkin cake recipe, pumpkin layer cake