You can make this Valentine's Day Ombre Heart Cake with these few easy tips. 
I am in disbelief that I actually made a cake and decorated and it came out somewhat cute looking. I pictured this cake in my head and it actually came out just the way I wanted it too. I love the ombre red and pink hearts, the decadent chocolate cake and of course the heart shaped sprinkles on top.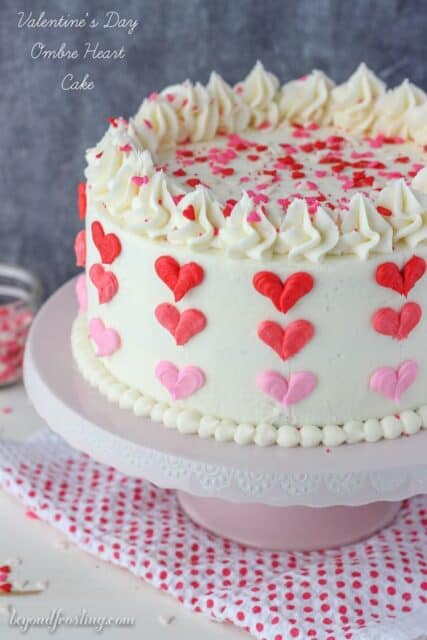 Valentine's day is the same week as my boyfriend's birthday. I try really hard to make each occasion special. I always want to make a dessert, and chocolate cake is my boyfriend's favorite. However, I am without a doubt still always trying to eat healthy when valentine's day rolls around. Eating a chocolate cake by yourself isn't what you want to be doing on valentine's day. I mean, it does sound good though, right?
One of my goals for this year was to try more cakes because I consider cakes to be a bit challenging for me. Trust me, if I can do it, you can do it! I've included some basic tips to make this Ombre Heart Cake a success for you.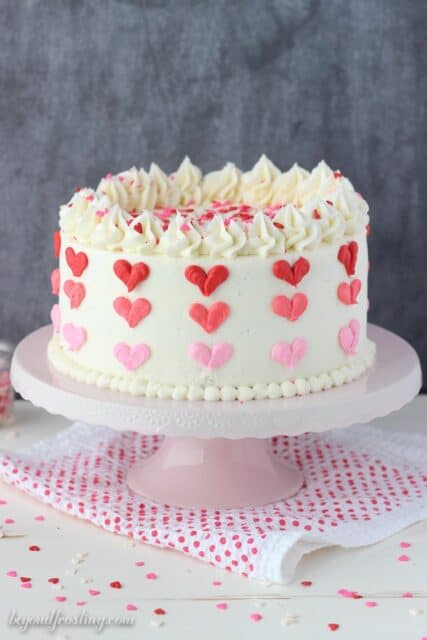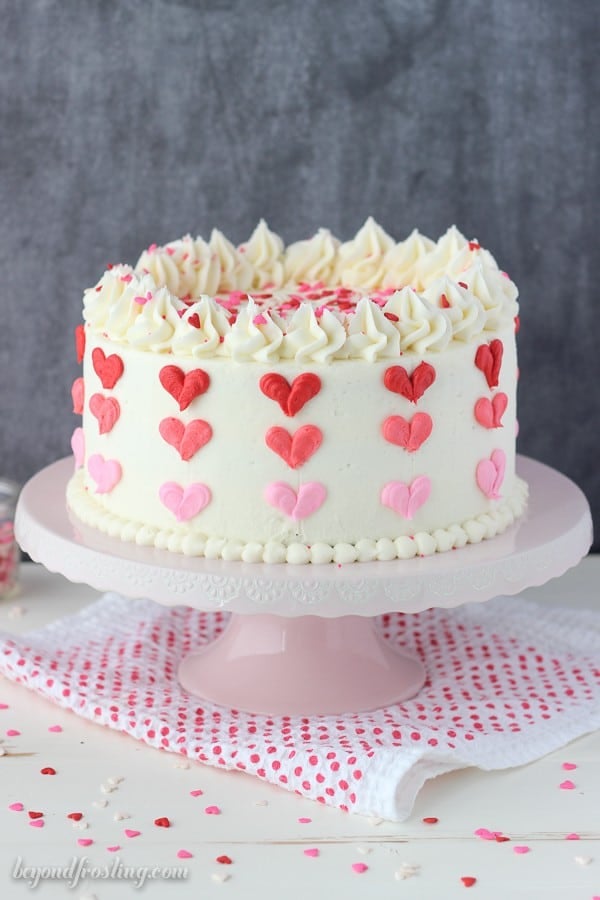 Start with a rich, homemade chocolate cake. This recipe is from my friend Lindsay, and I've made it before, so I knew it was amazing. It uses my favorite dark chocolate cocoa powder and it is a very wet batter, it's about the consistency of milk. The cake is baked at a low temperature; 300° F. At first, I was so confused as to how it would work, but it's like magic right out of the oven. This is my go-to chocolate cake recipe. I have made it both in a double and triple layer cake. If you make it as a double layer, you will of course need to adjust the baking time.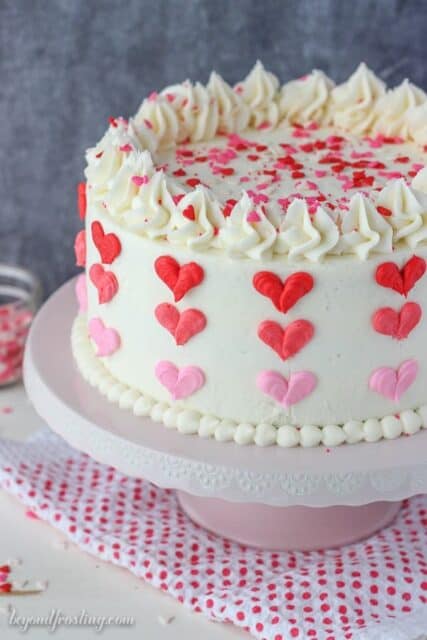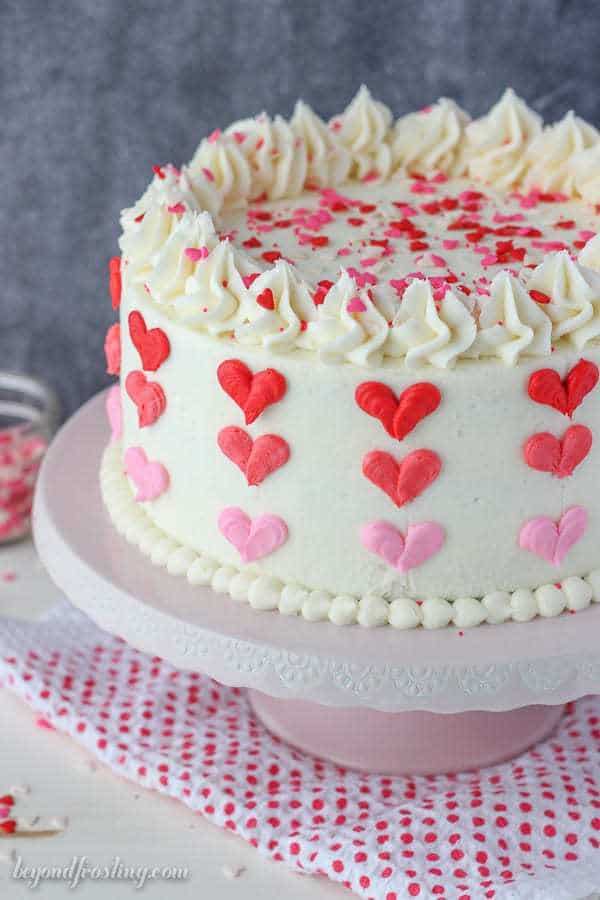 The frosting for this cake is my Perfect Vanilla Frosting. It is an all-butter frosting that is whipped to perfection. For this cake, I made two batches. It sounds like a heck of a lot of ingredients, and you're right. Except that my number one rule when it comes to making cakes and cupcake is that you never want to run out of frosting. You will have extra frosting with this cake. So afterwards, you might be inspired to make a batch of cookies or cupcakes just so you can use it up.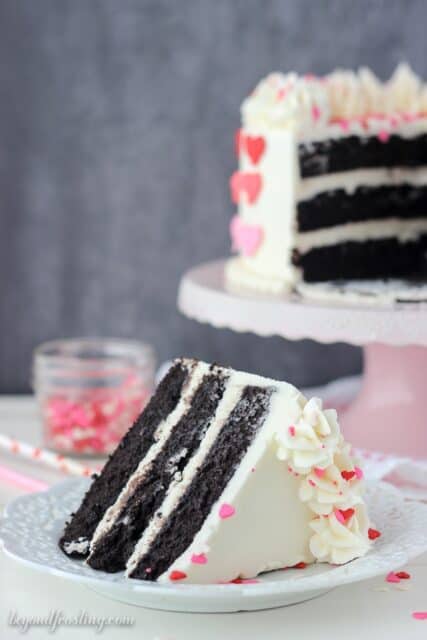 The first layer of frosting is a crumb coat and the filling for each layer. A common problem  is for cakes to be somewhat lopsided. To fix this, I placed my cake inside of a spring form pan, which helped to anchor it against the sides. Be sure to place a cake board in the bottom of the pan first.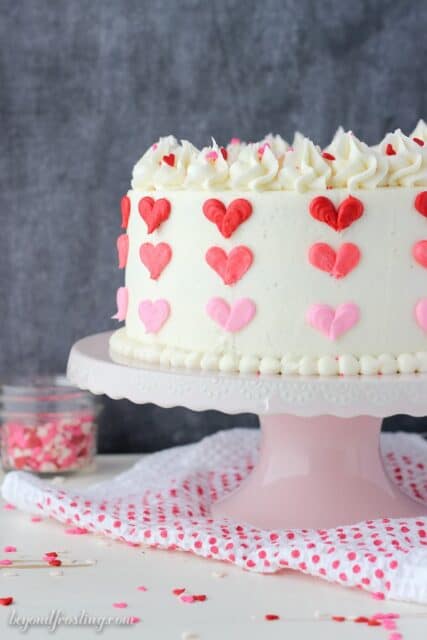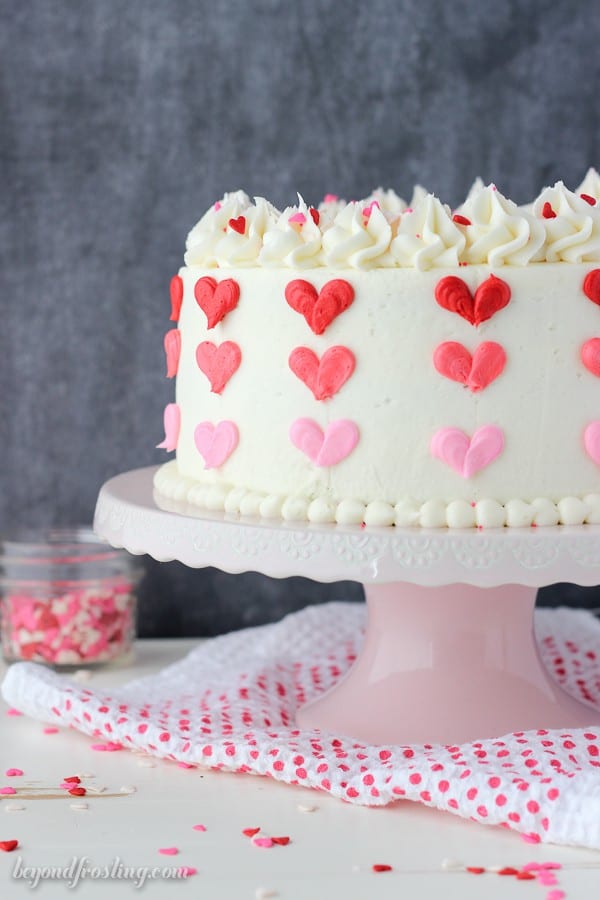 To fill the layers, I placed the frosting in a piping bag and used a large round open tip. You can use a Wilton Tip #12 Round
or something larger. Pipe from the outside edge in a single layer of frosting. Gently smooth over with a Angled Icing Spatula
. Place the next layer of cake and repeat.
Once your layers are built, add the crumb coat. This will be a thin layer of frosting, enough to cover the edges and fill in the cracks. To do this, simply drop a spatula's worth of frosting and spread across the top and down the edges. You can use your filled piping bag to add additional frosting to some of the cracks in between the layers or at the bottom edge. I like to refrigerate the cake until the crumb coat is firmed up.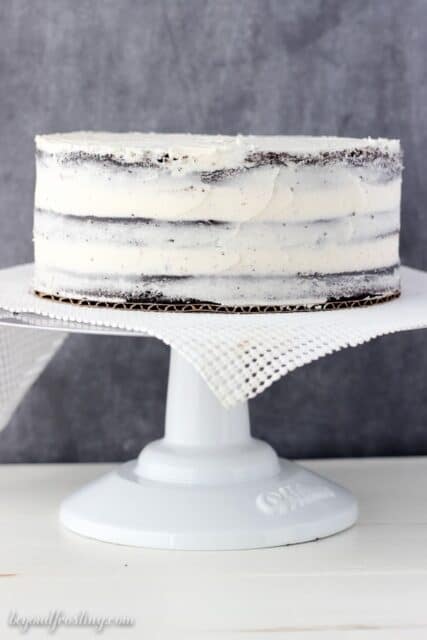 Then it's time to add the final layer of frosting. I have NEVER built a cake with edges as smooth as this cake. There are a few essential tools you will need that will change your world. The first is a Cake Icer
, an Icing Smoother
, a Fondant Smoother
and Viva paper towels. With the oversized cake icer, you will also need an 18-inch piping bags
.
I first heard about the Viva paper towel trick years ago in my cake decorating classes. They really do the trick! For how to get those nice smooth edges, I used this tutorial, which is also from Lindsay. I can't even begin to try and explain it all. But it worked! She is like my cake spirit animal. I called her as soon as I was done and was all, "can you believe I did this?"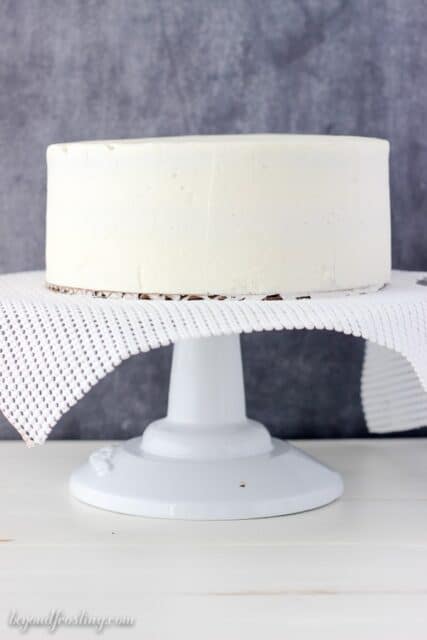 It is extremely helpful is you have a turntable that you can spin as you ice the cake. The higher the better. I have one very tall, heavy duty metal turntable and also a smaller one as well. This Cake Turntable  should work just fine for you.
Once the cake is iced, pop it in the refrigerator for 10-15 minutes so the edges are slightly firmed. Now it's time to prepare to add the hearts.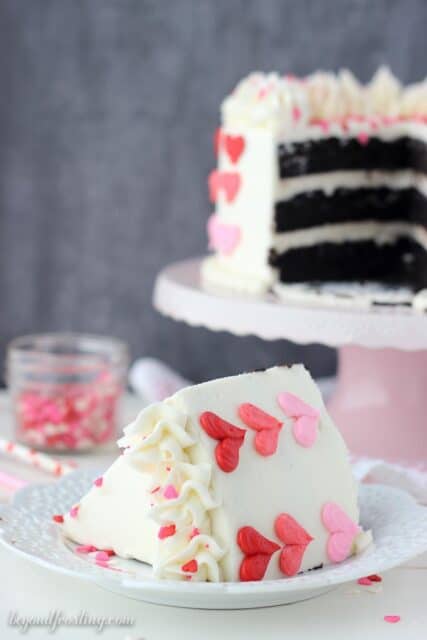 I had to practice making the hearts before adding them to my cake. First I practiced on a piece of wax paper, and then I practiced on a glass, as if I was piping on the cake. To make the hearts, I used a  Wilton Tip #12 Round. It is nice if you have more than one so you don't have to wash it out every time.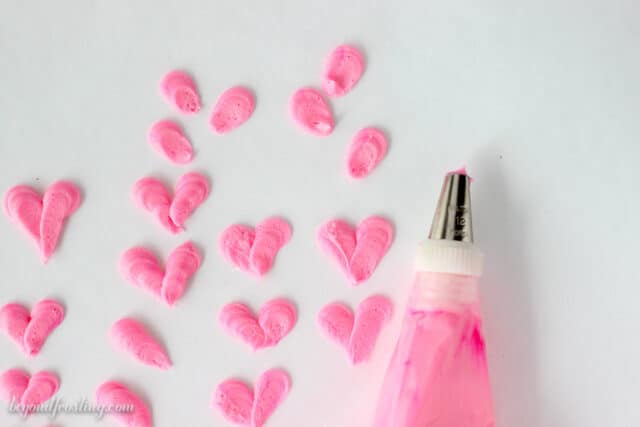 Start by making a tear drop shape. Squeeze the piping bag until it makes a circle and then slowly pull down as you ease the pressure and swiftly pull it away. Once you are ready to add to you cake, follow a few simple steps.
Use a soft tape measure to measure the diameter of the cake and mark the bottom with a small dot, using a toothpick. I was able to make mine about 2" apart. Then I used a ruler and ever so gently imprinted a vertical line that will be used to keep the hearts straight as I applied them.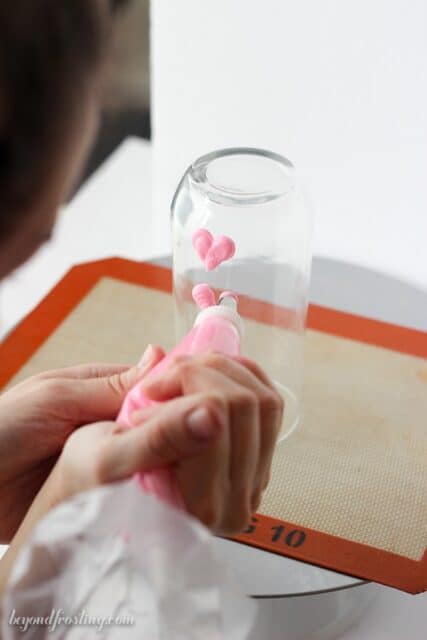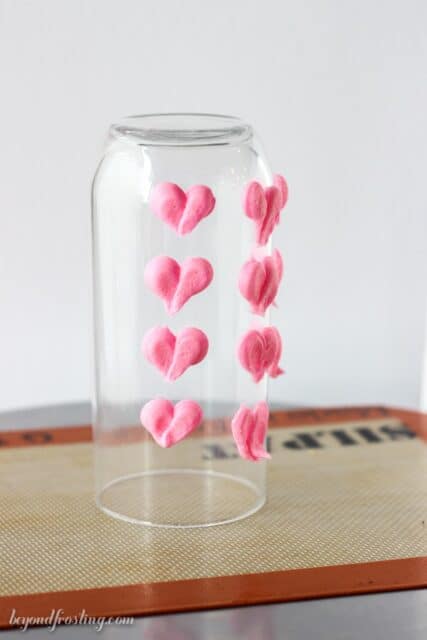 You need to dye about ½ cup of frosting per color. It is more frosting than you need, but it makes it easier to hold the piping bag if it's more full. I used my Wilton Color Right
gels. I started with the lightest pink by adding ¼ of a drop of pink gel. Then for the second color I used a larger drop of red and for the third color, I used a combination of red and crimson. When dying colors, it is important to remember that you can always make a color darker, but you can't really make it lighter. So start with just a small drop of dye. Fill 3 separate 12-inch Piping Bags
with a coupler and a Wilton Tip #12 Round
. Add your hearts to the sides of the cake.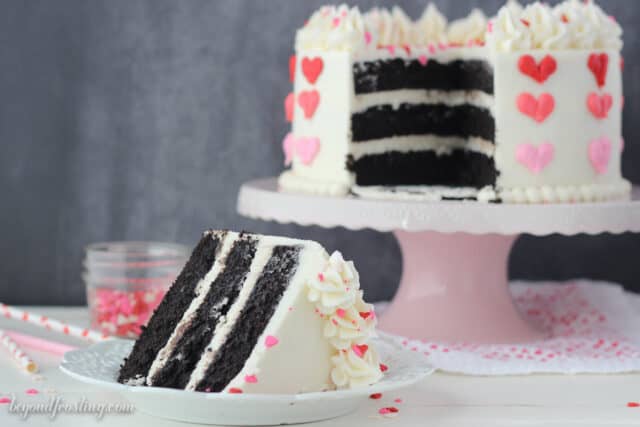 For the top, I used an Ateco Tip #846 – Closed Star Tip
to make the stars on top and then garnished with some sprinkles.
As I have now made probably 100 pies, cheesecakes and round desserts for my book, I am getting better and better at actually making a nice slice on my cake. This cake makes me so happy!
For the homemade chocolate cake recipe, you can find it here.
For the buttercream, you will need 2 batches of my Perfect Vanilla Frosting.
More helpful tools:
Icing Smoother

Fondant Smoother

Cake Icer

Wilton Color Right

Ateco Tip #846 – Closed Star Tip

Wilton Tip #12 Round

12-inch Piping Bags

18-inch piping bags

Cake Turntable

Angled Icing Spatula
Keep up with all the happenings. Follow Beyond Frosting:
Facebook | Twitter | Pinterest | Instagram | Bloglovin | Google+
Don't miss a thing, subscribe to get recipes delivered to your inbox!