This post may contain affiliate sales links. Please see my full disclosure policy for details
A homemade chocolate ice cream recipe mixed with Cadbury Creme Eggs. If you're a Cadbury Creme Egg fan, then you need to try this for your Easter dessert! Make this ice cream recipe ahead of time so it's ready to go when the craving hits!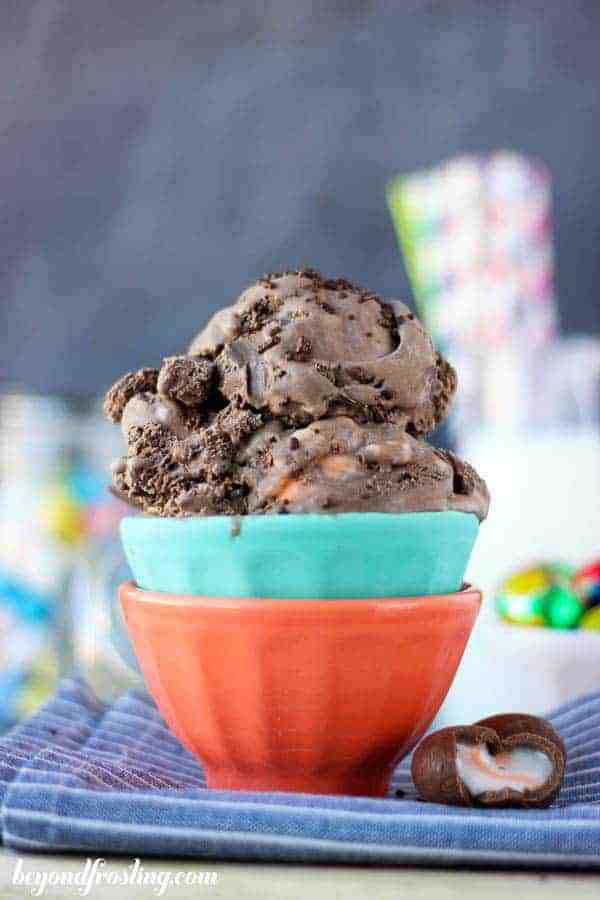 If you're try to plan your Easter dessert, then let it include this Chocolate Cadbury Crème Ice Cream. It's a homemade dark chocolate ice cream loaded with Cadbury Creme Eggs! I meeaaaaaan……love.
This was my first homemade chocolate ice cream and I have fallen totally in love. I have to say my KitchenAid ice cream maker doesn't get nearly enough of a workout. More ice cream recipes please!
If you are like me, maybe you are a little intimated to make homemade ice cream. I promise you that there is nothing to be afraid of! It is seriously so easy and you might never buy store-bought ice cream again. Eh, that's a stretch, but you know what I mean!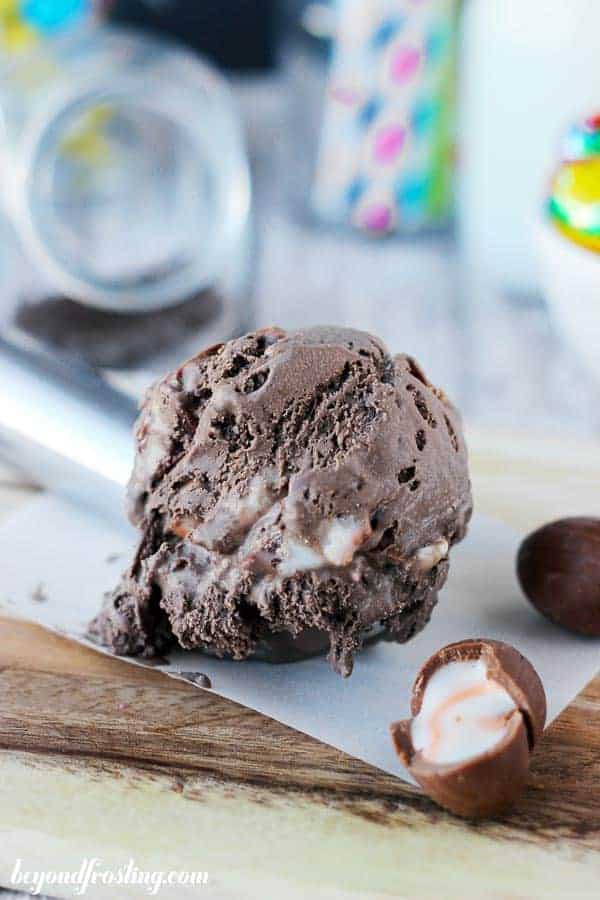 Easy base recipe for any homemade ice cream.
To make this ice cream you only need 4 simple ingredients:
Heavy whipping cream
Granulated Sugar
Cocoa powder (dark chocolate preferred- I like Hershey's Special Dark)
Vanilla Extract
The steps to make this are simple!
First you'll heat a portion of the heavy cream together with the sugar and cocoa powder so that they dissolve into the heavy cream.
Then you'll add the remaining heavy cream and refrigerate the mixer until it's completely cooled.
Don't forget to prefreeze your ice cream maker according to the manufacturers instructions. This after requires 12+ hours, so through that in the freezer a day ahead of time.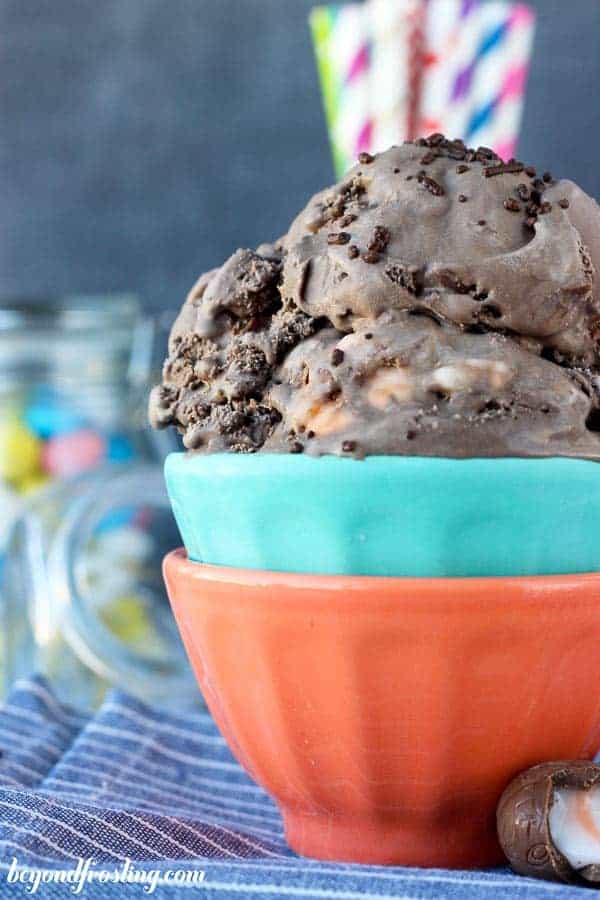 Helpful tips for the Cadbury Eggs
The key to keeping the characteristics of the Cadbury Eggs- ie the cream filling, I cut them into pieces and frozen them before adding them to the churning ice cream. This will leave your ice cream with chunks of the Cadbury Eggs as opposed to the filling mixing into the ice cream. It's a win if you ask me.
So make sure you also toss these in the freezer ahead of time so that they have a chance to freeze too.
When adding the ice cream, it's best to add once it reaches the soft-serve like consistency. Then save 1/3 of the chocolate eggs to add once you've poured it into your freezer-safe container. This guarantees you'll have chunks throughout.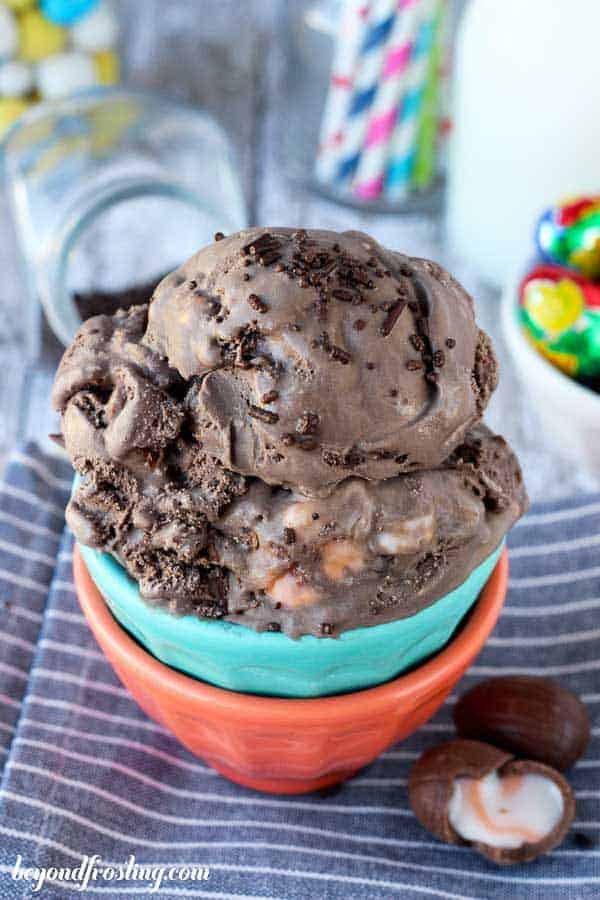 Follow Beyond Frosting:
Facebook | Twitter | Pinterest | Instagram
If you love no-bake recipes, be sure to check out my cookbook, No-Bake Treats!
Print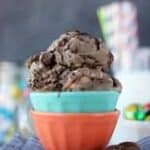 Cadbury Crème Ice Cream
Prep Time:

20 hours

Cook Time:

15 minutes

Total Time:

20 hours

Yield:

6 Cups
Description
A homemade dark chocolate ice cream with Cadbury Creme Eggs, enjoy this extra special Easter dessert.
Ingredients
3 cups

heavy Cream

3/4 cups

granulated sugar

1/4 cup

dark chocolate cocoa powder

1 teaspoon

chocolate or vanilla extract

10

Cadbury Crème Eggs (regular size)
Instructions
Pre-freeze your ice cream maker attachment as directed, usually at least 15 hours.
Combine 2 cups whipping cream with the sugar and the cocoa powder in a medium-sized saucepan. Heat medium heat, stirring just until it starts to bubble and sugar is dissolved.
Let cool for a few minutes and add remaining 1 cup of heavy whipping cream and vanilla extract. Stir to combine. Refrigerate until completely cooled.
Unwrap Cadbury Crème Eggs and cut into quarters. Freeze while your liquid mixutre is cooling.
Once frozen, set up ice cream maker, and spin on low speed. Pour the liquid mixture into ice cream maker and spin on low speed for 3 minutes and then increase to medium speed for another 10 minutes.
During the last two minutes, break frozen Cadbury Crème Eggs into small pieces and throw into ice cream mixer. Reserve 1/3 of the Cadbury Eggs to drop into the container after you add the ice cream.
After 15 minutes, your ice cream should resemble soft serve. Stop the machine and spoon into a freezer-safe container, layering in the remaining Cadbury eggs.
Freeze for at least 3-4 hours until desired consistency.
Notes
The total time for this recipe includes the pre-freezing of the ice cream. Put your container in the freezer the day before you plan to make this ice cream.
Category:

Ice Cream

Method:

Frozen

Cuisine:

American
Keywords: Homemade chocolate Ice Cream, Cadbury, Cadbury Eggs, Easter Dessert, Easy Easter Dessert, Homemade Ice Cream, Homemade Ice Cream recipe,