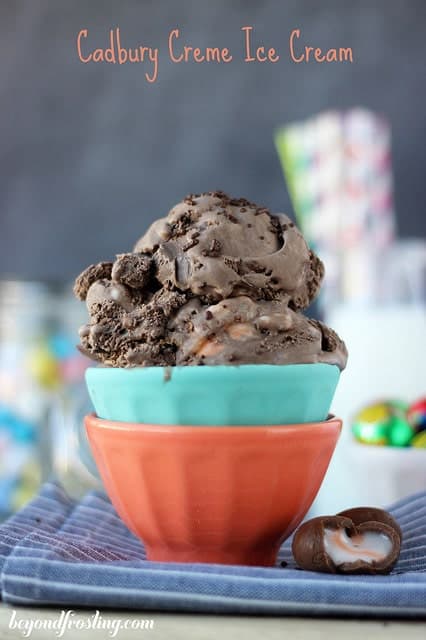 What a whirlwind weekend I had with King Arthur Flour in LA. The amazing crew from King Arthur has been traveling on the Bake For Good tour from Seattle to Minneapolis and finally in LA. I can't wait to tell you guys more about it. Let's just say I wish I were still with them today instead of sitting behind my desk.
It is always nice to come home after being gone for a couple days and reconnecting with loved ones. Especially when they have ridiculous stories about trying to make Rice Krispie Treats. Stories that involve using a cereal spoon instead of a spatula, microwaving the marshmallows in a Pyrex dish and burning one's finger on piping hot marshmallows when attempting to mix by hand. Oye Vie.
While my boyfriend doesn't enjoy over complicated desserts (hence his love of Rice Krispie Treats), when I told him I made a killer Chocolate Cadbury Crème Ice Cream, he was all, "you better save me some of that". Obvi. This was my first homemade chocolate ice cream and I have fallen totally in love.
Beside the obvious, Cadbury Crème Eggs, I used a dark chocolate cocoa powder.  This helps intensify the chocolate flavor and I wouldn't have it any other way. The key to keeping the characteristics of the Cadbury Eggs, I cut them into pieces and frozen them before adding them to the churning ice cream. This will leave your ice cream with chunks of the Cadbury Eggs as opposed to the filling mixing into the ice cream. It's a win if you ask me.
If you are like me, maybe you are a little intimated to make homemade ice cream. I promise you that there is nothing to be afraid of! It is seriously so easy and you might never buy store-bought ice cream again. Now hurry up and head to the store to stock up on Cadbury Crème Eggs before they are sold out!
Keep up with all the happenings. Follow Beyond Frosting:
Facebook | Twitter | Pinterest | Instagram | 
 Don't forget to save your favorite recipes to your recipe box with the 

   button! You can create a meal plan and a shopping list all in the same place!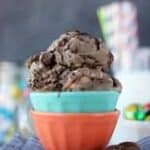 Cadbury Crème Ice Cream
---
Prep Time:

15 hours 45 minutes

Cook Time:

15 minutes

Total Time:

16 hours

Yield:

6 Cups
Description
A dark chocolate ice cream with Cadbury Creme Eggs
---
Ingredients
3

C Heavy Cream

3/4

C Sugar

1/4

C Dark chocolate cocoa powder

1 tsp

Chocolate extract (optional)

10

Cadbury Crème Eggs
---
Instructions
Pre-freeze your ice cream maker attachment as directed, usually at least 15 hours.
Heat 2 C whipping cream with 1 C sugar and cocoa powder. Heat in a pot on medium heat, stirring just until it starts to bubble and sugar is dissolved.
Let cool for a few minutes and add remaining 1 cups of heavy whipping cream and chocolate extract. Stir to combine. Refrigerate until completely cooled.
Unwrap Cadbury Crème Eggs and cut into quarters. Freeze while your heavy cream is cooling.
Once frozen, set up ice cream maker, and spin on low speed, pour heavy cream mixture into ice cream maker after it starts spinning.
Remove Cadbury Eggs from the freezer.
Stir on low speed for 3 minutes and then increase to medium speed for another 10 minutes.
During the last two minutes, break frozen Cadbury Crème Eggs into small pieces and throw into ice cream mixer. Reserve 1/3 of the Cadbury Eggs to drop into the container after you add the ice cream.
After 15 minutes, your ice cream should resemble soft serve. Stop the machine and spoon into your container for freezing. Add half of the ice cream and then player in half of your remaining Cadbury Eggs. Pour in remaining ice cream and top with the last of the Cadbury Eggs.
Freeze for at least 3-4 hours until desired consistency.
---
Notes
The total time for this recipe includes the pre-freezing of the ice cream. Put your container in the freezer the day before you plan to make this ice cream.
Recipe Card powered by
Other recipes you might like:
S'mores Peanut Butter Cup Ice Cream