This post may contain affiliate sales links. Please see my full disclosure policy for details
Chocolate Ganache Cupcakes are homemade chocolate cupcakes filled with a rich chocolate ganache and topped with a silky chocolate buttercream frosting. These chocolate filled cupcakes are easy to make, decadent and perfect with a glass of milk!
If you love making chocolate cupcakes you should also check out my Triple Chocolate Brownie Cupcakes and my Ghirardelli Double Chocolate Milkshake Cupcakes.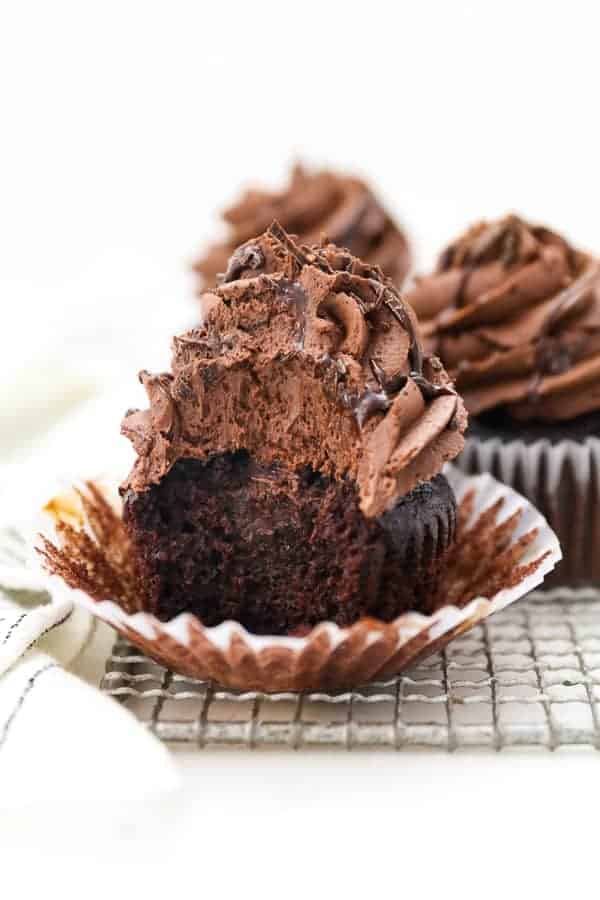 These Chocolate Filled Cupcakes Are One Of My Favorite Recipes
Give me alllll the chocolate. Even my husband took down more than a few of these cupcakes, so you know this recipe is a winner.
How could I top my moist chocolate cupcakes? Turns out you just need to add some chocolate ganache filling and top it with a fudgy chocolate frosting.
These chocolate filled cupcakes start with my favorite chocolate cupcake recipe that is filled with a rich dark chocolate ganache and topped with a perfect whipped chocolate frosting. Finish them off with a drizzle of chocolate and chocolate shavings.
You might also call them Chocolate Blackout Cupcakes or Death by Chocolate Cupcakes. All suitable names, and a 100% accurate way to describe these cupcakes.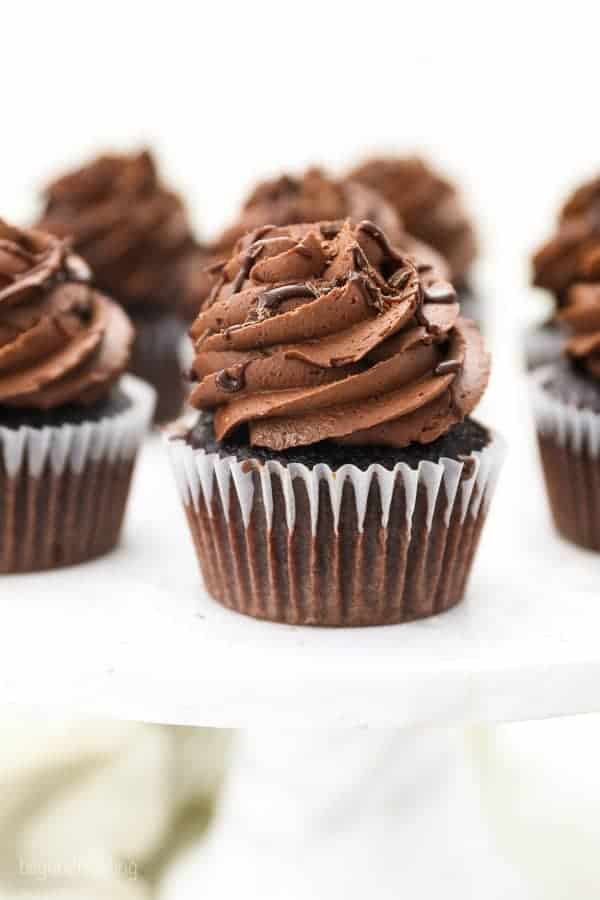 How To Make The Best Chocolate Frosting
For the chocolate frosting, I made a hybrid of my best chocolate frosting and my chocolate fudge frosting. It has both melted chocolate and cocoa powder for that extra punch of chocolate flavor.
Bottom line is, this is an easy cupcake recipe, and your friends will be super impressed with your baking skills. The hardest part is waiting to take that first bite.
I don't think I need to convince you to make these cupcakes, right? Just take my word for it.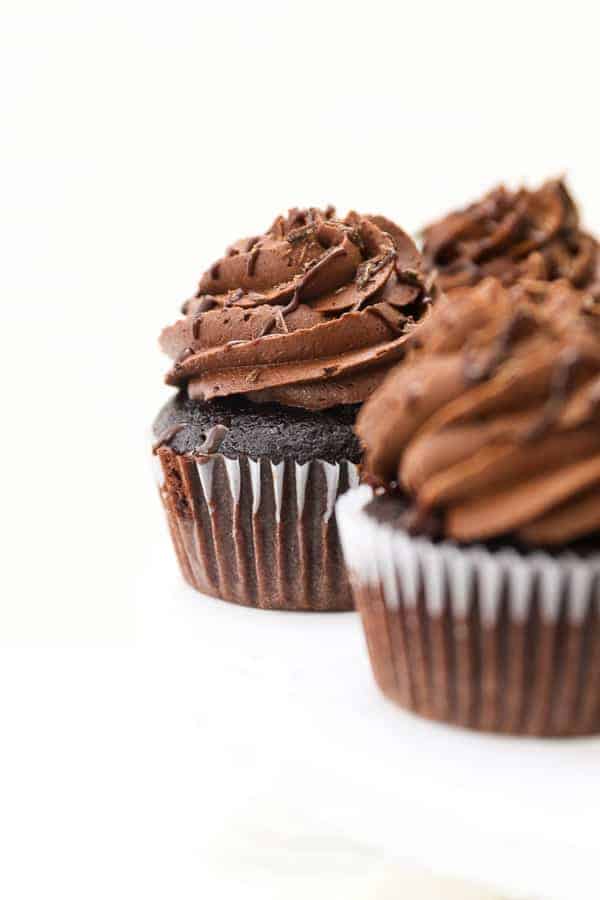 How To Make Moist Chocolate Cupcakes
First mix together the granulated sugar, eggs, oil and vanilla extract. Then beat in the sour cream until well combined.
Combine all the dry ingredients in a separate bowl including the baking powder, baking soda and salt. I recommend sifting the flour and cocoa powder at the very least. I use a sieve instead of my sifter.
Alternate adding half the dry ingredients with half of the wet ingredients which allows the dry ingredients to combine in the batter without over mixing.
For the wet ingredients, this recipe calls for brewed coffee. No, your cake will not taste like coffee. The coffee flavor simply enhances the chocolate flavor of this cake.
Once all your ingredients are combine, use a large cookie scoop to divide the batter between your cupcake liners. The batter will be quite thin, but try your best not to overfill them.
You might also find it helpful to remix the batter when you get towards the bottom where the extra oil and eggs like to hang out.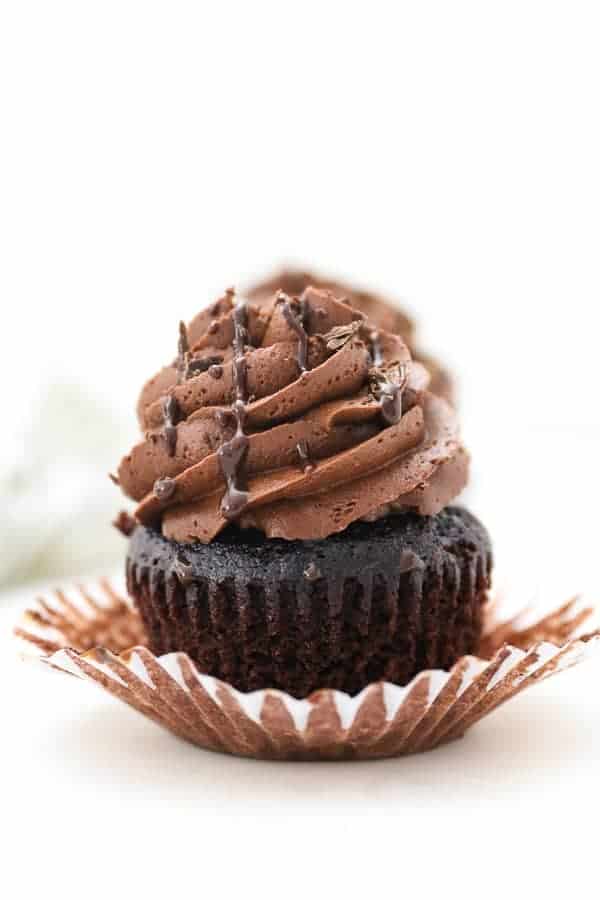 How To Make An Easy Chocolate Ganache Filling
The best recommendation I have for chocolate ganache is to use a 3:1 ratio of heavy cream to chocolate. Microwave the chocolate together with the heavy cream in 30 second increments, stirring as needed.
Once it's completely melted stir it until the cream in completely dissolved in the chocolate and it's nice and smooth.
Allow the chocolate to cool before filling and it will slightly thicken as it cools. The chocolate will still be liquid when you fill the cupcake, but as it sets, it will thicken up like the inside of a truffle.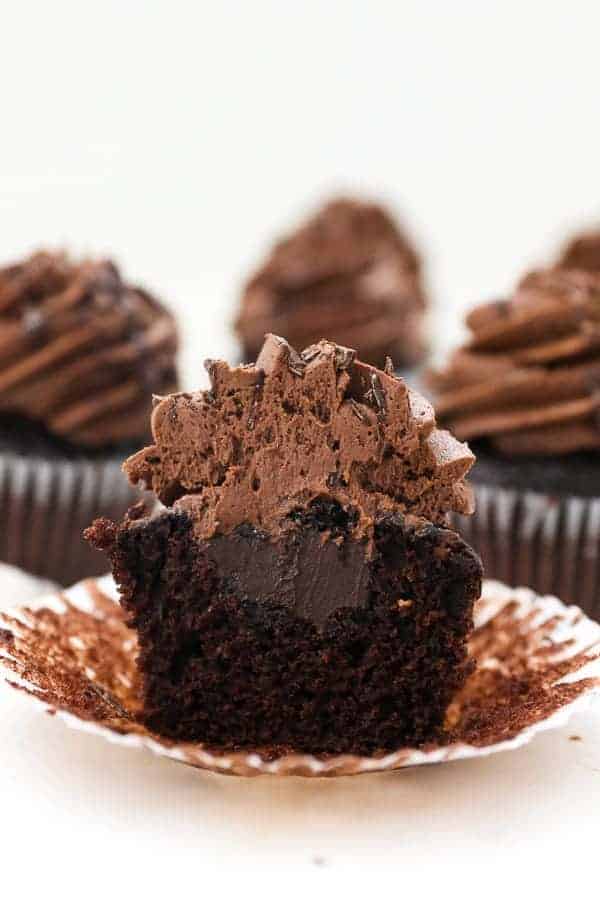 How To Fill A Cupcake With Ganache
To fill a cupcake with ganache (or any other filling), there are a couple ways you can hollow out the center of the cupcake. You can use a cupcake corer, a knife or a melon baller.
You should fill the top half of the cupcake, meaning when removing the center, do not go more than ¾ of the way into the center, otherwise your cupcake will lose the structure.
To add the ganache filling to the cupcake, I suggest using a piping bag or Ziploc bag. This is the quick and easiest way to fill a cupcake. You can also use a tablespoon to pour the filling into the cupcake.
Sometimes I like to take the middles of the cupcakes that I removed and pat the top of it back into the cupcake to "seal" the top.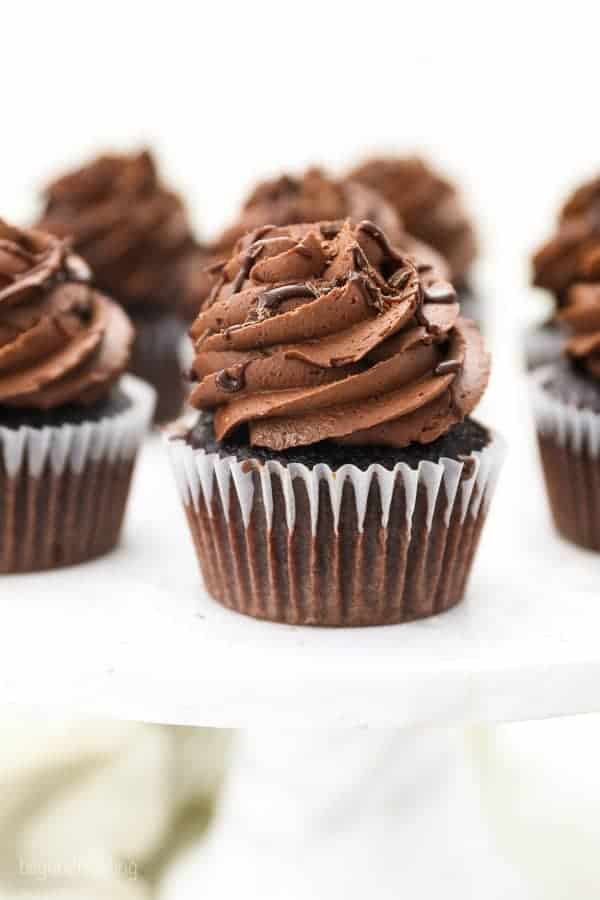 How To Store Homemade Chocolate Cupcakes
These cupcakes do not need to stay refrigerated. They can be stored in an airtight container unless you live in a hot and humid environment, then you might consider keeping refrigerated. Allow them to come to room temperature before serving.
Can I Freeze These Chocolate Cupcakes?
If you need to make these cupcakes in advance, I recommend freezing the cupcakes, without the filling and frosting. Flash freeze for 15 minutes and then transfer to an airtight container and keep frozen. Thaw to room temperature before filling and frosting.
Why Does This Cupcake Recipe Use Sour Cream?
Sour cream helps keeps these cupcakes very moist. I recommend substituting the sour cream with non-fat Greek Yogurt if you do not have sour cream. My recipe calls for light sour cream, but if you can only find regular sour cream, that will work.
Do I Have To Use Coffee In These Cupcakes?
If you'd like to substitute the coffee for another liquid ingredient, I recommend trying hot water or milk, or a combination of the two. The coffee does help highlight the chocolate flavor in combination with the espresso powder. This cupcake will not taste like coffee.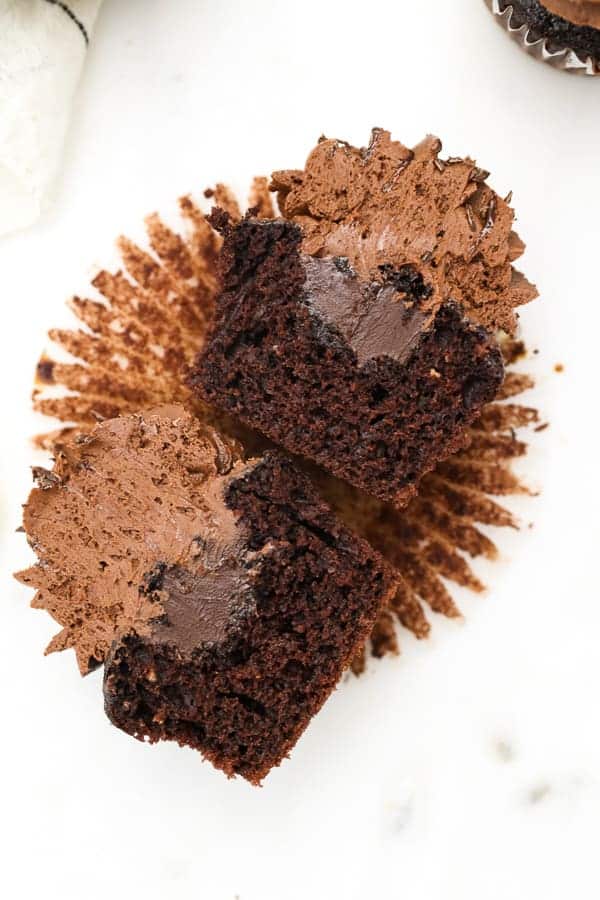 Follow Beyond Frosting:
Facebook | Twitter | Pinterest | Instagram
Print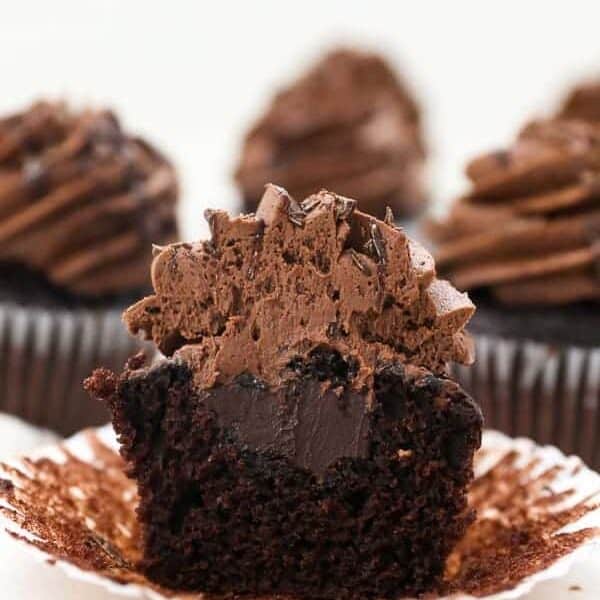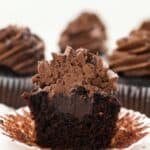 Chocolate Ganche Cupcakes
Author:

Prep Time:

30 minutes

Cook Time:

15 minutes

Total Time:

45 minutes

Yield:

24 cupakes
Description
Chocolate Ganache Cupcakes are homemade chocolate cupcakes filled with a rich chocolate ganache and topped with a silky chocolate buttercream frosting.
Ingredients
For the cupcakes:
1 ½ cups

(

285g

) granulated sugar

½ cup

(118 ml) vegetable oil

3

large eggs

1 tablespoon

(15 ml) pure vanilla extract

½ cup

(118 ml) light sour cream

2 cups

(

280g

) all-purpose flour

½ cup

(55 g) cocoa powder

1 tablespoon

(

5g

) espresso powder (optional)

2 ½ teaspoons

(9 g) baking powder

½ teaspoon

baking soda

1 teaspoon

(5 g) salt

1 ¼ cup

(

355

ml) brewed coffee
For the ganache filling:
6 ounces

dark chocolate, chopped

¾ cup

(177ml) heavy whipping cream
For the frosting:
1 1/2 cups

(

339g

) unsalted butter, cold

6 ounces

dark chocolate, melted

6

–

8

(42-55g) tablespoons dark chocolate cocoa powder

5 cups

(

650g

) powdered sugar

1 tablespoon

(15ml) vanilla extract

3 tablespoons

(45ml) heavy whipping cream
Instructions
For the cupcakes:
Preheat the oven to 350°F. Line a cupcake pan with cupcake liners.
In a large mixing bowl, combine the sugar, vegetable oil, eggs and vanilla extract. Beat on medium speed until the eggs and oil are well incorporated and the batter is lighter in color.
Next mix in the sour cream and beat until well combined.
In a separate bowl, sift together the dry ingredients. Then add half the dry ingredients followed by half of the coffee and mix just until the flour starts to incorporate.
Finally add the remaining dry ingredients, mixing on low speed while pouring in the remaining coffee and beating until all of the ingredients are well combined.
Use a spatula to scrape down the sides of the bowl and stir the batter from the bottom to the top to ensure it's well mixed.
Using a large cookie scoop, divide the batter evenly, filling each liner 2/3 full.
Bake at 350°F for 14-16 minutes. Test the cupcakes for doneness by inserting a toothpick into the center of the cupcake. If the toothpick comes out clean, the cupcakes are done. Cool Completely.
For the ganache:
Combine the chocolate and heavy cream in a microwave-safe bowl. Microwave at 50% power for 60-90 seconds.
Allow it to sit for about 1 minute before stirring and then stir until it's completely smooth.
To fill the cupcakes with the ganache, remove the centers using a cupcake corer, a melon baller or a knife. Fill each one with about 2 teaspoons of ganache. Place a piece of the cupcake you removed back on top of the ganache.
For the frosting:
In a microwave-safe bowl, melt the chocolate in the microwave at 50% power in 30-second increments, stirring each time until the chocolate is melted. Stir until completely smooth. Set aside to cool.
Cut the butter into pieces. Using the paddle attachment, whip butter for 5-7 minutes, scraping down the bowl occasionally. Beat until butter look light in color. Next, beat the cocoa powder into the butter until well mixed. Scrape down the sides of the bowl.
Alternate adding 1 cup of powdered sugar at a time with the liquid ingredients: vanilla extract & heavy cream. Ensure the powdered sugar is well combined, and whip for 1-2 minutes before adding more powdered sugar.
Next, pour in the melted chocolate and beat on slow speed until incorporated. Then, increase the speed to medium-high and beat for another 2-3 minutes to whip additional air into the frosting.
Category:

Cupcakes

Method:

Baked

Cuisine:

American
Keywords: chocolate ganache cupcakes, homemade chocolate cupcakes, chocolate cupcakes recipe, ganache cupcakes, recipe for chocolate cupcakes, filling for chocolate cupcakes, chocolate filled cupcakes
More Chocolate Recipes You Might Like