This post may contain affiliate sales links. Please see my full disclosure policy for details
Chocolate Ganache Cupcakes are homemade chocolate cupcakes filled with a rich chocolate ganache and topped with a silky chocolate buttercream frosting. These chocolate-filled cupcakes are easy to make, decadent, and perfect with a glass of milk!
If you love making chocolate cupcakes, check out my Turtle Cupcakes.
Moist Chocolate Cupcakes with Ganache Filling
Today, I'm answering the question, what could top my favorite Chocolate Cupcakes?
As it turns out, a chocolate ganache filling and a swirl of fudgy chocolate frosting turn an already irresistible cupcake into a chocolate dessert that's borderline life-changing.
I've taken my best chocolate cupcake recipe and filled it with ooey-gooey dark chocolate ganache, then topped the whole thing with a perfect whipped chocolate buttercream frosting. And then a drizzle of chocolate. It's a chocolate overload, and you're all invited.
You could call these Chocolate Blackout Cupcakes. Or maybe, Death by Chocolate Cupcakes. All suitable names, and all 100% accurate. If you're a chocolate fiend like I am, take my word for it, and make these cupcakes!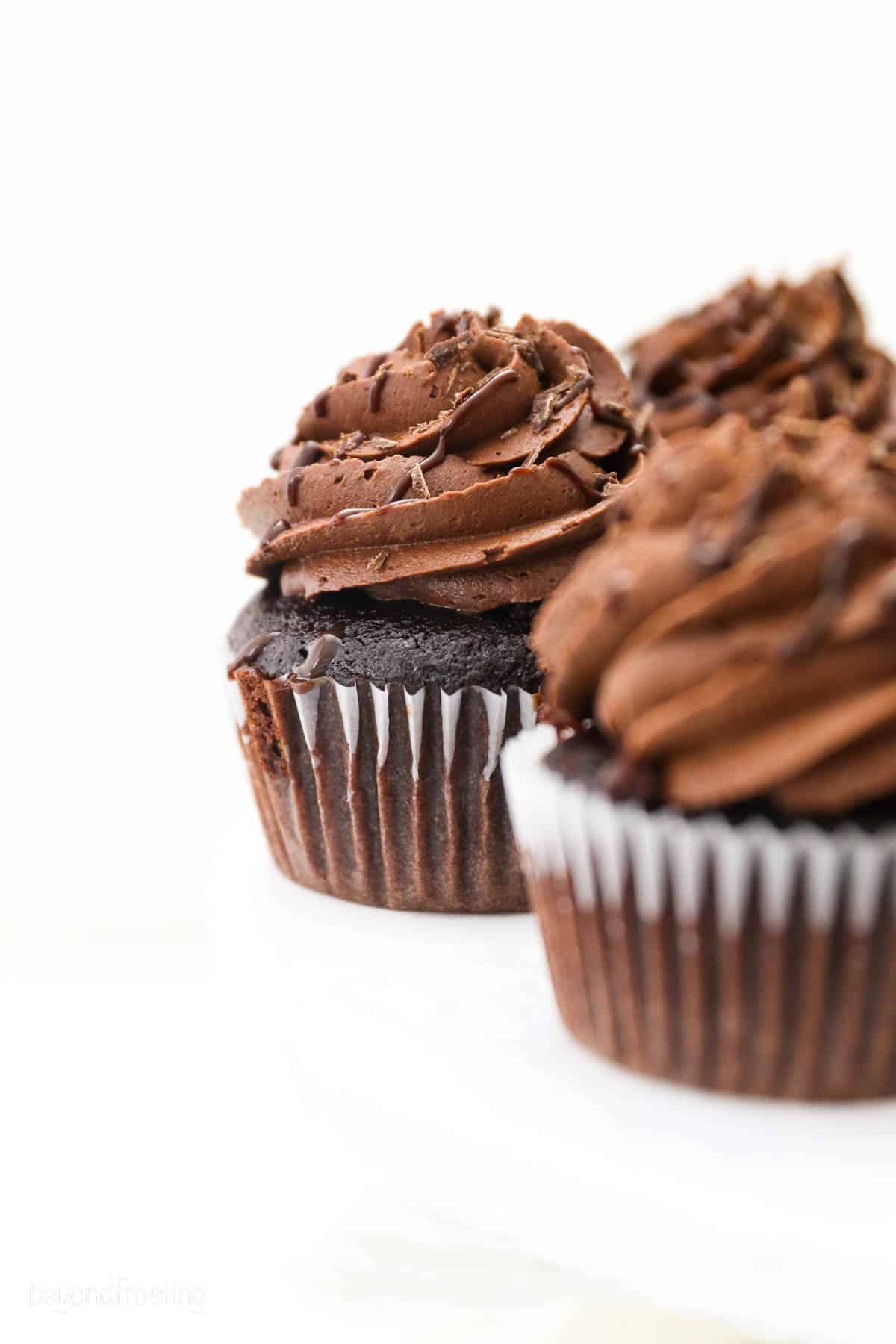 Key Ingredients
These cupcakes with a chocolate filling call for basic baking ingredients, along with a few key additions that make all the difference. Below I go over some of the key ingredients you'll need to make the fudgiest, most mouthwatering cupcakes ever.
Don't forget to scroll to the recipe card for the full recipe and details.
For the Chocolate Cupcakes
Oil – Vegetable oil brings a lot more moisture to a cupcake's crumb than butter does. Canola oil will also work.
Sour Cream – Sour cream is another ingredient that takes the texture of these chocolate cupcakes to a whole new level (more on this later).
Cocoa Powder – When it comes to packing the best flavor into your cupcakes, using high-quality cocoa powder is key. My favorite is Hershey's Special Dark.
Espresso Powder and Brewed Coffee – In combination with espresso powder, coffee does wonders for highlighting the chocolate flavor in chocolate desserts (without actually tasting like coffee!). Espresso powder is optional, and brewed coffee can be substituted if you prefer, see the FAQ section below.
For the Chocolate Ganache
Dark Chocolate – I always recommend using a chocolate bar instead of chocolate chips. The better quality dark chocolate you use, the better your ganache will be.
Heavy Cream – Full-fat heavy whipping cream will lead to a ganache that's rich, smooth, and very creamy.
For the Chocolate Frosting
Unsalted Butter – I always make my frosting recipes with butter that's cold from the fridge, for the smoothest, fluffiest buttercream.
Melted chocolate and Cocoa Powder– This combination makes the fudgiest frosting.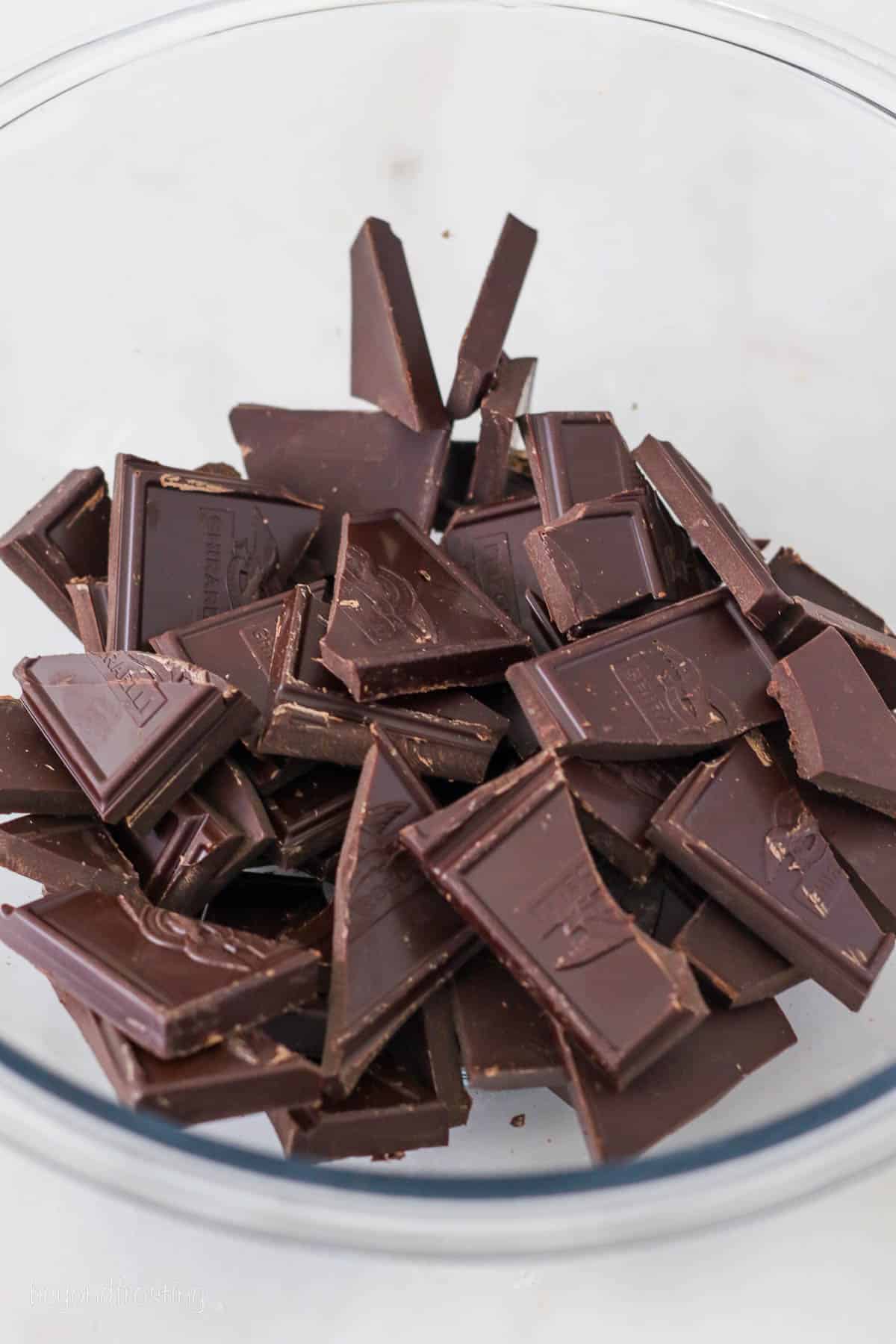 What Does Sour Cream Do In Baking?
Besides oil, sour cream is the real secret to an extraordinarily moist cupcake. Don't skip it! If you don't have sour cream handy, use Greek Yogurt instead.
Can I Substitute the Coffee?
This recipe calls for brewed coffee. While you don't actually taste the coffee in these cupcakes, some may prefer to go without. If you'd like to substitute the coffee for another liquid ingredient, I recommend using warm milk.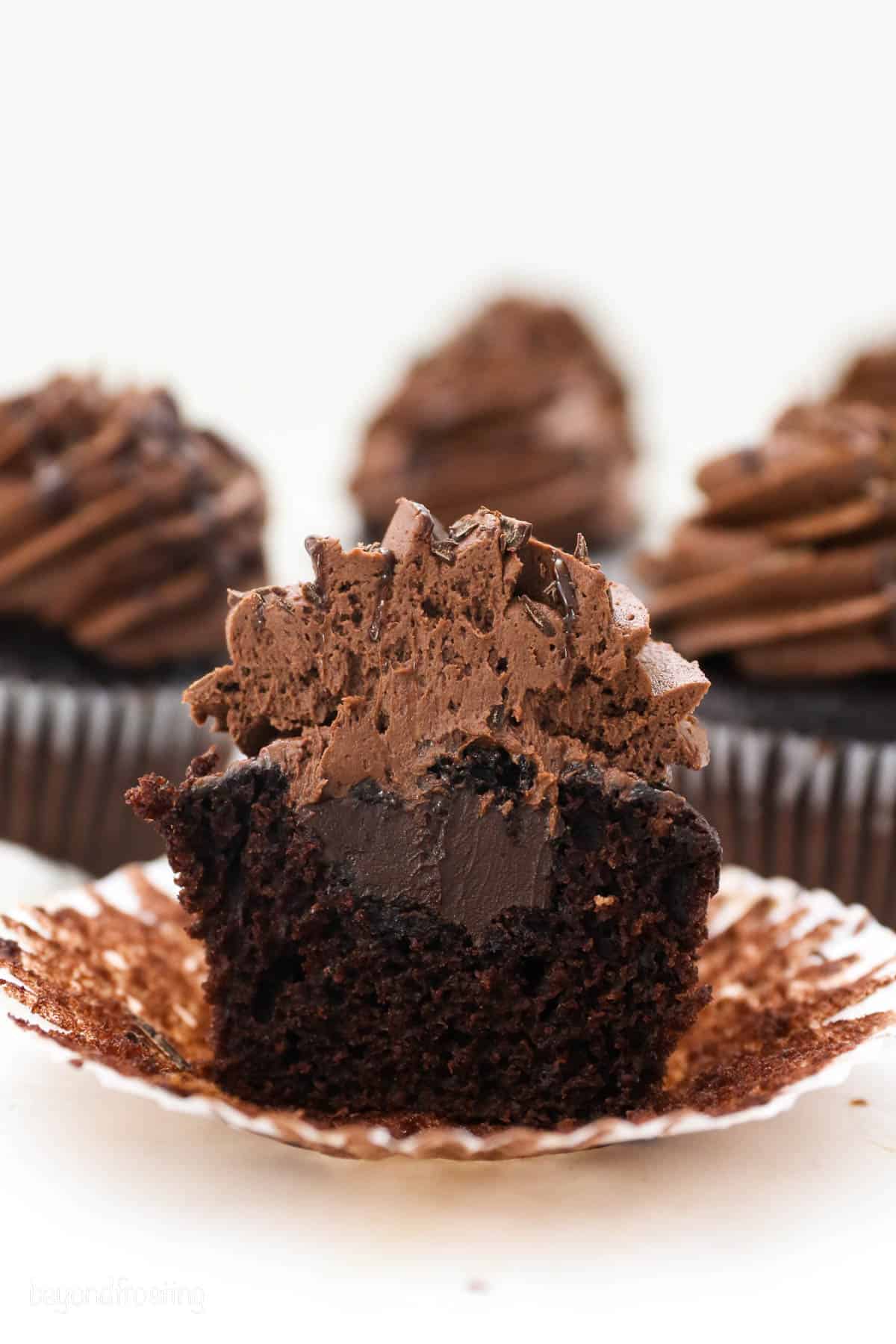 How to Make Chocolate Ganache Cupcakes
I think felt a cosmic shift the first time I bit into one of these chocolate ganache cupcakes. That's seriously the hardest part about this recipe: waiting for that first bite!
Step 1: Make the Cupcakes
This recipe starts with an easy chocolate cupcake batter:
First, beat the wet ingredients. Whip the sugar with eggs, oil, and vanilla. Next, beat in the sour cream.
Combine the dry ingredients separately– sifting together or whisking will allow the dry ingredients to incorporate better into the wet ingredients. Alternate adding the dry ingredients along with the brewed coffee, to form a smooth batter, mixing until the batter is smooth.
Divide the batter between your cupcake liners. I like to use a large cookie scoop. The batter will be quite thin, but you're looking to fill about 2/3 full.
Bake. Finally, bake your cupcakes at 350°F for 14-16 minutes. Once they're out of the oven, they'll need to cool completely before you can frost them. Meanwhile, prepare your frosting and ganache!
Step 2: Making the Chocolate Ganache
The best recommendation I have for chocolate ganache is to use a 3:1 ratio of heavy cream to chocolate. I've always had the richest, creamiest results this way. Then it's just a matter of melting it down:
Melt the chocolate together with the cream. Heat at 50% power for a minute or so. Once the chocolate is melted, give it a stir until the ganache is combined and smooth.
Cool. Let the mixture cool off slightly before filling your cupcakes. It will thicken as it cools.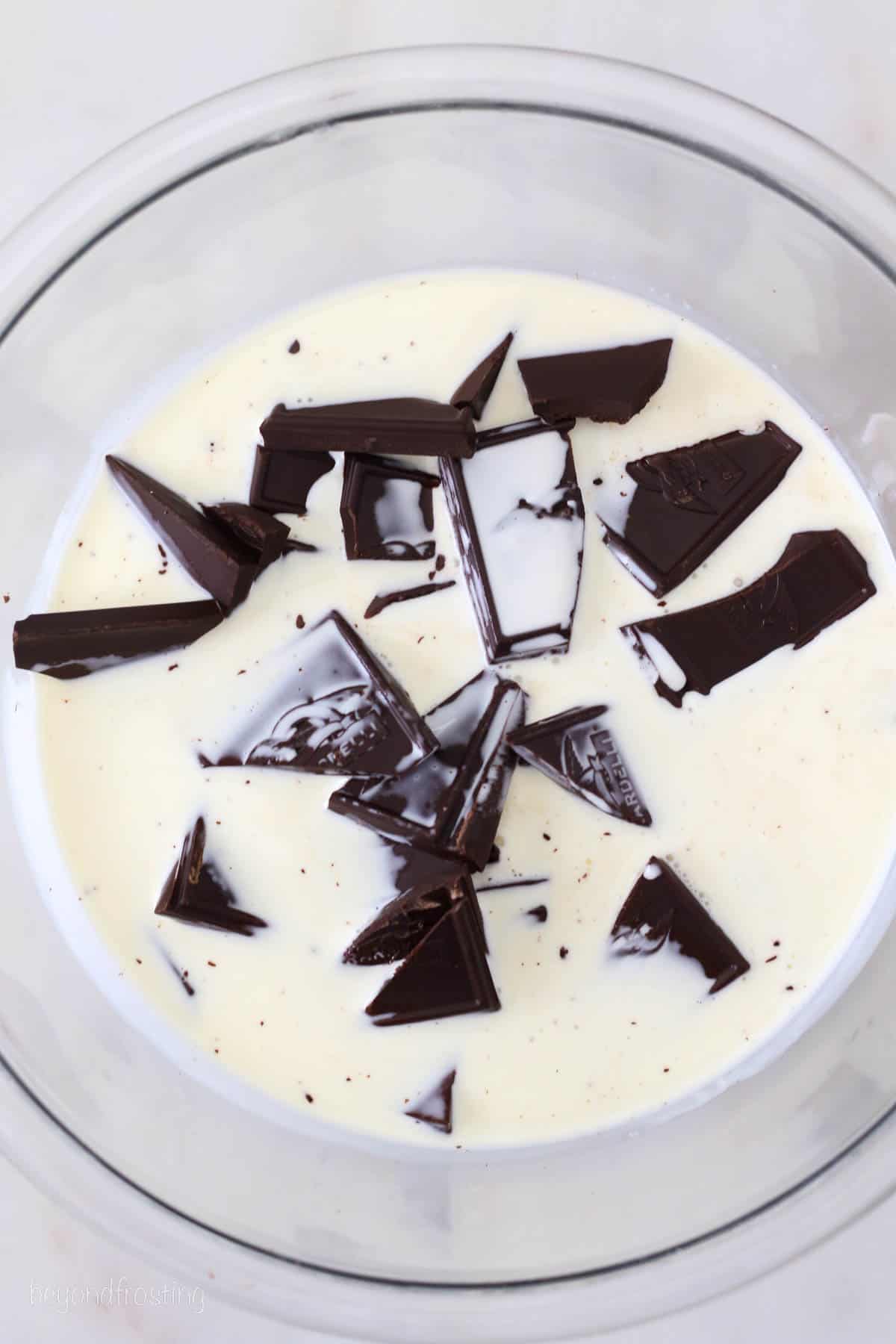 Step 3: Filling the Cupcakes
The chocolate ganache should still be a little runny when you fill your cupcakes. As it sets, it will thicken up like the inside of a truffle.
There are a few different ways that you can hollow out the center of a cupcake in order to fill it with ganache (or any other filling). One is to use a cupcake corer, or you can use a knife or melon baller. Filling a cupcake is easy to do:
Scoop out the center of the cupcake using one of the abovementioned tools. Make sure that you don't go too far down into the cupcake.
Pipe the filling into the center hole. Use a piping bag, or a Ziploc bag with the corner snipped off to fill your cupcakes with the ganache. You can also drizzle the ganache into the cupcake using a spoon.
Replace the tops. Place the piece of cupcake that was removed back over the hole, and pat it down to "seal" the top.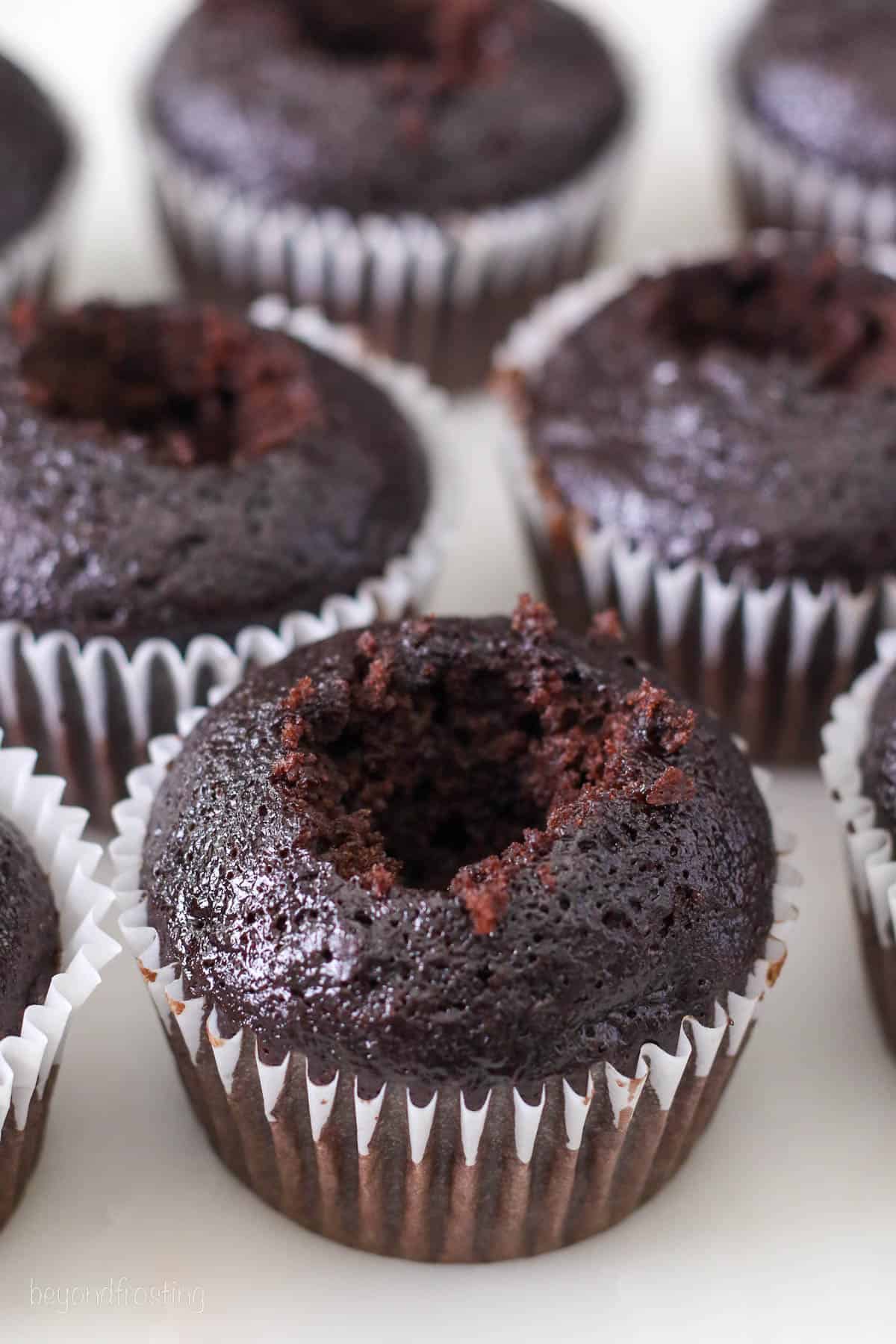 Step 4: Making the Chocolate Frosting
The frosting for these cupcakes is a hybrid of my best chocolate frosting and my chocolate fudge frosting. It has both melted chocolate AND cocoa powder, for that extra punch of fudgy flavor. Here's how to make it:
Heat the chocolate in increments, stirring in between until it's melted and smooth. Again, turn your microwave down to 50% power to prevent the chocolate from burning.
Whip the cold butter for several minutes until it's super fluffy, then beat in the cocoa powder.
Add the powdered sugar. Alternate adding the powdered sugar one cup at a time in between adding vanilla and heavy cream.
Add the melted chocolate. Continue to beat the frosting while the chocolate incorporates. Finally, up the speed and give everything a good whip, to get the texture light and airy.
Frost the cupcakes. Once your cupcakes have cooled completely, it's time to frost them. See further down for easy decorating ideas and tips!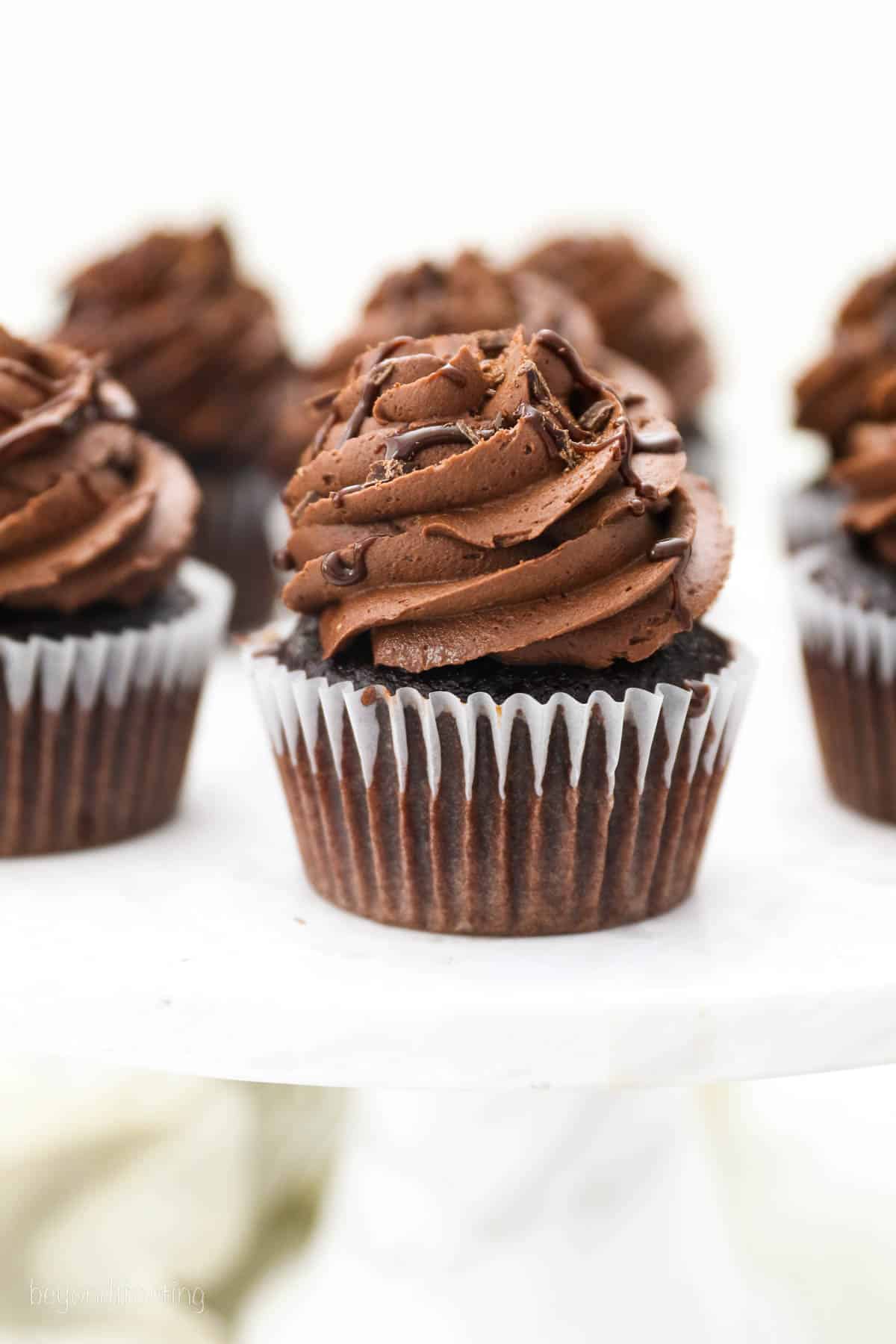 Recipe Notes and Tips
Here are my best tips to keep in mind when making these homemade chocolate cupcakes:
Sift the dry ingredients. I recommend sifting the flour and cocoa powder at the very least. I use a mesh sieve instead of my sifter, to really break up any clumps.
Gradually combine the ingredients. Adding the dry ingredients to the wet ingredients a little at a time allows the dry ingredients to incorporate into the batter without overmixing.
Stir the batter when you are near the bottom of the bowl. This is where extra oil and eggs like to hang out, so it's worth it to give everything another quick stir before adding the final bit of batter to your cupcake liners.
When coring out your cupcake, don't go more than ¾ of the way down the center. This risks the cupcakes losing their structure.
Try a different filling. Why stop at chocolate ganache? Change up these cupcakes with an easy Strawberry Filling.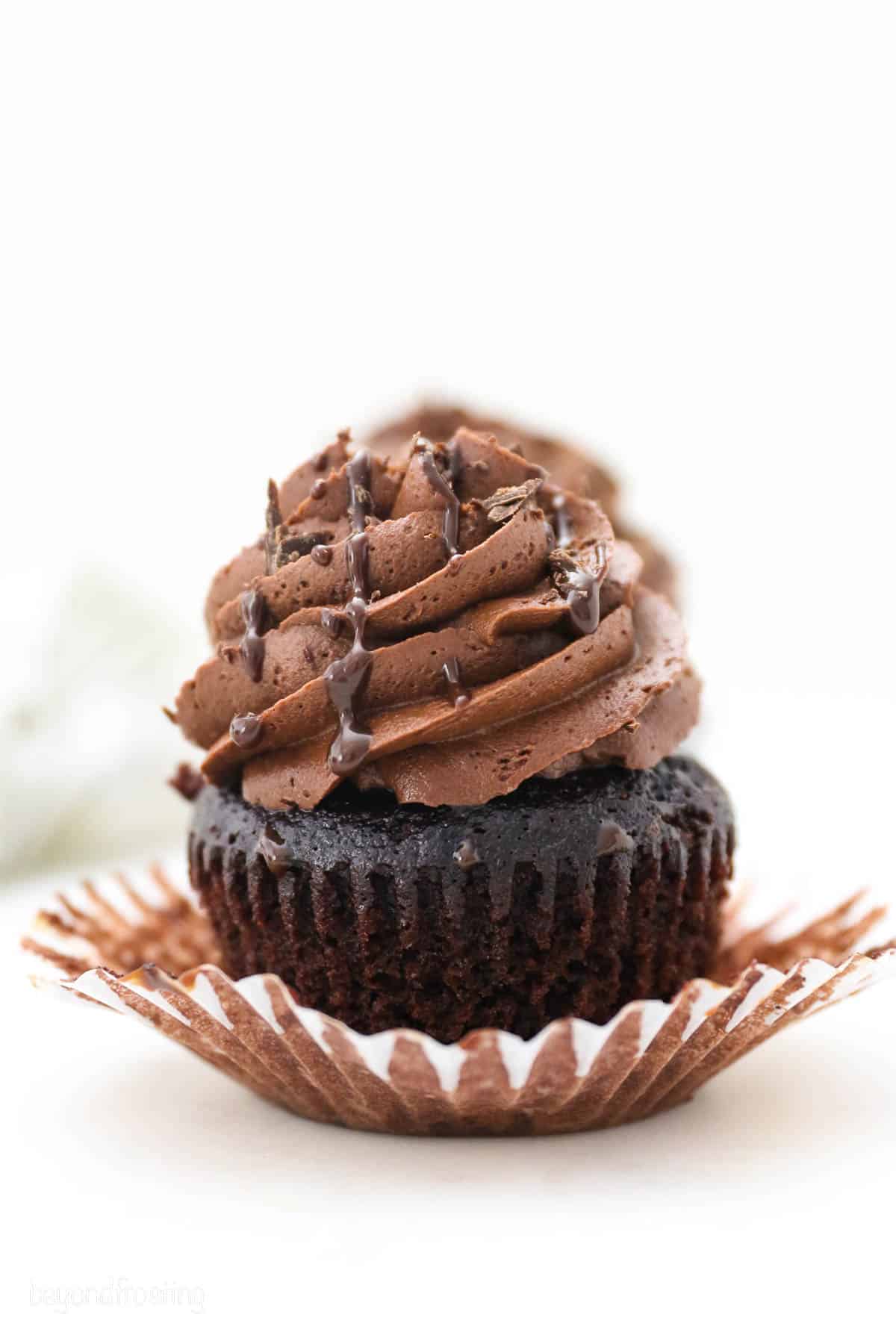 Ways to Decorate Chocolate Cupcakes
I finish off my chocolate cupcakes with a swirl of chocolate frosting, a drizzle of chocolate, and chocolate shavings. Give me alllll the chocolate.
There are so many ways that you can decorate these chocolate ganache cupcakes. If you're looking for more easy cupcake decorating ideas, try these simple topping ideas:
I also have tutorials for How to Use a Piping Bag, as well as How to Use and Decorate with Piping Tips to set you up for decorating success.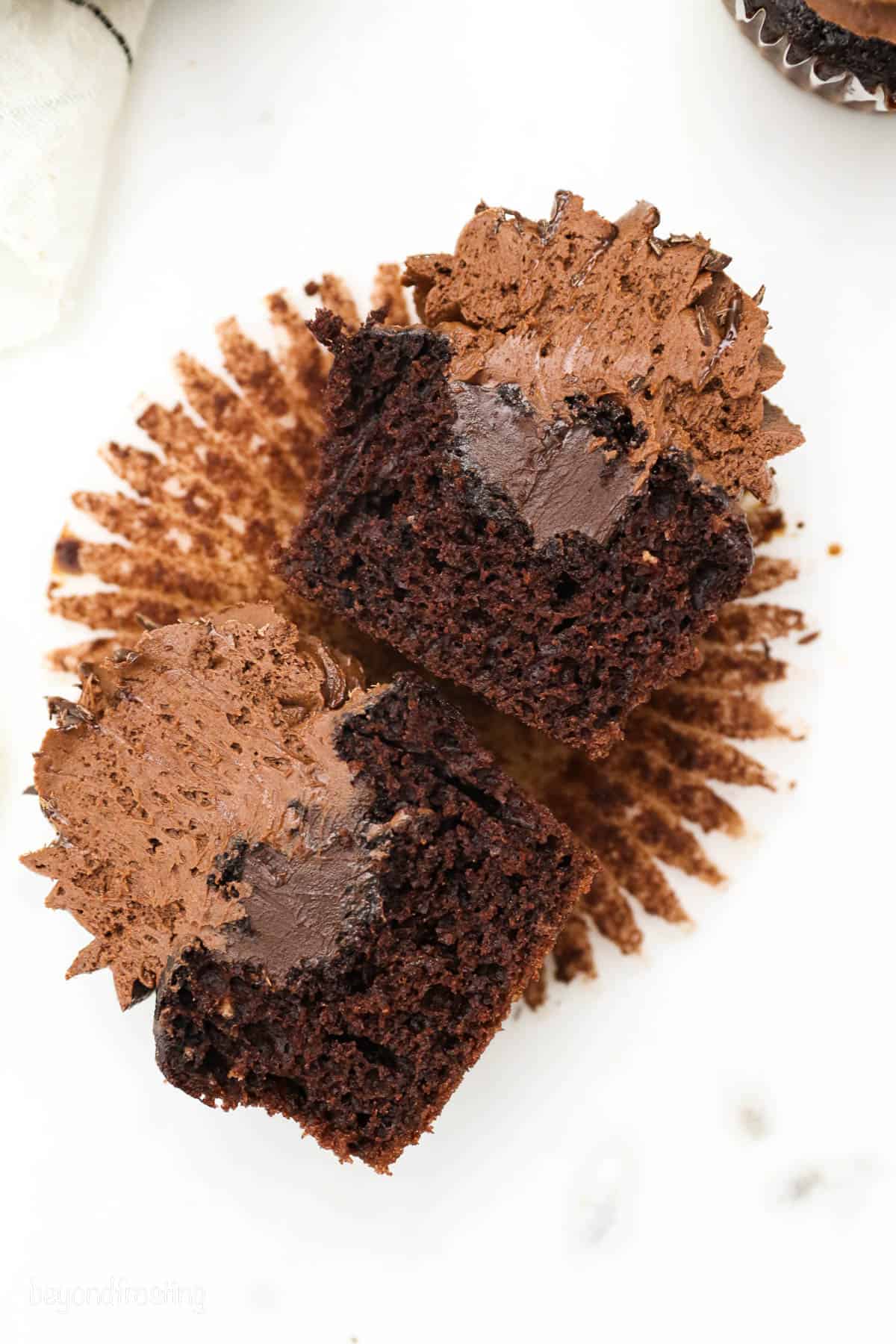 How to Store Homemade Chocolate Cupcakes
Unless you live in a hot and humid environment, these frosted chocolate ganache cupcakes can be kept at room temperature. Store them in an airtight container in a cool, dry location for up to 3 days. Be careful that you don't squish the frosting! If you do need to refrigerate them, allow them to come to room temperature before serving.
You can also make the cupcakes ahead and keep them stored, unfrosted, for 2 days. Frosting that's made ahead will need to be kept in the fridge until you're ready to use. Allow it to come to room temperature first, then re-whip to get the fluffy texture.
Can I Freeze Chocolate Cupcakes?
If you're making these chocolate cupcakes in advance, I recommend freezing only the cupcakes without the ganache filling and frosting for best results.
Once the baked cupcakes have cooled, flash-freeze them on a baking sheet for 15 minutes, then transfer the chocolate cupcakes to an airtight container and keep them frozen. Thaw the cupcakes at room temperature before filling and frosting as usual.
Print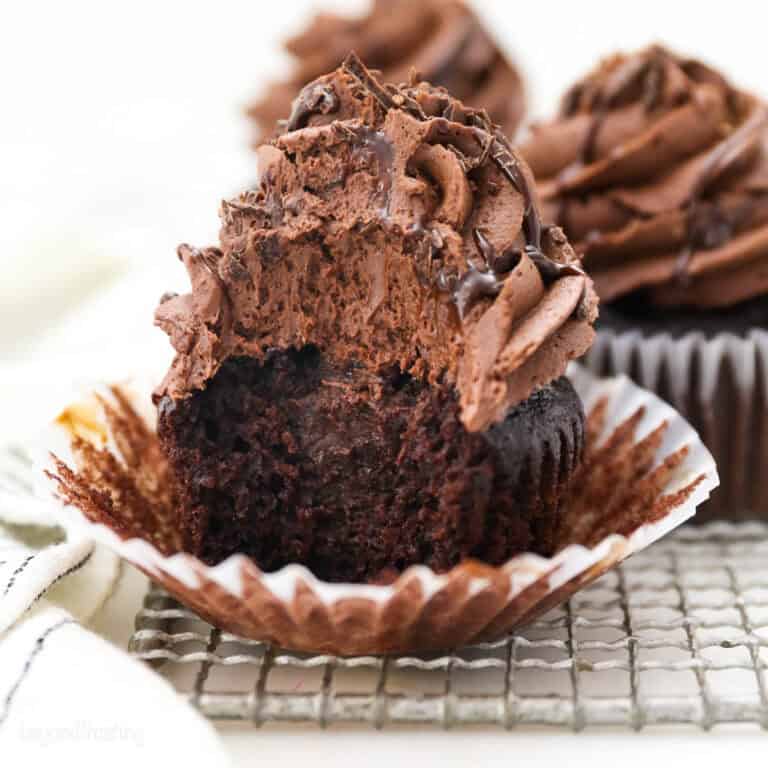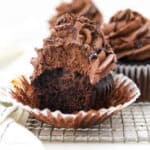 Chocolate Ganache Cupcakes
Author:

Prep Time:

30 minutes

Cook Time:

15 minutes

Total Time:

45 minutes

Yield:

24 cupakes
Description
Chocolate Ganache Cupcakes are homemade chocolate cupcakes filled with a rich chocolate ganache and topped with a silky chocolate buttercream frosting.
Ingredients
For the Cupcakes:
1 ½ cups

(

285g

) granulated sugar

½ cup

(118 ml) vegetable oil

3

large eggs

1 tablespoon

(15 ml) pure vanilla extract

½ cup

(

118

ml) sour cream

2 cups

(

280g

) all-purpose flour, sifted

½ cup

(

55 g

) natural cocoa powder, sifted

1 tablespoon

(

5g

) espresso powder (optional)

2 ½ teaspoons

(9 g) baking powder

½ teaspoon

baking soda

1 teaspoon

(5 g) salt

1 ¼ cup

(

355

ml) hot brewed coffee
For the Ganache Filling:
6 ounces

dark chocolate bar, chopped

¾ cup

(177ml) heavy whipping cream
For the Frosting:
1 1/2 cups

(

339g

) unsalted butter, cold

6 ounces

dark chocolate bar, melted

6

–

8

(42-55g) tablespoons cocoa powder

5 cups

(

650g

) powdered sugar

1 tablespoon

(15ml) pure vanilla extract

3 tablespoons

(45ml) heavy whipping cream (or milk)
Hot fudge sauce for drizzle (optional)
Instructions
For the Cupcakes:
Preheat the oven to 350°F. Line a cupcake pan with cupcake liners.
In a large mixing bowl, combine the sugar, vegetable oil, eggs and vanilla extract. Beat on medium speed until the eggs and oil are well incorporated and the batter is lighter in color. Next mix in the sour cream and beat until well combined.
In a separate bowl, sift together the dry ingredients. Then add half the dry ingredients followed by half of the coffee and mix just until the flour starts to incorporate. Then add the remaining dry ingredients and coffee. Beat until all of the ingredients are well combined. Use a spatula to scrape down the sides of the bowl and stir the batter from the bottom to the top to ensure it's well mixed.
Using a large cookie scoop, divide the batter evenly, filling each liner 2/3 full. Bake at 350°F for 14-16 minutes. Test the cupcakes for doneness by inserting a toothpick into the center of the cupcake. If the toothpick comes out clean, the cupcakes are done. Cool Completely.
For the Ganache Filling:
Combine the chocolate and heavy cream in a microwave-safe bowl. Microwave at 50% power for 60-90 seconds. Allow it to sit for about 1 minute before stirring and then stir until it's completely smooth.
To fill the cupcakes with the ganache, remove the centers using a cupcake corer, a melon baller, or a knife. Fill each one with about 2 teaspoons of ganache. Place the piece of the cupcake you removed back on top of the ganache and gently push it down.
For the Frosting:
In a microwave-safe bowl, melt the chocolate in the microwave at 50% power in 30-second increments, stirring each time until the chocolate is melted. Stir until completely smooth. Set aside to cool.
Cut the butter into pieces. Using the paddle attachment, whip butter for 5-7 minutes, scraping down the bowl occasionally. Beat until the butter looks light in color. Next, beat the cocoa powder into the butter until well-mixed. Scrape down the sides of the bowl.
Alternate adding 1 cup of powdered sugar at a time with the liquid ingredients: vanilla extract & heavy cream. Ensure the powdered sugar is well combined, and whip for 1-2 minutes before adding more powdered sugar.
Next, pour in the melted chocolate and beat on slow speed until incorporated. Then, increase the speed to medium-high and beat for another 2-3 minutes to whip additional air into the frosting.
Decorate using a large open star tip (this is an Ateco 849). Drizzle with hot fudge or any leftover ganache.
Notes
Storing cupcakes: Store them in an airtight container in a cool, dry location for up to 3 days. Unless you live in a hot and humid environment, these frosted chocolate ganache cupcakes can be kept at room temperature. If you do need to refrigerate them, allow them to come to room temperature before serving.
Freezing Cupcakes: It's my preference to freeze baked cupcakes that are not filled or frosted. Once cooled, flash-free them on a tray then transfer them to a freezer-safe container for up to one month. Thaw to room temperature, then fill and frost.
Ingredient Substitutions:
Sour cream- use plain or Greek yogurt
Brewed coffee- use milk, heated in the microwave for about 60 seconds
Dark chocolate- Use your favorite kind, any percentage of chocolate will work, but do use a chocolate bar, not chocolate chips if possible
Category:

Cupcakes

Method:

Baked

Cuisine:

American
Keywords: homemade cupcakes, chocolate ganache recipe, chocolate desserts
More Indulgent Chocolate Cupcake Recipes