This post may contain affiliate sales links. Please see my full disclosure policy for details
After one bite of this Home Chocolate Cake with Chocolate Cream Cheese Frosting you won't be able to stop. The dark cocoa and buttermilk cake is topped with the best frosting ever!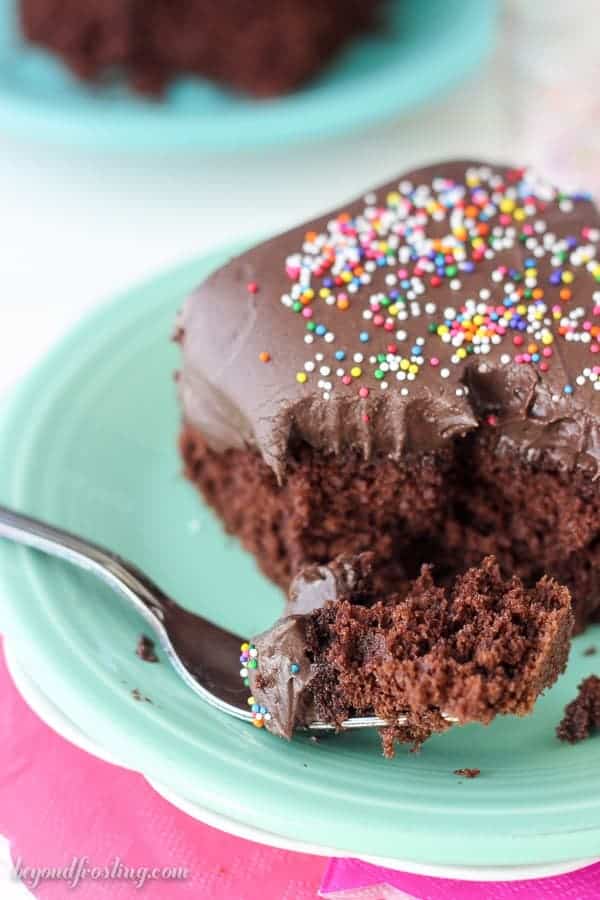 Since I made this chocolate cake, and I can't stop eating it, I am trying to get myself back into my gym routine.
Last night I went to a hip hop dance class. Of course I was super nervous, I don't usually dance until I've had a few cocktail, let's be honest here. I'm not the most coordinator dancer but I've done these types of classes on and off for several years, so I feel like I am at least good enough to hang. I absolutely loved the class, and I can't wait to get back.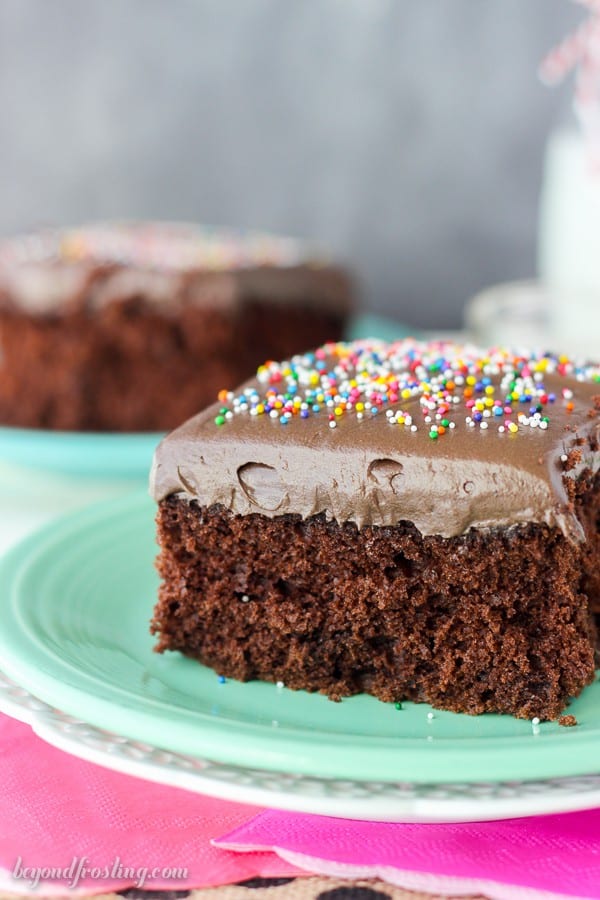 I have do have some sort of workout routine because, hello, I'm surrounded by desserts. Just going to the gym and using the treadmill or the stair climber is SO boring, and my workouts get stale, so I love to attend the classes to mix things up a bit. It also ensures I work out for a full hour instead of a quick 30 minutes on the machines. And there is no way I could ever lift anything at the gym, that would just be too weird for me. Can we agree on that?
Once you finish your hip hop dance class, go home and cut yourself of this cake, because let's face it, you deserve it.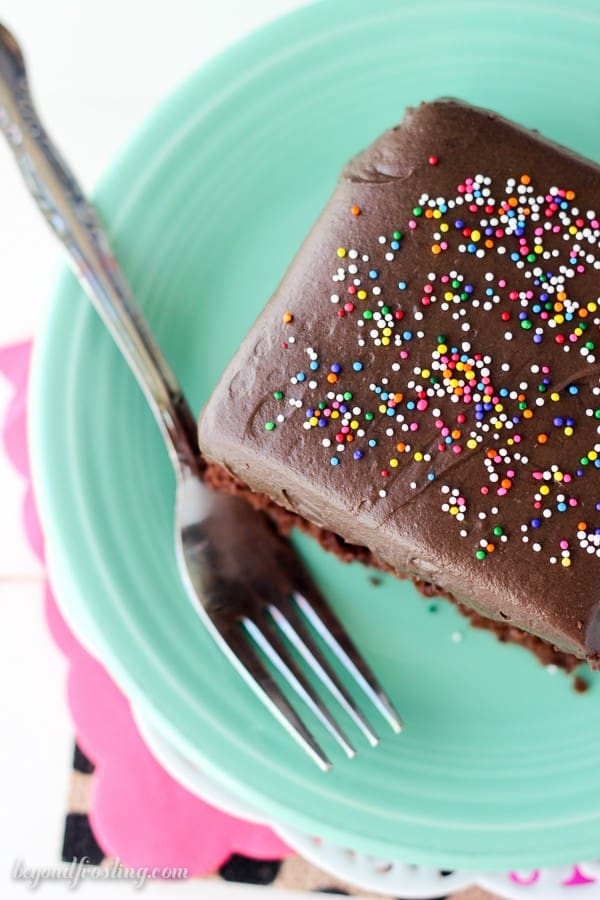 This is a from-scratch Chocolate Buttermilk Cake with Chocolate Cream Cheese Frosting. This is one homemade cake that I will be making time and time again. I like to call this the "face plant cake". I just CANNOT stop once I dig in.
True fact, I cut a very large slice of cake for my boyfriend and put it in a Tupperware for him before I gave away the cake. Low and behold I found myself digging into the piece I saved for him all night. Seriously, I couldn't stop. I finally said to him, if you aren't going to get on board and eat the rest of the slice, I have to throw it away because I just cannot stop myself.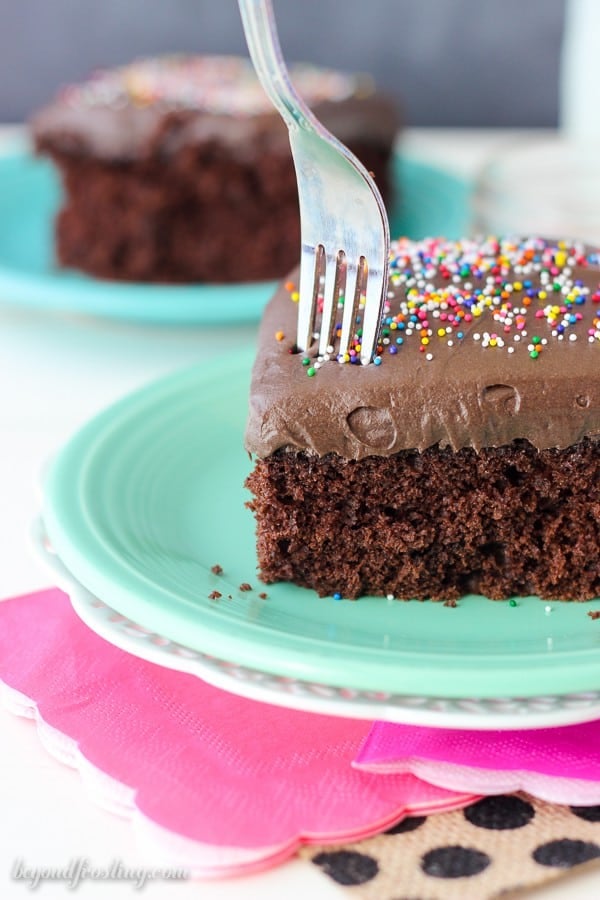 So are you ready for the recipe yet? I'm sharing all the details about this cake over at Better Homes and Gardens today. You'll definitely want to read the details about the frosting and how I changed the original recipe. It's the most important part!
If you want to skip right to recipe, you can do that as well.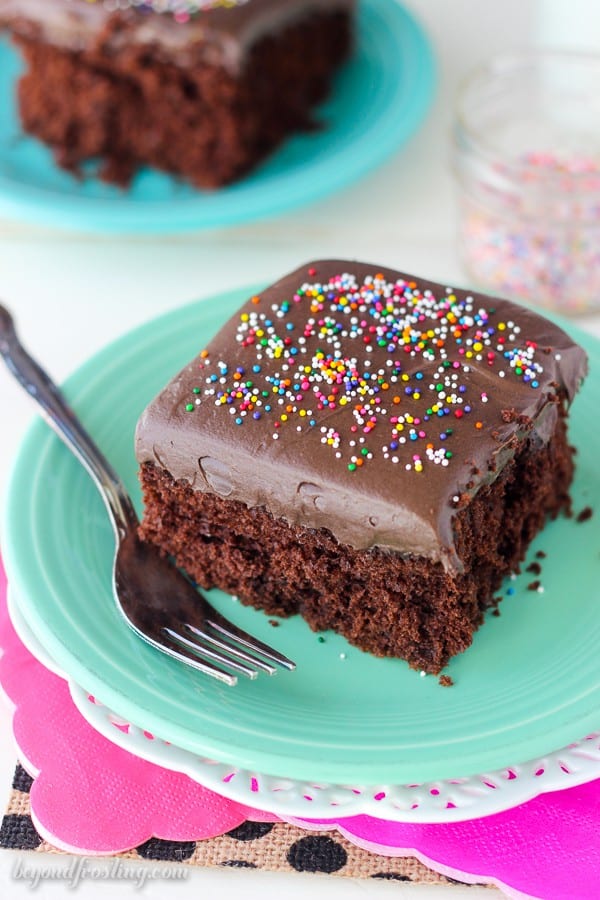 Keep up with all the happenings. Follow Beyond Frosting:
Facebook | Twitter | Pinterest | Instagram
If you love no-bake recipes, be sure to check out my cookbook, No-Bake Treats!
You might also like: