This post may contain affiliate sales links. Please see my full disclosure policy for details
These Mini Pecan Tarts are made with a soft pie crust and filled with a brown sugar pecan filling. It's similar to pecan pie, but in a bite-sized treat. The simple pecan filling is only 5 ingredients, plus there's no corn syrup!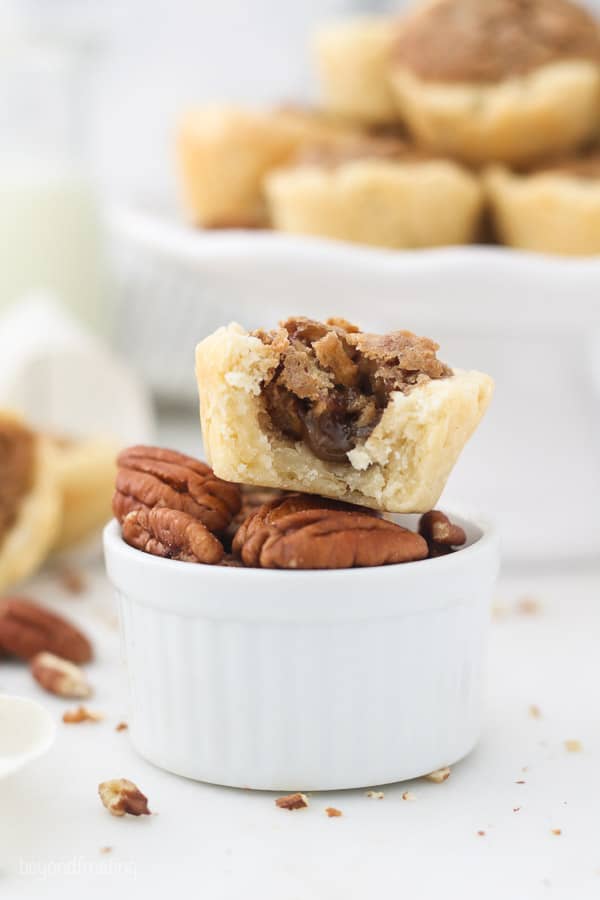 Day 3 of Christmas Cookie week ya'll and it's a recipe from my Grandmother's sister-in-law on my dad's side.
There's nothing better than bite-sized portions of your favorite desserts. So naturally, these Mini Pecan Tarts are a favorite. It's just like a two-bite pecan pie, gooey pecan filling and all.
I must admit, I don't really remember making these when we were kids, probably because pecan pie was not a very popular dessert in our family- at least on my dad's side. We were all about the pumpkin pie.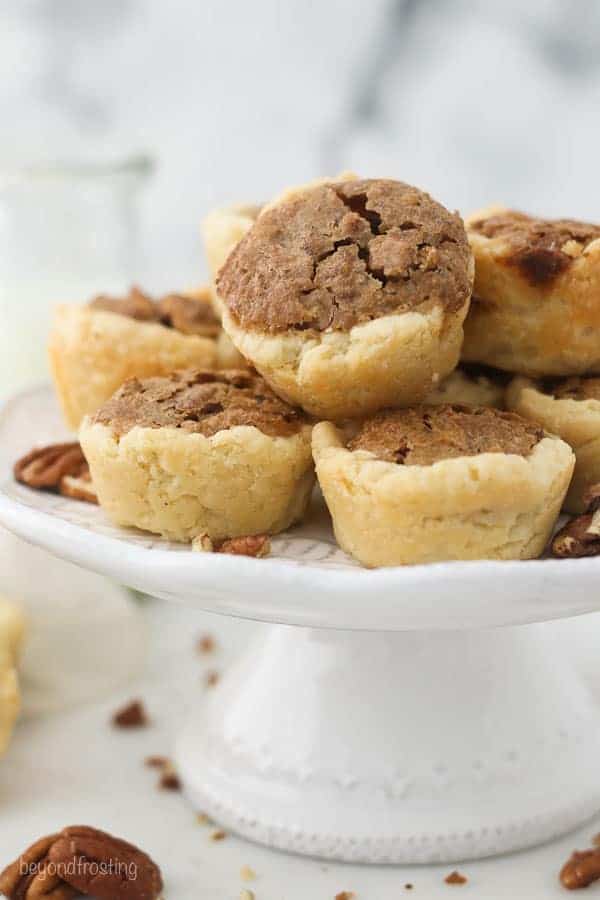 However, when I was sorting through the hundreds of recipes my mom gave me, I pulled this out because it came from my dad's side of the family and I wanted to make sure I kept the recipe card. Not all the recipes were labeled with who they were from, so whenever I came across one that did, I made sure to set it aside.
I've also shared my Nana's Mac and Cheese and her Sausage bread recipe, but I most remember her famous "dirt" cake and that she always had ice cream in her freezer.
As I was choosing recipes to share for cookie week, I focused on recipes that would be great for parties and cookie exchanges. I feel as though cookie exchanges might be dying out with our generation, but I am the first person to throw my hand up to keep the tradition alive.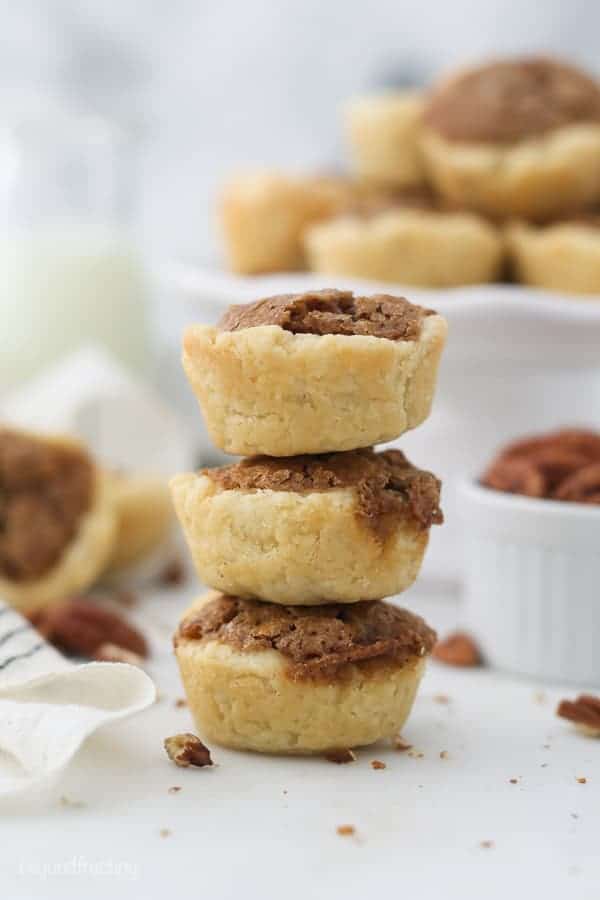 I don't know if you've ever tried to eat a slice of pie with a glass of wine in your hand, it's not always easy. So, bite-sized pies are perfect for holiday parties!
I was also very intrigued because the crust only called for 3 ingredients: butter, cream cheese and flour. I've never made a crust recipe with cream cheese before. I was amazed when I took my first bite how soft and delicate the crust was.
These Pecan Tarts are made in a mini muffin pan, but you could certainly make them a little bit bigger and use a regular sized muffin pan.
Once you make the dough, simply roll a ball of dough in between your hands and then push it into the muffin pan and use your fingers to push and shape the sides.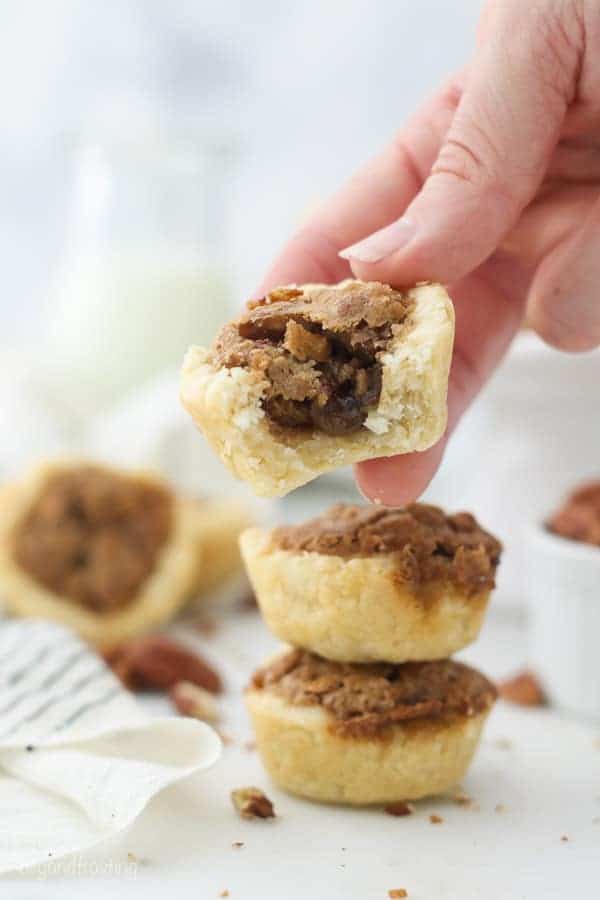 When your dough is ready, you can make this quick filling with brown sugar, eggs, butter, vanilla and chopped pecans. Then you'll use a teaspoon or a mini cookie scoop to spoon the filling into the prepared pie crusts.
These pecan tarts first bake at 350°F and then you reduce the oven temperature to 250°F and continue baking for another 10 minutes. Be sure not to open the oven, as you don't want to lose any of that heat.
You'll get a thin little crust on top and a nice gooey filling in the middle.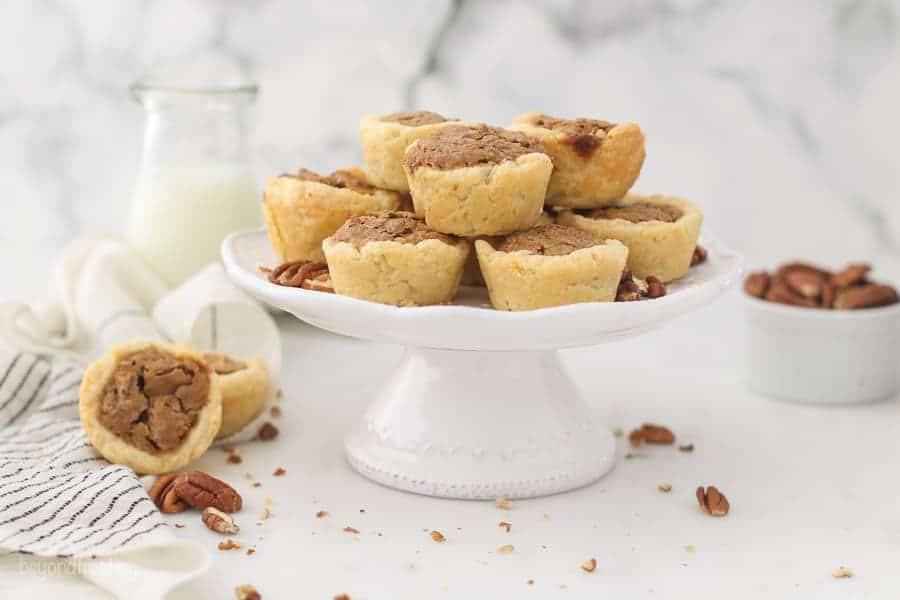 This is one Christmas cookie I don't recommend shipping, as they're quite delicate. Instead consider them for a holiday party, neighbor gift or cookie exchange!
Follow Beyond Frosting:
Facebook | Twitter | Pinterest | Instagram
Print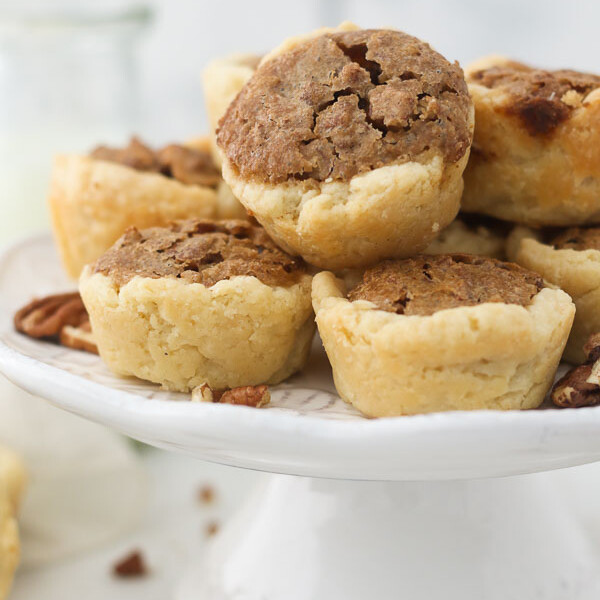 Mini Pecan Tarts
Author:

Prep Time:

30 min

Cook Time:

25 min

Total Time:

55 minutes

Yield:

24-30 tarts
Description
These Mini Pecan Tarts are made with a soft pie crust and filled with a brown sugar pecan filling. It's similar to pecan pie, but in a bite-sized treat. The simple pecan filling is only 5 ingredients.
Ingredients
For the crust:
1 cup

(226g) unsalted butter, softened

8 ounce

s cream cheese

2 cup

s (280g) all-purpose flour
For the filling:
1 ½ cup

s (330g) light brown sugar, packed

2

large eggs

2 tablespoon

s (28g) unsalted butter, melted

1 teaspoon

(5g) pure vanilla extract

1 cup

(120g) pecans, chopped
Instructions
Preheat the oven to 350°F. Generously grease a mini muffin pan.
For the crust: In a medium sized bowl, combine the softened butter and cream and beat together until very well combined.
Next, slowly add the flour and beat until all the ingredients are well combined and it has turn into a ball of dough.
For the filling: In a medium sized bowl, combine the brown sugar eggs, melted butter, and vanilla extract and beat together until well combined. Then fold in the chopped pecans.
To assemble: It's helpful to divide the crust in half and then separate out 12-16 balls of dough, approximately 1 tablespoon in size.
Press each ball of dough into the greased muffin pan and press into the center of the dough, patting the dough against the edges to shape the crust.
Fill each crust with 1 heaping teaspoon of filling.
Bake at 350°F for 15 minutes, then reduce the oven temperature to 250°F for 10 more minutes. Remove from the oven and allow to cool completely.
Keywords: Pecan Tart, Mini Pecan Tart, Pie, Pecan Pie
Recipe Card powered by