This post may contain affiliate sales links. Please see my full disclosure policy for details
This Pina Colada Poke Cake is such a refreshing dessert! It's a rum spiked vanilla cake drenched in sweetened condensed milk and topped fresh pineapple and coconut whipped cream.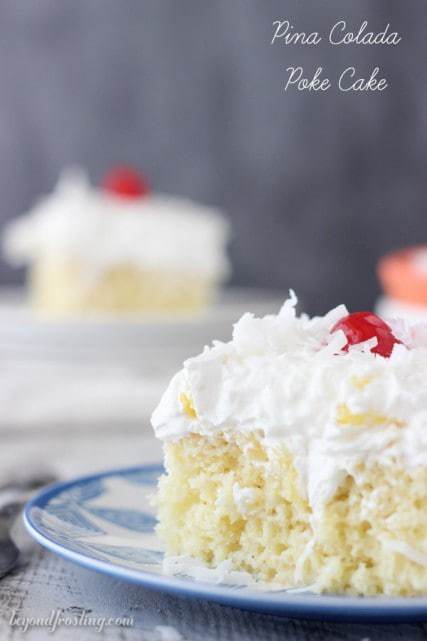 This past weekend, I traveled to Orange County to attend a photography workshop with Todd and Diane from White On Rice. They have an amazing workspace and occasionally open up their studio for workshops. This was my first photography workshop and it was so awesome just to watch them work together to execute what they wanted. Of course any photo they take is absolutely stunning. However, I left feeling so inspired to try something new and yesterday when I was photographing, I embraced the change and my photos were some of the best I have done so far! I can't wait to share them with you guys.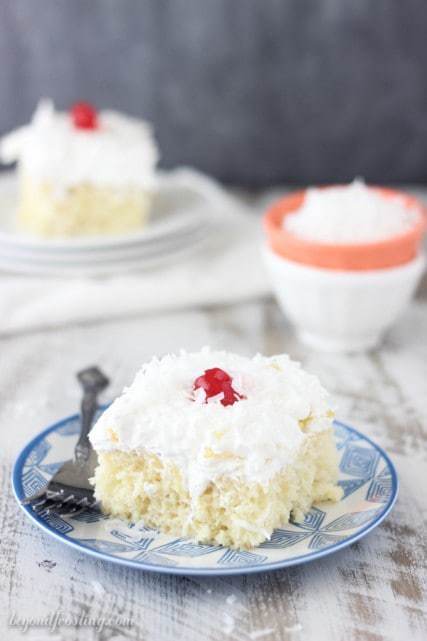 At the beginning of the year, I thought this summer would be a mellow one. I was wrong. This has turned into one of the busiest summers I have had to date! As such, I have been focusing on recipes that are not too time consuming yet they are sure to impress your friends. You can't go wrong with a poke cake, and if you have been around these parts, you know that I am an uber poke cake fan!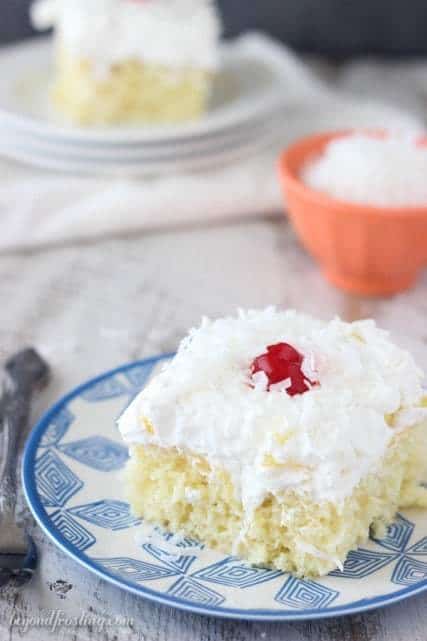 Today's recipe is for a Pina Colada Poke Cake. I am sure you have seen recipes for this type of dessert around the web before, but that doesn't stop me from trying one of my own! First of all, I love boozy desserts (duh!) and second of all, these cakes are widely popular on my site, so why not try some more?!
This Pina Colada Poke Cake is a boozy vanilla cake soaked in sweetened condensed milk and topped with pineapple and coconut whipped cream.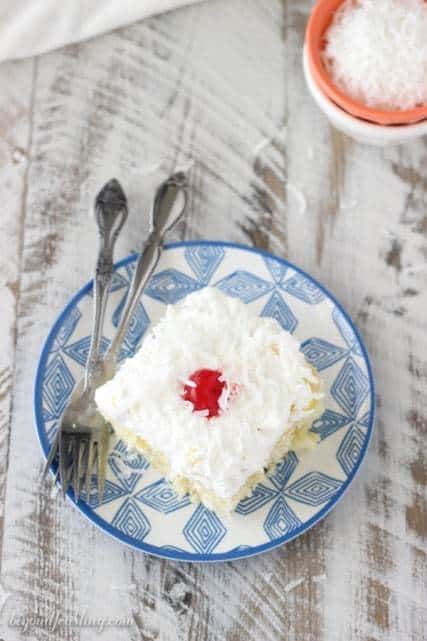 The first time I tried this recipe, I mixed the pineapple into the cake and baked it. I found that it did not bake as nicely; the middle sort of sank due to the added liquid. I was much happier the second time around when I just added the pineapple on top after baking. I really like the freshness of the cold pineapple slices as opposed to the ones that were baked.
The magic of a poke cake comes from the liquid that the cake is soaked in. Sometimes it's pudding, some times it's caramel or hot fudge, and most commonly, you can use a can of sweetened condensed milk. For a little added rum flavor, I also brushed the top of my cake with some rum using a pastry brush. After that you use the handle of a wooden spoon and poke holes all over the cake, then pour the can of milk over top and let it soak in.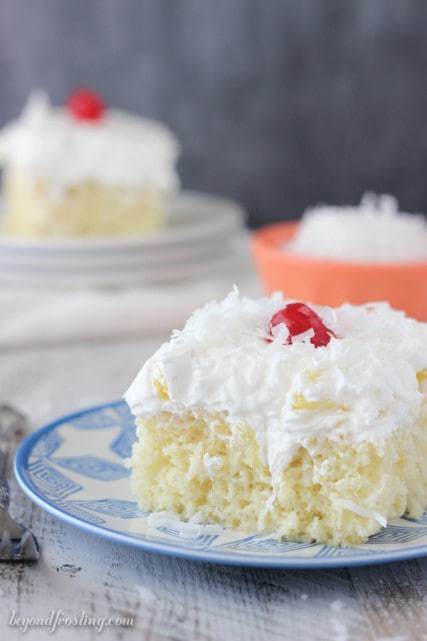 For the whipped cream, I made a traditional homemade whipped cream and added a touch of coconut extract. At the very end, I folded in some shredded coconut. The other alternative is to make a coconut whipped cream with coconut milk. I wanted to do something that was a bit more accessible for you guys! If you do not want to make homemade whipped cream, you can also just mix some shredded coconut with a container of Cool Whip.
This Pina Colada Poke Cake is such a refreshing dessert to enjoy in the summertime!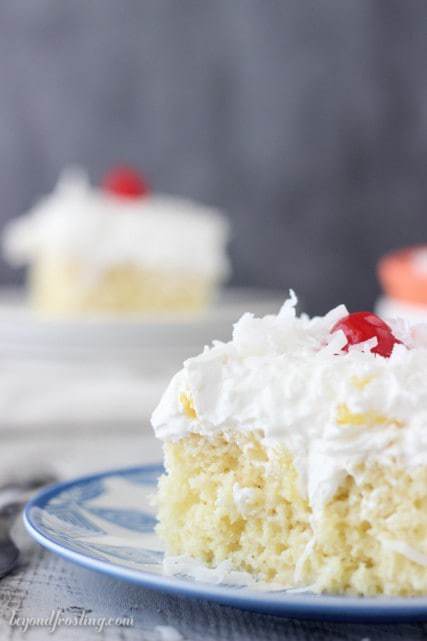 Keep up with all the happenings. Follow Beyond Frosting:
Facebook | Twitter | Pinterest | Instagram
Print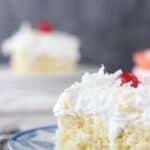 Pina Colada Poke Cake
Author:

Prep Time:

10 mins

Cook Time:

20 mins

Total Time:

30 minutes

Yield:

12-15 slices
Description
A Pina Colada Poke Cake is such a refreshing dessert! This rum spiked vanilla cake is drenched in sweetened condensed milk and topped fresh pineapple and coconut whipped cream.
Ingredients
1

box Vanilla cake mix (I used Betty Crocker)

¾

C Water

¼

C Rum

½

C Oil

3

Large eggs

1

can (14oz) Sweetened condensed milk

1 ½

C Pineapple chunks

1 ½

C Heavy whipped cream

1

C Powdered sugar

1 ½

C Shredded coconut
Cherries for topping
Instructions
Preheat oven to 350°F.
Combine the cake mix, water, rum, oil and eggs. Beat on medium speed until well combined. Pour batter into a 9-inch by 13-inch pan.
Bake the cake for 20-22 minutes. Check for doneness by inserting a toothpick into the middle of the cake. If the toothpick comes out clean, your cake is done. Allow the cake to cool for 30 minutes.
While the cake is still warm, use a pastry brush and brush some rum over over the top of the cake. Allow this to sit for about 10 minutes. Then, take the handle of a wooden spoon or another round object and poke holes all over the top of your cake. Pour the can of sweetened condensed milk all over the top.
Once the cake has cooled completely (sometimes I refrigerate the cake to speed up the cooling time), chop the pineapple into chunks and sprinkle over the top of the cake.
To prepare the whipped cream, put your mixing bowl and wire whisk in the freezer for 10 minutes to get them very cold. This is optional, but something I usually do, it helps keep the whipped cream cold.
Beat the heavy whipping cream on medium-high speed. Slowly add the powdered sugar and beat until stiff peaks form. Fold in the shredded coconut until mixed. Do not mix it too aggressively, or the whipped cream will deflate. Spread this over the cooled cake. This cake must be refrigerated.
Recipe Card powered by
Visit Beyond Frosting's profile on Pinterest.
Other recipes you might like from Beyond Frosting
Strawberries and Cream Poke Cake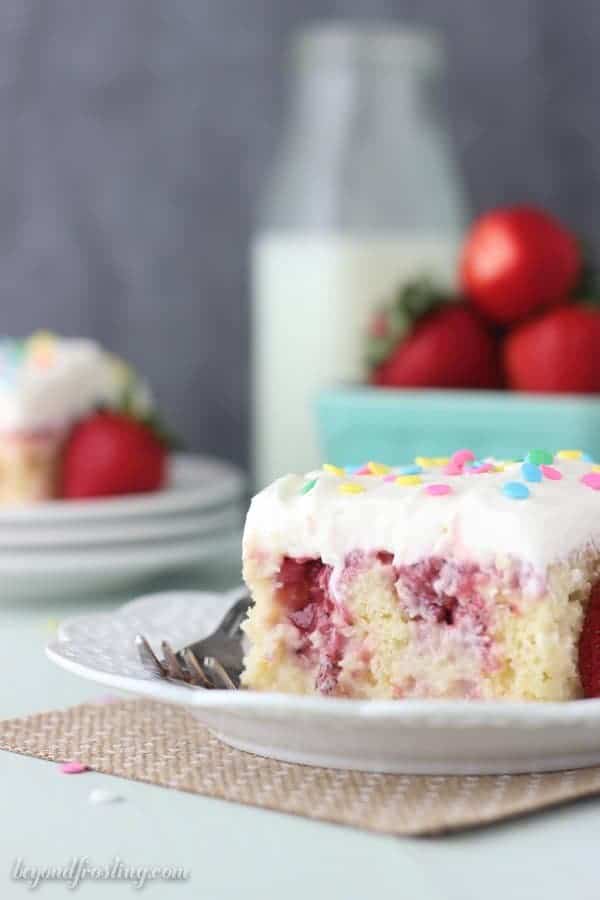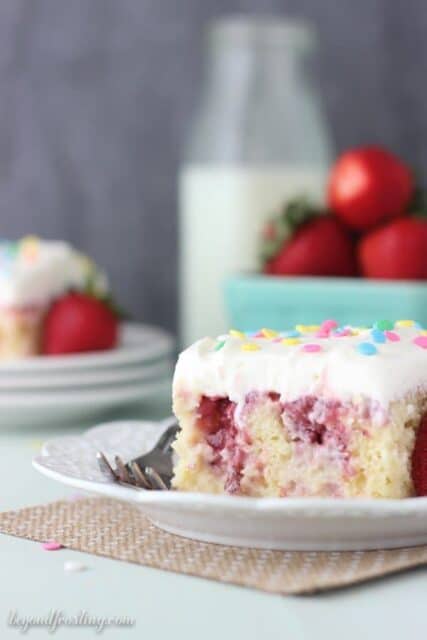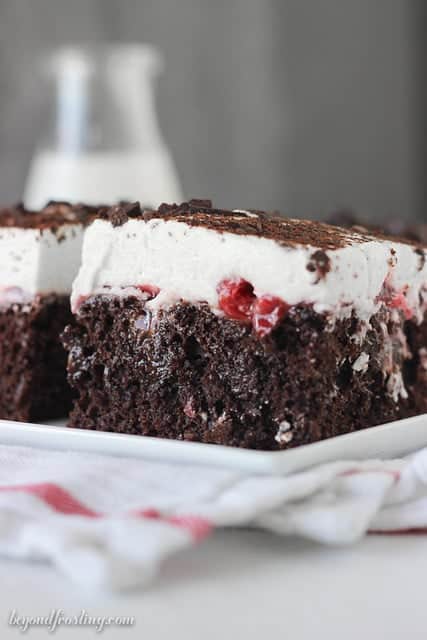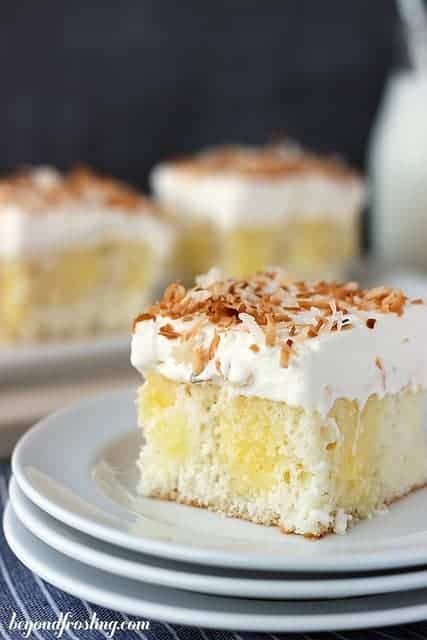 Patriotic Pina Colada Cupcakes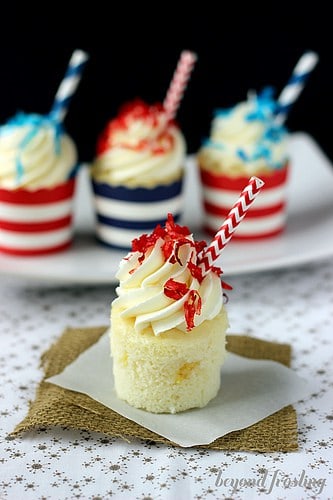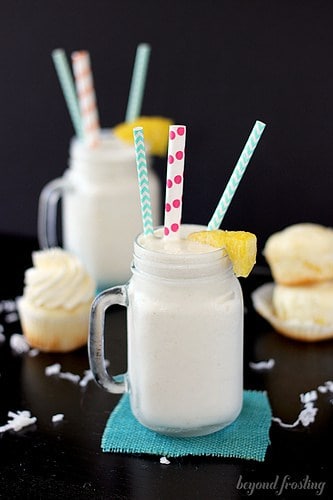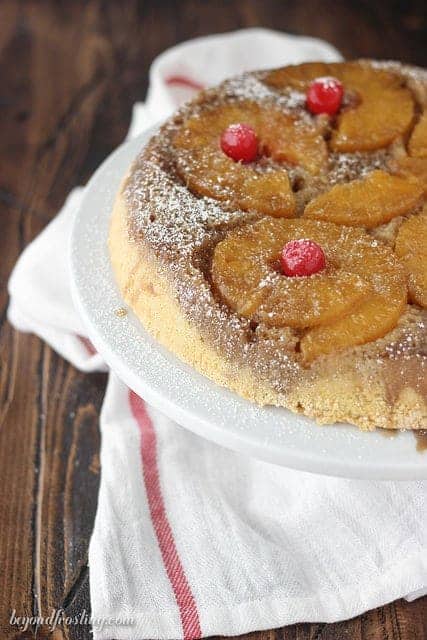 Recipes from my friends:
No-bake White Chocolate Cookies from Back for Seconds
Pina Colada Ice Cream from Blahnik Baker
Pina Colada Cheesecake from Will Cook for Smiles