This post may contain affiliate sales links. Please see my full disclosure policy for details
This homemade moist Chocolate Peppermint Cake is filled with a silky white chocolate Swiss meringue buttercream and crushed peppermint bark. It's the perfect festive Christmas-themed cake. If you love peppermint cake you need to try this! The chocolate cake itself it to-die-for!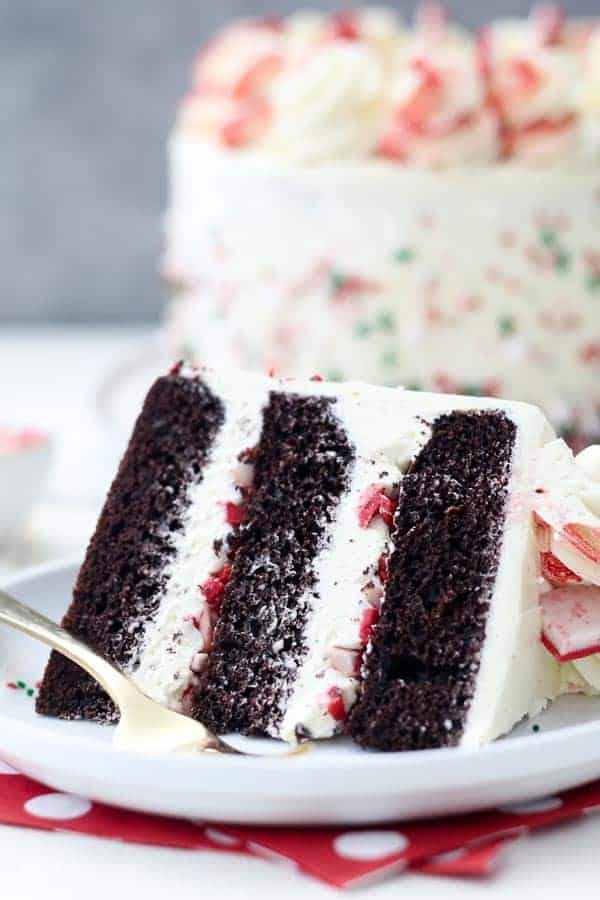 Oh my gosh in the blink of an eye, Christmas is next week! I have so many things I still want to bake, and some shopping left to do, but here I am sitting and writing about this Chocolate Peppermint Cake instead because you NEED to be making this cake too.
It's just that I couldn't wait to make this Chocolate Peppermint Cake, so I did this first. It's a homemade chocolate cake that's filled with an amazing white chocolate Swiss meringue buttercream and crushed peppermint bark chocolate.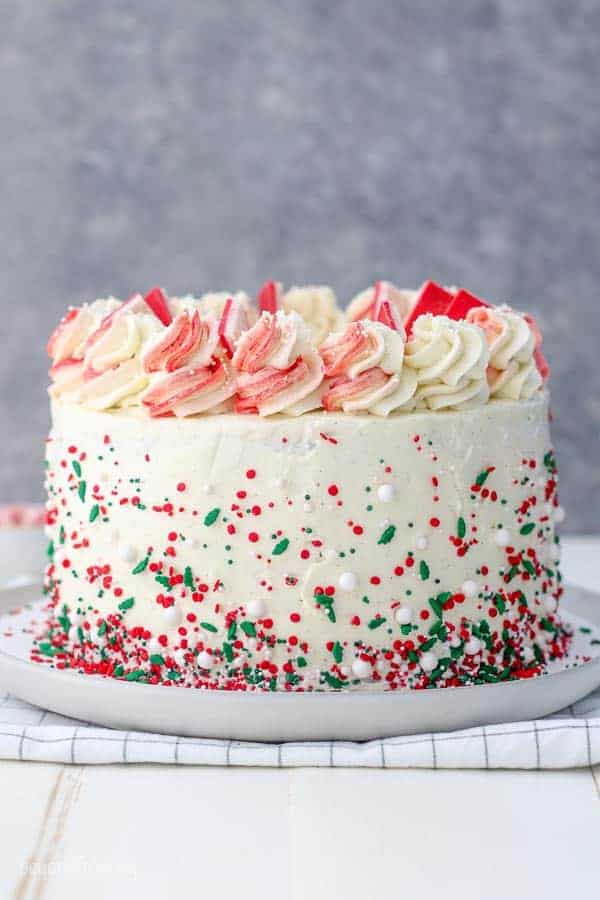 The chocolate cake itself is so freaking good. It's light and fluffy and full of chocolate flavor without being overly rich.
To bake the cake, I made three 8-inch round cakes. I have not tested the recipe using other size pans but I am sure it's possible, you just need to adjust the baking time.
In order to get the tops of the cake to be as flat as possible, I recommend using bake even stripes. This helps prevent the edges of the cake from baking too quickly, which causes the middle of the cake to dome.
We want nice flat layers of cake when we are assembling and frosting the final cake. You will have a slight dome in the middle, so use a cake leveler or a serrated knife to cut it off and make an even surface.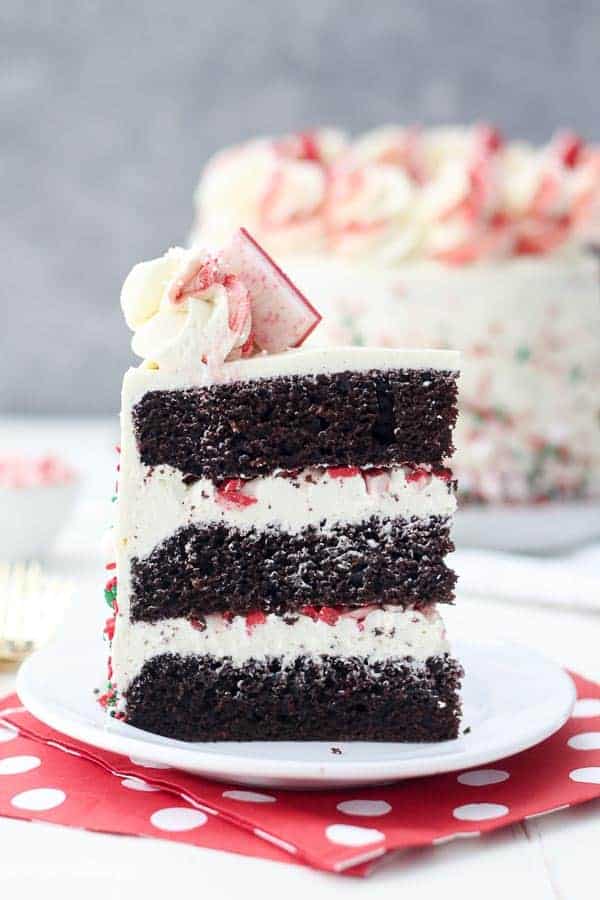 Peppermint bark can be a very overwhelming flavor. So, I opted not to add any peppermint flavor to the cake or the frosting.
Instead, I've chopped up some Andes Peppermint Bark chocolate and sprinkled it over the frosting on each layer of cake. This way, there's some peppermint crunch in every bite. It adds a nice texture.
What makes this cake so special? It's the silky white chocolate Swiss meringue buttercream! If you've never had it, I can only begin to tell you how truly wonderful it is. You have to make it for yourself to see.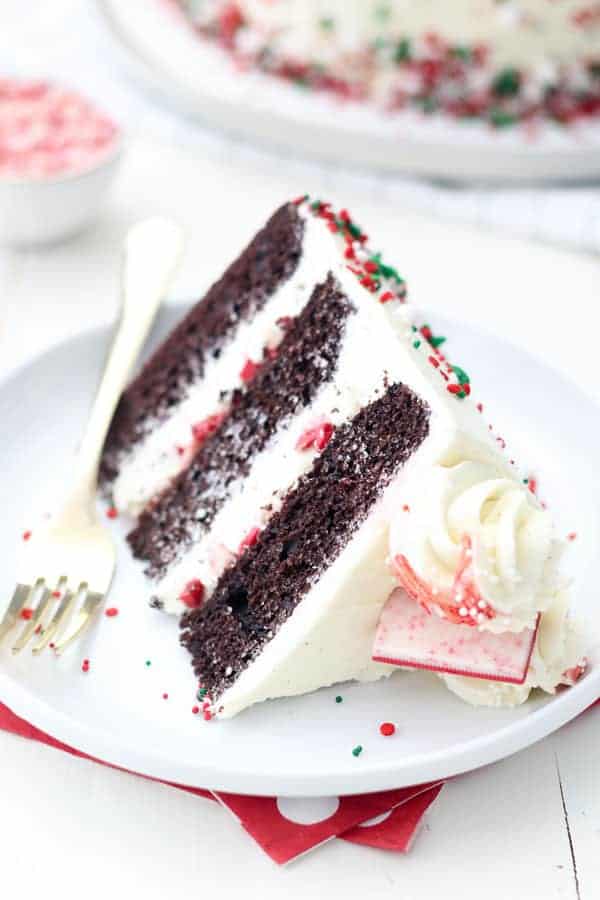 Swiss meringue buttercream is far less sweet than an American buttercream and it's gets its silky finish due to the high ratio of butter to sugar. Then it's finished with the white chocolate for a subtle sweetness.
It can be intimidating to make this frosting because it involves cooking sugar and egg whites and then whipping them into a meringue. But I promise you it's really easy! It's a bite more time consuming but TOTALLY worth it!
I am going to provide a few tips for making this frosting, but for the full how-to guide, I suggest visiting my original recipe for Swiss Meringue Buttercream and reading through all the tips and tricks!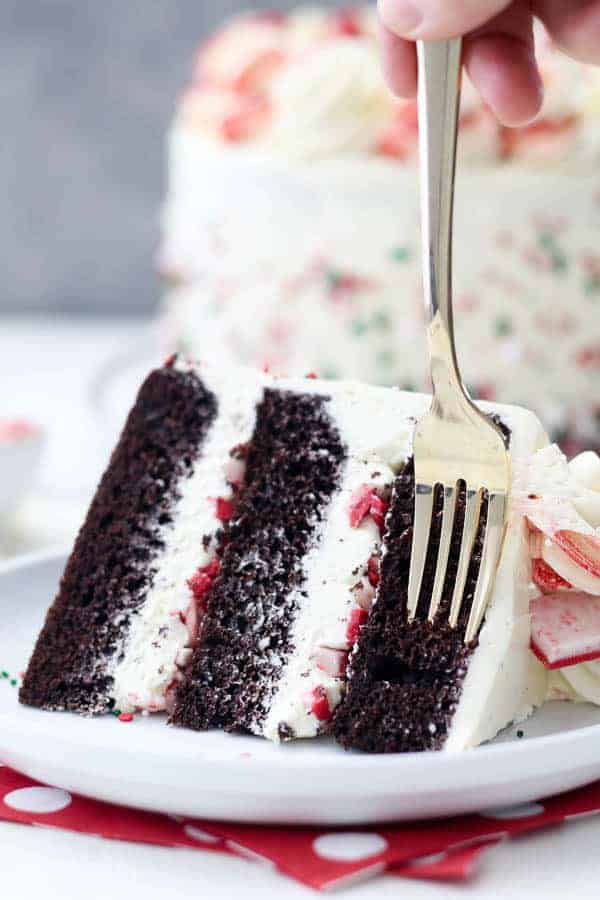 How to Make White Chocolate Buttercream
Melt the white chocolate after you start to beat your egg whites, this will allow time for it to cool. I recommend microwaving it at 50% power, so it does not burn.
Start with all grease-free utensils such as a metal mixing bowl & metal whisk. Be sure to wipe them down with some white vinegar first to remove any previous grease that would prevent the meringue from forming
I always recommend using a candy thermometer. You can buy them at Target for $10. You need to cook the egg whites and sugar to 140°F – 160°F and the candy thermometer is of course helpful for that.
You want the sugar to be completely dissolved, which you can test by drizzling some between two fingers and it should be completely smooth. Be careful though, it's usually pretty warm!
Once the mixture is properly heated, it's transferred to a stand mixer and the egg whites are whipped until stiff peaks form. This means they have turned completely white, and when you put a spatula through it, the meringue holds its shape. The bottom of the bowl should also no longer be warm.
Then it's time to add the butter, which should be softened to room temperature. Make sure the butter is cut into 1 tablespoon-ish size pieces and then add them 1 or 2 at a time.
As the butter is added, the meringue starts to lose its shape and it will start to look curdled. That's okay! Once all the butter has been added, switch to the paddle attachment.
Continue beating the frosting and it will eventually come back together and into a silky-smooth texture. As this is happening, you'll add the cooled melted white chocolate.
If you feel that your buttercream is too runny, throw it in the refrigerator for 15-20 minutes and then rewhip it with the paddle attachment.
You'll have more than enough frosting to make this cake. This cake should not be refrigerated. Since the frosting has a high butter content, it will harden to a solid state if left in the refrigerator.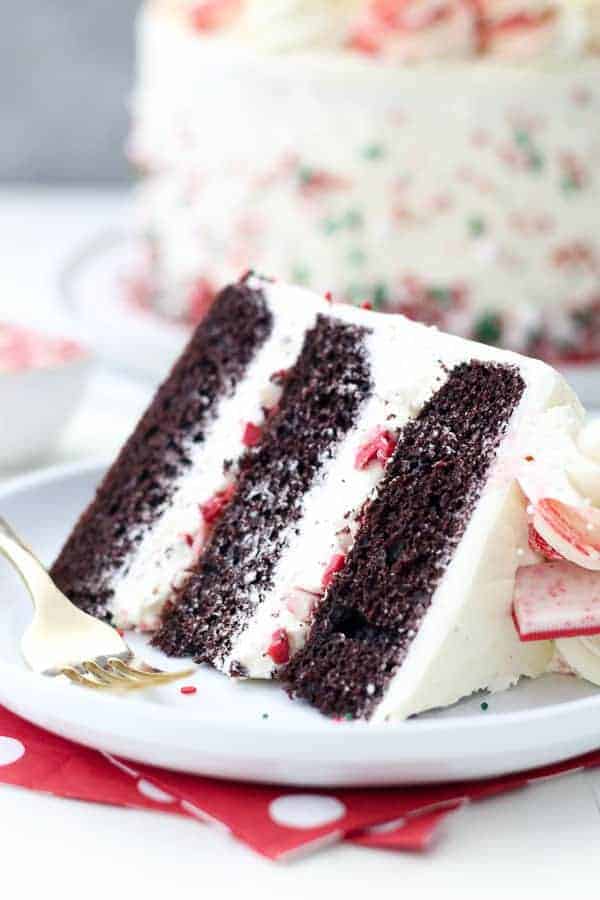 I have talked at length about how to frost a layer cake, it's an art, one that I have yet to master. However, like anything else, practice makes perfect.
I prefer to add a thin crumb coat layer before applying the outside layer of frosting. This gives you a nice smooth surface to work with.
In order to get an even layer around the outside, I pipe my frosting using an open round piping tip or a large cake icer tip, for which you will need large piping bags.
Once the layer of frosting has been added, I use an icing smoother and offset spatula to smooth it out.
To press the sprinkles into the bottom of the cake. I like to do this over a baking pan to catch all the excess sprinkles.
Finally, to garnish the top, I used a large piping bag and then some red food gel, which is drizzled down one side of the piping bag. I used a toothpick and the edge of the knife to spread it. I find it's helpful to use the seam of the bag as a guide.
Once you piping bag is filled, that side of your frosting will be bright red when you pipe it. Isn't it gorgeous?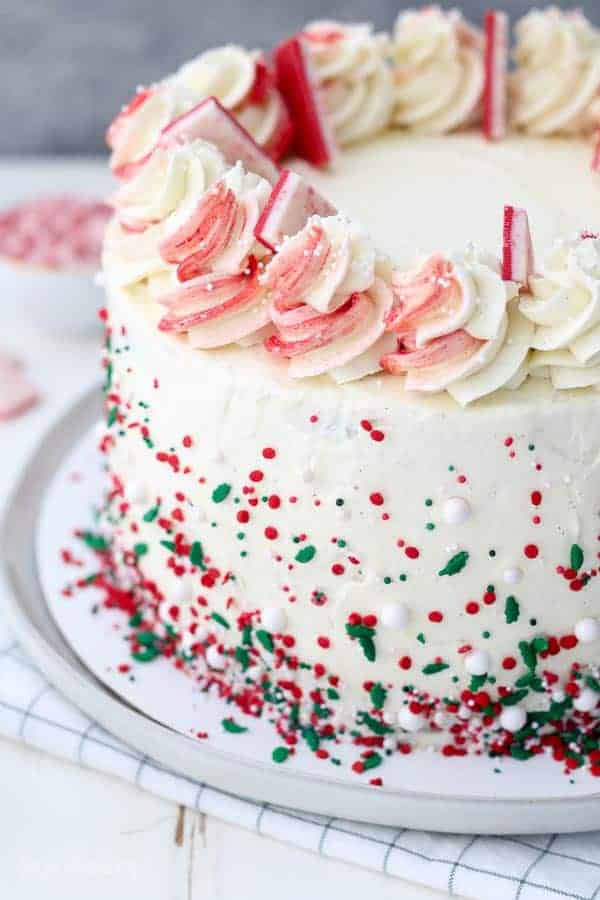 To finish it off, I garnished it with Andes Peppermint Bark chocolate and some white non-perils.
This Chocolate Peppermint Cake is SO festive! You might also enjoy this as cupcakes instead of a cake. That is totally fine! Bake the cupcakes for 12-14 minutes and then cut the frosting recipe in half.
Print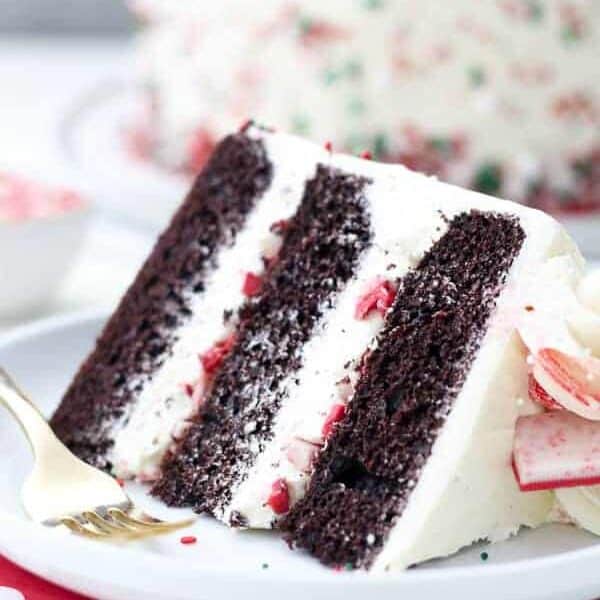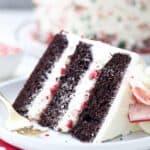 Chocolate Peppermint Cake
Author:

Prep Time:

1 hour

Cook Time:

20 minutes

Total Time:

1 hour 20 minutes

Yield:

8-10 slices
Description
This homemade moist Chocolate Peppermint Cake is filled with a silky white chocolate Swiss meringue buttercream and crushed peppermint bark.
Ingredients
For the cake:
1 ½ cups

(

285g

) granulated sugar

½ cup

(

118

ml) vegetable oil

3

large eggs

1 tablespoon

(

15

ml) pure vanilla extract

½ cup

(

118

ml) light sour cream

2 cups

(

280g

) all-purpose flour

½ cup

(

55 g

) cocoa powder

1 tablespoon

(

5g

) espresso powder (optional)

2 ½ teaspoons

(

9 g

) baking powder

½ teaspoon

(

2 g

) baking soda

1 teaspoon

(

5 g

) salt

1 ¼ cup

(

355

ml) brewed coffee
For the frosting:
10

large egg whites

2 ½ cups

(

475 g

) granulated sugar

3 cups

unsalted butter (

24 oz

), at room temperature

1 tablespoon

(15ml) vanilla extract (or vanilla bean paste)

12 ounces

white chocolate, melted

1 cup

chopped peppermint bark
Sprinkles
Red food gel (optional)

8

–

10

Andes Peppermint Bar Chocolate for garnish
Instructions
For the cake: Preheat the oven to 350°F. Prepare 3 8-inch round baking pans, line the bottom with parchment paper and grease the sides. Prepare your bake even stripes if desired.
In a large mixing bowl, combine the sugar, vegetable oil, eggs and vanilla extract. Beat on medium speed until the eggs and oil are well incorporated and the batter is lighter in color. Next mix in the sour cream and beat until well combined.
In a separate bowl, sift together the dry ingredients. Alternate half the dry ingredients followed by half of the coffee and mix just until the flour starts to incorporate. Repeat with remaining ingredients.
Use a spatula to scrape down the sides of the bowl and stir the batter from the bottom to the top to ensure it's well mixed.
Divide the batter evenly between the three pans, about 1 2/3 cups of batter per pan. Bake at 350°F for 20-24 minutes. Rotate your pans in the oven halfway through baking.
Test the cake for doneness by inserting a toothpick into the center of the cake. If the toothpick comes out clean, your cake is done. Remove from the oven and allow to cool completely.
For the frosting: Wipe down the inside of your stainless-steel bowl with vinegar to remove any grease. Combine sugar and egg whites in the bowl with candy thermometer attached.
Set the bowl over top of a pot with 1 ¼ cups water covering the bottom. Place over medium heat.
Stir constantly with a whisk until the mixture reaches 140°-160° F. The sugar should be dissolved in the egg whites. You can test this by placing a drop on your finger tips and rubbing them together. The mixture should be completely smooth.
In a microwave-safe bowl, microwave the white chocolate 50% power in 30-second increments, stirring each time until the chocolate is melted and smooth. Set aside to cool.
Immediately place the mixing bowl on your stand. Using the wire whisk attachment, beat the eggs white on low for 2 minutes than increase to medium high.
Beat for another 5 minutes. At this point, your frosting should have turned white and the body of the meringue starts to form. Increase the mixing speed to high. It will start to look glossy as the peaks begin to form. Beat for another 5-8 minutes until the bottom of your bowl is cool to the touch and your meringue has stiff peaks.
Turn your mixer down to medium-low. Slowly add your butter, 1 tbsp at a time. As you add more butter, the frosting might appear to have curdled and lost its body, that's ok. Scrape down the sides of the bowl.
Switch to the paddle attachment, add the vanilla extract and continue beating on medium-high speed until your frosting starts to form. Slowly drizzle in the white chocolate and continue beating until stiff peaks form, about 3-5 minutes.
To assemble this cake: level off your cakes by removing any domes. Place a dollop of frosting on your cake board and place the bottom layer of cake over that.
Pipe the first layer of frosting, pipe in circles filling working outside edge to the middle. Spread evenly with an offset spatula. Sprinkle each layer with ½ cup chopped peppermint bark. Add the second layer of cake and add the remaining frosting. Place the third layer of cake on top.
Use you offset spatula to press any excess frosting onto the edges of the cake. To finish, pipe the frosting along the outside edge of the cake using a large open round tip or a cake icer tip. Then use an offset spatula or icing smoother to create a smooth edge.
Gently press sprinkles into the bottom edge of the cake. To pipe the rosettes on top, use a large piping bag, drizzle red food gel down one edges of the bag and spread using a toothpick or knife. Fill the piping bag with the remaining frosting and pipe the boarder of the cake.
Equipment
Notes
When preparing the frosting, chop the butter into 1 tablespoon size cubes to help to soften quicker.
Be sure to use grease-free metal utensils when making this frosting, wipe down with white vinegar if needed
Be sure there are no egg yolks mixed in with your egg whites
Category:

Cake

Method:

Oven

Cuisine:

American
Keywords: Christmas Cake ideas, Peppermint Cake, Christmas dessert ideas