This post may contain affiliate sales links. Please see my full disclosure policy for details
This easy Lemon Drizzle Cake recipe is filled with the flavor of bright fresh lemons, made ultra-moist with the addition of sour cream. You'll be blown away by the taste and texture of this irresistible lemon bundt cake topped with lemon glaze!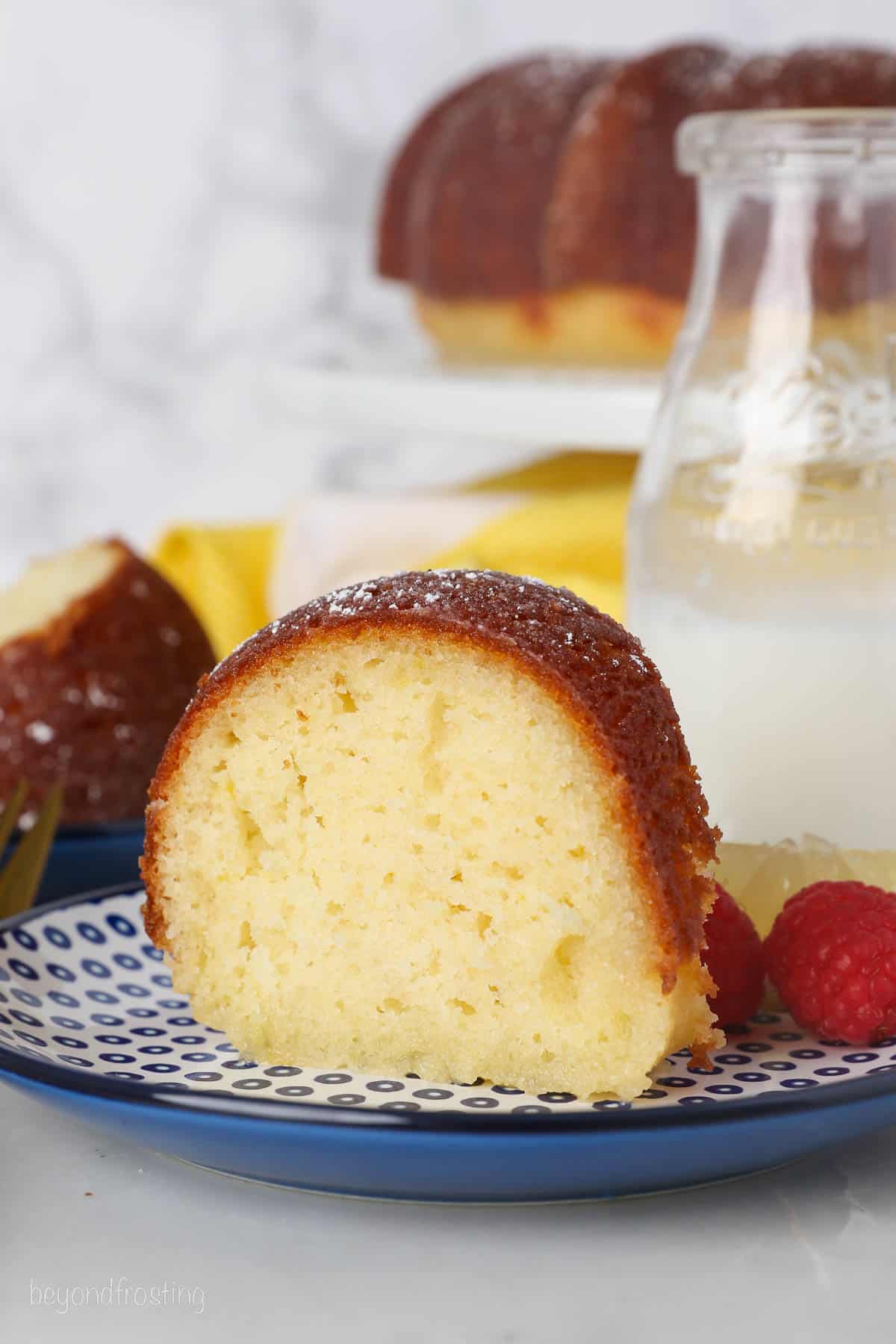 The Easiest-Ever Lemon Drizzle Cake
Who else is ready for summer? Because I am. Summer = lemon season, and fresh lemons = lemon desserts, like this irresistible lemon drizzle cake.
This lemon bundt cake is adapted from my Lemon Bread recipe and tastes just like a jumbo-sized Starbucks lemon loaf. Like the bread recipe that inspired it, this cake is ready in just three steps. It's the easiest bundt cake recipe with maximum lemony flavor, made with real lemon zest and juice, soaked in a zesty lemon glaze.
Lemon drizzle cake is the perfect cake to make for summer gatherings, or just because. It's a real all-arounder, bursting with citrus with the softest sponge-like crumb.
What Is a Drizzle Cake?
A drizzle cake is a type of sponge cake that's drizzled with glaze while it's still freshly baked. It's a bit like a poke cake, only soaked in syrup rather than a thicker pudding or filling.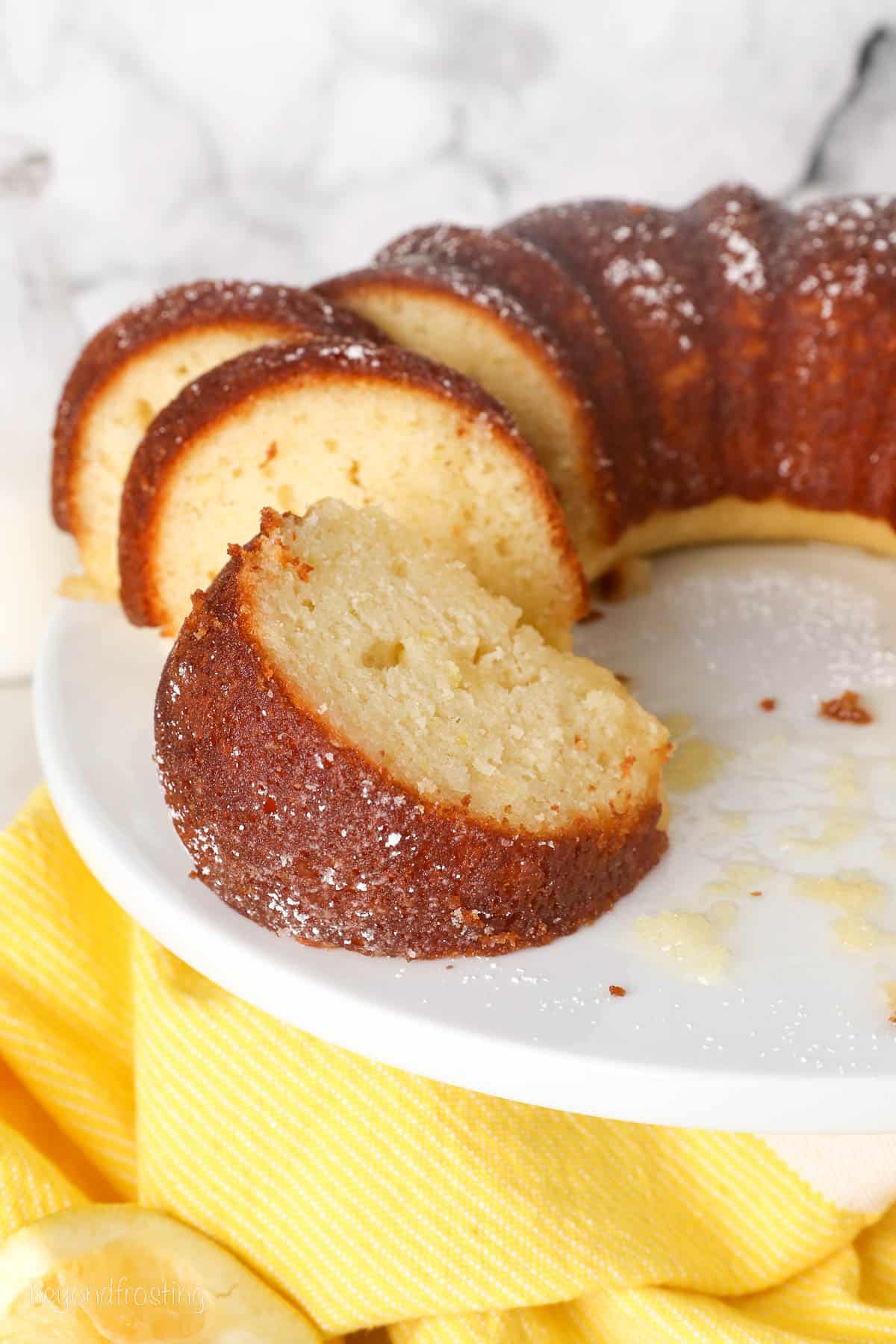 Key Ingredients
Along with your basic cake-baking ingredients (sugar, flour, baking powder, etc.), there are a handful of key ingredients you'll need to make this lemon drizzle cake. I flesh these out below, and the full recipe amounts and details are available in the recipe card a the bottom of this post:
Oil – Like many of my cake and cupcake recipes, I use vegetable oil in place of butter to make this moist lemon bundt cake. Oil makes the crumb ultra-tender and light.
Sour Cream – Full-fat sour cream is my second secret to an exceptionally rich, moist cake. Remember to take your sour cream out of the fridge beforehand so that it comes to room temperature.
Lemons – Freshly zested and juiced lemons are best in terms of flavor. For this recipe, you'll need 2-3 large lemons for the zest and juice needed to make the cake and glaze. If needed, I have a handy tutorial on How to Zest a Lemon, including some options of you don't own a zester.
Lemon Extract – Just a couple of teaspoons of extract helps to boost the lemon flavor.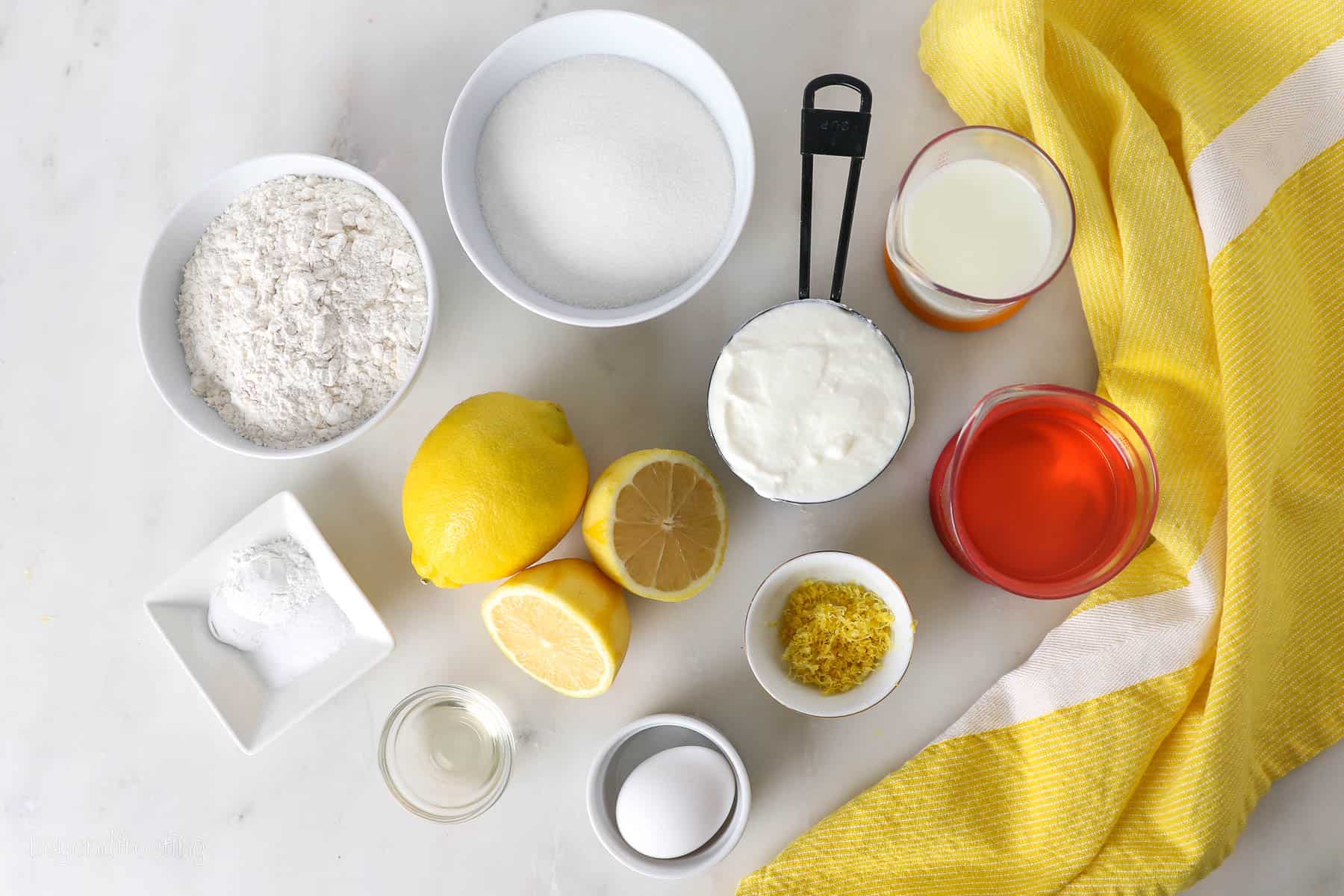 How to Make Lemon Drizzle Cake
I love this cake because it's super simple to make, but the end result is anything but basic. The flavor is tangy and zesty, saturated in a delicious lemon drizzle. It's as easy as preparing your bundt cake, then soaking it in the glaze!
Preparing the Lemon Bundt Cake
When your cake ingredients are at room temperature, set your oven to preheat to 350ºF while you grease and flour a bundt pan. I use Crisco, but butter or a generous coating of cooking spray also works. Now, let's make the easiest lemon bundt cake:
Combine the wet ingredients. Begin by beating the eggs, oil, and sugar together, followed by the lemon zest, extract, and sour cream.
Sift the dry ingredients into a separate bowl. Next, slowly add the dry ingredients to the wet ingredients, then stream in the milk. Beat this together at a low speed until incorporated.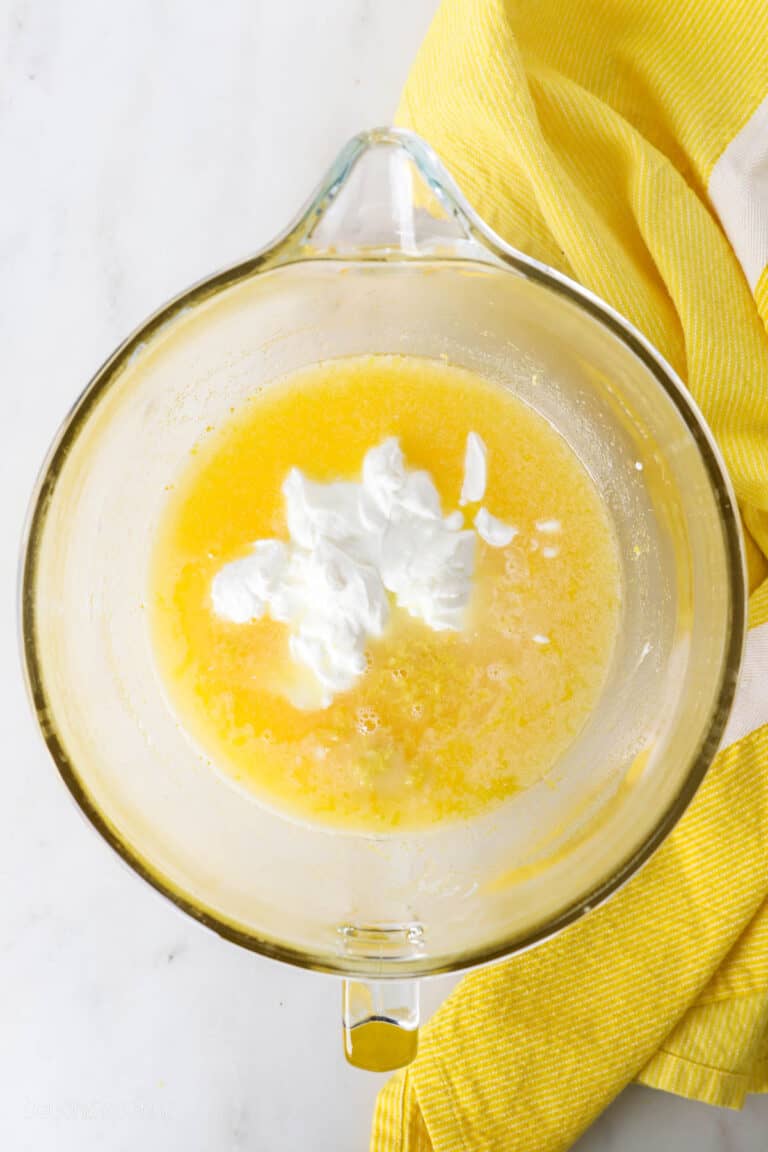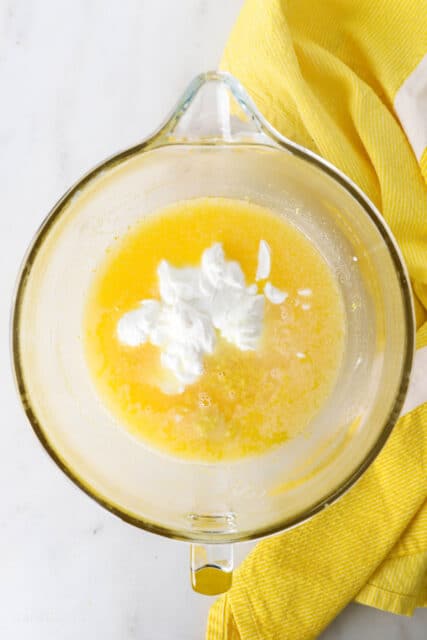 Bake. Transfer your cake batter to your prepared bundt pan. Bake at 350ºF for 36-40 minutes. Once the cake is out of the oven, leave it to cool in the pan for a few minutes before loosening the cake and inverting it onto a wire rack to finish cooling.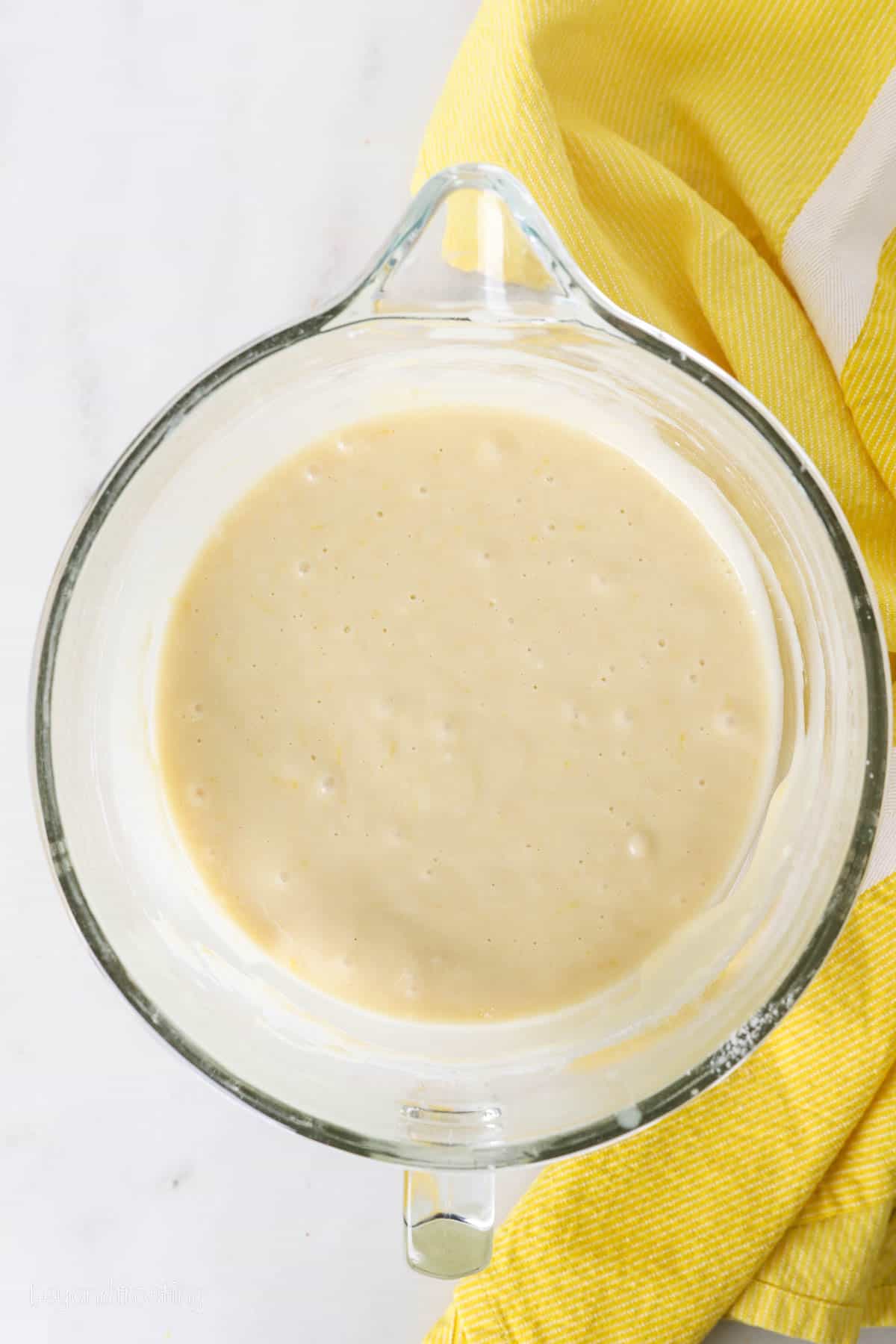 Adding the Lemon Glaze
Once your lemon cake is baked and cooled a bit, you'll need to mix up a simple and zesty lemon drizzle. Here's how to finish off your cake:
Transfer the cake back to the pan. It's OK if the cake is still a little warm when you place it back into the bundt pan, in fact, this actually helps to absorb some of the glaze. Use a fork or a toothpick to poke holes into the bottom of the cake.
Prepare the glaze. Whisk together the sugar with 2-4 tablespoons of lemon juice, until you reach a pourable consistency.
Drizzle. Pour half the drizzle over the bottom of the cake. Leave it to soak until completely absorbed, then turn the cake back out onto a plate. Poke some additional holes over the top and sides of the bundt cake, then drizzle the remaining lemon glaze all over. Once the cake is cooled completely, you're ready to slice and serve!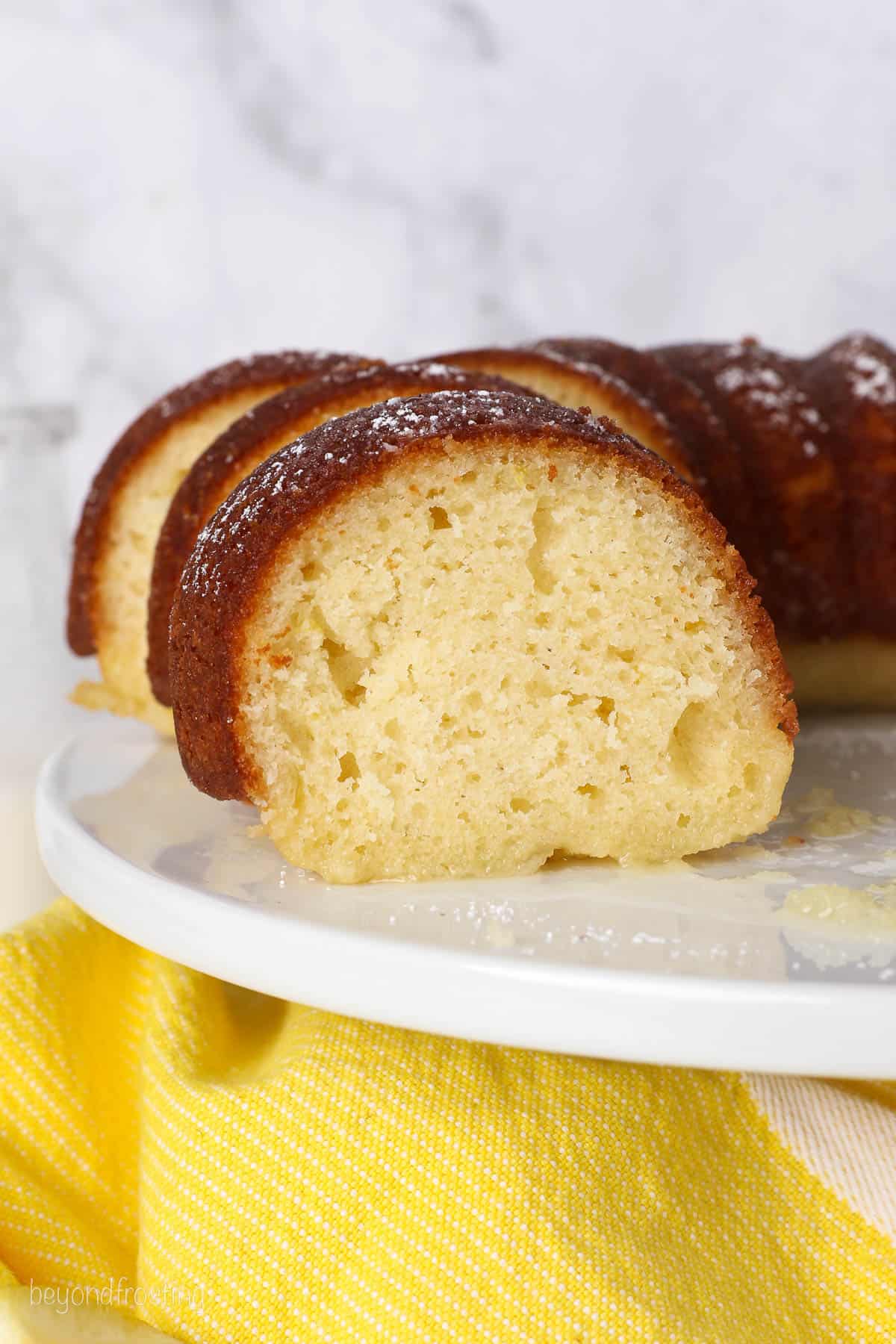 Recipe Tips for a Perfect Bundt Cake
Follow these tips for a perfect lemon drizzle cake.
Properly prepare the the pan. I always recommend using vegetable shortening, like Crisco to generously grease all the nooks and crannies and then dusting it with a light layer of flour.
Keep an eye on the cake during the final minutes of baking time. The easiest way to tell if a bundt cake is finished baking is to stick a knife into the center of the cake, checking in a couple different places. If it comes out clean, the cake is ready to come out of the oven. However, if you have any wetness or crumbs sticking to the knife, give it just a couple more minutes.

Don't let the bundt cake cool in the pan completely, otherwise it could stick to the pan. After about 10 minutes, turn it out into a plate or wire rack to cool. If using a wire rack, place a piece of parchment paper on the rack first to prevent the cake from sticking.

To make more glaze, make a half-recipe by combining a 1/4 cup of sugar with 1-2 tablespoons of lemon juice.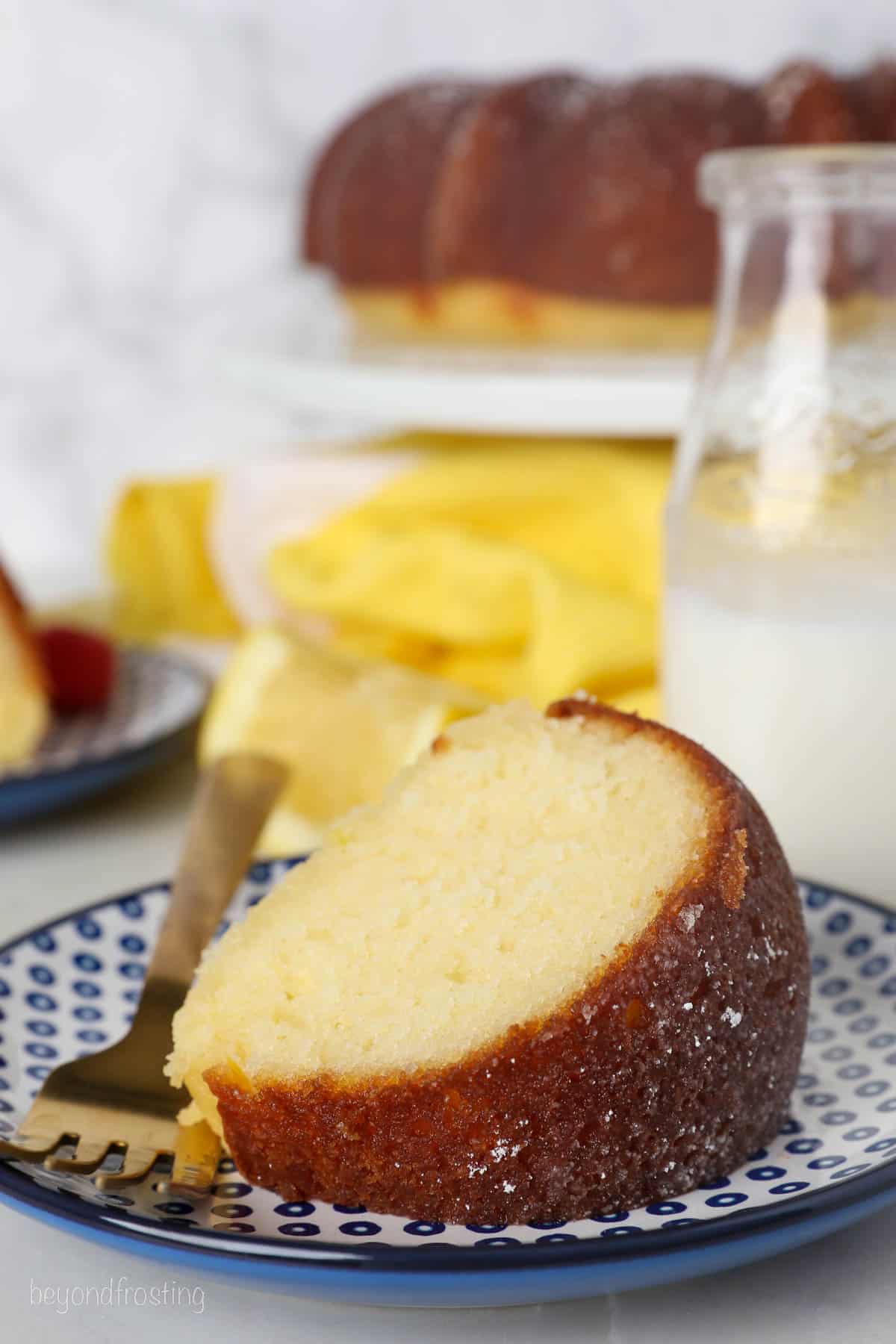 Serving Suggestions and Decorating Ideas
Serve your lemon drizzle cake dusted with powdered sugar and topped with Homemade Whipped Cream, tangy Mascarpone Whipped Cream, or a scoop of vanilla ice cream.
We also love enjoying slices with fresh raspberries, blueberries, and strawberries when they're in season. For an extra boost of lemon, you could serve with a side of homemade lemon curd.
If you'd like to frost your lemon drizzle cake, borrow the lemon frosting from my Lemon Curd Cake to spread or pipe over top. Follow my tutorial on How to Decorate with Piping Tips to create beautiful frosting swirls, rosettes, and more.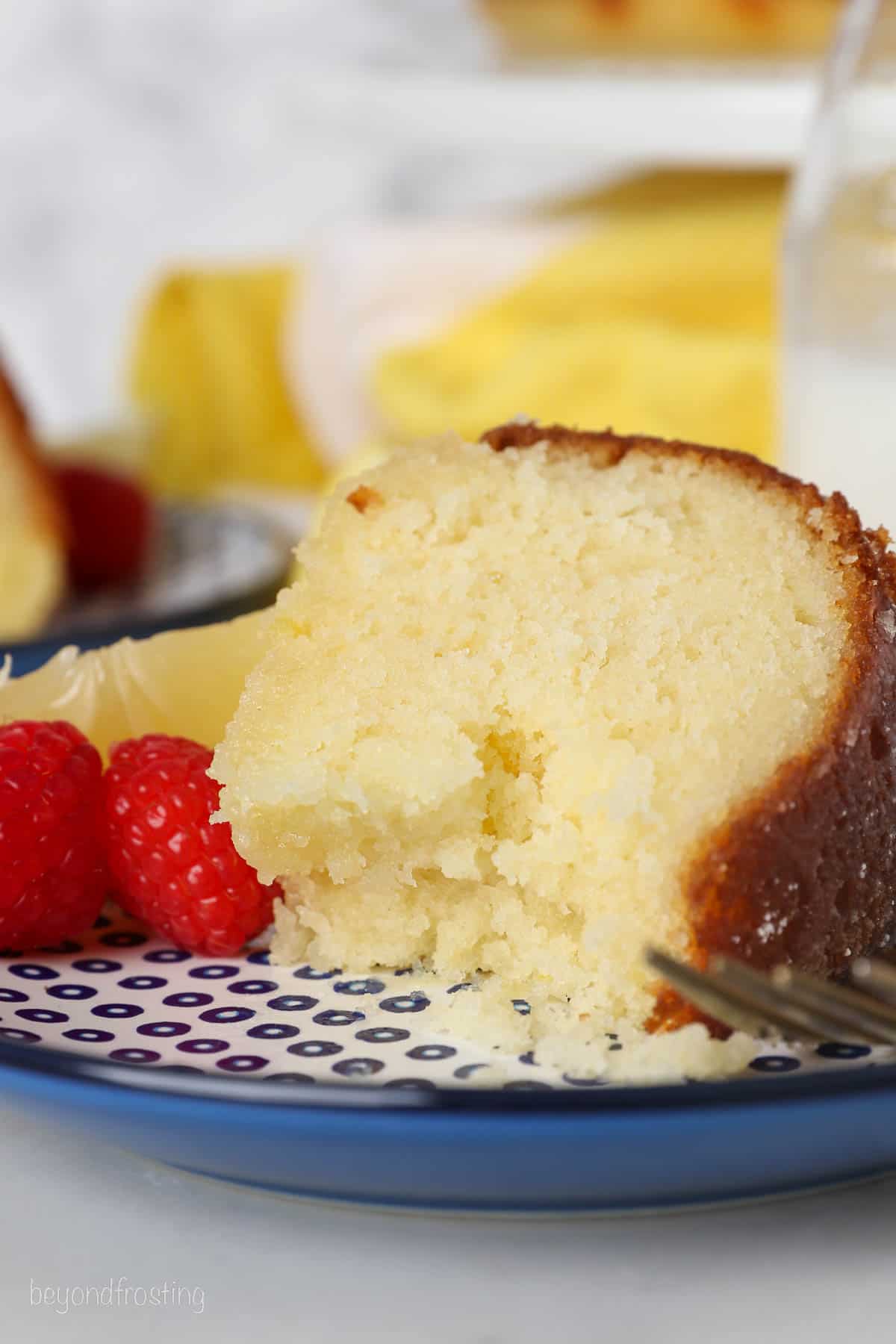 How to Store Glazed Lemon Cake
Store your cooled lemon drizzle cake covered airtight for up to 4-5 days at room temperature. You can also keep this bundt cake in the fridge, though I recommend taking it out 15 minutes or so ahead of serving to take the chill off.
Can I Freeze Lemon Drizzle Cake?
Yes, wrap the cooled cake (whole or in individual slices) tightly in plastic wrap plus a layer of foil, then keep it frozen for up to 2 months. Defrost the cake in the fridge or at room temperature before serving.
Print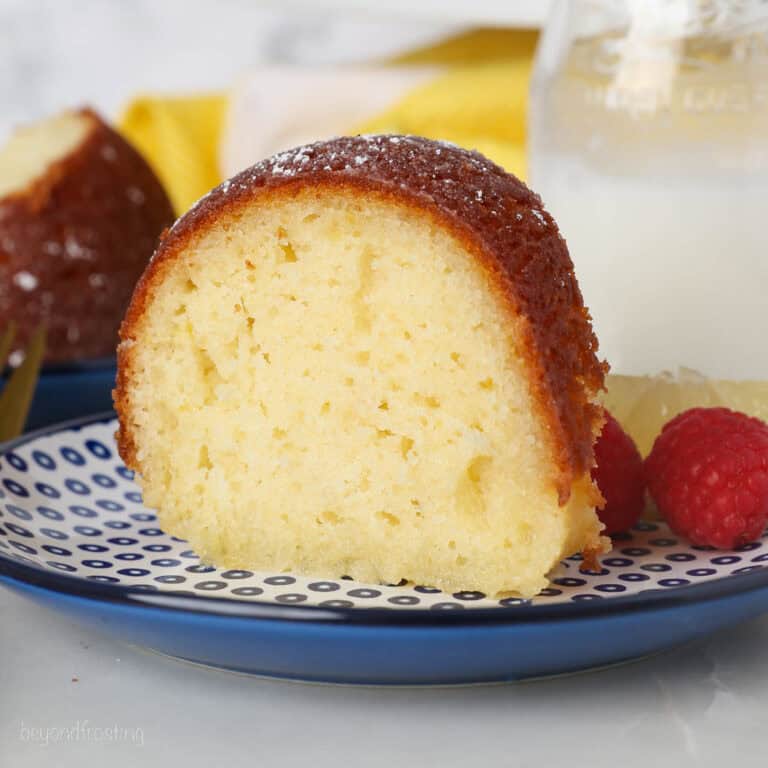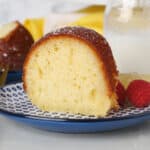 Lemon Drizzle Cake
Author:

Prep Time:

35 minutes

Cook Time:

38 minutes

Total Time:

1 hour 13 minutes

Yield:

10 servings
Description
This easy Lemon Drizzle Cake is a rich and moist lemon bundt cake recipe soaked in a zesty lemon glaze. It's the perfect summer dessert filled with real lemon flavor.
Ingredients
For the Cake
1 ½ cups

(

285g

) granulated sugar

4

large eggs, at room temperature

1 cup

(236ml) vegetable oil

1 cup

(

240g

) full-fat sour cream, at room temperature

2

large lemons, zested

2 tablespoons

(30ml) lemon juice

2 teaspoons

(10ml) lemon extract

2 cups

(

280g

) all-purpose flour, sifted

3 teaspoons

(

12g

) baking powder

1 teaspoon

(

5g

) salt

½ cup

(118l) milk, at room temperature
For the Glaze
½ cup

granulated sugar

2

–

4

tbsp fresh lemon juice
Instructions
For the Cake
Allow necessary ingredients to come to room temperature. Preheat the oven to 350°F. Generously grease and flour a 10-cup-sized bundt pan.
In a large mixing bowl, beat the eggs, oil, and sugar until well combined. Next add the lemon extract, lemon zest, and sour cream. Beat on medium speed until well incorporated. Scrape down the bowl as needed.
In a separate bowl, sift together the dry ingredients. Add the dry ingredients to the wet ingredients, mix on low speed while slowly pouring in the milk. Use a spatula to scrape down the sides of the bowl and stir the batter from the bottom to the top to ensure it's well mixed.
Pour the batter into the prepared pan and bake at 350°F for 36-40 minutes, keeping a careful eye on the baking during the last few minutes. Test the cake for doneness by inserting a toothpick into the center of the cake. If the toothpick comes out clean, the cake is done.
Remove from the oven and place on a cooling rack, and after 5 minutes, run a knife around the outside edge of your cake and in the center to release it from the sides of the pan. Turn it out onto a plate or cooling rack. Allow the cake to cool completely.
For the Glaze
Allow the cake to cool for about 30 minutes, then transfer it back to the original bundt pan. Poke holes in the bottom of the cake.
Prepare the glaze by combining the sugar and 3 tablespoons of lemon juice in a bowl, and whisking to combine. Add an additional 1 tablespoon of lemon to juice as needed to thin the glaze.
Drizzle about half the glaze over the bottom of the cake and allow it to soak into the cake. Once the liquid is absorbed, turn it back onto a plate. Poke a few holes over the top and sides of the cake and pour the remaining glaze over top. Cool completely before serving.
Equipment
Notes
If you'd like additional glaze, start with ¼ cup of sugar and 1-2 tablespoons of lemon juice.
Freshly juiced lemons are best for flavor. For this recipe, you'll need 2-3 large lemons for the zest and juices for the cake and glaze.
Lemon extract can be substituted with additional lemon juice
Storing: This will keep 4-5 day in an airtight container at room temperature of in the refrigerator. Remove from the refrigerator 15 minutes before serving.
Lemon zest: If you don't have a zester or need a refresher on how to zest a lemon, see this helpful tutorial.
Category:

Cake

Method:

Oven

Cuisine:

American
Keywords: lemon drizzle cake, lemon cake, lemon bundt cake
More Easy Lemon Desserts