This post may contain affiliate sales links. Please see my full disclosure policy for details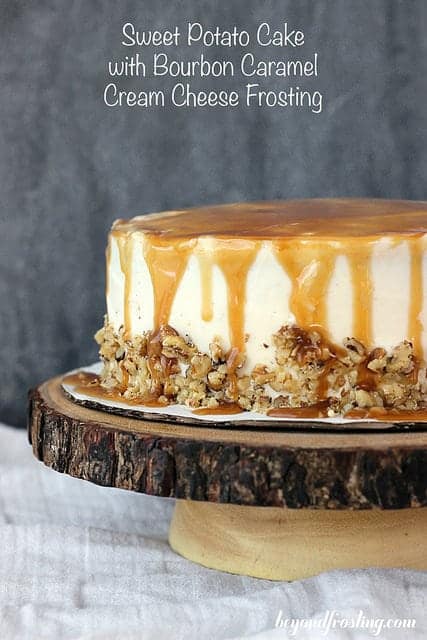 I go absolutely crazy for sweet potatoes! With every Thanksgiving meal, I have to have my mom's Mallowed Mashed Sweet Potatoes (recipe coming soon). I don't discriminate either. Sweet potato fries, ice cream, baked sweet potatoes, you name it. Lately, I've been pinning a bunch of new recipes to try. I've seen some cakes floating around too, which lead me to discover that a sweet potato cake is very similar to carrot cake, so I thought I would give it a try!
My grandmother's carrot cake is by far one of my favorite things to make. I even shared a gluten-free version. I thought this recipe would be a good one to try out with sweet potatoes. Turns out, I was right! This Sweet Potato Cake with Bourbon Caramel Cream Cheese Frosting is one of those cakes that won't allow you to put the fork down after the first bite.
Let's start with the cake. First, I finely shredded the sweet potatoes. I noticed they were quite a bit more wet than carrots, so when I was finished, I squeezed out the juice. Just take a handful of the shredded sweet potatoes and squeeze them in between your hands, then "re-fluff" it by just puling it back apart. I discarded the extra juice, which turned out to be a lot more juice than I thought there would be. I think this was an essential step in adapting this recipe.
The only other alterations I made to my original recipe was adding an additional ¼ cup of flour to help with the moisture from the potatoes. I also added some nutmeg and a little bit of bourbon, just for fun. For some reason, when I think about sweet potatoes, I think about bourbon too.
So then I decided to add a little bourbon to the cream cheese frosting. Best decision ever. Cream cheese frosting is always my favorite, but it has to be done right. I prefer more of a whipped cream cheese frosting, heavy on the cream cheese. My go-to cream cheese frosting is slightly adapted from Martha Stewart. I add more cream cheese than her original recipe calls for, and I also add some heavy cream. This time, I opted to add some bourbon as well.
Once I frosted this cake, I thought it would be a good idea to drizzle some caramel sauce over the top. I didn't use anything special, just some store bought caramel sauce (Hershey's or Smuckers brand). I used an offset spatula to gently spread it to the edges. As the caramel drips down the cake, it will pool up on the cake plate. Ain't nothing wrong with that! Then I decided to toss on some walnuts on the side of the cake too.
This cake does remind me a lot of a carrot cake, but with a bit more spice. I will most definitely be making this cake again over the next couple of months! I don't make cakes very often, but I do love to do them. I have included links to a few of my favorite cake making items in case you are interested in improving you cake making skills. See below!
Helpful Baking Tools
Follow Beyond Frosting:
Facebook | Twitter | Pinterest | Instagram
If you love no-bake recipes, be sure to check out my cookbook, No-Bake Treats!
Print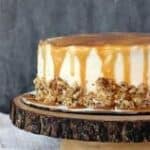 Sweet Potato Cake with Bourbon Caramel Cream Cheese Frosting
Prep Time:

30 minutes

Cook Time:

45 minutes

Total Time:

1 hour 15 minutes

Yield:

10-12 slices
Description
A spiced nutmeg sweet potato cake with a bourbon cream cheese frosting that is smothered with caramel.
Ingredients
For the cake
3 cups

grated raw sweet potatoes (about

2

medium sized)

4

large eggs

2 cups

granulated sugar

1 cup

vegetable oil

1 tablespoon

Bourbon (optional)

2 1/4 cups

all-purpose flour

2 teaspoons

ground cinnamon

2 teaspoons

baking soda

1 teaspoon

salt

1/4 teaspoon

nutmeg

1 cup

walnuts, chopped (optional)
For the frosting
1 cup

unsalted butter, cold

16 ounces

cream cheese, cold

4

–

5

cups powdered sugar

1

–

2

tablespoons Bourbon (optional)

1 tablespoon

heavy whipping cream

1 teaspoon

pure vanilla extract

1/4

–

1/2

cup salted caramel sauce

1 cup

walnuts, chopped (optional)
Instructions
For the cake:Preheat the oven to 350° and grease and flour two 8-inch pans.
Peel sweet potatoes. Use a grater or food processor to shred the sweet potatoes. Use your hands to squeeze out excess juice from sweet potatoes and discard excess juice. Re-fluff sweet potatoes with your hands.
Beat the eggs until light and fluffy. Add the sugar and beat on low speed until smooth. Then add the oil and bourbon. Continue to beat on low speed until well mixed.
In a medium bowl, combine the remaining dry ingredients. Slowly add dry ingredients to wet ingredients and beat until incorporated.
Fold in walnuts and sweet potatoes.
Pour the batter in greased baking pans. Bake for 40-45 minutes. Use a toothpick or knife to check the center of the cake. If your toothpick comes out clean, the cake is done. Allow cake to cool completely.
For the frosting: Cut the butter into 1-inch blocks. Beat the butter for 1-2 minutes until it is slightly softened.
Then add the cream cheese and cream together for 2-3 minutes until they are fluffy and free of lumps, scape down the bowl occasionally.
Slowly add confectionary sugar, 1-2 cups, alternating with the liquid (vanilla extract, heavy cream, bourbon) and beat until desired consistency is reached.
To prepare the cake, use a cake leveler or knife to cut the dome off the cake, leaving a flat top on both cakes.
Spread 1/3 of the frosting on top of the first layer then place the second layer one top. Apply a crumb coat the cake and put in the freezer for 10 minutes. Remove from freezer and add remaining frosting to the side and top of the cake.
Before serving, use your hands to apply walnuts to the sides of the cake. Drizzle the caramel over the top of the cake and gently spread to the edges with an offset spatula.
Notes
Store in an airtight container in the refrigerator.
If you don't want to use bourbon, just omit it. In the frosting you may choose to add additional vanilla extract in place of the bourbon
Category:

Cake

Method:

Baked

Cuisine:

American
Keywords: Cream cheese frosting, Cake recipe, Sweet potato cake
Recipe Card powered by