This post may contain affiliate sales links. Please see my full disclosure policy for details
Chocolate Sweet Potato Cake topped with Cinnamon Brown Sugar Frosting. This easy sweet potato cake is fluffy and spongy, with just the right amount of spice!
Looking for a sweet potato cake that isn't chocolate? Try this Sweet Potato Cake with Bourbon Cream Cheese Frosting!
Chocolate Sweet Potato Cake
What an exciting weekend over here! I got an unexpected call from my brother and his new fiancé on Saturday night. He surprised everyone by popping the question on a sunset cruise in the San Diego bay. I just saw these two when they joined us for a pumpkin patch party, and now they're engaged! This is the first of many cakes I'm sure we will share in their honor.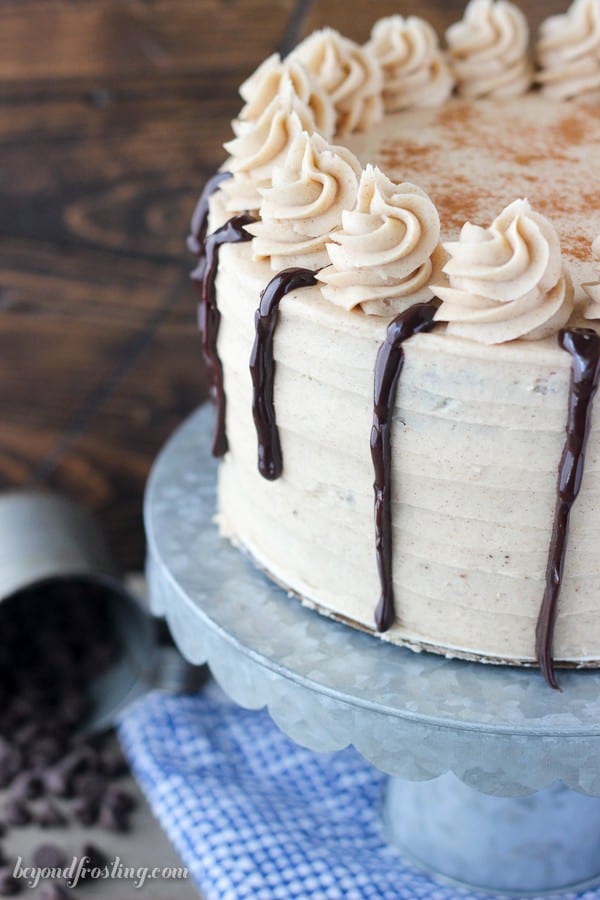 The countdown is officially on until Thanksgiving. Only 6 more days of work for me. This Thursday I'll be headed back to Vermont for a quick weekend. My dad got a double knee replacement last Tuesday and I'm going home to play nurse and stock his freezer with chili and cookies. I'll also be getting my pumpkin ice cream fix as much as I can while I am there. Then it's back to So Cal to enjoy some much needed time off. It's just my boyfriend and I this year for a low key Thanksgiving. I am planning a special meal for us but nothing too fancy. His only request is some apple pie!
With the holidays approaching, I figured you needed a healthy cake. This cake has VEGETABLES in it! Woohoo, eat as much as you want!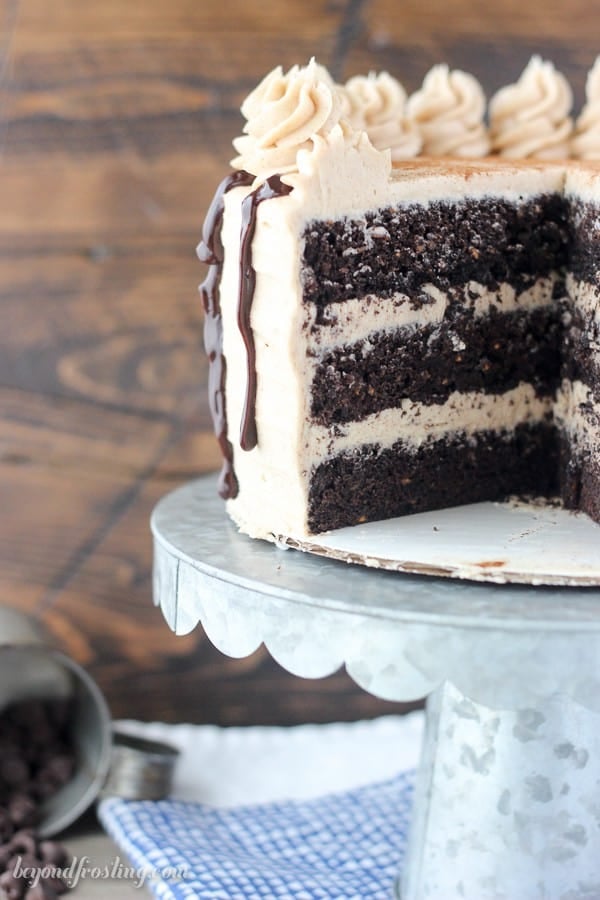 Okay, well maybe not. This Chocolate Sweet Potato Cake is covered in a glorious brown sugar cinnamon frosting. And while I much prefer to eat my vegetables when they are covered in chocolate, this cake really isn't healthy at all. Please forgive me.
At the end of the summer, I made a Chocolate Zucchini Bread ice cream, and the bread was much more cake like than I imagined it would be, so ever since then, I've been working on this cake. I already have a sweet potato cake that is covered with a bourbon caramel cream cheese frosting, so I thought a chocolate version would be most appropriate.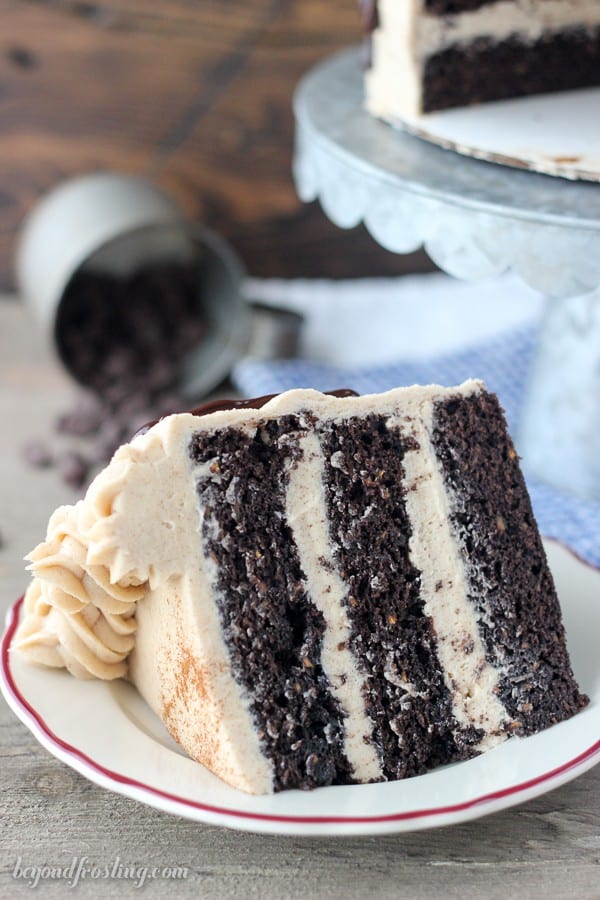 what makes this cake so good?
This cake uses vegetable oil instead of butter just like you'll find in my carrot cake cupcakes. It adds moisture and also helps keep the cake nice and fluffy. I've also used a combination of eggs and egg whites for the same reason. Lastly, I've added some sour cream to the cake to help retain moisture for a longer period of time.
I love the texture of this cake, it's spongy and almost reminds me of a cake mix. I prefer to use a dark chocolate cocoa powder like Hersey's special dark because it intensifies the chocolate flavor.
The sweet potatoes are similar to what you would expect from a carrot cake, noticeably present with a little bit of added sweetness. It goes together wonderfully with the chocolate. There's also quite a bit of cinnamon in this cake for that Autumn flavor we all crave in Fall desserts.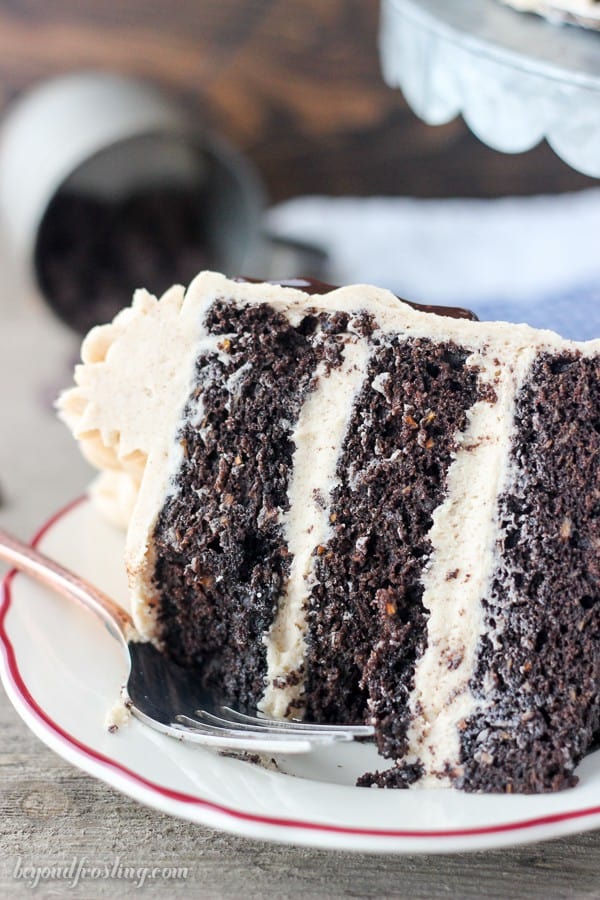 spiced buttercream frosting
Lastly, comes the brown sugar cinnamon frosting. I've never met anyone who doesn't love this frosting. It's similar to the one I use on my Coffee Cake Snickerdoodle Cupcakes. The brown sugar and cinnamon are added to the butter prior to adding the powder sugar to ensure the frosting is well blended.
This frosting only gets better as it sits. There is quite a bit of butter in this frosting because you have to fill 2 layers and frost the whole outside of the cake, plus decorate the top. You may have some leftover, but it's always better to have too much than not enough. If you're looking for tips on how to frosting a smooth cake, I suggest taking a look at this valentine's day cake!
It's time to go slice myself another piece of cake, I suggest you do the same.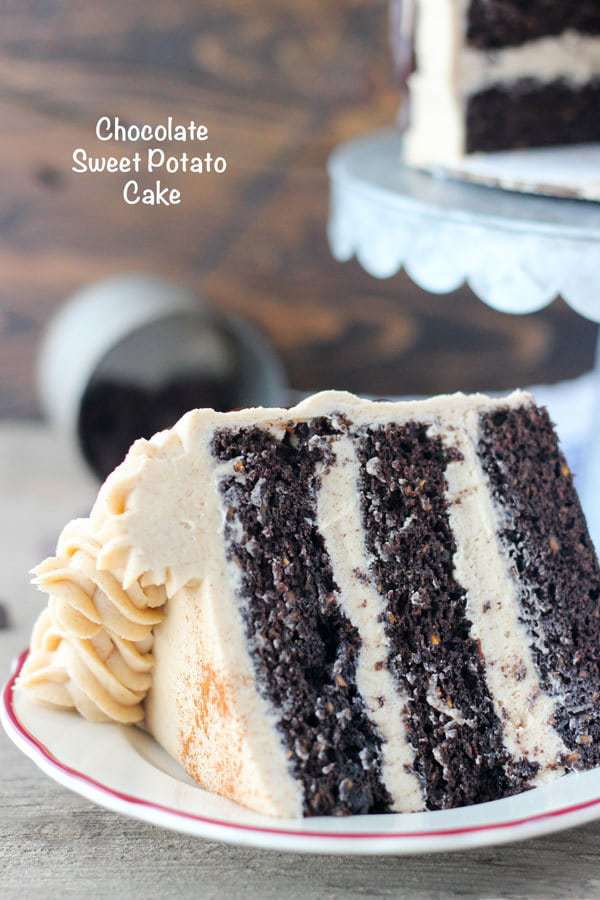 Follow Beyond Frosting:
Facebook | Twitter | Pinterest | Instagram
If you love no-bake recipes, be sure to check out my cookbook, No-Bake Treats!
Print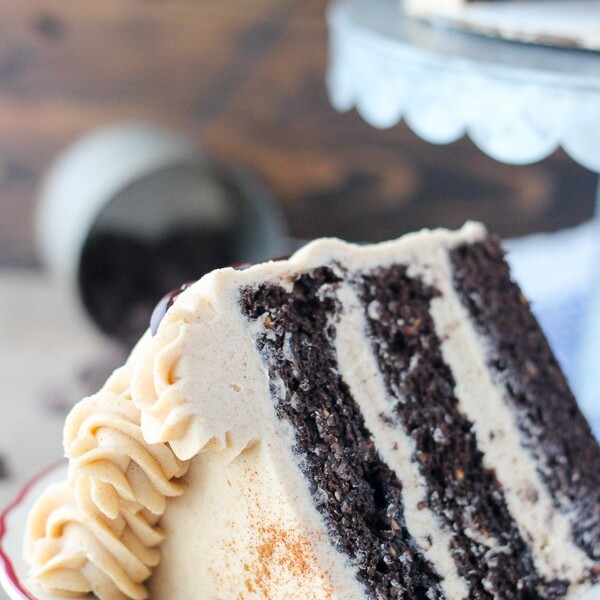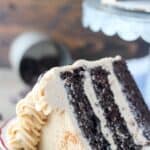 Chocolate Sweet Potato Cake
Author:

Prep Time:

45 minutes

Cook Time:

18 minutes

Total Time:

1 hour 3 minutes

Yield:

10 slices
Description
Chocolate Sweet Potato Cake topped with Cinnamon Brown Sugar Frosting. This easy sweet potato cake is fluffy and spongy, with just the right amount of spice!
Ingredients
For the cake:
2 ½ cup

sweet potato

1 cup

vegetable oil

4

large eggs

2

egg whites

1 tablespoon

vanilla extract

2 cups

sugar

¾ cups

sour cream

½ cup

cocoa powder

2 ½ cups

flour

1 tablespoon

cinnamon

1 teaspoons

salt

1 teaspoon

baking soda

½ teaspoon

baking powder
For the frosting:
5

sticks (2 ¼ cups) unsalted butter

8 cups

powdered sugar

½ cup

brown sugar

1 tablespoon

cinnamon

3 tablespoons

heavy whipping cream

2 tablespoons

maple syrup

1 ounces

chocolate

2

–

3

tablespoons heavy cream
Instructions
For the cake:
Preheat the oven to 350° F. Grease three 8-inch pans
Chop the sweet potatoes into one inch thick pieces and throw into a food processor. Pulse the sweet potato into tiny pieces and set aside.
In a medium-sized mixing bowl, combine the vegetable oil, eggs, egg white, vanilla extract and granulated sugar. Whisk together until well combined, and mixture turns lighter in color.
Add the sour cream and mix until combined.
Slowly add the cocoa powder and beat into the batter
In a separate small bowl, combine the flour, cinnamon, salt, baking soda and baking powder and whisk together. Slowly add the dry ingredients and mix slowly with a spatula until about half of the flour is incorporated. Add the sweet potato pieces and mix only until the flour is blended, being careful not to over mix.
Pour the batter into three 8-inch pan and bake at 350°F and baking for 18 to 22 minutes. To see if the cake is done, stick a toothpick into the cake and if the toothpick comes out clean, the cake is done. Cool completely
For the frosting:
Cut the butter into pieces. Using the paddle attachment, whip the butter for 3-4 minutes, scraping down the bowl occasionally. Beat until butter looks light in color.
Add the brown sugar and cinnamon, beating until combined. 4 cups powdered sugar, one cup at a time and mix on low speed until incorporated into butter. The frosting will start to thicken.
Begin to alternate heavy whipping cream and maple syrup while alternating in additional cups of powdered sugar until all the powdered sugar. Continue beating until all ingredients are combined and then beat it at a high speed for 2 minute to whip some additional air into the frosting.
To build the cake:
Even out the top of the cake by cutting off the dome using a serrated knife.
Place a dollop of frosting on the bottom of the cake plate and place the bottom layer of cake on top. The frosting will help prevent the cake from sliding.
In order to create even layers, I use a piping bag fitted with an open round tip, or simply cut off the end of the piping bag. I also highly suggest using a lazy Susan to rotate the cake as you work.
Fill the first layer of frosting by using your piping bag and pipe from the outside edge into the center. Gently spread the frosting with an offset spatula to fill in the gaps.
Place the next layer of cake on top and repeat the above instructions to fill the layer of frosting.
For the top layer of cake, place it inverted, so the bottom of the cake is actually the top, creating a nice and smooth top edge.
Proceed to add your crumb coat by adding a cup of frosting to the top of the cake and gently spread out to the edges and down the sides. Use the leftover frosting in your piping bags to fill in the cracks between the layers.
Using an offset spatula or icing smoother, wipe away the excess frosting, leaving you just enough to coat the outside of the cake. Do not mix your crumb coating frosting back into your icing if it has cake debris in it. Refrigerate the cake for 15-20 minutes to allow the crumb coat to harden.
Remove the cake from the refrigerator and proceed to the remaining frosting to the top and edges of the cake. To get a nice smooth edge, use your offset spatula and icing smoother to wipe away excess frosting.
Then take your flat angled spatula and very gently press it onto the bottom edge of the cake, rotate the lazy Susan, continuing to press the knife into the cake until it reaches the top edge. This will create the rippled effect on the sides of the cake.
Take the extra frosting and pipe florets on top of the cake.
To make the ganache, microwave the chocolate together with the heavy cream for 30 seconds, stirs and return to the microwave for another 30 seconds or until the chocolate is melted. Drizzle with a spoon down the sides of your cake.
Keep this cake in an airtight container.
Category:

Cake

Method:

Oven

Cuisine:

American
Keywords: sweet potato chocolate cake, sweet potato cake recipe, chocolate cake, thanksgiving cake, thanksgiving dessert
You might also like:
Sweet Potato Cake with Bourbon Caramel Cream Cheese Frosting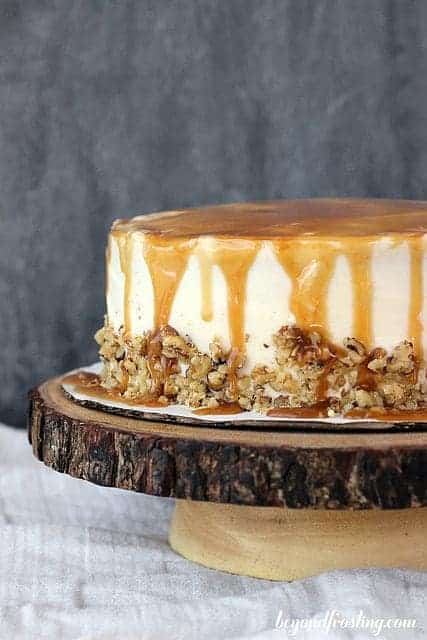 Salted Caramel Butterscotch Cake with Brown Butter Frosting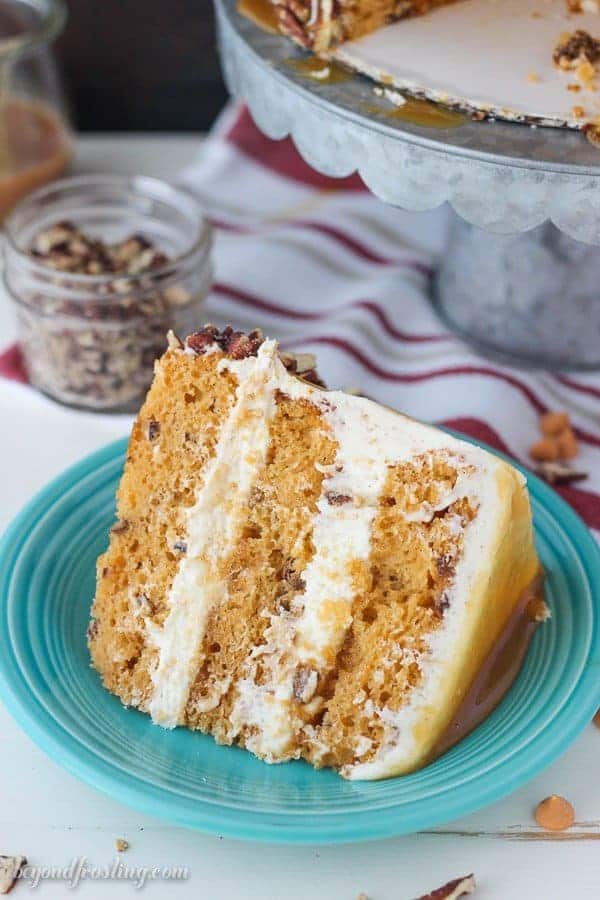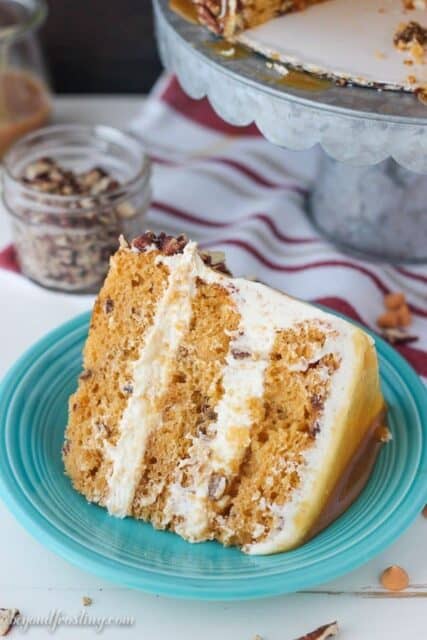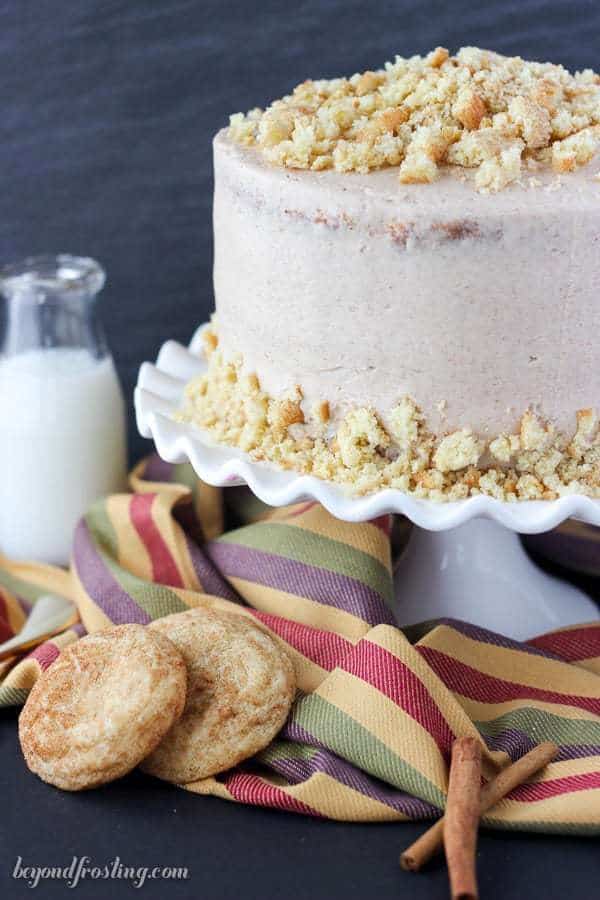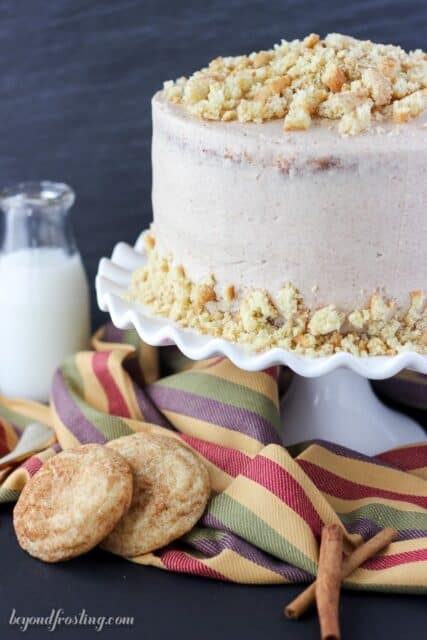 Cake recipes from my friends: