This post may contain affiliate sales links. Please see my full disclosure policy for details
This no-bake White Chocolate Peppermint Cheesecake has a thick Oreo crust with a velvety white chocolate cheesecake filling loaded with crushed peppermint bark.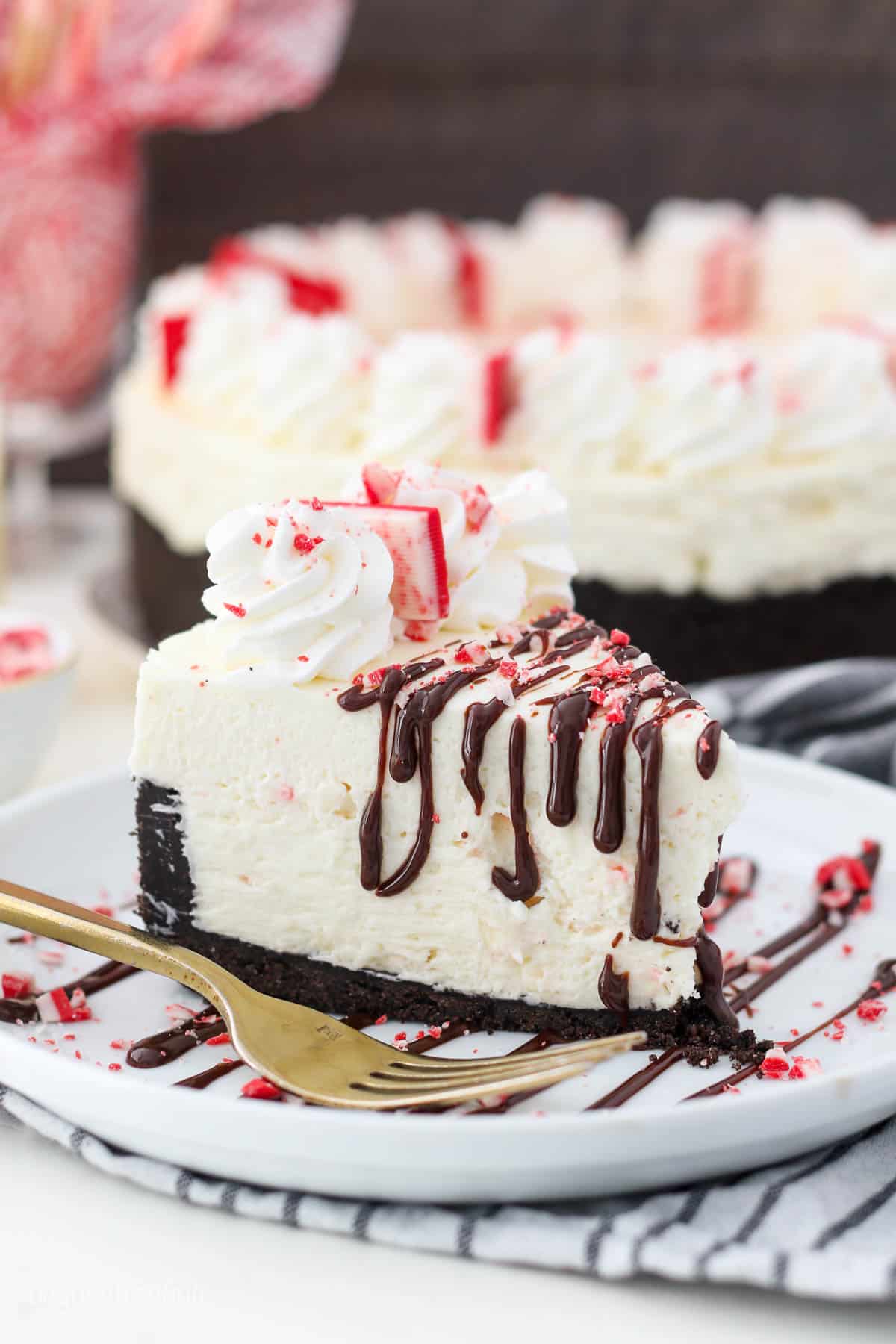 Where are all the peppermint fans out there? I finally have a seasonal recipe for you and man it's a good one. I mean, you know I am a sucker for a no-bake dessert, especially cheesecake.
I'm hosting a holiday party in early December and it's the first time we're inviting friends into our home since we moved in last fall. I just love hosting parties because it gives me an excuse to make all my favorite foods that my husband doesn't like (umm mac and cheese- I can't wait!).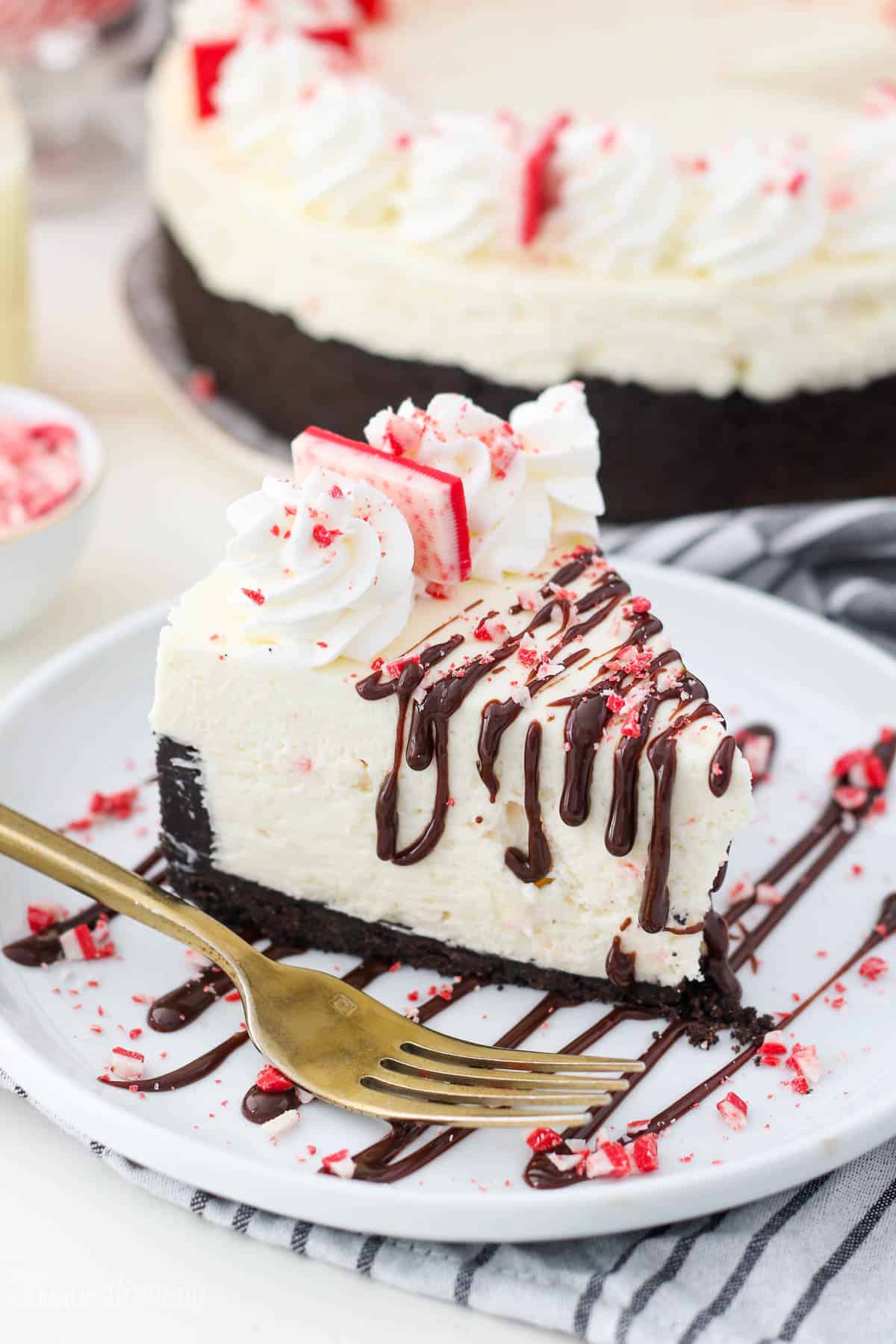 Of course, I will be expected to provide some exceptional desserts as well. It's always fun to plan out a dessert table. I like to offer a mix of bite-sized or finger food desserts. However, you always need a center piece to build the rest of your dessert table around.
Your dessert table wouldn't be complete without this no-bake White Chocolate Peppermint Cheesecake. The thick Oreo crust has the most perfect white chocolate cheesecake filling and it's loaded with chopped peppermint bark chocolate.
I've done a no-bake peppermint cheesecake before, but it doesn't quite compare to this white chocolate version.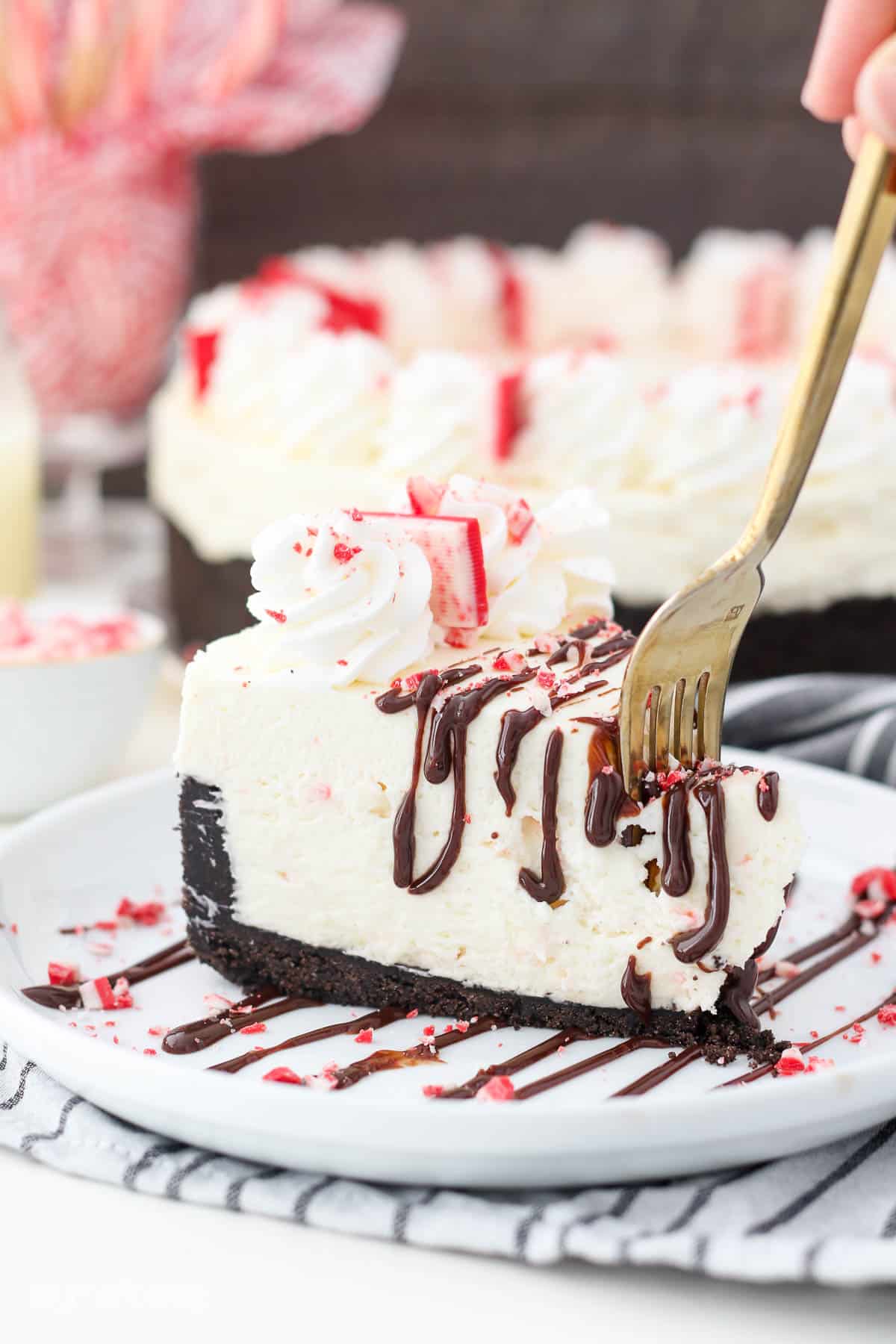 This cheesecake recipe is an adaption of my Best-Ever No-Bake Cheesecake. The texture of this cheesecake isn't quite as light and airy as you'd expect a no-bake cheesecake to be. It's got a little more density to it, which I love, it still just melts in your mouth.
I want to be sure this cheesecake didn't have an overwhelmingly strong peppermint flavor, instead getting its flavor from the chopped peppermint candy bar that scattered throughout the cheesecake filling. This gives you a nice little surprise in every bite.
For the filling, you can use something like Hershey's or Andes peppermint bark chocolate bars, chopped into small pieces and folded into the batter. Ghirardelli also makes peppermint baking chips which works well too.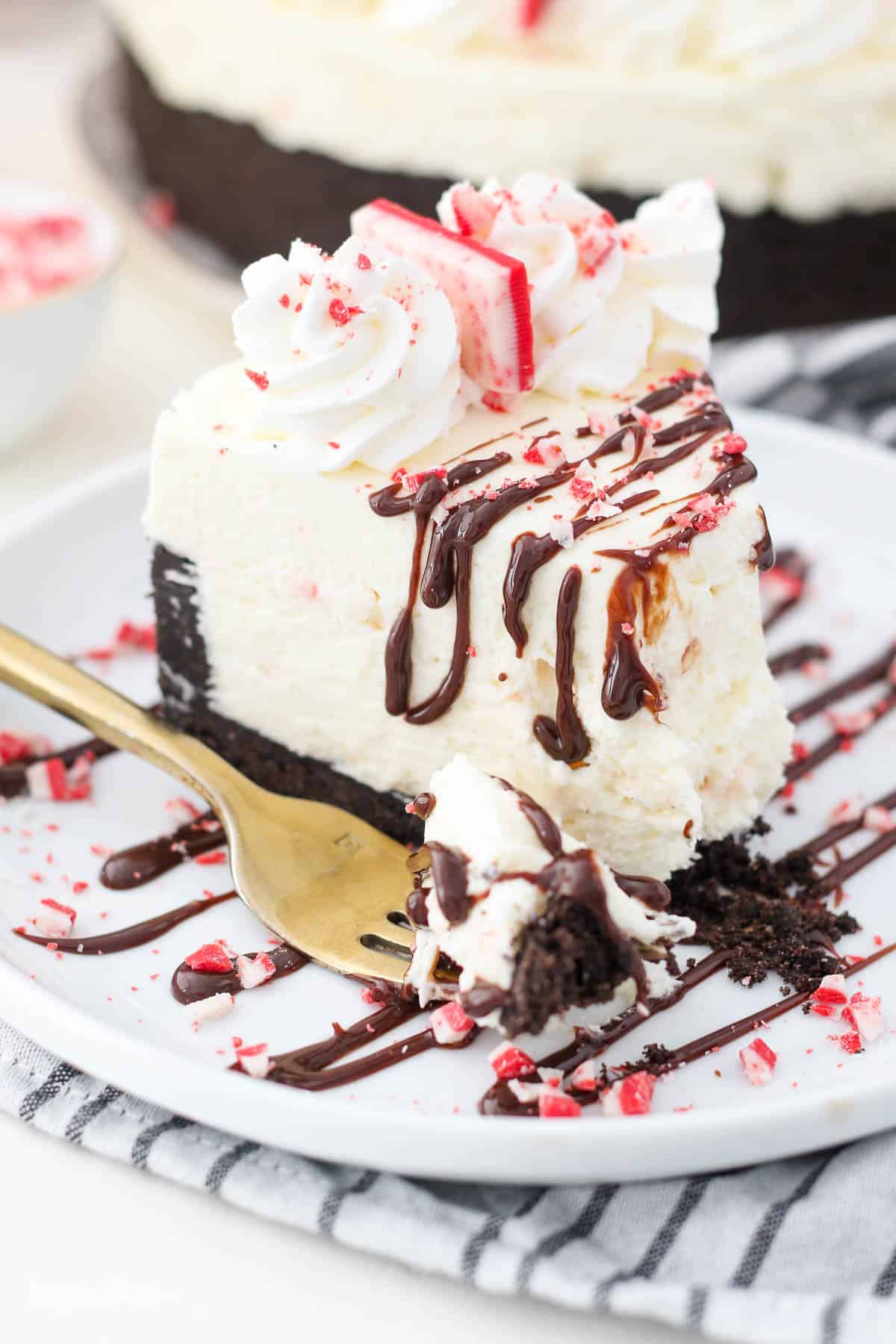 The cheesecake filling is quite easy to make.
The cream cheese is beaten together with a little bit of sugar to cut down the tanginess and then add some peppermint extract for flavor. Then this is combined with the melted white chocolate and finally some pillow-like homemade whipped cream.
When melting the chocolate for the filling, I recommend doing so at 50% power in your microwave to prevent the chocolate for seizing. Low and slow is best, stirring occasionally until it's melted and smooth. I also recommend letting it cool before adding it directly to the cream cheese.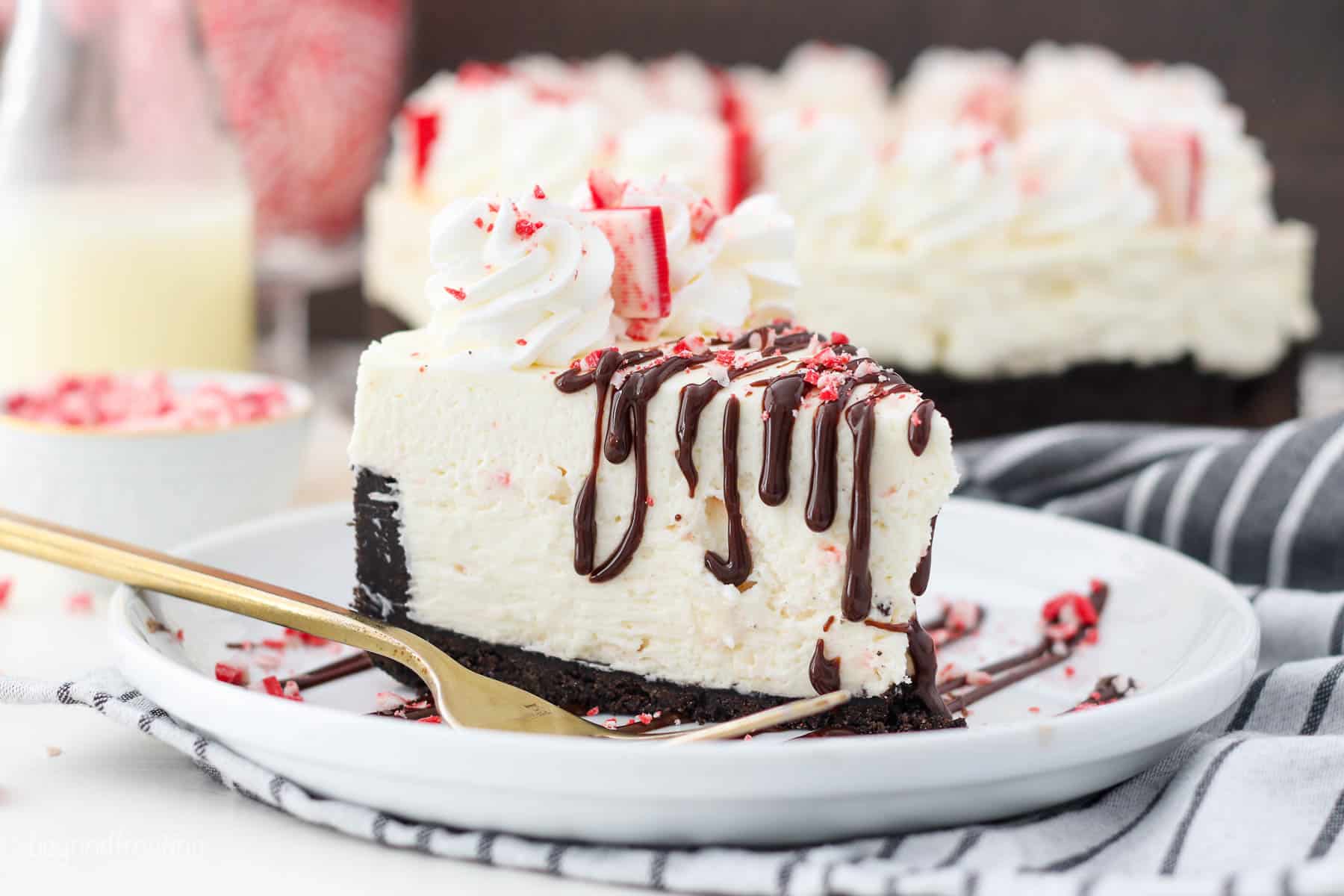 The hardest part is waiting for it to set for a couple of hours before slicing into this White Chocolate Peppermint Bark Cheesecake.
This dessert is absolutely perfect for your holiday parties. It's the type of dessert you can prepare in advance, a day or two ahead of time should be no problem. Any longer than that and you might consider freezing it. In any case, I recommend adding the whipped cream topping just prior to serving.
Happy holidays!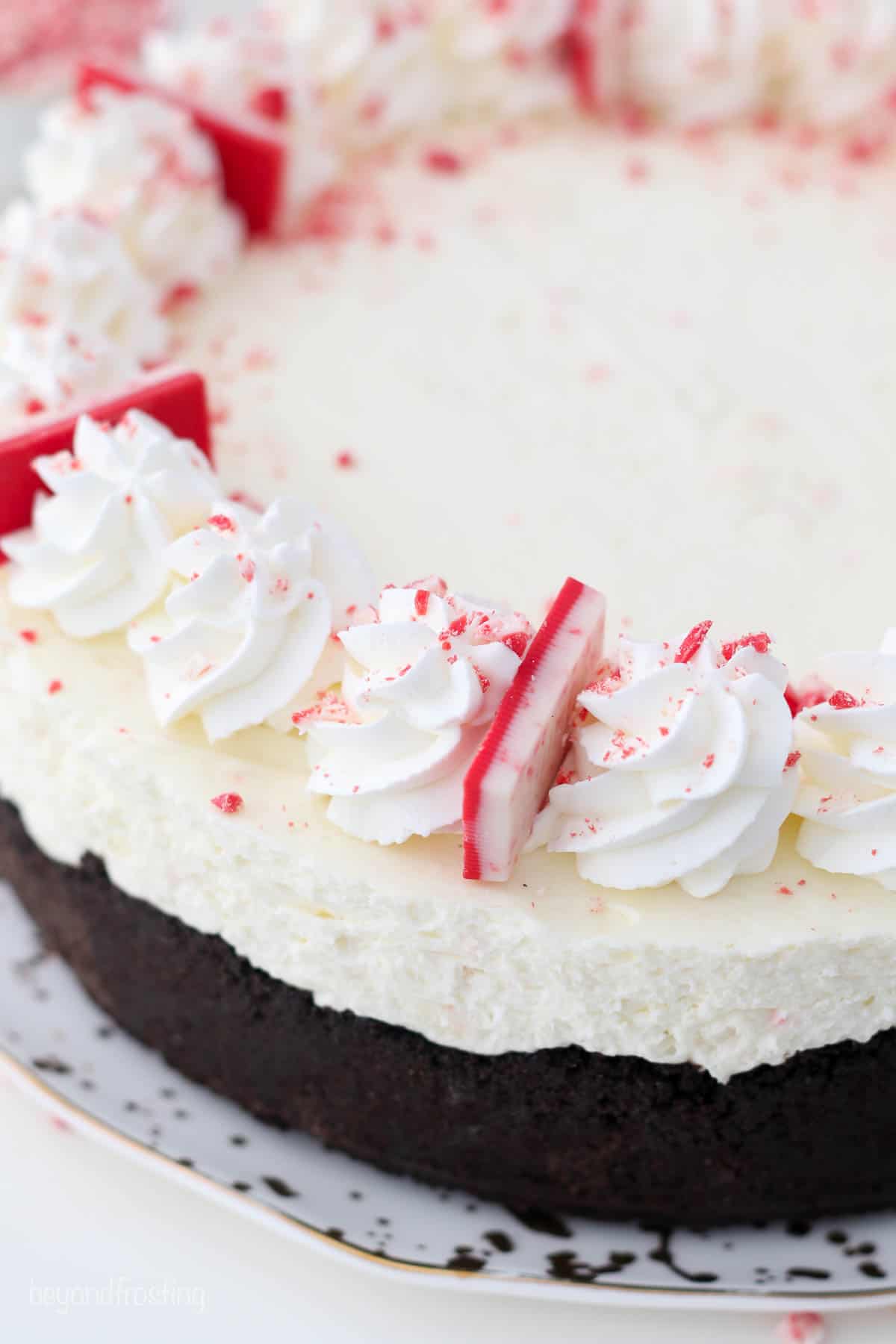 Follow Beyond Frosting:
Facebook | Twitter | Pinterest | Instagram
If you love no-bake recipes, be sure to check out my cookbook, No-Bake Treats!
You might also like:
Peppermint Bark Cheesecake Brownie