This post may contain affiliate sales links. Please see my full disclosure policy for details
This Pumpkin Cheesecake Bars are the perfect blend of tangy cream cheese and spiced pumpkin filling, baked with an oatmeal crust.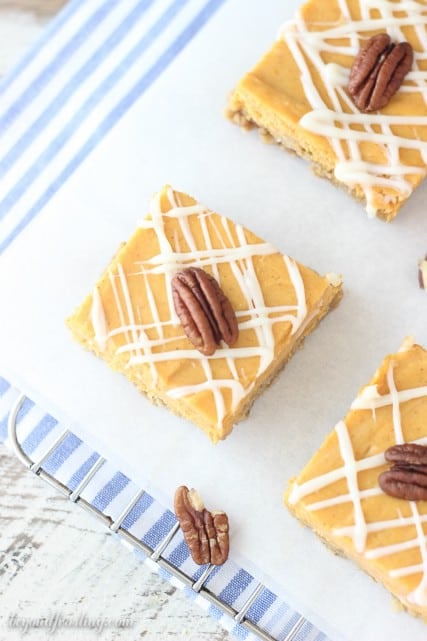 I can NOT believe that it has taken me this long to post a recipe for pumpkin cheesecake bars. I have confessed my love for cheesecake many times, but combined with pumpkin, it is just the BEST! I am so excited to share these Pumpkin Cheesecake Bars with you today.
I am sharing this recipe over at Better Homes and Gardens blog, Delish Dish today. These bars are insane. They are super easy, the filling is rather light and the crust? OH MY GOSH the crust! It's a combination of brown sugar, flour and oats. When I took these bars out of the pan, I cut all the edges off so I could eat the crust.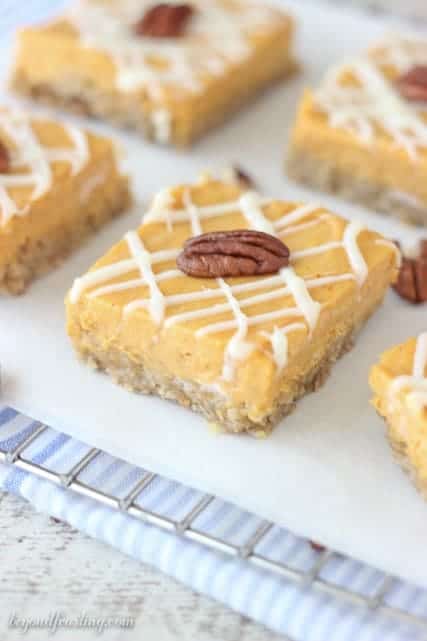 In the past, I have mentioned that baking cheesecakes intimates me. The whole water bath thing and the cracking, it's too much. Despite my undying love for cheesecake, you won't find many traditional baked cheesecake over here. That is why these bars are so perfect! It takes the hard work and guessing out of the equation. Hello cheesecake bars, can we be BFFs?
I've been posting twice a month over at the Delish Dish blog, be sure to check out my other posts: Tiramisu Bread Pudding, Tres Leches Cake, Banana Buttered Rum Cake and Espresso Brownie Pie.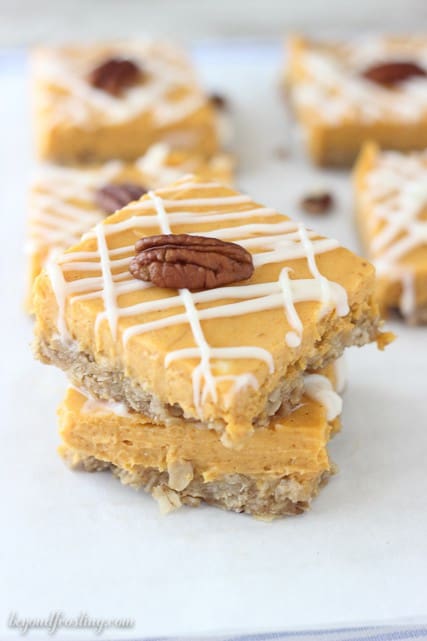 For these Pumpkin Cheesecake Bars you can check out my post at Delish Dish to read about my recipe adaptions or you can skip right to the original recipe. I am so glad I have at least another 5 weeks of total pumpkin acceptance ahead of me!
Keep up with all the happenings. Follow Beyond Frosting:
Facebook | Twitter | Pinterest | Instagram
Visit Beyond Frosting's profile on Pinterest.