This post may contain affiliate sales links. Please see my full disclosure policy for details
Wondering how to make the absolute best sugar cookies? Here are 15 easy tips and tricks that pretty much guarantee your homemade sugar cookies will be perfect. We talk about how to measure the flour, to how thick to make the dough and more!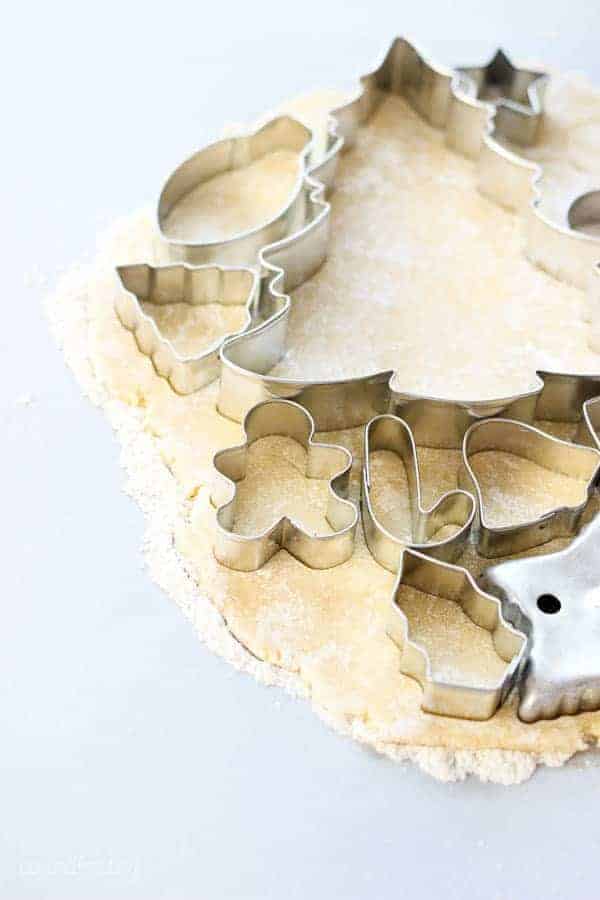 I love making sugar cookies, but I have to admit, about half way through decorating them, I'm kinda over it. It's a lot of work and it's quite messy. But I still love it. Even though I have gone into great detail about how to make sugar cookies, I am quickly summarizing my 15 Tips and Tricks for Perfect Sugar Cookies.
When I was a kid, I looked forward to decorating sugar cookies every year! I helped my mom cut out all the shapes and roll the dough. My brother and I would wait patiently for her to make all the frosting colors and then we would sit down and decorate them together.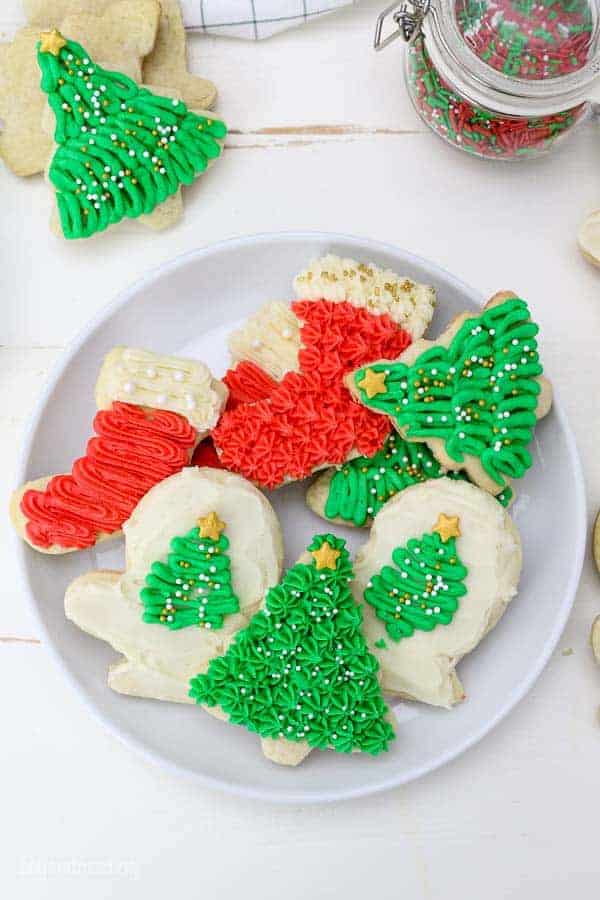 Let's be real, the best parts are eating the cookies (or the dough!). I love the cookies with sprinkles. I know, shocker, right? Almost all of my cookies are decorated with buttercream, I am not really a fan of royal icing, but I do love the look of royal icing. Lucky for you, part two of this post will be some tips and tricks to decorating with buttercream.
Today let's talk about Tip and Tricks for Perfect Sugar Cookies. It's going to be messy. Have a glass of hot chocolate or wine on hand and let's get through a few of these helpful hints together.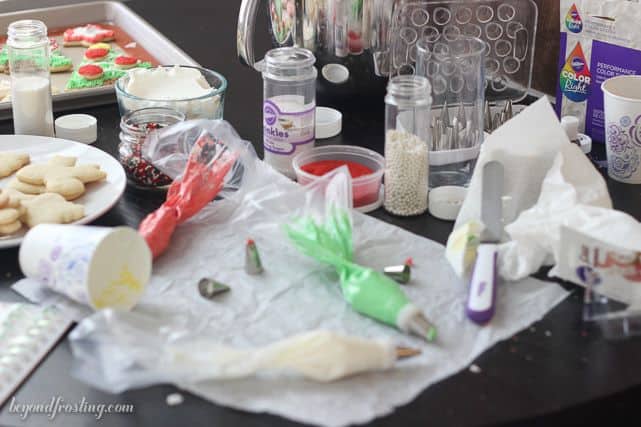 Tip #1: Start your dough with cold butter.
If your butter is too soft, then your dough will be softer and you will have to refrigerate the dough for longer. I like to take my butter out of the refrigerator and soften it in the microwave for 10-15 seconds max. It takes longer to soften in the mixer, but once you mix it with the sugar, it will be good to go.
Tip #2: Measure out dry ingredients if possible
One of the reasons your cookies are too dry or crisp may be because you added too much flour to your dough. I have an inexpensive scale that I use to measure out my flour and my sugar by weight. If you can sift your flour, that's even better.
Helpful tools: Sifter
, Digital Kitchen Scale
Tip #3: Don't over mix!
You aren't making a frosting that needs to be whipped to perfection. Beat your dough at a low-speed until the flour is incorporated. This is a common tip for any baked good. Don't try to mix in the dry flour at the bottom of the bowl. You don't need it! Since you will be handling the dough as you roll it out, you don't want it overworked from the start. It will result it tougher or drier cookies.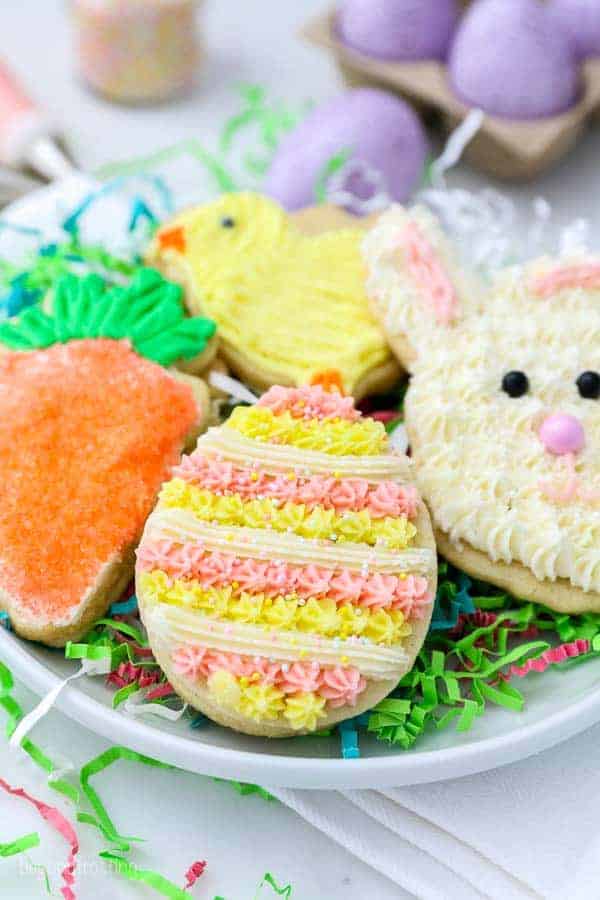 Tip #5: Don't skip out on the refrigeration time
A good dough needs at least 15 minutes to 1 hour in the refrigerator depending on the recipe. This allows the dough to stiffen, which in turn makes it easier to roll out, just like a pie crust recipe. The good thing about sugar cookie dough is that you can actually prepare it in advance and freeze it! This is a huge time saver during the holidays.
Tip #6: A well-floured surface
I always use a silicone baking mat or a large piece of parchment paper (and I tape down the corners). I use a handful of flour on top of the parchment paper, because as your roll out the dough, it will absorb the flour and prevent the dough from sticking to the parchment paper. BUT, after I cut the shapes out and transfer them to a baking sheet, I use a pastry brush to brush away any excess flour. I bake my cookies on a silicone baking mat (preferred) or parchment paper.
Helpful tools: Parchment Paper
or a Silicone Baking Mat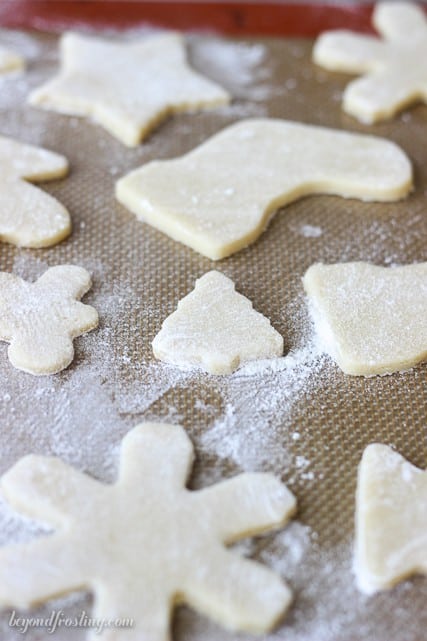 Tip #7: Roll out the dough in small batch
Your dough may need about 10 minutes to rest after you take it out of the refrigerator. Pack and roll it into a disc. It is always easier when you have a manageable amount of dough. I recommend about a softball size or less. You can roll it out two, maybe three times before it get's too soft.
Helpful tools: Rolling Pin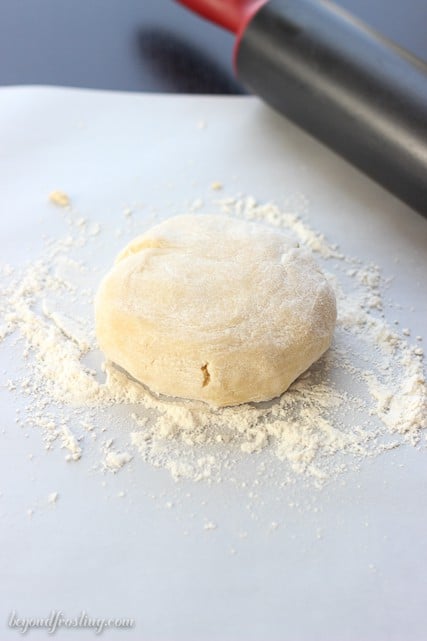 Tip # 8: Flatten, Roll and Rotate
I treat my cookie dough like I treat a pie crust. Slightly flatten the dough in the center, flip it over and rotate to flatten the other edges and continue this process 2-4 times until the dough starts to thin out. This also allows you to see if you need more flour on the surface. Always roll from the center to edge.
Once my dough becomes to soft, after I roll it out 2-3 times, I set any leftover dough aside, and wait until the end to use it again. All those leftover scraps make a lot of good cookies! It just becomes difficult to mix cold dough with soft dough.
Tip #9: Test the cookie dough
This one is just for fun. I always say the total yield of my recipe will vary on how much cookie dough I eat. Eat the cookie dough at your own risk, I know some of you are probably thinking I'm crazy, but that's ok with me.
Tip #10: Thicker is always better
I don't know about you, but I like a good thick sugar cookie that is still soft! I roll out my dough quite thick because when I eat a sugar cookie, I don't want just the frosting. If your dough is thinner on the edges, don't use it. Roll it into the next batch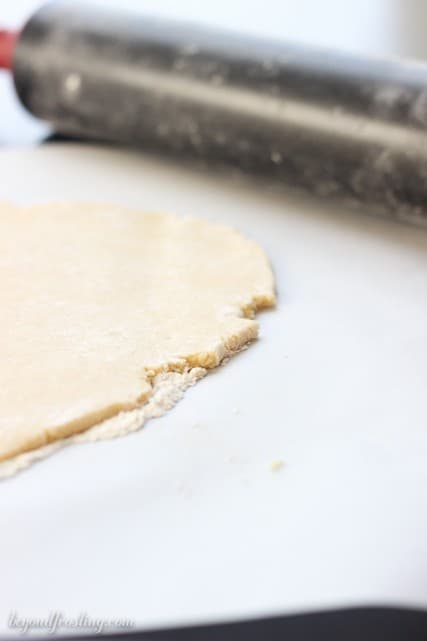 Tip #11: Use your space wisely!
I lay out my cookie cutters over my dough until I don't have any more room left. I just want to be efficient with my space. I have some mini cookie cutters. I love these mini cookies because when I give away plates of cookies, I use these to fill space, usually unfrosted. Or sometimes I send a little container of frosting a long with it and then it becomes Dunkaroos. Do you remember Dunkaroos? The best.
Helpful tools: Christmas Mini Cookie Cutter Set
,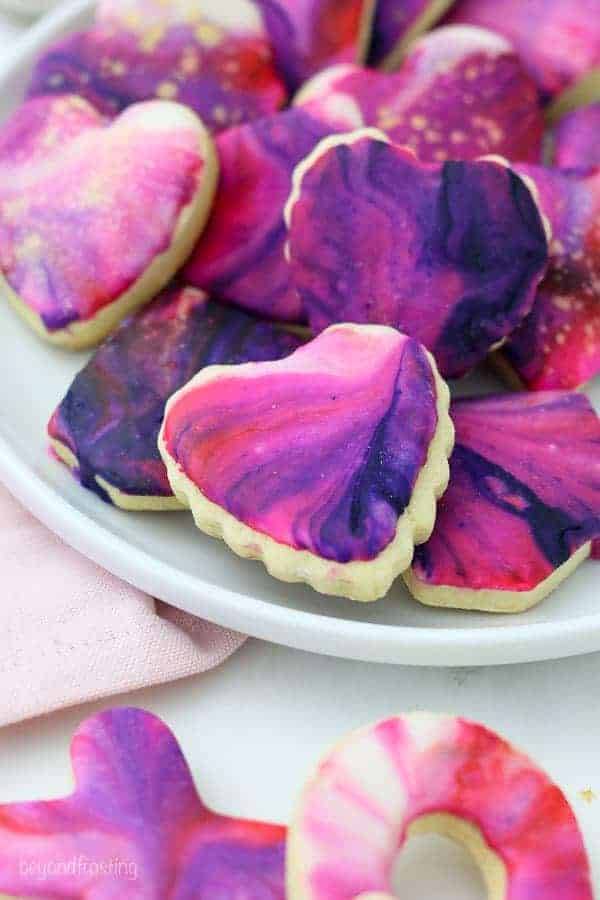 Tip #12: Give it a wiggle
Do you have a cookie that is sticking to the edges? I have seen some people recommend sticking the cookie cutter in flour, but I usually don't do this. Instead I just give the cutter a gentle wiggle to get the cookie cutter out.
If the dough comes out sticking to the cookie cutter, I hold my cookie cutter over my sheet pan and tap my wrist until the dough comes out. If the cookie is ruined, just put it back into your soft dough and re-roll it.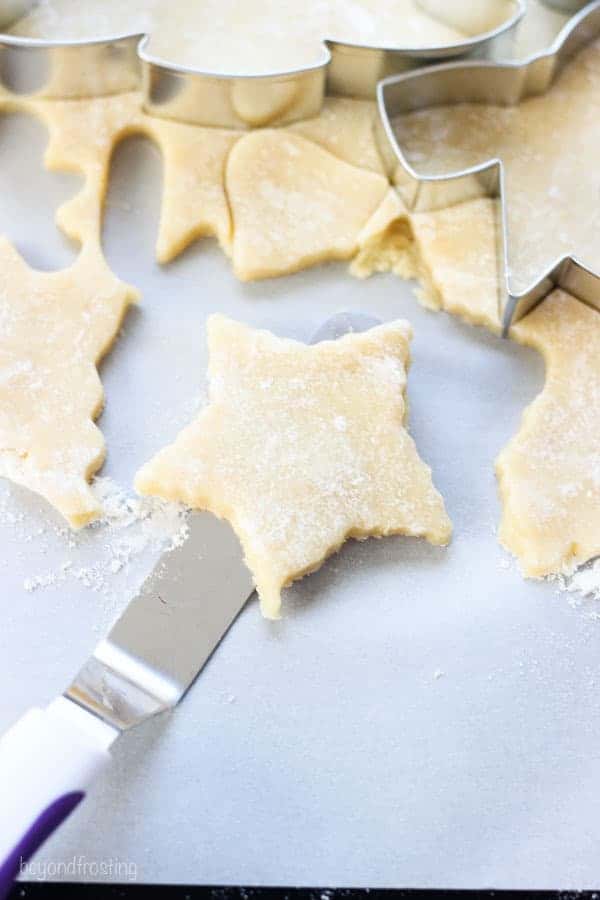 Tip #13: Keep it moving
I only bake one tray at a time, on the top shelf. If I bake 2 trays at a time, my dough doesn't bake the same. Yes, it is slower. But we are talking about making perfect cookies right?
Helpful tools: Calphalon Nonstick Cake Pan- 9 by 13-Inch
Tip #14: Slightly under baked
If the edges of my cookie start to brown, they are over cooked. The recommended baking time on my cookie dough is 10-12 minutes. I always bake it for 9 minutes, because as the cookie cools, it is still sitting on a hot pan.
Once one pan goes in the oven, I have another one ready to go. Always keep it moving. It does help things go faster.
Helpful tools: 3-Tier Cooling Rack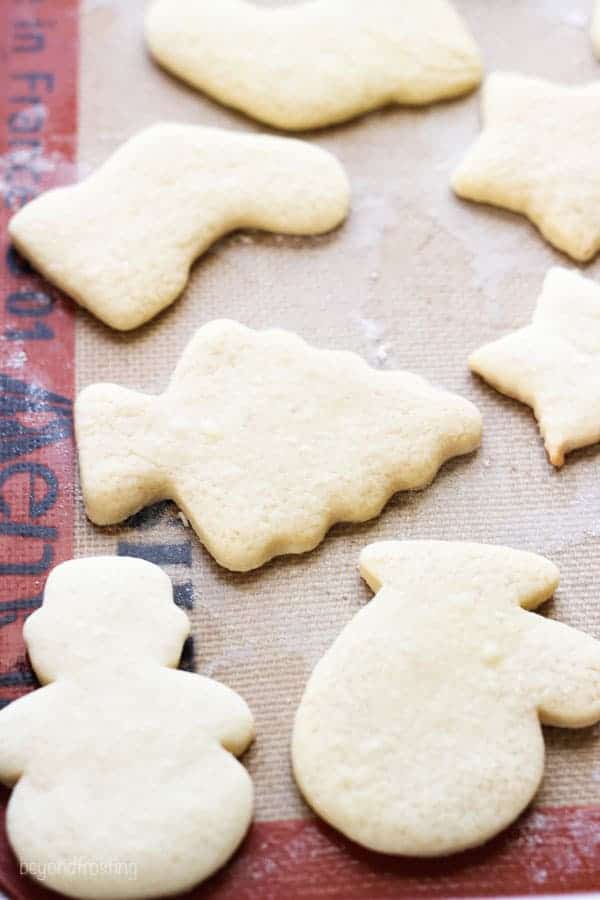 Tip # 15: Bake ahead and freeze
Once my cookies are completely cooled, I freeze them on a sheet pan, and once frozen, I transfer them to a freezer-safe container. When I want to pull some out to frost and serve, I thaw them flat on a baking sheet.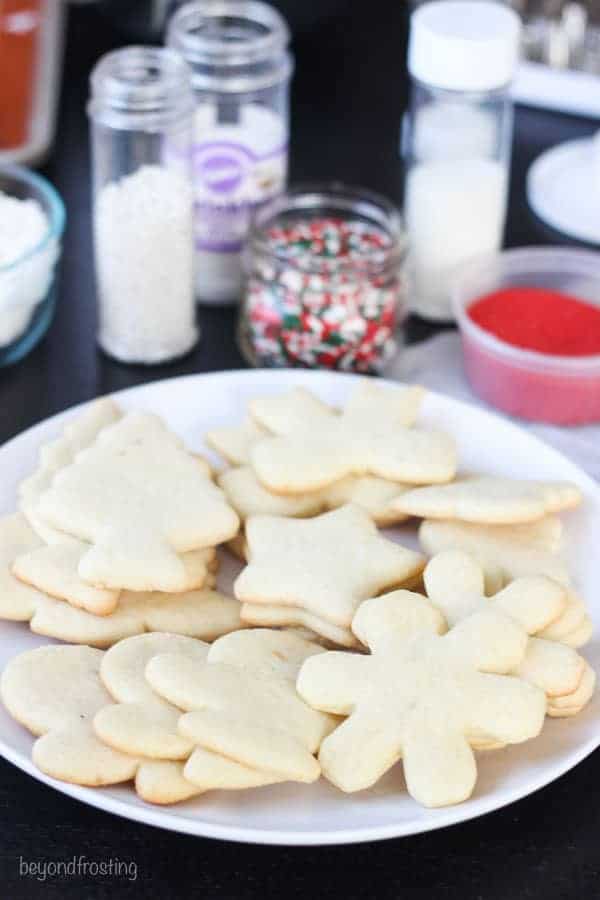 Now I would love to hear from you! What are some tips and tricks that work for you??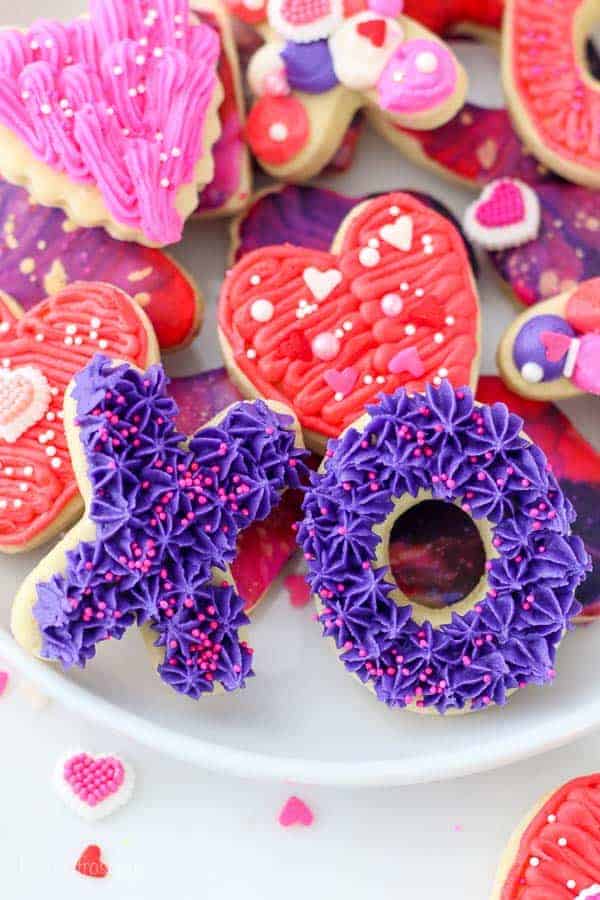 Follow Beyond Frosting:
Facebook | Twitter | Pinterest | Instagram
If you love no-bake recipes, be sure to check out my cookbook, No-Bake Treats!
Print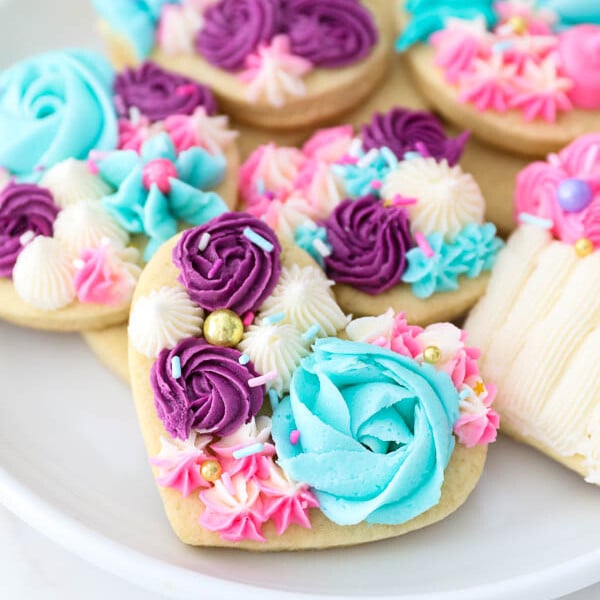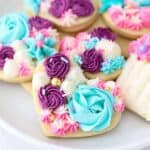 Sugar Cookie Recipe
Author:

Prep Time:

60 minutes

Cook Time:

10 minutes

Total Time:

1 hour 10 minutes

Yield:

24 Cookies
Description
This easy sugar cookie recipe is a soft baked sugar cookie that is not overly sweet and it's perfect with vanilla buttercream.
Ingredients
1/2 cup

(

4 oz

) unsalted butter

1/2 cup

(

95g

) granulated sugar

1/2 tsp

baking soda

2 tablespoons

(30m) milk

1/2 teaspoon

vanilla extract

1

large egg, beaten
Pinch of salt

2

1/2 cups (

350 g

) all-purpose flour
Instructions
Beat the butter and sugar on medium high speed until the sugar is dissolved and creamy.
In a small glass dish, dissolve the baking soda in the milk.
Add baking soda/milk, vanilla and egg to the butter. Beat until all ingredients are well incorporated.
Slowly add the salt and the flour ½ cup at a time and mix until a stiff dough forms.
Form 3 softball size balls of dough. Wrap tightly in plastic wrap then chill in the freezer for at least 15 minutes or in the refrigerator for at least 30 minutes or up to 2 days.
Pre-heat oven to 350°F.
Remove the dough from the fridge and sit at room temperature for 10 minutes. Roll the dough out on a well-floured surface about ¼" thick. Use a cookie cutter to cut the shapes and transfer to a lined baking sheet. Use parchment paper or a baking mat to help prefer browning on the bottom of the cookie.
Bake at 350° for 8-12 minutes. Allow to cool for 5 minutes before transferring to a wire rack to cool completely.
Notes
Dough can be refrigerated for 2 days, otherwise I suggest freezing. Remove the dough from the freezer several hours before you intend to use.
This batch produces about 24 cut out cookies depending on the size of your cookie cutters
This recipe can easily be doubled for a large batch
These are frosted with my perfect vanilla frosting
Nutritional information is not including frosting and is an estimate only.
Category:

Cookies

Method:

Baked

Cuisine:

American
Keywords: cookies, sugar cookies, Christmas cookies, cutout cookies, decorated sugar cookie recipe, how to make sugar cookies