This post may contain affiliate sales links. Please see my full disclosure policy for details
Take a big bite of this Brownie Bottom Brownie Batter Cheesecake! It starts with a layer of fudgy brownie on the bottom and it's topped with a mouthwatering no-bake brownie batter cheesecake, whipped cream and fudge. I'll take any excuse to make this loaded brownie cheesecake!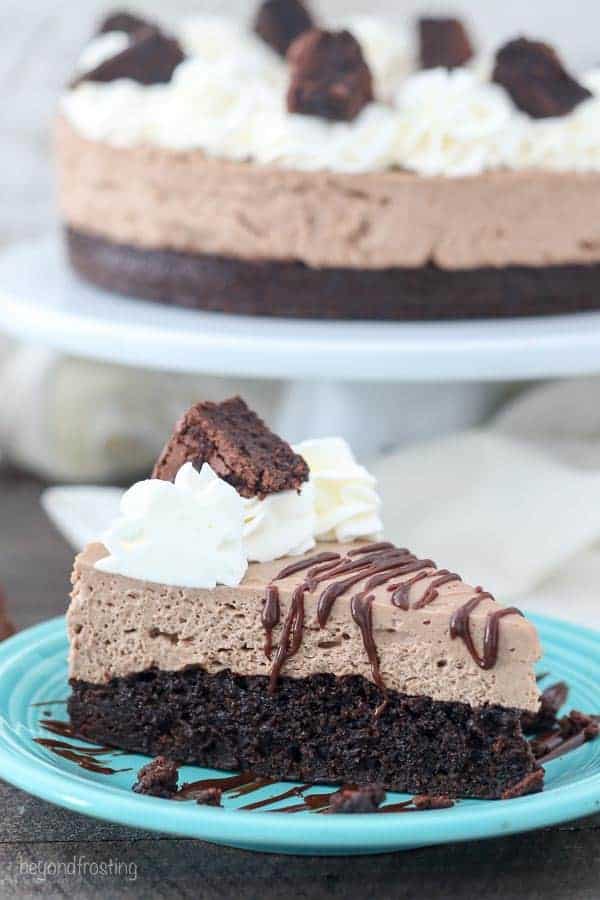 I'll admit I've been holding out on you with this Brownie Bottom Brownie Batter Cheesecake. I wanted to save this one for a more special occasion, but I just couldn't hold out any longer.
You might be asking yourself what's so special about this dessert? Well duh, it starts with a layer of fudgy brownie and then it's topped with amazingness known as brownie batter cheesecake. Say whaaaaaaat? Yes. You heard that right.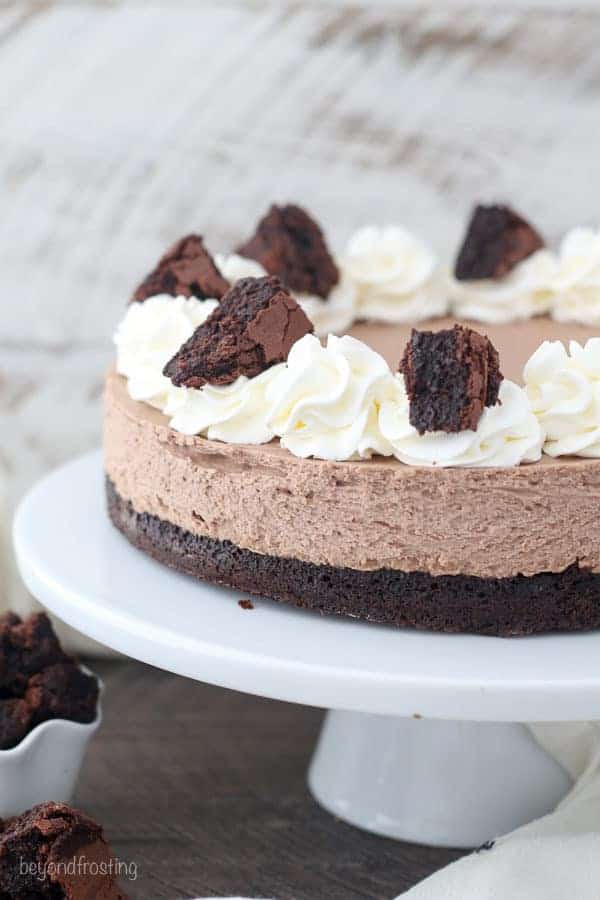 The secret is already out though, because I published the original No-Bake Brownie Batter Cheesecake in my cookbook and my friend Ashley has shared the full recipe for the cheesecake on her website. If you're interested in more, be sure to check out 12 no-bake recipes that have been featured from my cookbook.
I just thought it was time for me to share this glorious creation with you, but I've changed it up a bit and added the layer of brownie on the bottom.
These brownie bottom desserts have sort of become a staple in my kitchen because I am just so in love with the different flavor combinations and creations you can make. I've got everything from Mint Chip to Hot Chocoalte & Caramel.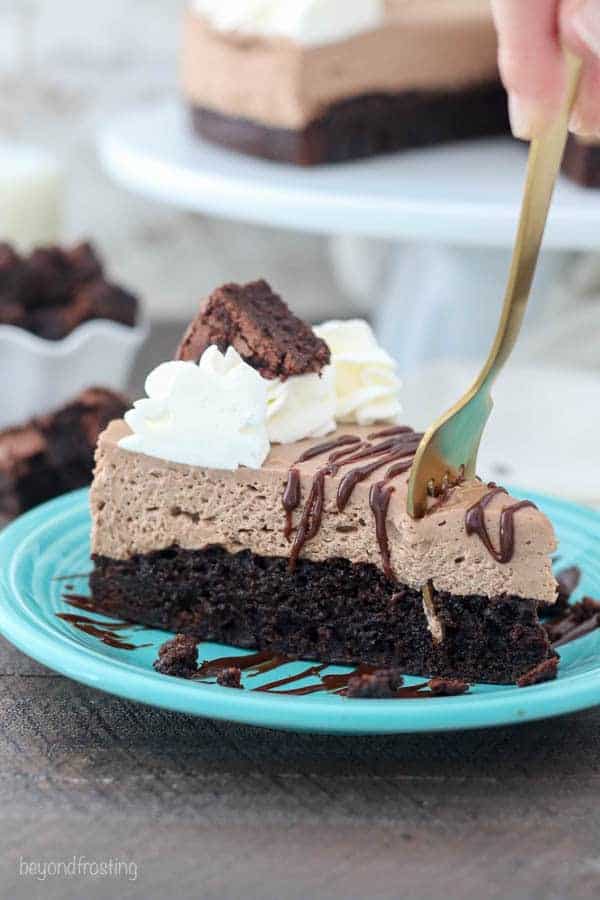 I'd like to think that if I was standing in front of a pastry case, it's unlikely that I'd get just a brownie, but if it's a brownie topped with cheesecake, or some sort of mousse, I would have a very hard time saying no to that!
To bake the brownie layer, you just need a 9-inch springform. If you don't have one, just bake it in a 9-inch square pan instead. It's a good idea to line your pan with parchment paper or a silicone baking mat (yes they make these in 9-inch circles!).
The bottom of the brownie can be very sticky depending on the recipe you're using. For me, I grab a box of a fudgy or dark chocolate brownie mix. Then I bake the brownie according to the recipe on the box, which usually calls for oil, eggs and water.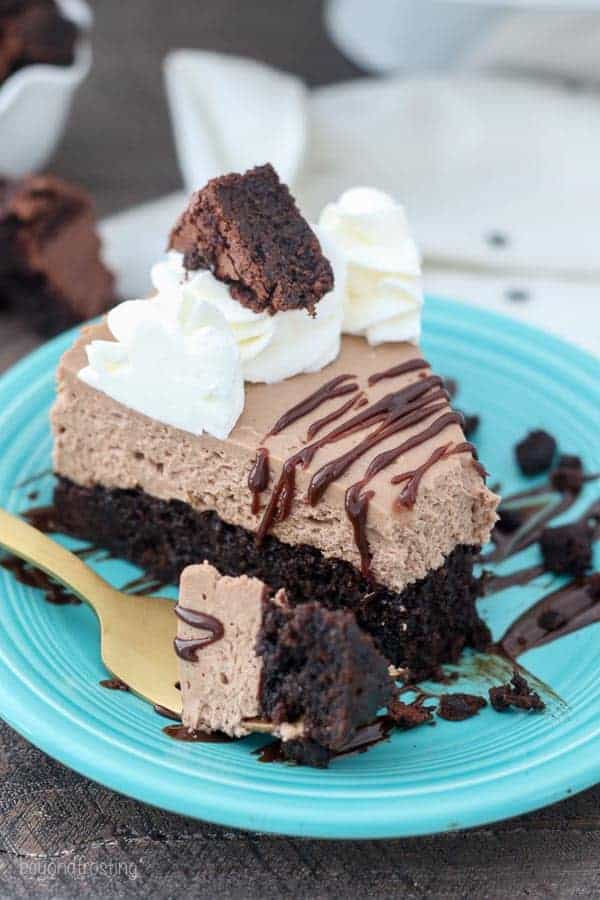 Next comes the layer of no-bake brownie batter cheesecake. For this you need a full-fat cheesecake, homemade whipped cream, vanilla extract, sugar and some dry brownie mix. Brownie mix does contain raw flour, so if you're not comfortable eating raw flour, you can heat treat the brownie mix before adding it to this recipe.
For the whipped cream, we are using a combination of heavy whipping cream and dry brownie mix. It's a brownie batter whipped cream. I do call for gelatin in the whipped cream because I find that it helps add some overall stabilization to the cheesecake. It's super easy to do, just follow the instructions!
Once the brownie has cooled pile on the brownie batter cheesecake and then stick this baby in the fridge for a few hours. You can top this dessert with whipped cream, crushed cookies, sliced brownies or some chocolate ganache drizzled over top. Heck yes.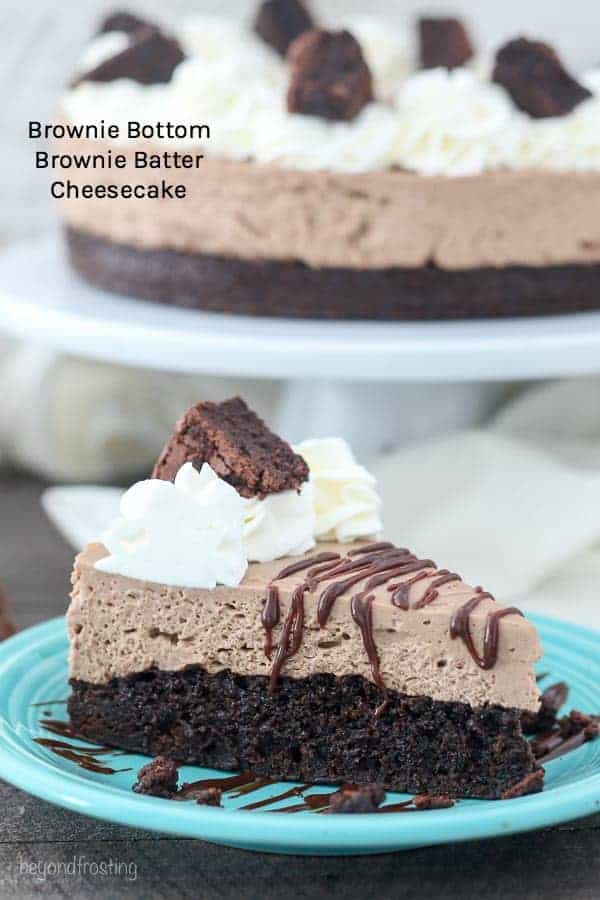 Follow Beyond Frosting:
Facebook | Twitter | Pinterest | Instagram
If you love no-bake recipes, be sure to check out my cookbook, No-Bake Treats!
Print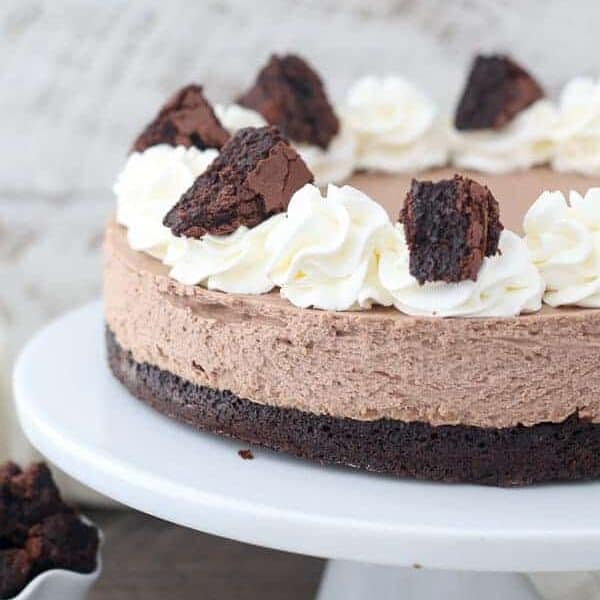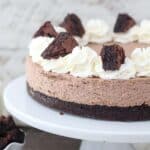 Brownie Bottom Brownie Batter Cheesecake
Author:

Prep Time:

20 minutes

Cook Time:

4 hours

Total Time:

4 hours 20 minutes

Yield:

8-10 slices
Description
Take a big bite of this Brownie Bottom Brownie Batter Cheesecake! It starts with a layer of fudgy brownie on the bottom and it's topped with a mouthwatering no-bake brownie batter cheesecake, whipped cream and fudge.
Ingredients
For the brownie:
1

package fudgy chocolate brownie mix (

19.9 oz

)
Ingredients listed on the box: oil, eggs, water
For the cheesecake
1 tablespoons

cold water

1 teaspoon

gelatin

1 cup

heavy whipping cream

2 cups

+

3 tablespoons

dry brownie mix, divided

16 ounces

cream cheese

1/4 cup

granulated sugar

1 teaspoon

vanilla extract
For the topping
3/4 cup

heavy whipping cream

3 tablespoons

powdered sugar
hot fudge sauce for garnish
Instructions
For the brownie: Preheat the oven to 350°F. Line the bottom of a 9-inch springform pan with parchment paper.
In a medium-sized bowl, combine the brownie mix, with the ingredients listed on the box. Stir until the batter is well combined and there are no dry ingredients left.
Pour the batter into the springform pan and spread evenly. Bake at 350°F for 30-35 minutes until the center is baked but still slightly fudgy. Allow the brownie to cool completely.
In a small dish, combine 1 tablespoon of cold water with 1 teaspoon gelatin. Sprinkle the gelatin over the cold water and allow it to set to a solid.
Microwave the gelatin for 8-10 seconds until it turns back to a liquid, watch closely.
To prepare the whipped cream, place the metal mixing bowl and whisk in the freezer for 5-10 minutes.
Pour the heavy whipping cream into the chilled bowl and use an electric mixer to beat the heavy cream on medium-high speed until the cream starts to thicken. Slowly add 3 tablespoons of brownie mix and the liquid gelatin and continue beating on high speed until stiff peaks form. Set the whipped cream aside.
Beat the softened cream cheese on medium-high speed for 2-3 minutes, until the cream cheese is free of lumps, scraping the bowl occasionally. Next add the granulated sugar and vanilla extract and beat until incorporated.
Then add 2 cups of dry brownie mix and beat for about 90 seconds until the brownie mix is well incorporated into the cheesecake.
Finally, fold the prepared whipped cream into the cheesecake batter and mix until well combined. Pour the cheesecake batter over the cooled brownie. Cover and refrigerate for 3-4 hours.
For the topping: Prepare a second batch of whipped cream as instructed above. Use a large pipping bag fitted with an open star tip to pipe the boarder of the cheesecake. Drizzle with hot fudge.
Notes
For the full recipe you will need 2 boxes of brownie mix
If you don't have a springform pan, this dessert can be made in a 9-inch square pan
You might also like:
Brownie Bottom Oreo Mousse Pie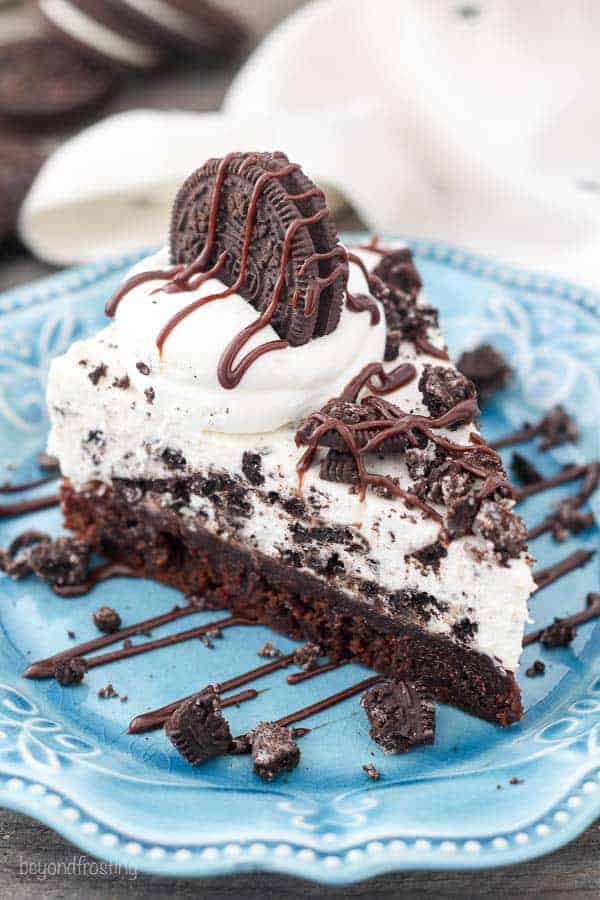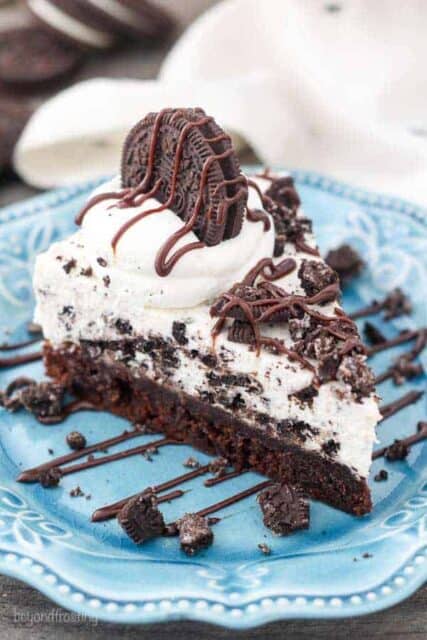 Triple Chocolate Brownie Mousse Cake