This post may contain affiliate sales links. Please see my full disclosure policy for details
This No-Bake Nutella Cheesecake is the dreamiest dessert. It's a buttery Oreo crust filled with a silky smooth Nutella cream cheese filling, then topped with homemade chocolate whipped cream and crushed Ferrero Rocher candies!
Easy No-Bake Nutella Cheesecake Recipe
We probably all know by now that I have a soft spot for no-bake cheesecakes. I also, in fact, have a soft spot for Nutella. Put a jar in front of me and it doesn't stand a chance…especially if there's fruit involved.
This No-Bake Nutella Cheesecake is the perfect way to feed both cravings. A rich and creamy Nutella filling is nestled inside an Oreo cookie crust, then topped with Ferrero Rocher candies, homemade chocolate whip cream, and a drizzle of melted Nutella.
The texture of this cheesecake is pretty spot on. It's light and airy and sets perfectly. Whether you're looking to avoid the oven on a hot summer day, or prepping for a fancy holiday party, leave room on the table for a Nutella cheesecake. If you find yourself looking for more Nutella desserts, this Ferrero Rocher Cake with Nutella frosting is also to-die-for.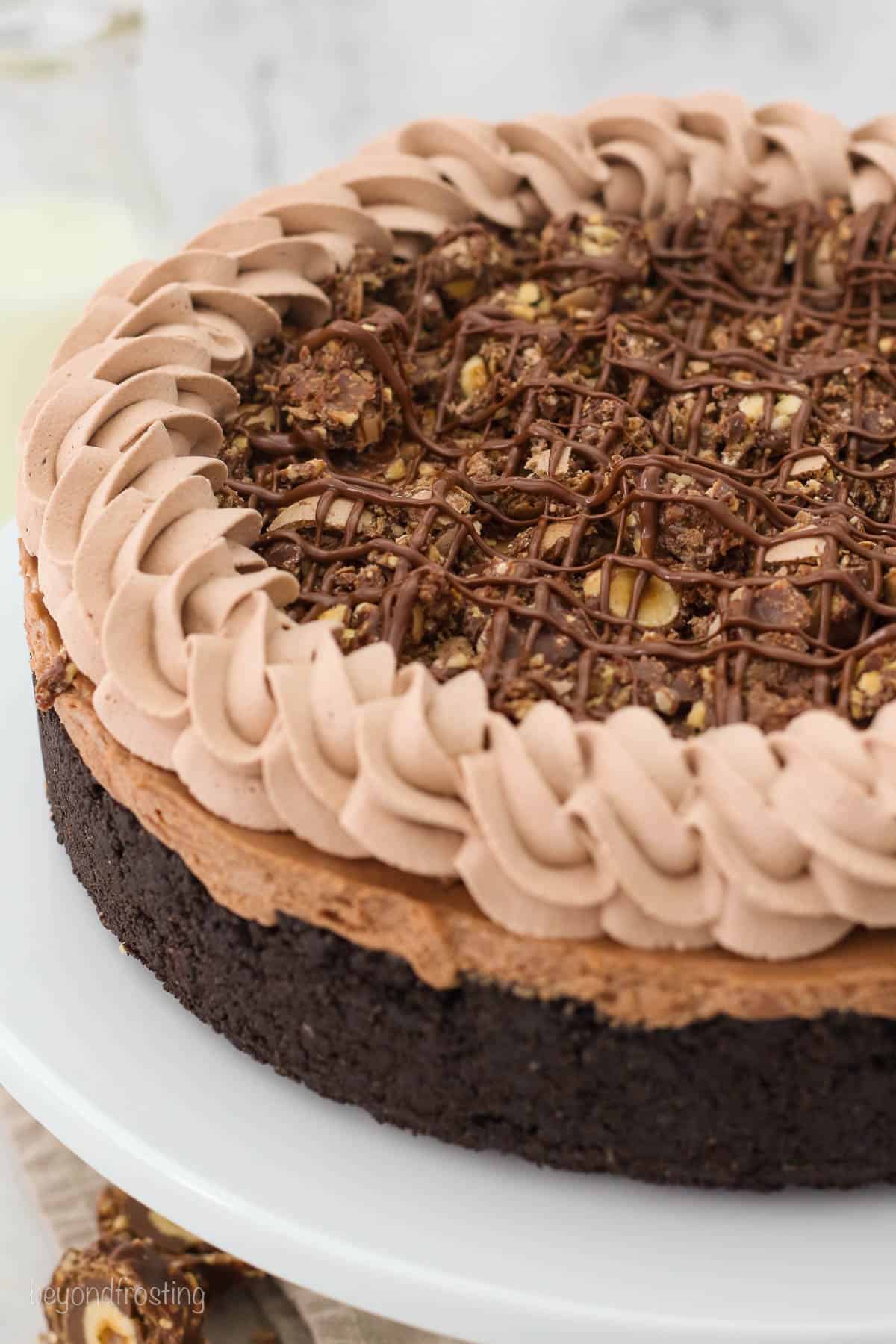 A Few Key Ingredients
Find the full list of ingredients at the very bottom of this post in the recipe card.
Oreos – you'll need one package of regular Oreos; not double stuffed.
Cream Cheese – make sure you get full-fat blocks of cream cheese. Lighter options won't yield the same texture.
Nutella

– one

7-ounce jar is plenty!
Ferrero Rocher Candies

– these are optional but do add delicious texture to each bite.

Cocoa Powder – you can use any type you have on hand for the topping.
How to Make No-Bake Nutella Cheesecake
Start by prepping a 9-inch springform pan. I prefer to line the bottom with parchment and I also love cake collars to wrap around the edges. If you don't have cake collars, try lightly greasing the edges with a paper towel and a little bit of cooking spray. Here's some visuals and tips for preparing springform pans.
Make the Crust:
Grind up the whole Oreo cookie into fine crumbs with a food processor then combine it with the melted butter. Once well combined, transfer to a 9-inch springform pan and press firmly into the bottom and up the sides to make the crust then chill in the fridge while you prepare the filling.
Make the Filling and Assemble:
Make the whipped cream. First, chill a bowl for a few minutes to keep the cream nice and cold. When ready, beat the cream until soft peaks form. Next, add powdered sugar and beat until stiff peaks form and the powdered sugar is incorporated. Set aside.
Make the filling

: In a separate bowl, beat the cream cheese until smooth and free of lumps, then add in sugar, vanilla, and Nutella. Beat this together until it's very well combined, then gently fold in the prepared whip

cream until the two are well mixed.
Assemble and chill: Spread the filling evenly into the prepared crust, then chill in the fridge for 3-4 hours minimum.
Garnish: Before serving, prepare another batch of whip cream using heavy cream, powdered sugar, and cocoa powder. Decorate the cheesecake using a 1M piping tip, then layer on chopped candies and drizzle with a little melted Nutella.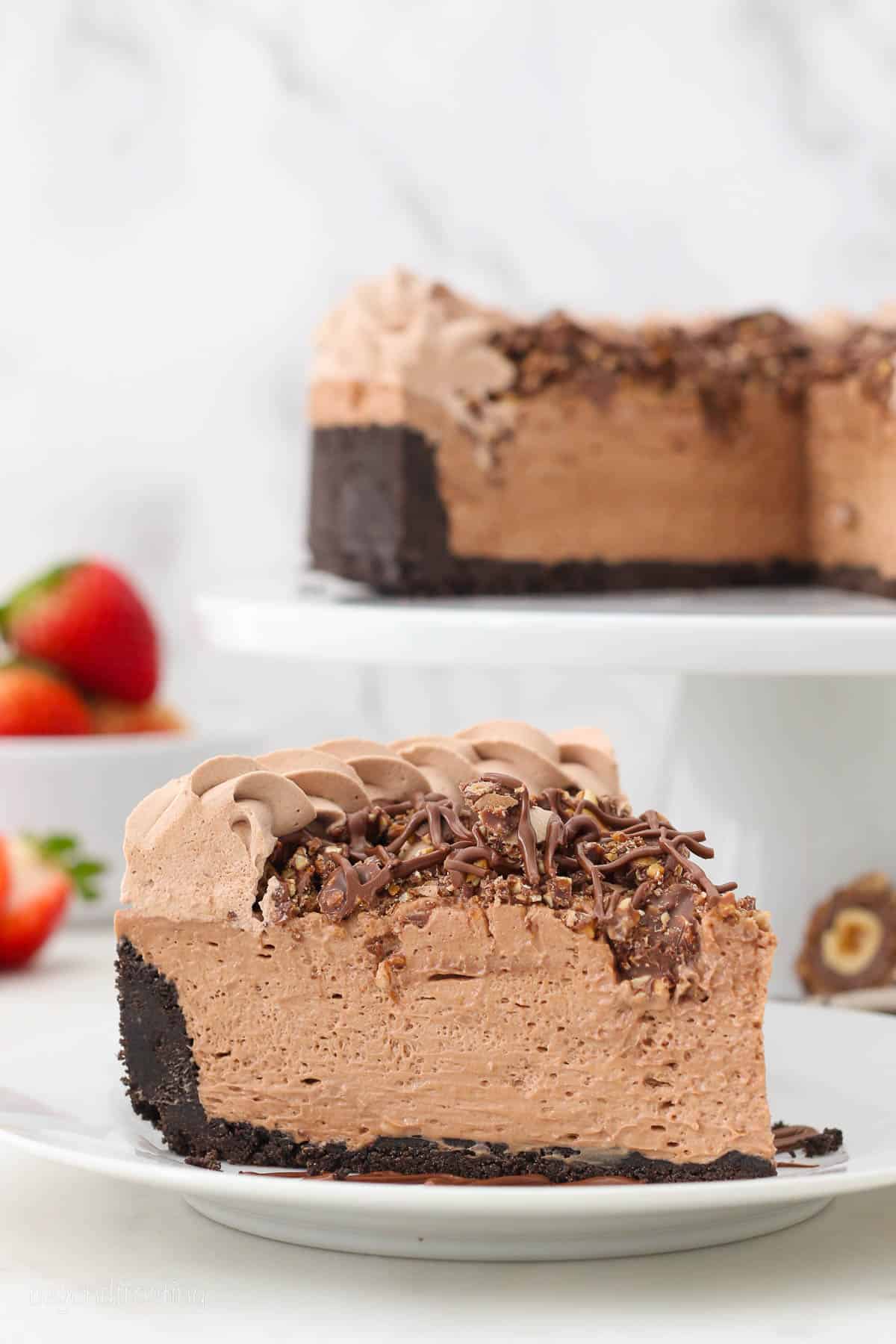 Should You Bake the Crust of a No-Bake Cheesecake?
Nope! There's no need. The Oreo crust holds up just fine without baking. Once it's assembled, I do like to stick it in the fridge or freezer while I make the filling just to make sure it's nice and firm first. This makes it easier to spread the filling without breaking the crust apart.
Why Didn't My Cheesecake Set?
Chill time: This no-bake cheesecake needs a minimum of 3-4 hours in the fridge to fully set. Depending on your fridge and certain conditions, it may need a little bit longer.
Weak whipped cream: If the whipped cream is improperly made, meaning that it's wilting or weak when folded into the cheesecake batter, it likely will affect how the cheesecake sets.
Incorrect ingredients: Double-check that you are using a full-fat block/brick of cream cheese. Not the whipped cream cheese or any low or non-fat options.
Recipe Tips and Notes
Don't have a springform pan? You can prepare this in a deep dish pie plate.
Ingredient temperatures. Room-temperature cream cheese and Nutella will better incorporate together. Likewise, be sure to keep the heavy cream cold so that is can properly be whipped.
No Ferrero Rocher? No problem. You can swap them out for crushed cookies, chopped hazelnuts, fresh fruit, or just leave them off.
Add toppings right before serving. It's always my preference to add the toppings the day I plan to serve it. I also like to remove the edges of the springform pan first, making it easier to decorate.
To cut clean slices, run a sharp knife under warm water, dry it off, then cut. Repeat between slices!
Swap out the crust. If you'd prefer, you can also make this with a graham cracker crust.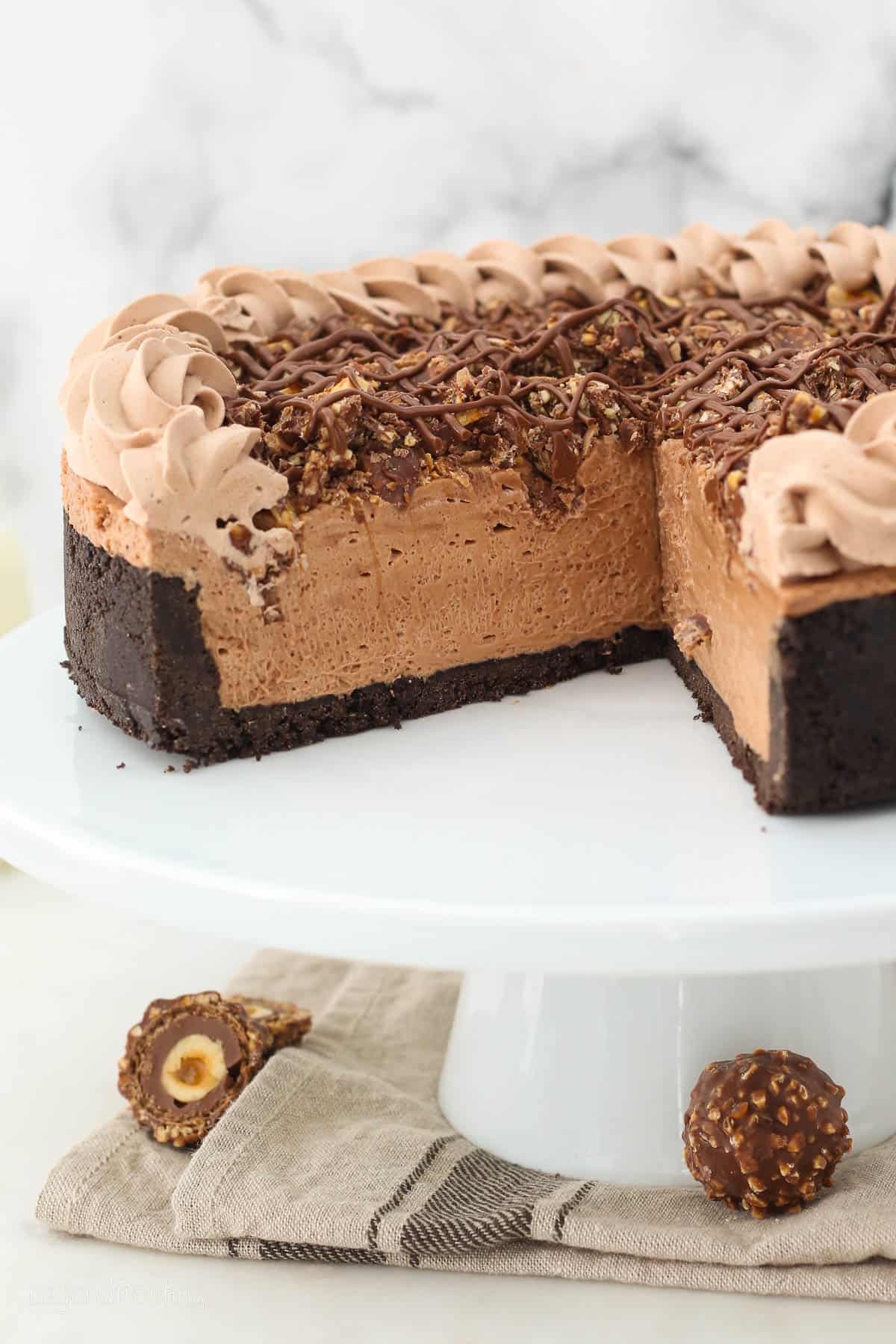 Preparation and Storage
As it turns out, no-bake cheesecake is a great make-ahead dessert! You can assemble it without toppings and store it covered in the fridge for up to 2 days OR you can wrap it tightly in plastic wrap and keep it in the freezer for up to 3 months. When you're ready to serve, thaw overnight in the fridge if frozen, add the toppings, then dig in.
Cheesecakes are required to be refrigerated and are not intended to be left out in any type of warm weather for extended periods of time. Any leftovers will last in the fridge for up to 3 days.
Print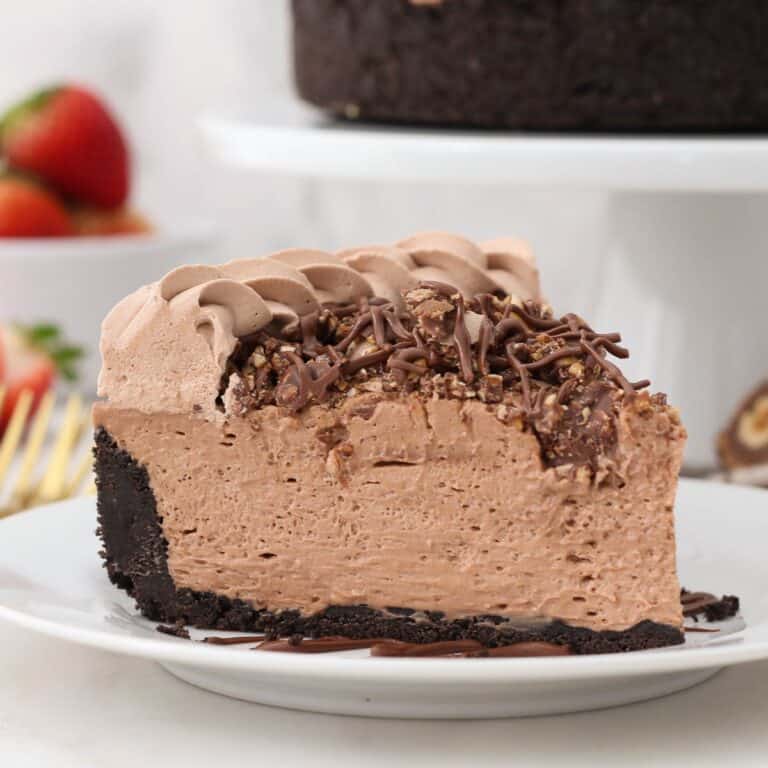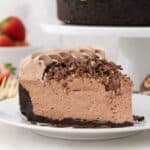 No-Bake Nutella Cheesecake Recipe
Author:

Prep Time:

30 minutes

Chill Time:

4 hours

Total Time:

4 hours 30 minutes

Yield:

10-12 slices
Description
This dreamy, No-Bake Nutella Cheesecake is a silky-smooth no-bake cheesecake filling loaded with creamy Nutella hazelnut spread and topped with crushed Ferrero Rocher candies and a chocolate whipped cream.
Ingredients
For the crust
1

package (14.3 oz) Oreos

½ cup

(

8 tablespoons

) unsalted butter, melted
For the filling
1 ¼ cups

(295ml) heavy whipping cream, cold

¾ cup

(

98g

) powdered sugar

16 ounces

(

452g

) full-fat cream cheese, at room temperature

¼ cup

(

48g

) granulated sugar

1 teaspoon

(5ml) vanilla extract

1 cup

(

180g

) Nutella spread, at room temperature
For the topping
3/4 cup

(177ml) heavy whipping cream, cold

1

heaping (7g) tablespoon cocoa powder

2 tablespoons

(

16g

) powdered sugar

6

–

8

Ferrero Rocher candies, finely chopped (optional)

3 tablespoons

(

34g

) Nutella spread, at room temperature
Instructions
For the Crust:
Prepare a 9-inch springform pan by lightly greasing the edges of the pan with cooking spray, and then wiping gently with a paper towel. Line the bottom of the pan with parchment paper.
Grind the cookies into a fine crumb using a food processor or blender. Combine with the melted butter and stir until the crumbs are well coated.
Pour the crumbs into your springform pan and press firmly into the bottom and up on the sides to create a thick crust. Refrigerate the crust while you are preparing the filling.
For the Filling:
Prepare the whipped cream. Place the mixing bowl and whisk attachment in the freezer for 5 to 10 minutes to chill. Pour 1 ¼ cups heavy whipping cream into the chilled bowl and use an electric mixer to beat the heavy cream on high speed until the cream thickens to soft peaks. Add the powdered sugar and continue beating on high speed until stiff peaks form. Set the whipped cream aside.
Beat the cream cheese until it's completely smooth and free of lumps, scraping down the bowl as needed. Next, add the granulated sugar and vanilla extract and continue beating until smooth. Then add the Nutella, beating until all ingredients are well combined.
Finally, slowly fold in the whipped cream using a spatula and mixing until it's completely incorporated. Pour the filling into the prepared crust, spreading evenly. Refrigerate for 3-4 hours minimum.
For the Topping:
Prepare another batch of whipped cream. First chill the bowl, then beat the heavy cream on medium-high speed until it reachs soft peaks. Add the cocoa powder and powdered sugar and continue beating on high speed until stiff peaks form.
Decoare the borders of the cheesecake with whipped cream using a 1M piping tip. Garnish with chopped Ferrero Rocher candies and drizzle with Nutella. To soften the Nutella, microwave for approximately 30 seconds and stir until it runs off your spoon.
Notes
Storing and Freezing
To freeze: Tightly cover the pan with plastic wrap, twice and freeze for up to 3 months. Thaw in the refrigerators overnight. It's best to add the garnishes prior to serving. Once refrigerated, it's best served within 3 days.
One 7-ounce jar of Nutella is more than enough for this recipe
Category:

Cheesecake

Method:

No-Bake

Cuisine:

American
Keywords: Nutella Cheesecake, Chocolate Cheesecake, No-Bake Cheesecake, Cheesecake Recipe
More No-Bake Cheesecakes
This recipe originally appeared on Food Fanatic.