This Pumpkin Layer Cake with Cinnamon Honey Mascarpone Frosting is layers of a light and fluffy homemade pumpkin cake that is full of spiced pumpkin flavor. It's finished off with a cinnamon honey mascarpone frosting which is a delicate balance of sweetness and spice.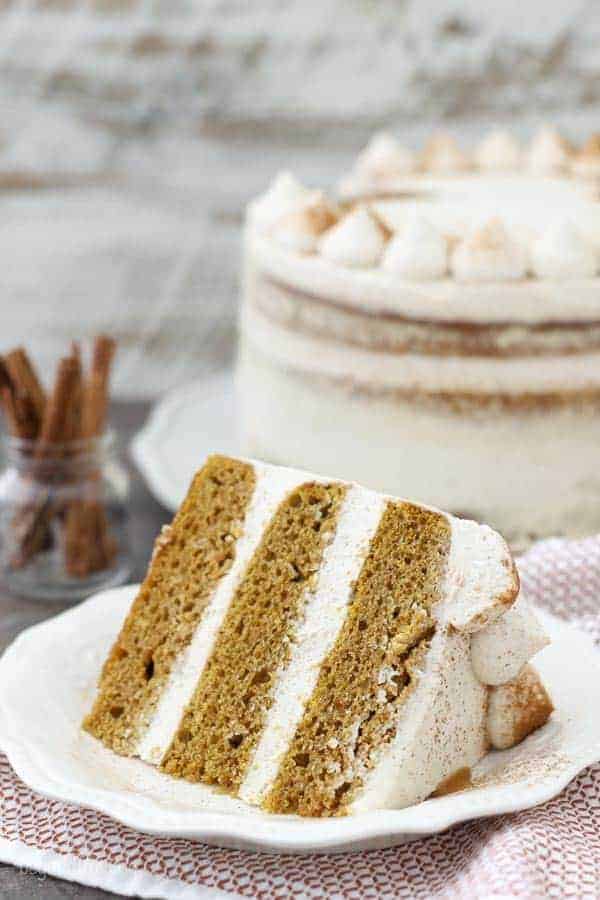 You'll never hear me say that I am tired of pumpkin recipes, it's surely one of my favorite flavors to eat. And because society has decided that there's only about 3 months out of the year that are fit for pumpkin recipes, I am going to soak it all up.
Ever since making my Moist Pumpkin Cupcakes, I knew there would be more pumpkin cakes and cupcakes in the future. We're starting with this Pumpkin Layer Cake with Cinnamon Honey Mascarpone Frosting– a mouthful in more ways than one.
The layers of homemade pumpkin cake are light and fluffy, and full of spiced pumpkin flavor while the cinnamon honey mascarpone frosting offers a delicate balance of sweetness to this recipe.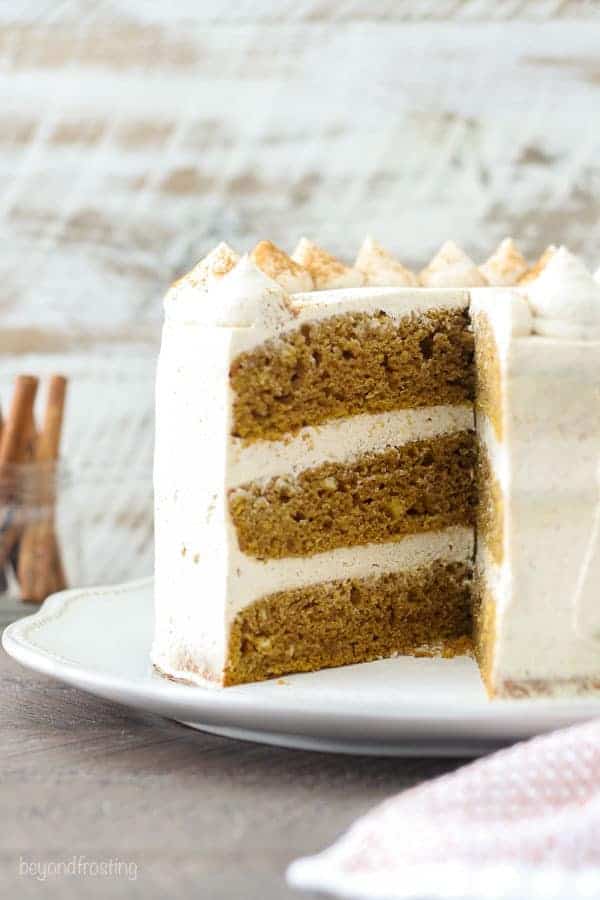 The pumpkin cake is quite easy, and since it's an oil-based cake recipe, you don't have to waste any time waiting for the butter to come to room temperature.
Since the cake batter is heavier, it will not rise quite as much, but I also like to use bake even stripes when I am baking cakes so that my cakes do not dome too much. It's such a shame to waste all that cake!
Once your cake is baked and cooled, it's time to make the frosting.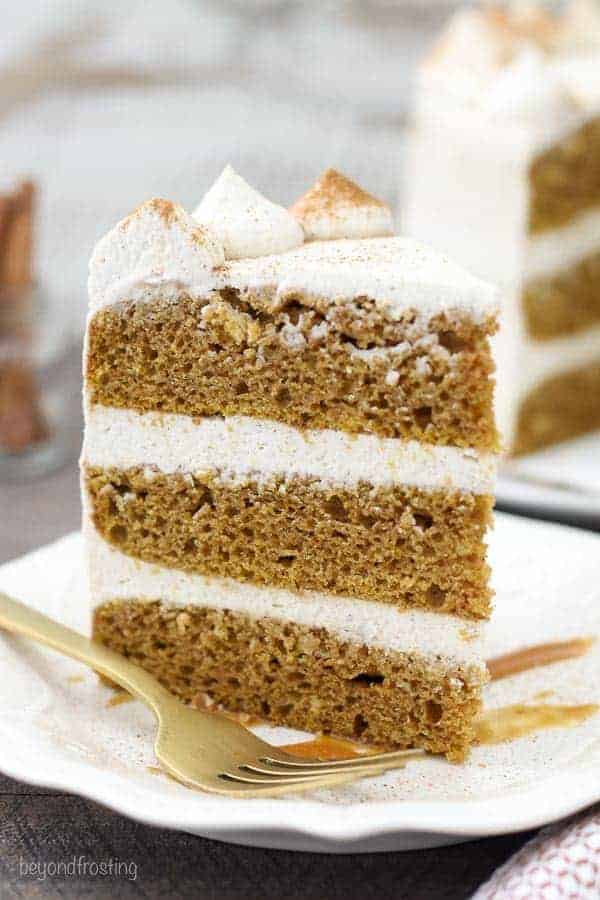 I debated about the type of frosting to use for this recipe for quite some time. Most pumpkin cakes or cupcakes usually come with some sort of cream cheese frosting and I am totally not opposed to that. However, I just wanted something a little different for this cake.
Over the summer while dining in Las Vegas, my pancakes were served with a honey mascarpone whipped cream, which I almost enjoyed more than the pancakes themselves! I knew this would make a killer frosting one day.
This cake was the perfect opportunity for the honey mascarpone frosting. The cinnamon and brown sugar were a late, but welcomed addition.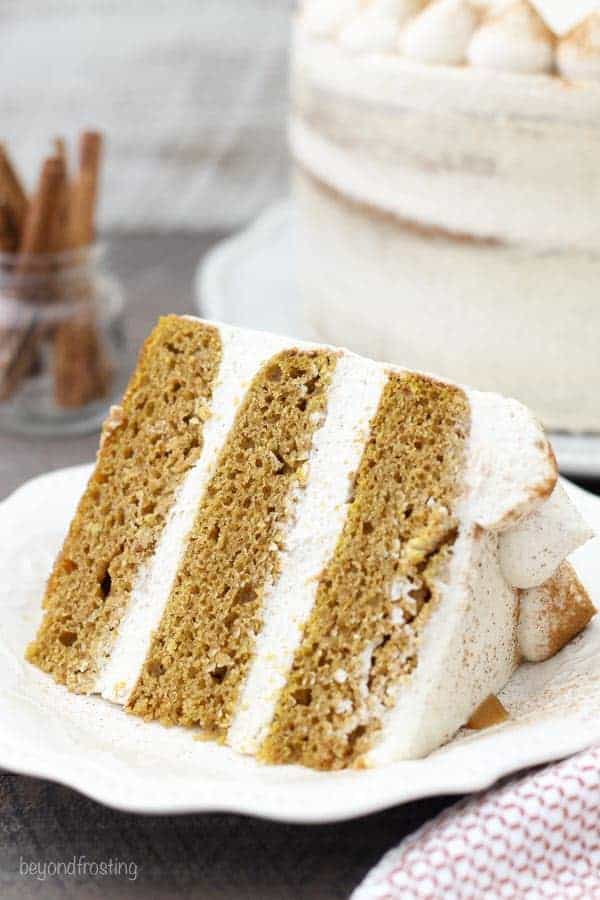 This frosting has a subtle sweetness that allows the cake flavor to really shine through, but then it finishes with the cinnamon spiced whipped cream texture. It's light and airy, just as you would expect a whipped cream frosting to be.
Mascarpone whipped cream is fairly easy to make. First beat the mascarpone together with the honey, brown sugar, cinnamon and vanilla extract. Once combined, you will slowly pour in the heavy whipping cream while beating at a low speed.
The mascarpone will combine with the heavy cream to cream to make a liquid consistency. Then it's time to add any remaining heavy cream and increase the speed to beat the frosting until soft peaks form. I added a little bit of powdered sugar for sweetness and stability.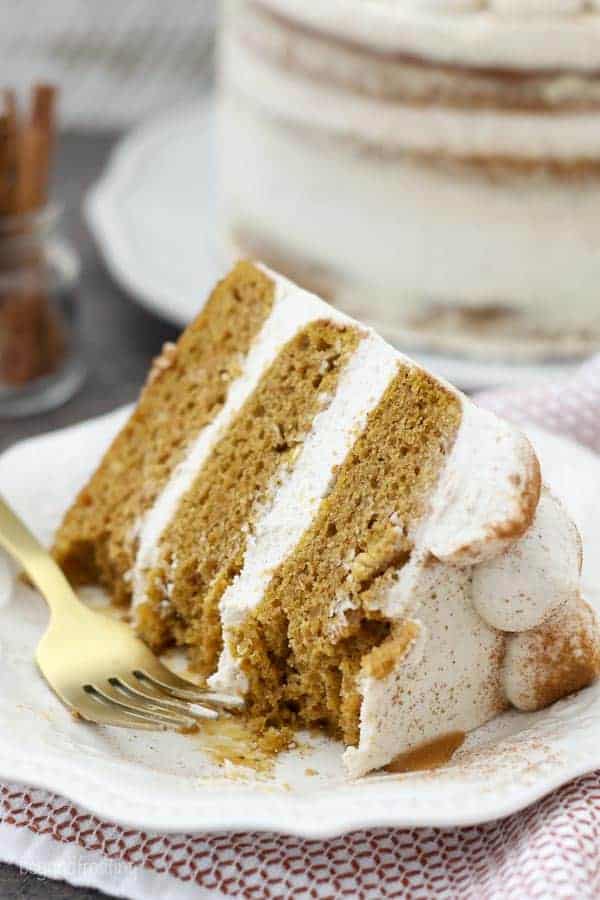 I decided to give this cake a most rustic look and add only a thin layer of frosting to the outside edge, but there's plenty of frosting in the middle of this cake.
To garnish, I used some leftover frosting and a large open round tip to pipe small florets, which I sprinkled with cinnamon.
Overall, I am  SUPER happy with how this cake turned out, and because it's not overly sweet, I feel like I could get  away with eating it for breakfast. What do you think?
Follow Beyond Frosting:
Facebook | Twitter | Pinterest | Instagram | Bloglovin | Google+
If you love no-bake recipes, be sure to check out my cookbook, No-Bake Treats!
Don't miss a thing, subscribe to get recipes delivered to your inbox!
Print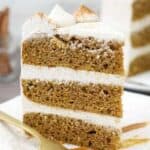 Pumpkin Cake with Cinnamon Honey Mascarpone Cake
---
Author:

Prep Time:

45 minutes

Cook Time:

20 min

Total Time:

1 hour 5 minutes

Yield:

8-10 slices
Description
This Pumpkin Layer Cake with Cinnamon Honey Mascarpone Frosting is layers of a light and fluffy homemade pumpkin cake that is full of spiced pumpkin flavor. It's finished off with a cinnamon honey mascarpone frosting which is a delicate balance of sweetness and spice.
---
Ingredients
For the cake
1 ½ cups light brown sugar
½ cup vegetable oil
3 large eggs
2 tablespoons maple syrup
2 teaspoons vanilla extract
1 cup pumpkin puree (not pumpkin pie filling)
2 cups all-purpose flour
2 teaspoons pumpkin pie spice
2 teaspoons cinnamon
1 ½ teaspoons baking powder
¾ teaspoon baking soda
¾ teaspoon salt
¾ cup milk (I use nonfat)
For the frosting
16 ounces mascarpone cheese, cold
3 tablespoons honey
1 tablespoon brown sugar
2 teaspoon vanilla extract
1 ½ teaspoons cinnamon
2 ¼ cups heavy whipping cream
½ cup powdered sugar
---
Instructions
For the cake: Preheat the oven to 350°F. Prepare 3 8-inch round baking pans, line the bottom with parchment paper and grease the sides. Prepare your bake even stripes if desired.
In a large mixing bowl, combine the sugar, vegetable oil, eggs, maple syrup and vanilla extract. Beat on medium speed until the eggs and oil are well incorporated and the batter is lighter in color, about 2 minutes. Scrape down the bowl as needed.
Next mix in the pumpkin and beat until well combined.
In a medium sized bowl, combine all remaining dry ingredients. Then, add half the dry ingredients to the batter followed half the milk and beat until it starts to combine.
Finally add the remaining dry ingredients, mixing on low speed while pouring in the milk and beating until all of the ingredients are well combined.
Use a spatula to scrape down the sides of the bowl and stir the batter from the bottom to the top to ensure it's well mixed.
Divide the batter evenly between the three pans, about 1 2/3 cups of batter per pan. Bake at 350°F for 20-24 minutes. Rotate your pans in the oven halfway through baking.
Test the cake for doneness by inserting a toothpick into the center of the cake. If the toothpick comes out clean, your cake is done. Remove from the oven and allow to cool completely.
For the frosting: Beat the mascarpone cheese for a couple minutes, scraping down the bowl occasionally. Add the brown sugar, honey, vanilla extract and cinnamon. Beat until all ingredients are well combined.
While beating at medium speed, slowly add the heavy whipping cream until the mascarpone cheese resembles a liquid consistency. Scraping the bowl as needed.
Continue adding the remaining heavy whipping cream and beat until soft peaks form. Next add the powdered sugar and continuing whipping until stiff peaks form.
To assemble the cake, use a cake leveler to cut the domes off the top of the cake as needed. Place a dollop of frosting on your cake board and place the bottom layer of cake on top of that.
Place half of the whipped cream in a large piping bag fitted with a large open round tip, or simply cut off the end of the piping bag. Pipe a layer of frosting and spread evenly. Add the next two layer of cake and repeat the above steps.
Use your piping bag to fill in any gaps between your layers and to create a rustic crumb coat. Using an offset spatula or icing smoother, to add the remaining frosting then wipe away any excess.
Use remaining frosting to pipe the florets on the top of the cake using an Ateco 809 tip (large open round) and dust with cinnamon. This cake must be refrigerated.