This post may contain affiliate sales links. Please see my full disclosure policy for details
Welcome to Chocolate Ganache 101! Learn how to make chocolate ganache and how to use it in just about any dessert with this helpful step-by-step guide. This easy ganache recipe is perfect for dipping, frosting, glazing, and more.
How to Make Perfect Chocolate Ganache
Making chocolate ganache is a basic baking skill that everyone can master, and today's tutorial is here to walk you through it.
All it takes is melting together chocolate with heavy cream. With a few simple tweaks to the ratios, you can achieve just about any kind of ganache, whether it's pourable chocolate ganache, whipped frosting, or a glaze.
It's easy to do and I'll be sharing how to make chocolate ganache, ways to use it, and delicious variations that you can use in loads of desserts. Plus lots of helpful tips along the way!
Why You'll Love This Chocolate Ganache Recipe
Rich and creamy. Chocolate ganache has a rich and chocolatey flavor with a luscious, shiny finish that takes any dessert over the top.
Quick and easy. If you've never made chocolate ganache before, it's surprisingly easy. You'll wonder why you didn't go the homemade route sooner!
Versatile. I use chocolate ganache in so many recipes, from cupcakes to truffles and more. I'm sharing how to create just about any type of ganache using a few simple ingredient ratios, that you can use for countless desserts whether you're filling, glazing, dipping, or frosting. Scroll for more ideas!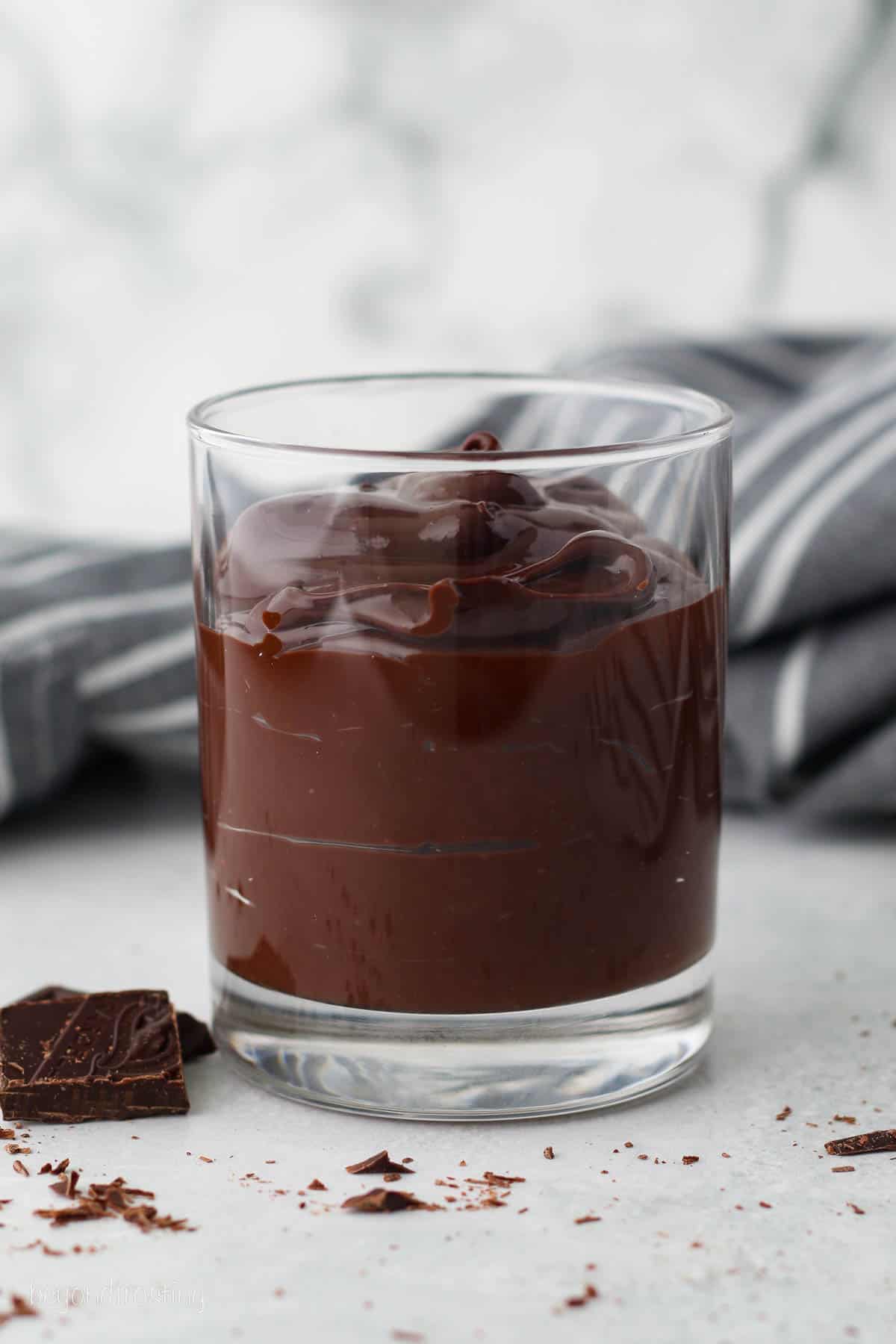 What Is Chocolate Ganache, Anyway?
Ganache is a chocolate sauce, glaze, or filling made by combining melted chocolate and cream. Chances are, you've already come across chocolate ganache at some point or another in recipes for cakes, pastries, and other sweet treats!
With this tutorial as your guide, you'll learn how to make chocolate ganache at home, plus ways to customize and use it.
What You'll Need
You only need TWO simple ingredients to make perfect, classic chocolate ganache: chocolate and cream. I have included some notes on both ingredients below. Don't forget to scroll to the recipe card after the post for the full amounts and detailed instructions.
Chocolate – I recommend dark or semi-sweet chocolate for this tutorial. You can use chocolate bars or chocolate chips, it's up to you. You can also make white chocolate ganache, however, this requires a different ratio of chocolate to cream.
Heavy Cream – Or heavy whipping cream. For the creamiest ganache, make sure to use full-fat heavy cream.
Equipment
Heatproof Bowl – Make sure that your bowl is 100% heatproof so that it doesn't crack.
Small Saucepan – For heating up the cream.
Spoon or Whisk – For stirring.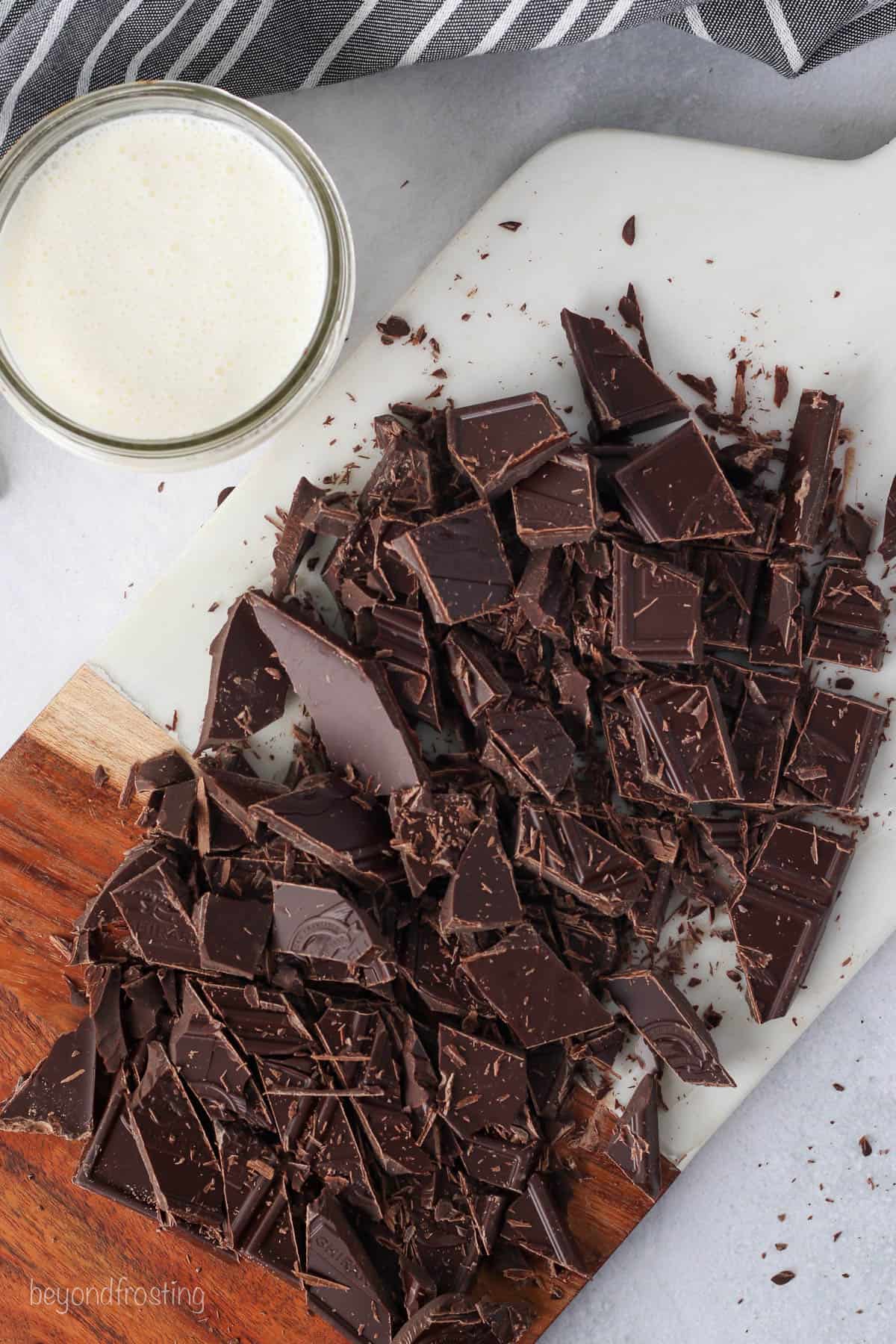 How to Make Chocolate Ganache
Homemade chocolate ganache is so easy, and once you've mastered it, you'll want to use it any chance that you get. Here's how to make a simple chocolate ganache:
Chop the chocolate into small pieces. Unless you're using chocolate chips, chop up your chocolate bars so that they'll melt more smoothly. The finer the chop, the easier it is to melt.
Heat the heavy cream. Add your cream to a saucepan and bring it to a gentle simmer over low heat. Remember to stir every so often.
Combine. Once the cream reaches a simmer, pour it over the chocolate. Cover the bowl with plastic wrap and leave it to sit.
Stir. After 5 minutes, give the chocolate a stir until it's completely melted into the cream. At this point, your chocolate ganache is ready to use or store! See below for ways to use your homemade ganache, as well as detailed storage directions.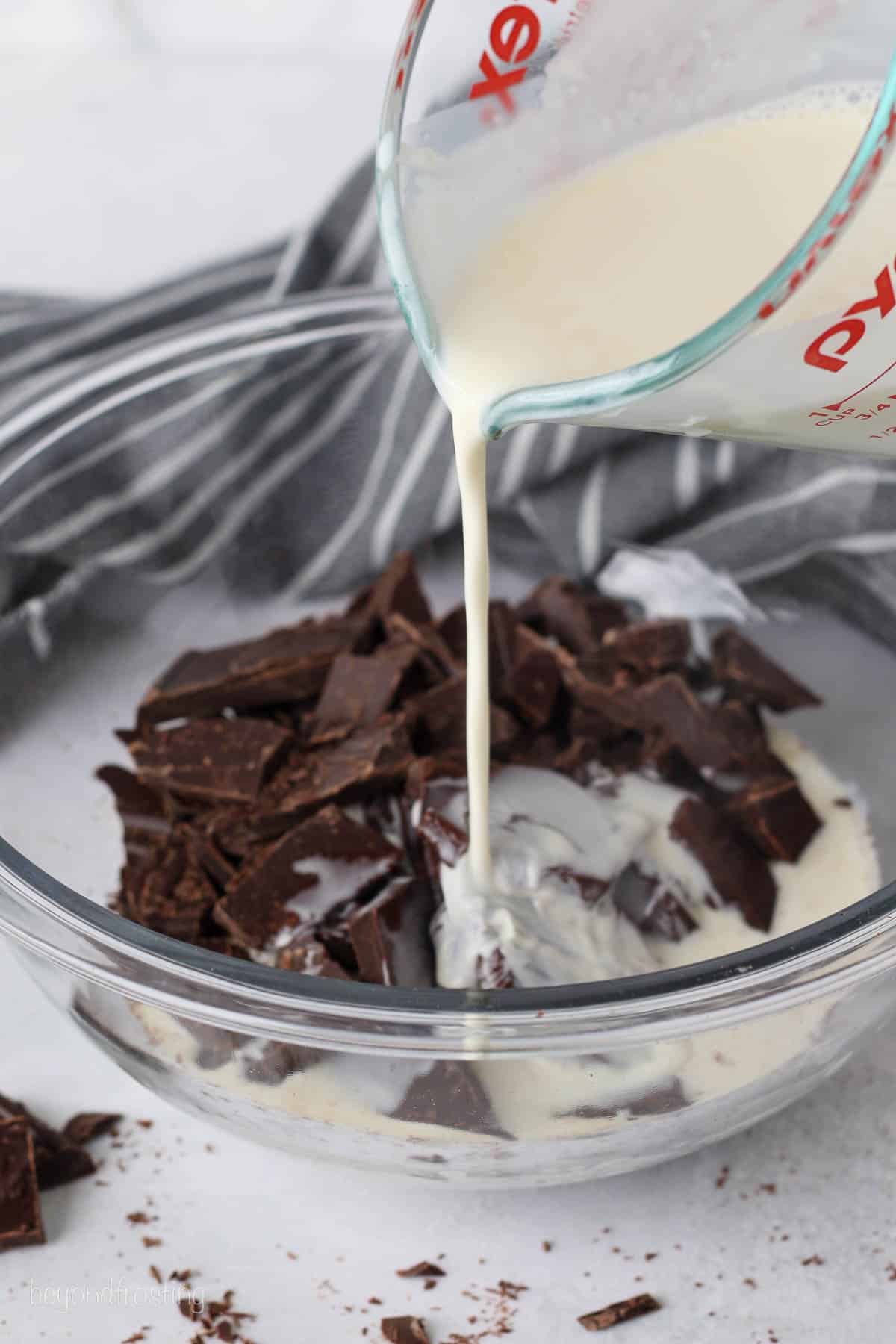 Ganache Troubleshooting and Tips
Making ganache from scratch is far from difficult. After years of making this recipe, I've picked up a few tips for the best chocolate ganache that you may find helpful:
Use high-quality chocolate. Chocolate is the star when it comes to ganache, so quality counts. Every brand and variety of chocolate is slightly different. Lower-quality chocolate can cause the ganache to turn out grainy or separate. Generally, I use Ghirardelli 60% cocoa as it's readily available in most baking aisles, and it comes in 4-ounce bars. This makes it super easy to chop and measure out how much I need.
If the chocolate is not fully melted after a few minutes, it could be because the chocolate was not chopped up fine enough, or that the cream wasn't hot enough. When this happens, I pop my bowl into the microwave for 10-15 seconds and then stir again. Whenever possible, however, avoid microwaving a finishing ganache.
Can I microwave the heavy cream? Yes, in a pinch you can heat your cream in the microwave. However, cream won't heat as evenly in the microwave and there's a higher risk of burning. Make sure to heat it in increments and stir often.
Start with a clean, dry bowl. Make sure there aren't any traces of water or moisture anywhere. When water comes into contact with melted chocolate, it can cause the chocolate to seize, rendering it unusable. You can see an example of this in my tutorial for melting chocolate.
Chocolate chips vs. chocolate bars: I recommend using high-quality dark or semi-sweet chocolate bars for chocolate ganache (see above). Chocolate chips often come with a waxy coating that's actually meant to resist melting at high temperatures. They'll still work, but they won't melt quite as smoothly.
How long does it take for the ganache to thicken?
If you're making frosting, it's best to let your ganache set at room temperature, for up to 4 hours or overnight. For truffles, you can refrigerate the ganache uncovered until it solidifies, about 1 hour, and then scoop and shape it.
Why won't my ganache set?
If your ganache seems a bit runny for your liking, try letting it cool down for longer. Chocolate ganache will harden as it cools, either at room temperature or in the fridge. Runny ganache could also be a sign that you got the chocolate-to-cream ratio wrong (see below for details). In this case, you may need to reheat it and add more chocolate.
Can I overmix chocolate ganache?
Yes, if you overmix your ganache, this can cause it to turn grainy. To fix this, gently stir in 1-2 more spoonfuls of heavy cream. If it's still grainy or broken, you'll need to reheat the ganache in a double boiler to start over. This can also happen if you whip your ganache too hard when making frosting.
Ways to Use Chocolate Ganache (With Ratios)
Adapting the texture of chocolate ganache is as easy as changing the ratio of chocolate to cream. Depending on what you're using it for and your own preferences, you can adjust the consistency to make the ganache thicker or make it more pourable. As ganache cools, it tends to thicken and become more solid, so that's something to keep in mind when adjusting the cream/chocolate ratio.
1:1 Ratio Ganache
A 1:1 ganache ratio means equal parts chocolate and cream. This type of ganache is ideal for thick glazes and fillings, like in my chocolate ganache cupcakes. Once cooled, the ganache can also be whipped until it's light and fluffy, to use as frosting. To make 1:1 chocolate ganache:
Use 8 ounces of chocolate to 1 cup (8 ounces/236ml) of heavy cream.
For a pourable consistency, use the melted ganache right away.
For a spreadable consistency, allow the ganache to cool. If you chill the ganache, it will still be soft and easy to scoop.
For whipped ganache frosting, allow the ganache to cool to room temperature, then use a stand mixer with a whisk attachment to whip it until the consistency is lighter in color and fluffy. Don't overwhip!
Note that this ratio does not work for milk or white chocolate ganache.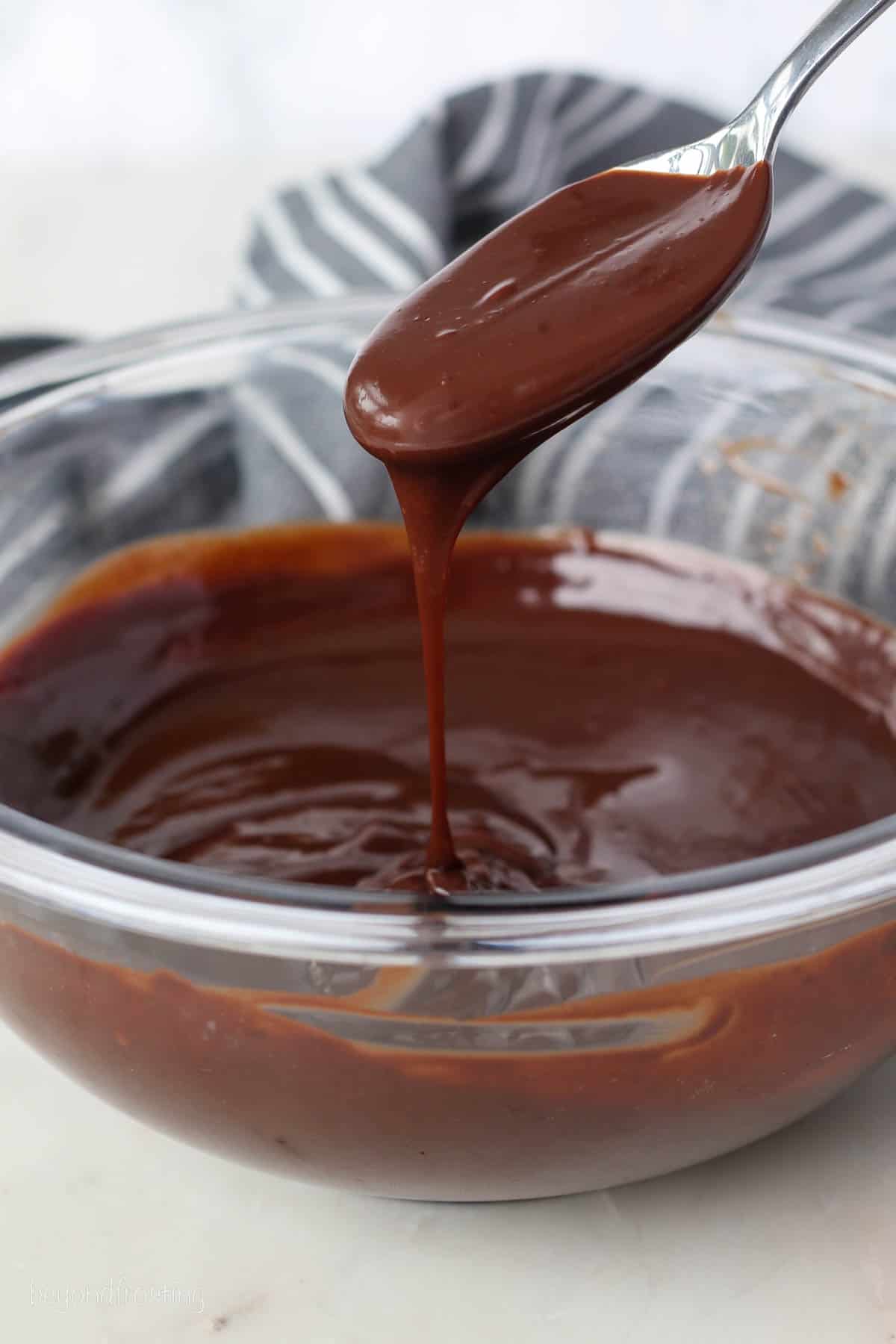 2:1 Ratio Ganache
A 2:1 ratio means there is twice as much chocolate as cream. This creates a very thick, almost fudge-like ganache. This type of ganache is great for chocolate truffles or thicker fillings for sandwich cookies and tarts.
Combine 8 ounces of chocolate with 1/2 cup (4 ounces/118ml) of heavy cream.
Once cooled, this ganache has a nice spreadable consistency. A 2:1 ratio ganache will solidify when refrigerated, but you'll still be able to cut through it with a knife.
For a solid, chewy ganache with a glossy finish, add a tablespoon of corn syrup.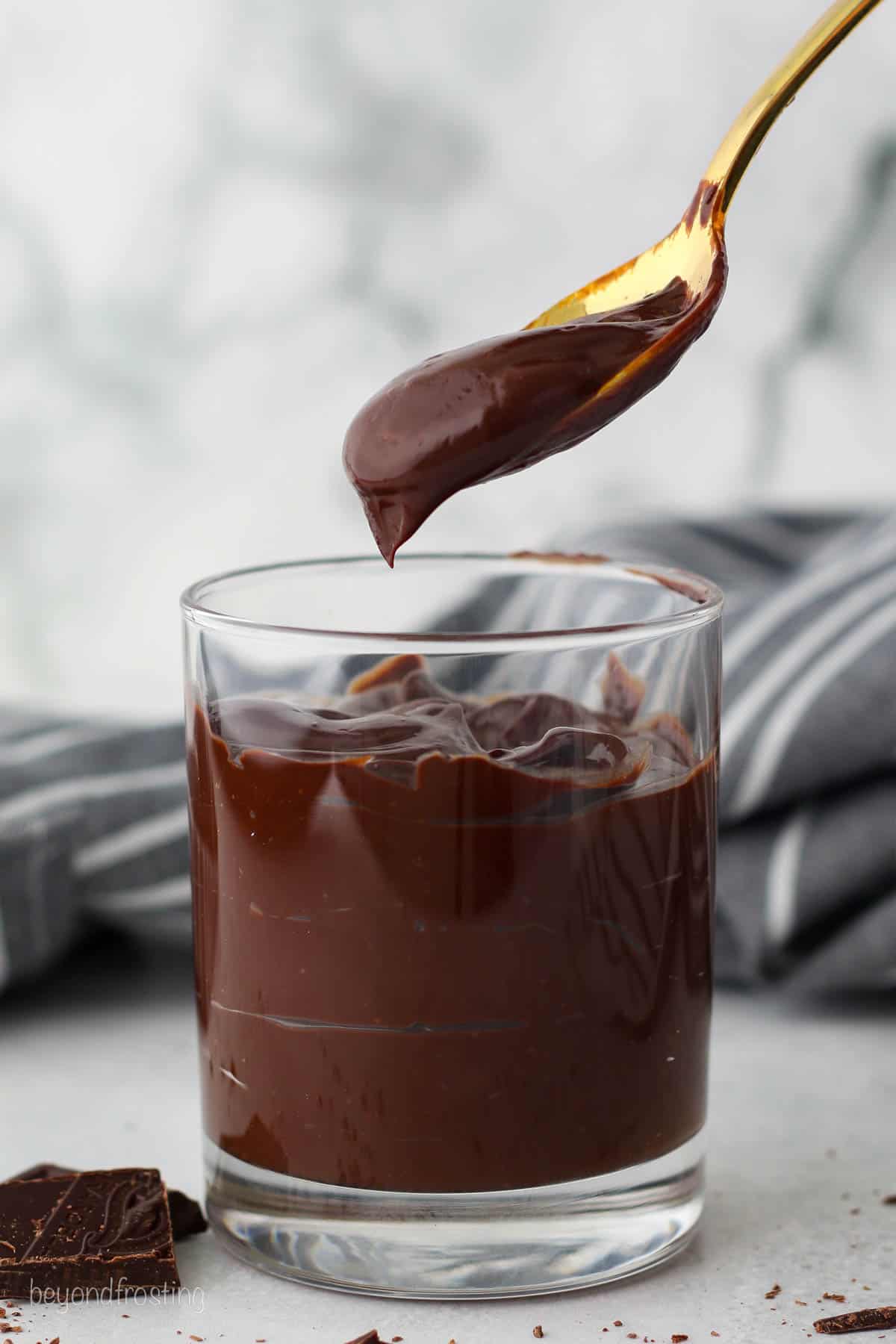 1:2 Ratio Ganache
1:2 ganache means there is one part chocolate for two parts cream. This makes a very thin and pourable ganache perfect for a drip cake. It's also a good consistency for drizzling over fresh fruit and ice cream.
Use 4 ounces of chocolate with 1 cup (8 ounces/236ml) of heavy cream
Once cooled, this ganache will have a pourable consistency similar to instant pudding. Let the ganache sit for 15 minutes before pouring it over the cake or dessert. Start at the center of the cake and work your way toward the edges.
This type of ganache is great to use as a glaze for a chocolate bundt cake or an ice cream cake, or as a topping for buckeye brownies or this caramel pecan Turtle pie.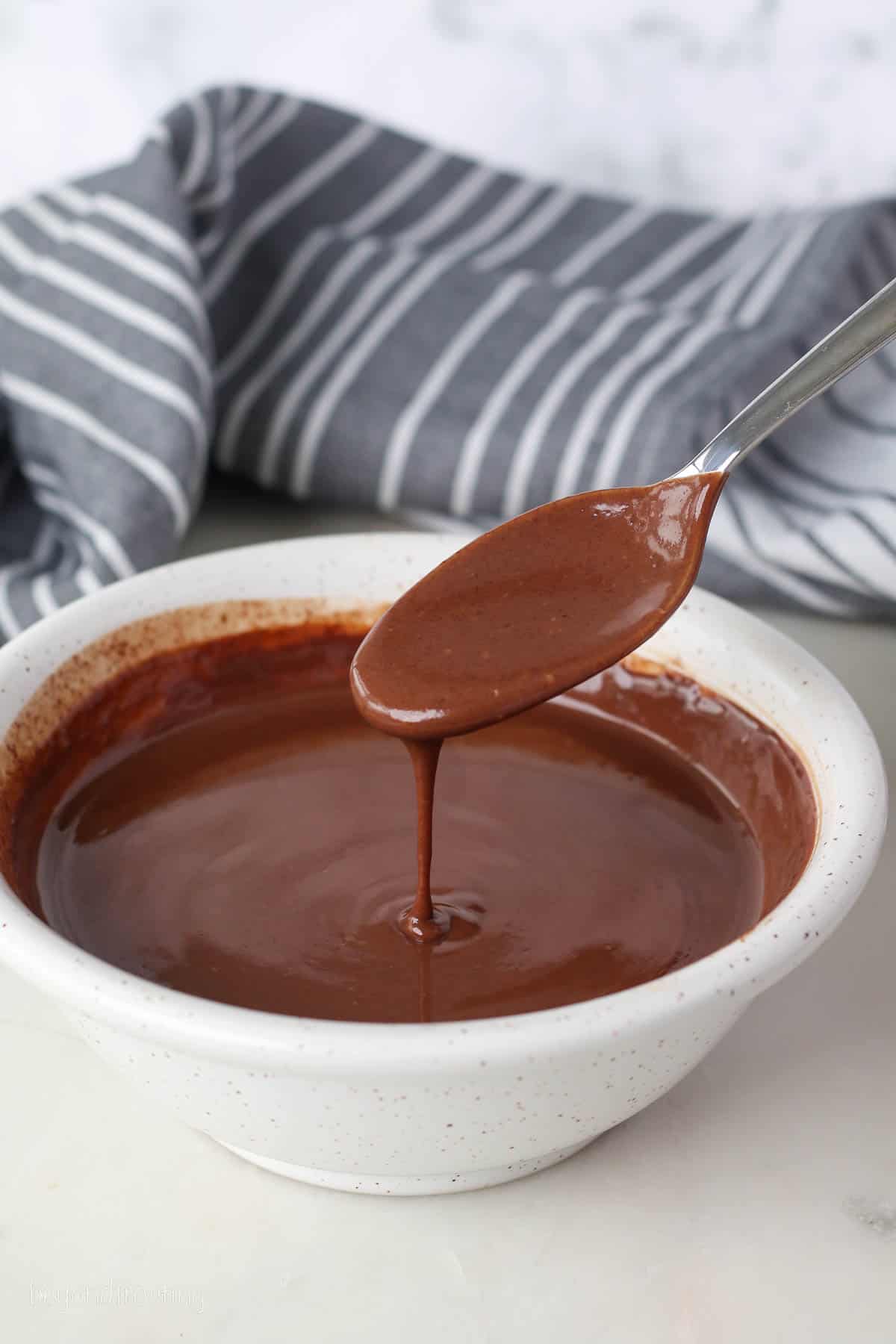 Ganache Variations
As I said earlier, once you get the hang of making your own chocolate ganache, you'll never run out of ways to use it. Similarly, there are plenty of ways that you can customize your ganache when it comes to add-ins and flavors. Depending on the dessert you're making, try these variation ideas:
Butter – For every 4 ounces of chocolate, you can add 1 tablespoon of butter (or corn syrup, see below). Adding butter to ganache creates a richer, thicker texture that stays soft after it's chilled.
Corn Syrup – Adding corn syrup thins out the ganache a little and gives it a glossy finish. This is a good option if you're looking for a shiny glaze.
White Chocolate Ganache – To adapt this recipe for white chocolate, combine 8 ounces of chocolate with ½ cup heavy cream. This is the ideal ratio for white chocolate truffles or cupcake filling.
Salted – While the ganache is still hot, stir in a pinch of salt. It actually helps to enhance the sweetness.
Extracts – Add a dash of flavoring extract, such as peppermint or vanilla. You can also add espresso powder, cinnamon, or cayenne for a unique flavor profile.
Liqueurs – Add 1-2 teaspoons of liqueur like Irish cream, Grand Marnier, or Kahlua to the melted ganache for a boozy rendition. Bourbon or brandy is another option.
Infusions – While heating the cream on the stovetop, add in fresh tea leaves, vanilla pods, herbs like mint or lavender, citrus zest, or coffee beans. Leave it to sit and infuse for a few minutes before straining. If needed, rewarm the cream briefly before adding it to the chocolate.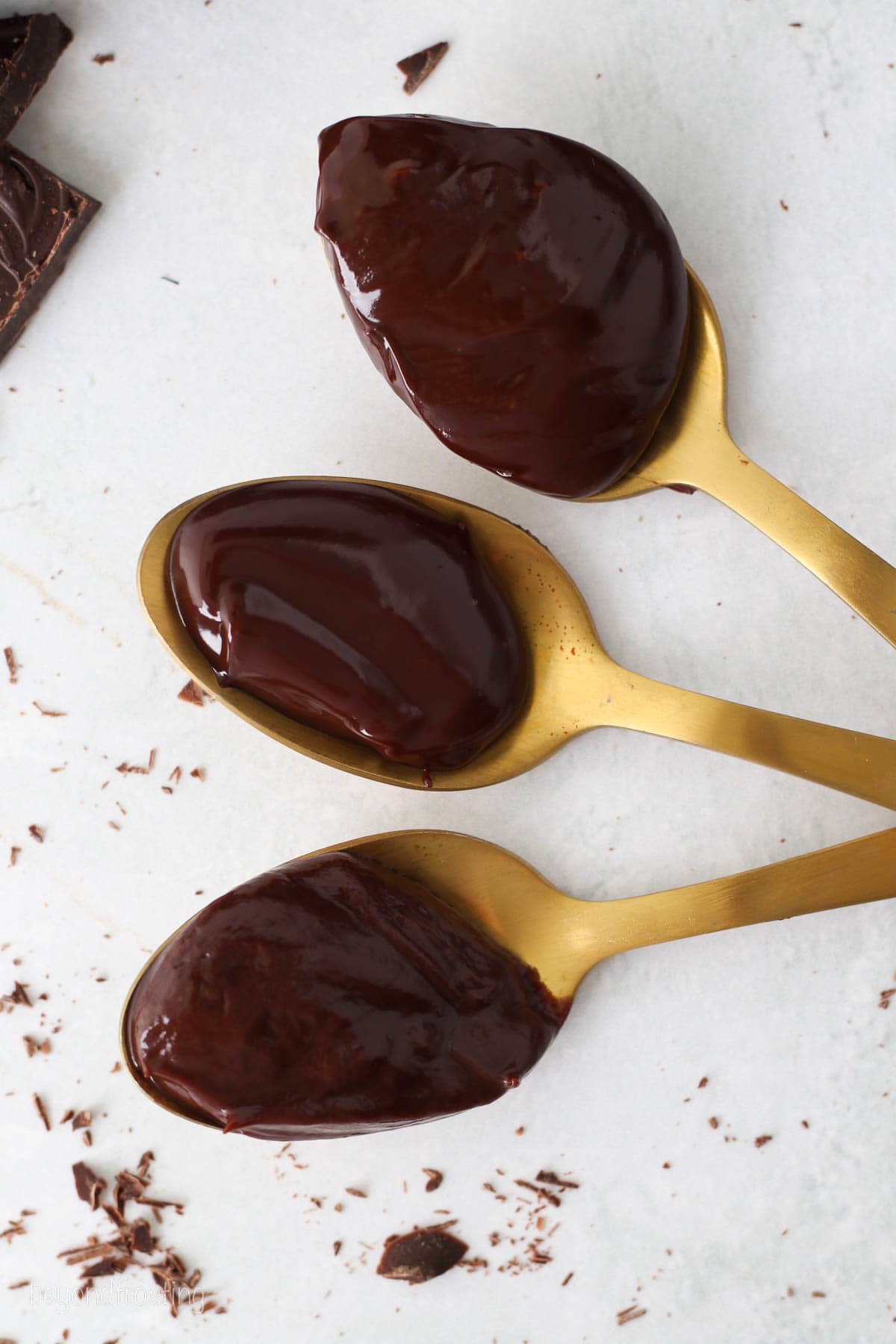 How to Store and Freeze Chocolate Ganache
To Store
Chocolate ganache is fine to store at room temperature for up to 2 days. After that, it will need to be refrigerated.
Depending on the ratios of the ganache, it will harden in the refridgerator. So it's best to plan ahead and use immedaitly whenever possible.
If you live in a particularly warm climate, keep the ganache refrigerated from the get-go. Make sure to store the ganache airtight and press a piece of plastic wrap directly onto the surface of the chocolate, to prevent a crust from forming.
To Freeze
Once the ganache is cooled and stored properly in a freezer-safe container, it can be frozen for up to 1 month. Defrost frozen ganache in the fridge and then take it out to let it reach room temperature again before you use it.
More Baking Resources and Tutorials
Print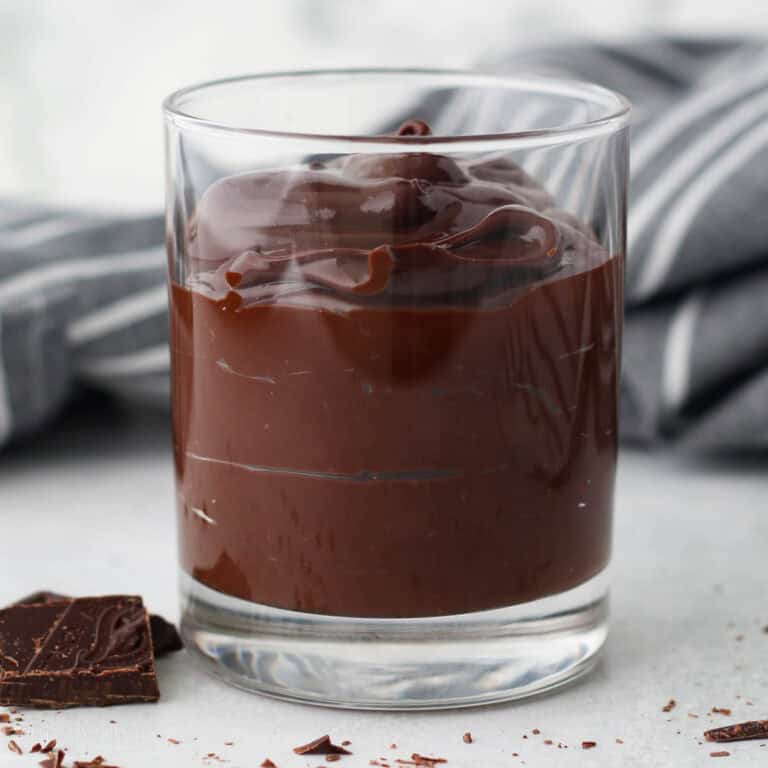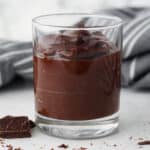 Chocolate Ganache Recipe
Author:

Prep Time:

10 minutes

Resting Time:

1 hour

Total Time:

1 hour 10 minutes

Yield:

1 cup
Description
Learn how to make chocolate ganache step-by-step. This easy ganache recipe is perfect for dipping, frosting, and glazing. You'll never run out of ways to use it in your favorite chocolate desserts!
Ingredients
8 ounces

dark or semi-sweet chocolate (see notes)

1 cup

(236ml/

8oz

) heavy cream (or heavy whipping cream)
Instructions
Chop a chocolate bar into small pieces, and place it in a medium-sized heat-proof bowl.
Heat the heavy cream in a small saucepan over low heat until gently simmering, stirring occasionally to prevent burning. Pour over the chopped chocolate, covering it completely. Place a piece of plastic wrap over top and allow it to sit, untouched, for about 5 minutes.
Stir the mixture until the chocolate is completely melted and smooth. Use immediately or cool to room temperature.
Notes
This recipe will work with either dark or semi-sweet chocolate bars or chocolate chips. The ratio of chocolate to cream will not work for milk chocolate or white chocolate.
1:1 Ratio Ganache: 8 ounces chocolate to 1 cup (8 ounces/236ml) heavy cream. Ideal for thick pourable ganache, fillings, and frosting.
1:2 Ration Ganache: 8 ounces chocolate to 1/2 cup (4 ounces/118ml) heavy cream. Ideal for making truffles and thicker fillings.
2:1 Ratio Ganache: 4 ounces chocolate to 1 cup (8 ounces/236ml) heavy cream. Best for glazing and drizzling over cakes and ice cream.
Category:

Dessert

Method:

Stovetop

Cuisine:

American
Keywords: chocolate ganache, chocolate ganache recipe, how to make chocolate ganache