This post may contain affiliate sales links. Please see my full disclosure policy for details
This perfectly Moist Vanilla Cake Recipe is a slightly denser than average cake with a tight crumb. It's a super easy recipe and topped with my tried and true vanilla frosting. You can make this recipe as cupcakes or a layer cake as well.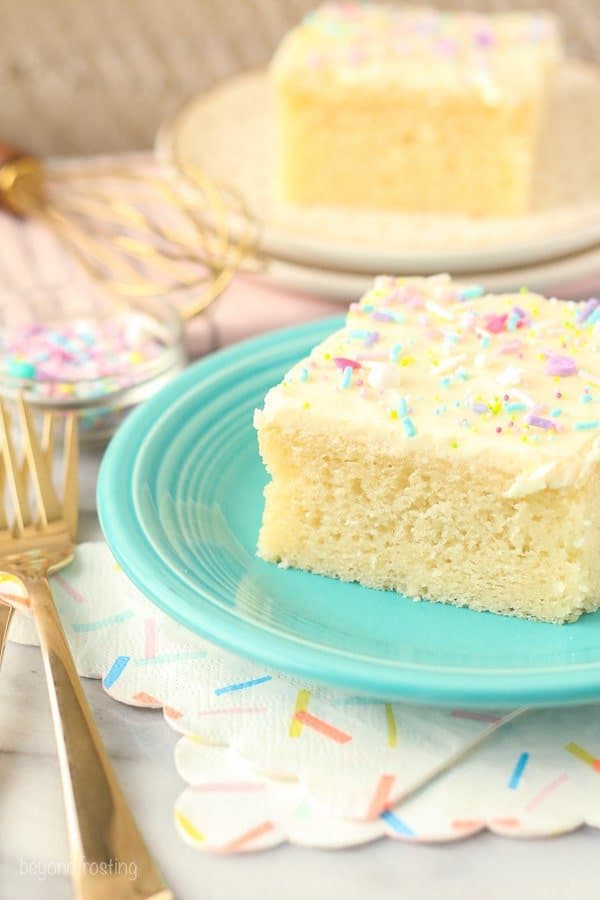 The Easy Vanilla Cake I Can't Stop Making
For the longest time, I've wanted to have a homemade and versatile basic cake recipe. I've shied away from the task, fearing I would not be up to the challenge. After months of recipe testing, I finally landed on this recipe.
This easy vanilla cake recipe makes the most moist cake that's covered with my favorite vanilla buttercream frosting. This is not a light and fluffy cake, it's more of a spongy, heavier cake made with whole eggs, oil and sour cream.
When I say this recipe is quick and easy, it's because this recipe uses basic panty ingredients that don't require room temperature ingredients. You can make this cake in about 10 minutes before your oven is done preheating.
You'll also find this cake recipe is very stable and reliable. You can use it to make cupcakes or a layer cake.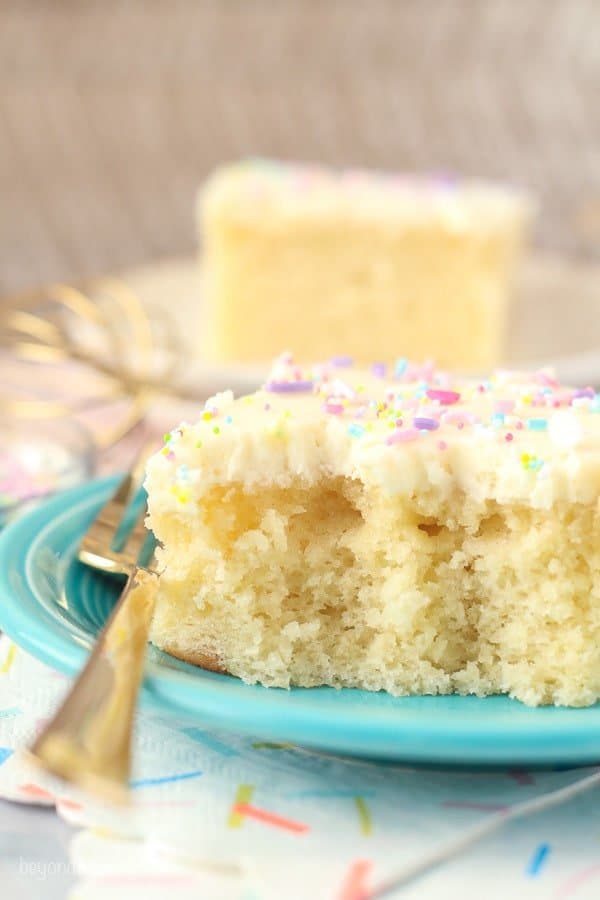 Why I Use Oil Instead of Butter
I prefer oil-based cakes over butter-based cakes because oil tends to make cakes moister. It also makes the crumb and texture a bit more tender.
Since this cake uses oil instead of butter, there's no waiting around for your butter to come to room temperature. Often times recipes using butter require properly whipping the butter and sugar together, but we don't have to worry about that with this recipe.
Recipe Ingredients
Granulated sugar: The ratio of sugar to flour is very important in baked goods, so be sure to follow the recipe. Some people have reduced the sugar without an issue but I don't recommend it.
Vegetable oil: Oil makes this cakee more moist than a recipe with butter.
Whole eggs: This is a dense and spongy cake, so we're using the whole egg.
Pure vanilla extract: Be sure you get a high-quality REAL vanilla extract for this recipe because the vanilla is your main ingredient for flavor.
Sour cream: Sour cream helps keeps this cake very moist.
All-purpose flour: This is not interchangeable with cake flour. So be sure to use all-purpose for this recipe.
Baking powder: There's 3 whole teaspoons to give this cake the perfect rise.
Salt: Adding small amounts of salt to desserts enhances the flavor and sweetness.
Milk: I use nonfat because that's what I keep in my fridge, but you can use any type of milk you have on hand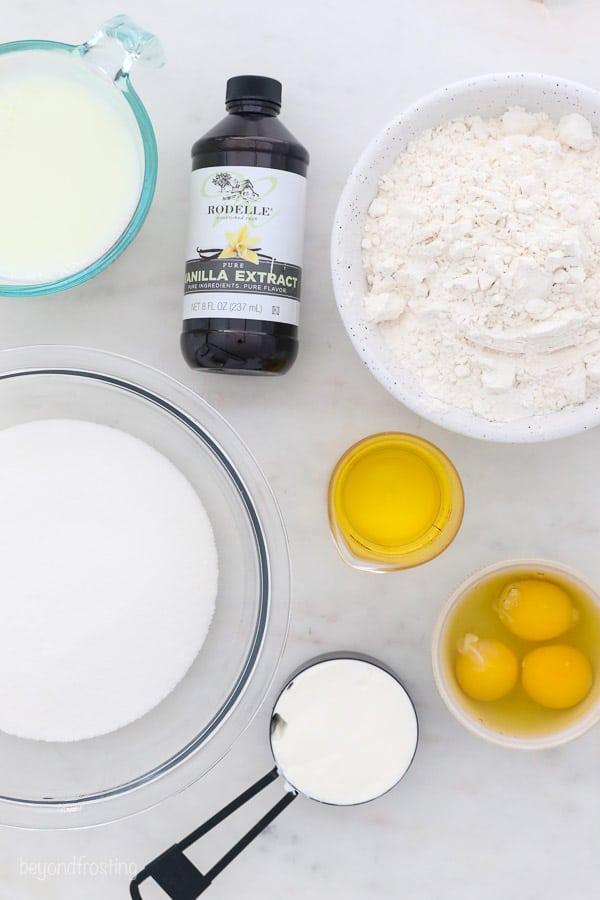 Ingredient substitutions
Sour cream: This is essential for keeping the cake moist. If you don't have sour cream. I recommend substituting with non-fat Greek yogurt. The recipe calls for light sour cream, but you can also use full-fat sour cream. A few people have asked about substituting buttermilk for sour cream. I have never tried this, and this batter is already pretty thin, so I am not sure if adding additional liquid will work. If you need to, you can omit it completely, but note the cake will not be nearly as moist.
Butter instead of oil: You can use 1/2 cup of melted butter instead of oil, but I don't think it is nearly as good. You can also use coconut oil instead of vegetable oil.
Gluten-free flour: I have tested this recipe with a one for one gluten-free flour and it worked out great
How to Make Vanilla Cake
Preheat the oven to 350°F.
Beat together the sugar, vegetable oil, eggs and vanilla extract until well incorporated.
Next mix in the sour cream and beat until well combined.
In a separate bowl combine the remaining dry ingredients: flour, baking powder and salt. Add half the dry ingredients, and beat on low speed while pouring in half of the milk and mix just until the flour starts to incorporate.
Finally add the remaining dry ingredients, and the remaining milk. Beat on low speed until all of the ingredients are well combined.
Pour the batter in a 9×13 inch pan and bake at 350°F for 28-32 minutes. Cool completely before frosting.
Mistakes to Avoid
Over or under mixing the batter: With any baked good, there is a certain level of balance needed when you're preparing the batter. If you over beat the batter, your cake will be too dense and it will not rise. If you under beat it then it can cause your cake to bake unevenly because the oil and eggs are not well incorporated. To help with this, turn off your mixer when you can't see any more loose flour on top. Then use a spatula to stir the batter a few times, getting all the stuff that is stuck to the bottom of the bowl and bringing it up to the top.
Ingredient substitutions: Wherever possible, try not to substitute ingredients. You've heard the term, baking is a science. The ingredient and ratios are the way they are for a reason.
Over or under baking: Baking time are suggested and vary depending on the type of pan you're using and your individual oven. If you need to bake this cake for longer than specified, that's okay. Test the cake with a toothpick or knife in the center of the cake. If the knife is clean, then your cake is done.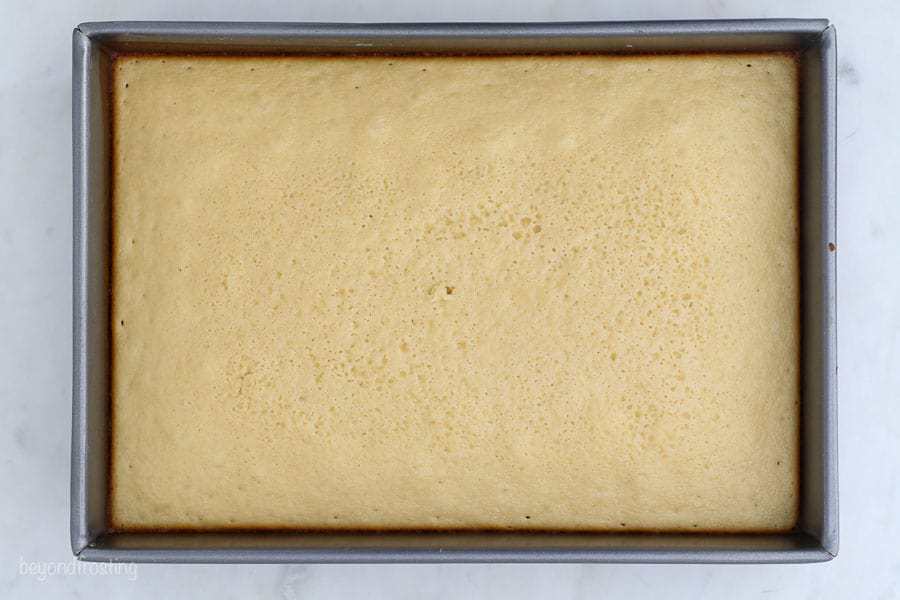 How to Frost this Vanilla Cake
You want to me be sure your frosting is whipped, fluffy and very spreadable. Place dollops of frosting around the top of the cake and use an angled spatula to spread the frosting. Don't press too hard or you'll pull the top of the cake along with you.
How to Store Frosted a Cake
Whenever possible, cakes should be stored in an airtight container at room temperature. If you live in a hot and humid environment, you may want to store this in the refrigerator. Serve at room temperature.
Frequently Asked Questions
Can I make this recipe as cupcakes?
That's right, this vanilla cake can be made as a cake and also as vanilla cupcakes. This recipe will make a hefty 24 cupcakes with a little batter left over.
Can I turn this into a layer cake?
I have made this as an 8-inch 3 layer cake. See my recipe for the Moist Vanilla Layer Cake. If you'd like to bake this as 9-inch or 10-inch layer cake, the baking times will need to be adjusted accordingly. All the information you need is in that specific blog post.
Can I make this as bundt cake?
Personally I don't love the way this bakes as a bundt cake. So I developed another recipe for the perfect vanilla bundt cake. It uses only egg whites, and the method of preparation is also different, but it's also easy!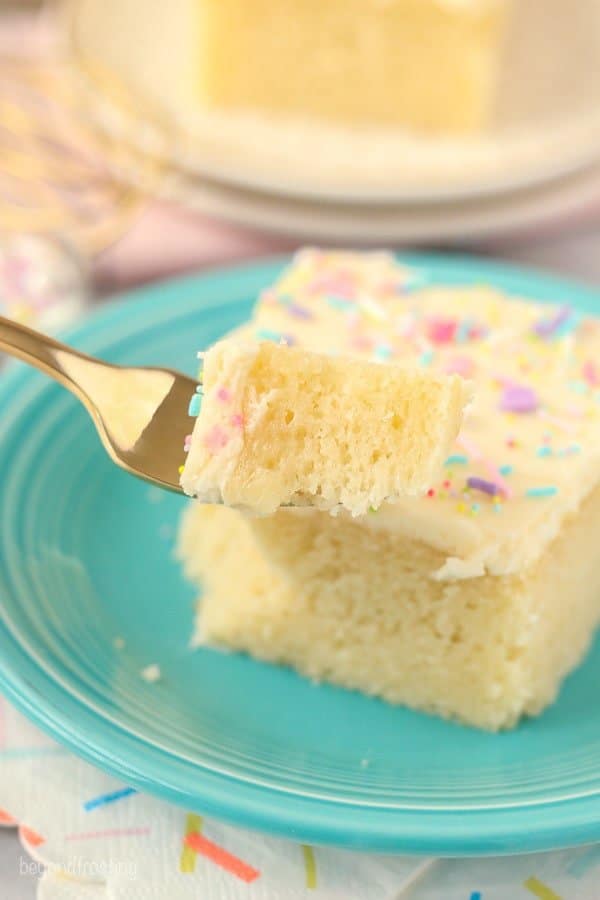 I had to bake my cake longer than the required time, what did I do wrong?
Likely nothing! Different types of pans will bake differently. Glass baking pans will always need to bake longer as they do not conduct heat as quickly as metal pans. Disposable containers are much thinner and thus require additional baking time.
Also keep in mind that not all oven temperatures are alike, and unless you have an internal thermometer, your oven temperature could be off or you didn't preheat it all the way prior to placing your cake in the oven.
More cake recipes you'll love
After a lot of requests, I've also added a chocolate version of this cake. My moist chocolate cake is less dense and more light and fluffy. Looking for more cake recipes? Here are all my best cake recipes.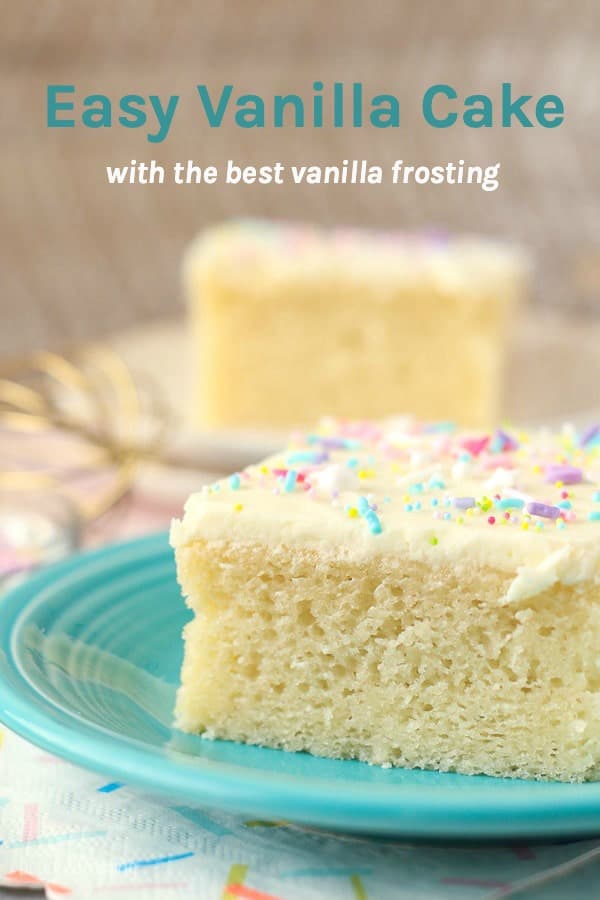 Follow Beyond Frosting:
Facebook | Twitter | Pinterest | Instagram
If you love no-bake recipes, be sure to check out my cookbook, No-Bake Treats!
Print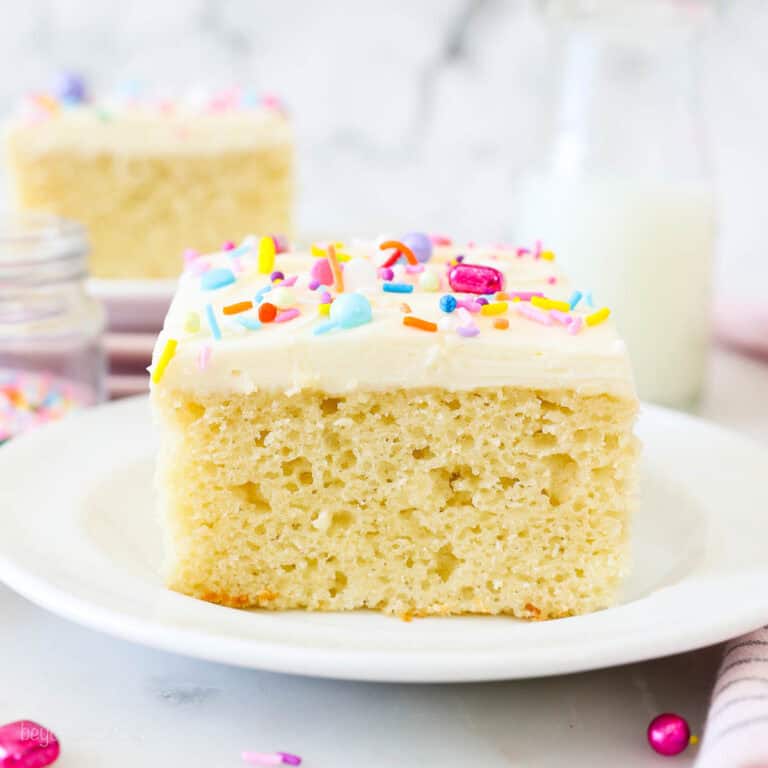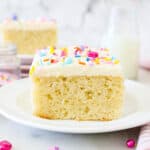 Moist Vanilla Cake
Author:

Prep Time:

30 minutes

Cook Time:

30 minutes

Total Time:

50 minutes

Yield:

15 slices
Description
This easy and homemade Moist Vanilla Cake recipe is perfectly sweet and fluffy and full of rich vanilla flavor. Topped with a creamy vanilla buttercream frosting, it's the best vanilla cake to make for any occasion!
Ingredients
For the Cake:
2 cups

(

380g

) granulated sugar

½ cup

(

118

ml) vegetable oil

3

large eggs, at room temperature

1 tablespoon

(

14.8

ml) vanilla extract

½ cup

(

118

ml) sour cream, at room temperature

2 ½ cups

(

350 g

) all-purpose flour, sifted

3 teaspoons

(

11.2 g

) baking powder

1 teaspoon

(

5 g

) salt

1 ¼ cups

(

296

ml) milk (any type), at room temperature
For the Frosting
3/4

cup

g )unsalted butter, cold
2 1/2cups (325g ) powdered sugar
1 teaspoon (5ml ) pure vanilla extract
1 tablespoon (15ml ) heavy whipping cream or milk
Instructions
For the Cake:
Preheat the oven to 350°F.
Mix the wet ingredients: In a large mixing bowl, beat together the sugar, vegetable oil, eggs, and vanilla extract until well incorporated. Scrape down the bowl as needed.
Add the sour cream and beat until well combined.
Combine the dry ingredients: In a separate bowl combine the remaining dry ingredients and sift together the flour, baking powder, and salt. Add half the dry ingredients, and half the milk, and beat on low speed just until the flour starts to incorporate. Repeat until all ingredients are added and combined. Use a spatula to scrape down the sides of the bowl and stir the batter from the bottom to the top to ensure it's well mixed.
Pour the batter into a 9-inch by 13-inch pan and bake at 350°F for 28-32 minutes. Test the cake for doneness by inserting a toothpick into the center of the cake. If the toothpick comes out clean, your cake is done. Remove from the oven and allow to cool completely prior to frosting.
For the Frosting:
Cut the butter into pieces. Using the paddle attachment, whip the butter for 5-7 minutes, scraping down the bowl occasionally, and beating until the butter is whipped and fluffy.
Add the powdered sugar and mix on low speed until incorporated into the butter then add the vanilla extract and heavy cream and mix to combine. Beat for about 60 seconds.
Continuing beating, increase the speed to medium-high and beat for another 3-5 minutes to whip additional air into the frosting. Spread over cooled cake.
Notes
The batter will be quite thin. It's important that you stir the batter after mixing, to ensure everything on the bottom of the bowl is well mixed.
This can easily be made into vanilla cupcakes or a vanilla layer cake
Baking times will vary by pan type and true internal oven temperatures.
Storing this cake: Whenever possible, cakes should be stored in an airtight container at room temperature. If you live in a hot and humid environment, you may want to store this in the refrigerator. Serve at room temperature.
Freezing this cake: I do not prefer to freeze cakes once they're frosted/ If you need to freeze this cake, double wrap it in plastic wrap and then with foil. Thaw to room temperature to serve.

Ingredient substitutions

Sour cream: This is essential for keeping the cupcakes moist. If you don't have sour cream. I recommend substituting it with non-fat Greek yogurt. The recipe calls for light sour cream, but you can also use full-fat sour cream. If you need to, you can omit it completely, but note the cake will not be nearly as moist.
Butter instead of oil: You can use 1/2 cup of melted butter instead of oil, but I don't think it is nearly as good. You can also use coconut oil instead of vegetable oil.
Gluten-free flour: I have tested this recipe with a one-for-one gluten-free flour and it worked out great
Nutrition Information:
15
443
47.5g
187.5mg
18.9g
65.2g
4.7g
65.4mg
Category: Cake
Method: Baked
Cuisine: American
Keywords: best vanilla cake recipe, easy vanilla cake recipe, homemade vanilla cake