The best of all worlds, this Slutty Brookie Poke Cake is a chocolate cake filled with chocolate pudding, topped with whipped cream and crush Oreos, Brownies and Chocolate Chip Cookies.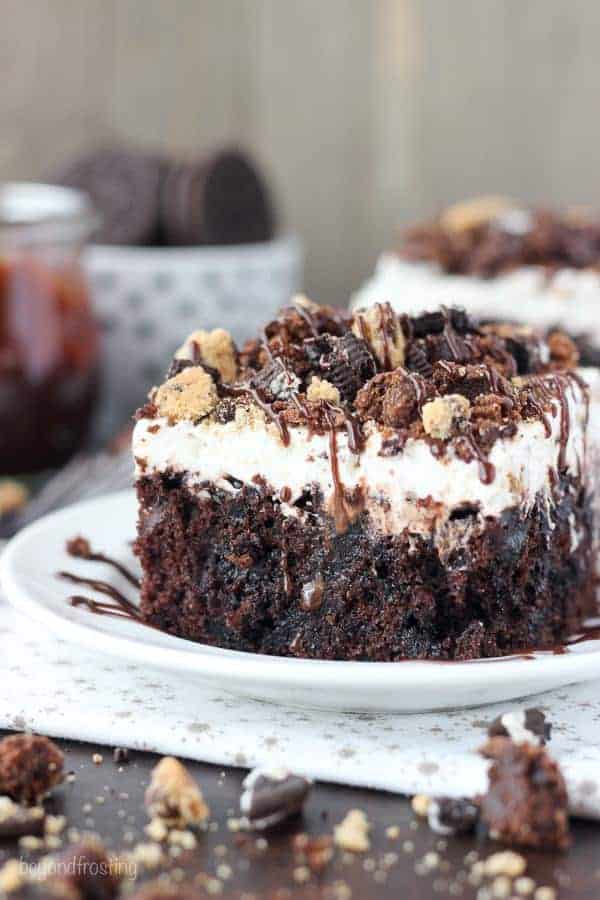 We just returned from a whirlwind weekend in Banff and Lake Louise Canada, which was a last-minute decision but one of the best trips we've taken. I can't wait to share more details with you. It's rare that we take a vacation that isn't centered around snowboarding. We went with no real agenda and at times just pulled off the freeway to explore. It was so much fun and definitely one of the most beautiful places I've ever seen!
When it comes to chocolate cake, I feel like I know a thing or two about it. What's that wow factor that it means to get right back in for that second bite. It's certainly necessary that a chocolate cake is rich in flavor, but not so rich that you can only have a few bites. The crumb needs to be airy in texture and melt in your mouth. The topping should complement not compete with the cake.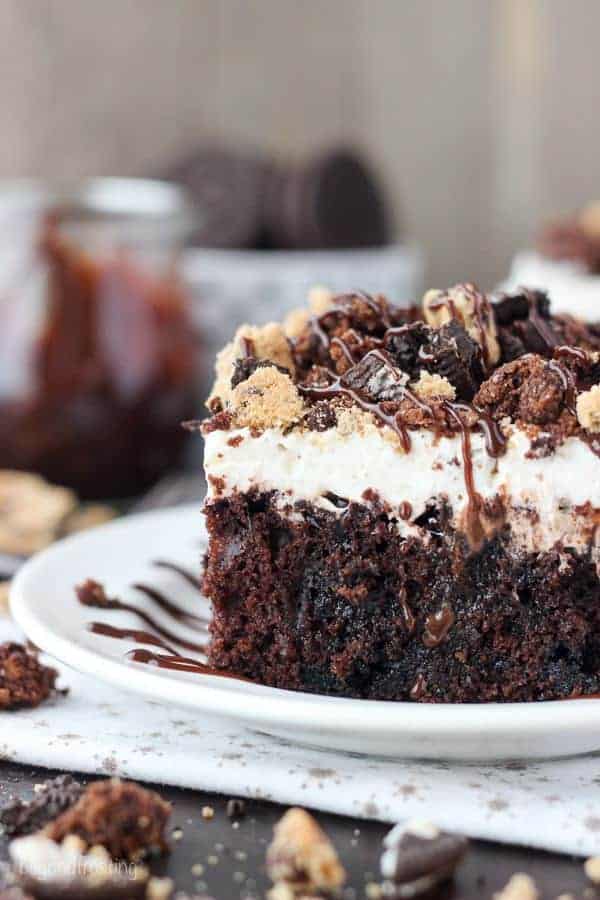 This Slutty Brookie Poke Cake is an evolution of a few different desserts I've made including the No-Bake Brookie Icebox cake and it's in part due to my complete obsession with brownie batter Mousse. You're welcome.
A brookie is a combination of a brownie and a chocolate chips cookie, but once your add in the Oreo it becomes a "slutty brownie" which was a term coined by Gaby several years ago.
With poke cakes it's almost TOO easy to get that wow factor because the cake is soaked in either pudding or sweetened condensed milk, so it's already better than your expecting it to be.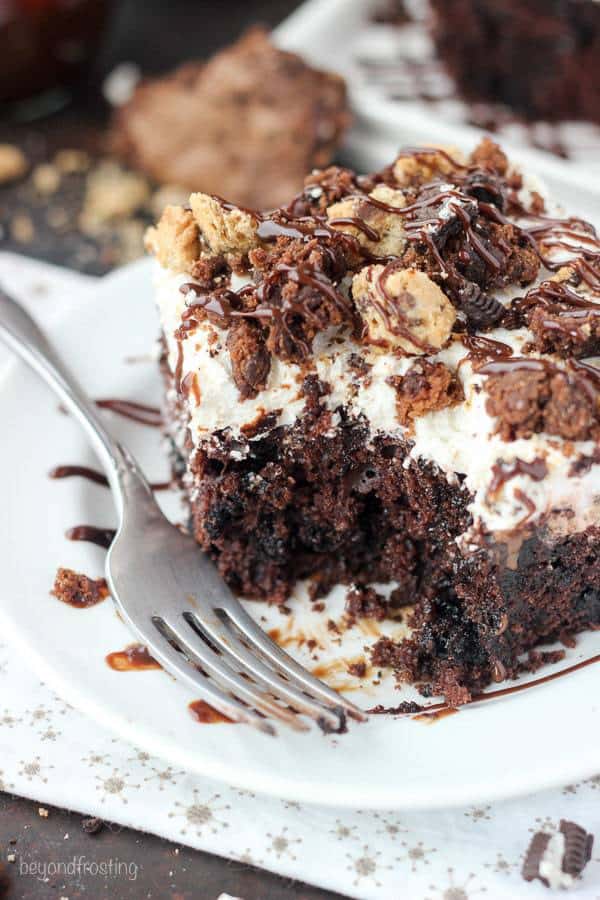 There are hundreds of combinations you could make for a poke cake, I've made quite a few myself. These are always my most popular cakes and they are usually the most approachable. Even if there's a few steps involved, it's totally doable even for a novice baker.
It might seem excessive to buy so many ingredients but when I'm making a cake like this  usually get the small sleeves of cookies and the pre-made brownies they sell at the store. You don't need a ton of either for the topping, but you can also throw some cookies into the cake like I did here. It's hard to see but there is a layer of Oreos on the bottom of this cake! That's how I roll.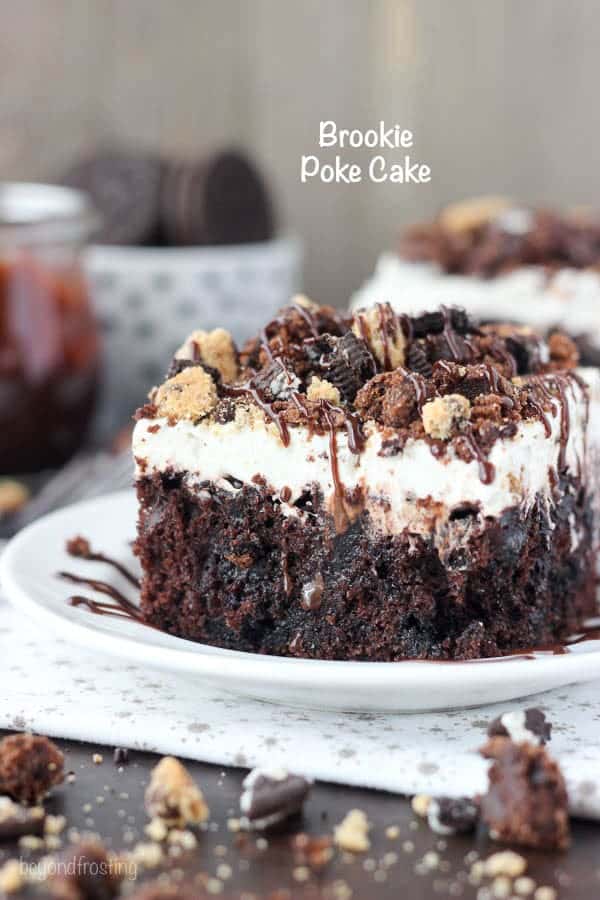 Follow Beyond Frosting:
Facebook | Twitter | Pinterest | Instagram | Bloglovin | Google+
If you love no-bake recipes, be sure to check out my cookbook, No-Bake Treats!
Don't miss a thing, subscribe to get recipes delivered to your inbox!
Print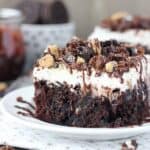 Brookie Poke Cake
---
Author:

Julianne Bayer

Prep Time:

20 mins

Cook Time:

22 mins

Total Time:

42 minutes

Yield:

12-15 slices
Description
All your favorite things in one cake, this Slutty Brookie Poke Cake is a chocolate cake filled with chocolate pudding, topped with whipped cream and crush Oreos, Brownies and Chocolate Chip Cookies.
---
Ingredients
For the cake:
1 box chocolate cake mix
Ingredients listed on the box: eggs, oil, water
15 Oreos
For the filling
1 package instant chocolate pudding (3.4oz)
1 ¾ cup milk
For the topping:
1 ¾ cups heavy whipping cream
¾ cup powdered sugar
12 chocolate chip cookies, such as Chips Ahoy
10 Oreos
6 small brownies
3 tablespoons hot fudge sauce for garnish
---
Instructions
Preheat the oven to 350°F. Spray the bottom of a 9-inch by 13-inch pan with cooking spray.
Line the bottom of the pan with Oreo cookies.
In a large mixing bowl, combine the cake mix with the ingredients listed on the box: water, oil and eggs.
Beat the cake mix until it's well combined. Pour the batter over top of the cookies.
Bake at 350°F for 18-22 minutes until the cake is cooked all the way through. Test the cake for doneness by inserting a toothpick into the center of the cake. If the toothpick comes out clean, your cake is done.
Allow the cake to cool for 20-30 minutes.
Take a wooden spoon or another round object and poke holes over the top of the cake.
In a small mixing bowl, combine the instant chocolate pudding with the milk and whisk together until the powdered mix is dissolved.
Pour the liquid pudding mix over top of the cake, try to fill the holes with the pudding mix.
Refrigerate the cake until the pudding is firm, about 10 minutes or so.
Place the mixing bowl and whisk attachment in the freezer for 5 to 10 minutes to chill
Pour the heavy whipping cream into the chilled bowl and use an electric mixer to beat the heavy cream on medium-high speed until the cream thickens.
Slowly add the powdered sugar and continue beating on high speed until stiff peaks start to form. Spread the whipped cream over the top of the cake.
Crush the chocolate chip cookies, Oreos and the brownies and sprinkle over top of the cake. Garnish with hot fudge.
You might also like:
Chocolate Chip Cookie Poke Cake